Fireflies Release 2018 Game Times, Daily Promotions and Fireworks Dates
Fireflies 2018 Home Schedule Features New Game Times and 26 Fireworks Shows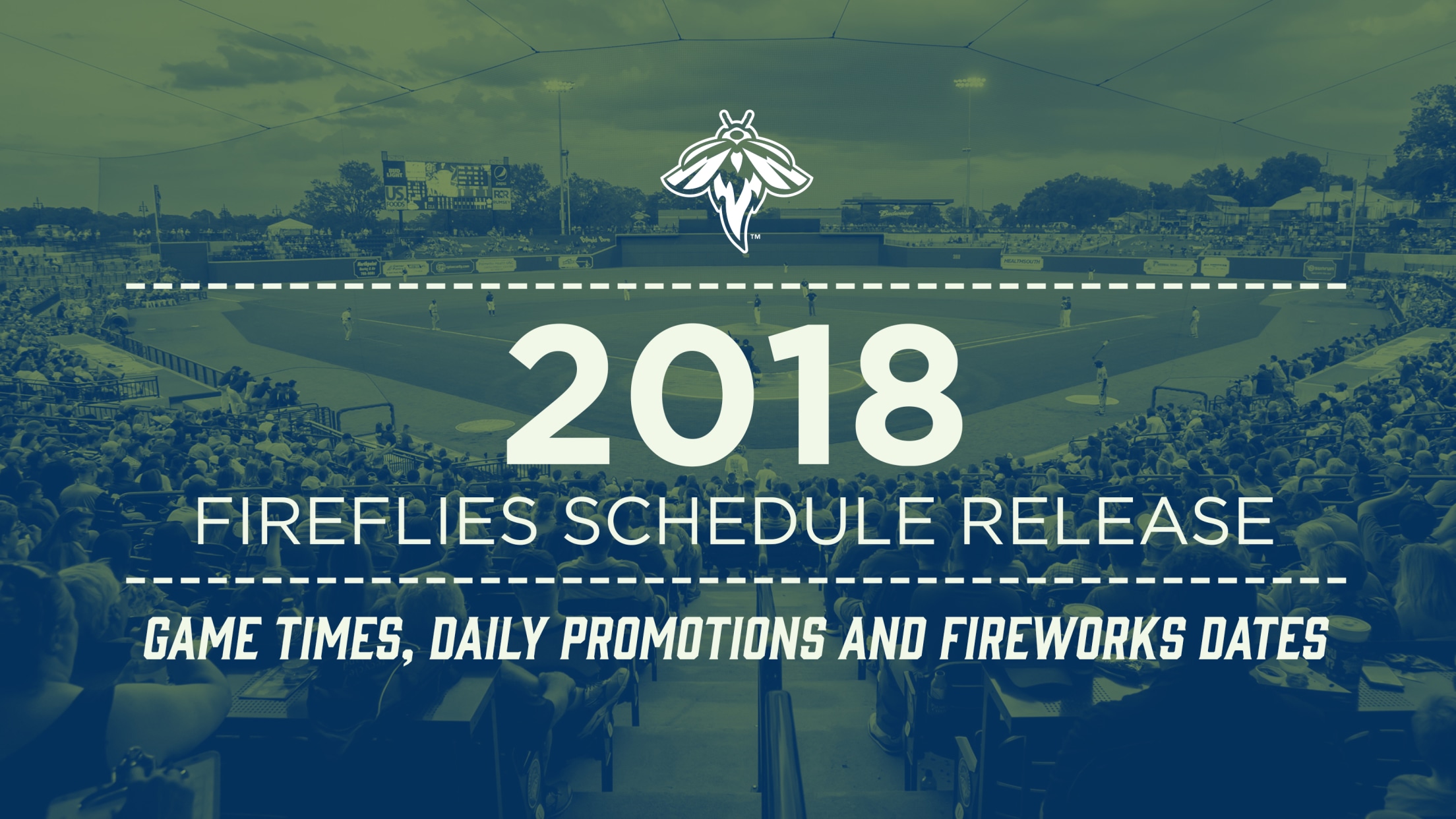 COLUMBIA, S.C. - The Columbia Fireflies today released game times, daily promotions and fireworks show dates for the 2018 season. Opening Night will be on Thursday, April 5th at 7:05 p.m. featuring a matchup against the newly relocated Augusta GreenJackets (San Francisco Giants) with postgame fireworks. View the Complete 2018
COLUMBIA, S.C. - The Columbia Fireflies today released game times, daily promotions and fireworks show dates for the 2018 season. Opening Night will be on Thursday, April 5th at 7:05 p.m. featuring a matchup against the newly relocated Augusta GreenJackets (San Francisco Giants) with postgame fireworks.
View the Complete 2018 Columbia Fireflies Schedule with Game Times
The season kicks off with a seven-game homestand featuring three consecutive fireworks shows, the first being Opening Night. In total, there are 26 fireworks shows slated for the 2018 season. Fireworks shows follow every Friday and Saturday night game, with additional shows on May 27th (Memorial Day Eve), July 4th and August 30th.
"Our entire team has been planning for the 2018 season since the final out was squeezed back in September," said Fireflies team president John Katz. "After a record-breaking 2017 season, we've got a tremendous promotional calendar on tap for the upcoming year."
Fireflies fans will see new game times on the schedule this year, as all Saturday games have been moved to a 6:05 p.m. first pitch. Weekday games (Monday-Friday) remain at a 7:05 p.m. start time, with the exception of the following dates:
Wednesday, May 2nd 11:05 a.m.
Monday, May 7th 11:05 a.m.
Wednesday, May 23rd 11:05 a.m.
Sunday, May 27th 6:05 p.m.
Monday, May 28th (Memorial Day) 12:05 p.m.
Wednesday, July 4th (Independence Day pres. by HealthSouth) 6:05 p.m.
All Sunday home games will now have a 2:05 p.m. start time for the full duration of the season.
The three 11:05 a.m. start times on the schedule in May are Fireflies Reading Program games, presented by Palmetto Health Children's Hospital. They are also our famous Businesspersons' Special matinee, so companies across the region are encouraged to take an extra long lunchbreak.

"After two seasons at Spirit Communications Park, we wanted to make sure that we had an earlier start time on Saturdays so kids wouldn't have to leave before the fireworks," said Katz. "The 2:05 p.m. start times on Sundays also ensure that families can get out to the park, enjoy a day in the Splash Zone, and still be home in time for the kids to wrap up their homework on school nights."
The team's popular Daily Promotions for the 2018 season will remain largely unchanged from 2017, but fans can always count on the Fireflies to offer surprises throughout the season. Tuesday games are $2 Tuesdays, featuring $2 hot dogs, popcorn and fountain sodas. Wag-Along Wednesdays provide fans the opportunity to bring their dogs to the ballpark (night games only; signed waiver required). Budweiser Thirsty Thursdays™ are back again, and feature half-priced domestic and craft draft beer -- and fountain sodas. Fridays are Blue Cross Blue Shield of South Carolina #LiveFearlessSC Fridays, featuring fun, fireworks and more. Saturday games will feature traditional and wacky theme nights, and always include fireworks shows after the games. Sundays will again be Future Scholar 529 Splash Sundays and will feature player autograph sessions.
The Fireflies will unveil their full 2018 promotional schedule, including theme nights and giveaways, in the coming months.
Season ticket packages are now available for the 2018 season. Reserve your seats by calling the Fireflies Ticket Office at 803-726-HITS or visiting www.ColumbiaFireflies.com for more information. 2017 season ticket members can renew their package by contacting their ticket account manager or by calling the ticket office. Plans start as low as $99.
Individual tickets for select 2018 Fireflies home games are now available for purchase Tickets for Opening Day (April 5th), Sunday May, 27th and the Fourth of July can be purchased until December 31st at the Fireflies box office, online at ColumbiaFireflies.com or over the phone at 803-726-HITS. Full sale of individual game tickets will occur closer to the start of the season.
****
About the Columbia Fireflies
The Columbia Fireflies are the South Atlantic League affiliate of the New York Mets. Winners of Ballpark Digest's Best New Branding and Logo Award in 2016, the Fireflies play games across the southeast and mid-Atlantic regions, including against in-state rivals in Charleston and Greenville. The team partnered with the city of Columbia and Hughes Development to construct Spirit Communications Park, a multi-use outdoor sports and entertainment venue at the center of the BullStreet District. The Columbia Fireflies are owned by Hardball Capital, owners of the Fort Wayne TinCaps of the Midwest League and the Chattanooga Lookouts of the Southern League. For more information, visit ColumbiaFireflies.com, or follow the Fireflies on Twitter, Facebook and Instagram.
About Spirit Communications Park
Spirit Communications Park, the 2016 Ballpark Digest Ballpark of the Year, is a 365-day per year multi-use sports and entertainment venue located in the heart of downtown Columbia, SC. Spirit Communications Park is the home ballpark for the Columbia Fireflies, the South Atlantic League affiliate of the New York Mets. Designed for baseball, concerts, football, soccer and a host of other activities, the venue seats approximately 9,000 for sporting events and up to 15,000 for major outdoor concerts. With 16 luxury suites and a 7,000 square-foot Club Level Lounge, Spirit Communications Park can also host everything from business meetings to wedding receptions, and everything in between. The venue is open 365 days a year and serves as a public park with the wrap-around concourse representing 1/3 of a mile for walkers and joggers. For more information, visit www.SpiritCommunicationsPark.com.