Vientos and Uriarte Smash Homers, Columbia Falls in Middle Game
Uriarte Crushes First Homer of Season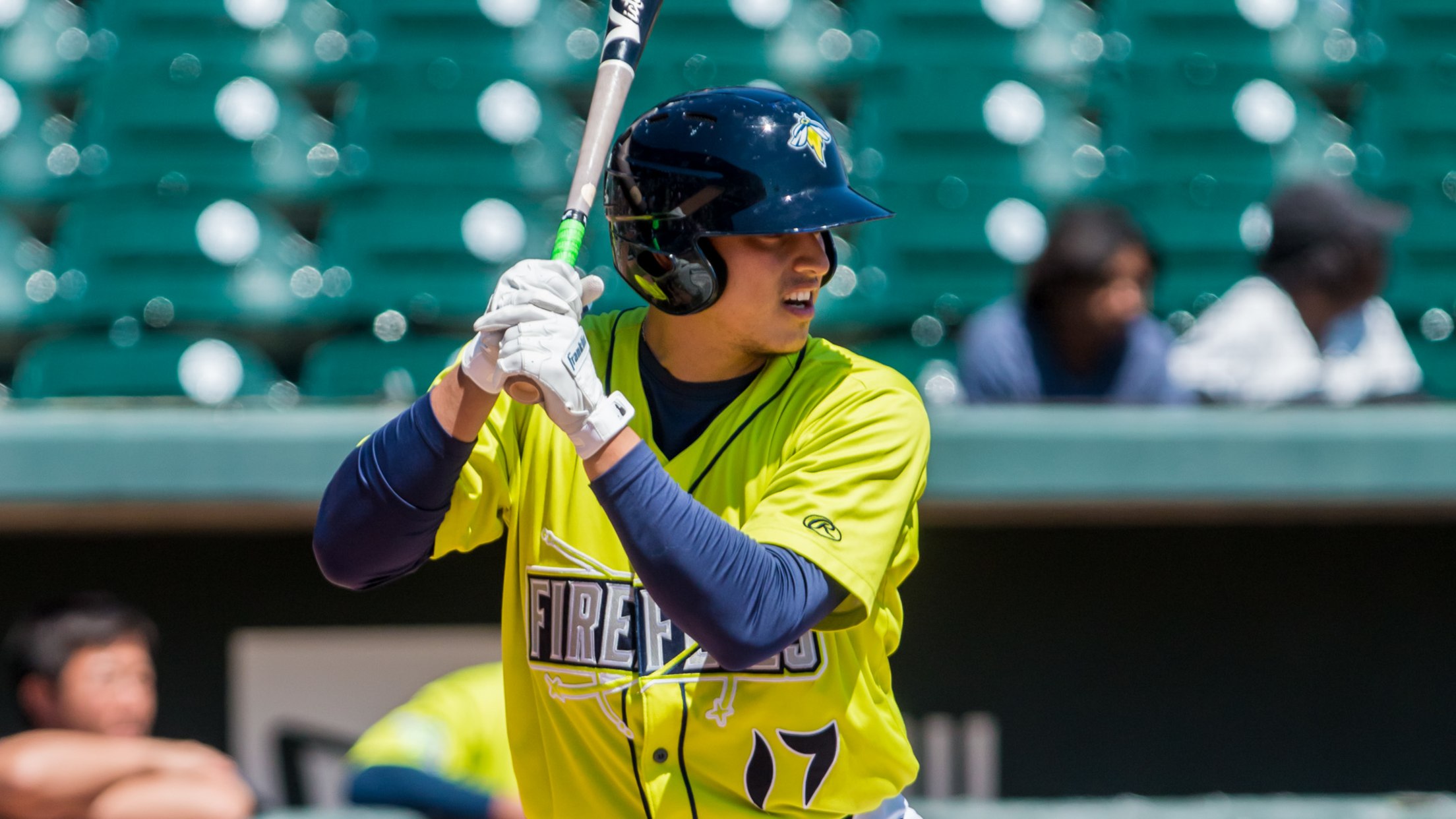 Juan Uriarte (JEFF BLAKE)
CHARLESTON, SC - For the first time this season, Columbia bashed multiple homers in a game. The power surge wasn't enough to sink the RiverDogs on Thursday, though. The Fireflies dropped the middle game of the series, 6-3. Columbia can bounce back and avoid the series sweep with a win
CHARLESTON, SC - For the first time this season, Columbia bashed multiple homers in a game. The power surge wasn't enough to sink the RiverDogs on Thursday, though. The Fireflies dropped the middle game of the series, 6-3. Columbia can bounce back and avoid the series sweep with a win on Friday.
First, it was Mark Vientos who shattered a pitch from Charleston (19-14) starter Daniel Bies over the right-center field wall in the first frame. Vientos went yard just moments after Brian Sharp singled and the visitors quickly took a two-run lead.
Columbia (9-23) lost the lead in the third inning, but Juan Uriarte tied things up with a solo blast in the sixth. The laser was Uriarte's first of the season and - after missing all but one game in 2018 due to an injury - his first since August 24, 2017. Columbia's catcher now has back-to-back multi-hit games since his return from extended spring training on Monday.
Chase Chambers also finished with two singles on Thursday. The first baseman is hitting a respectable .267 in nine starts this season.
Fireflies starter Willy Taveras (L, 2-4) battled through 6.1 innings. The right-hander allowed just three earned runs and struck out six. Taveras didn't walk anyone.
Charleston's Anderson Munoz (W, 1-1) picked up the win.
SCORING SUMMARY:
Top 1: Mark Vientos blasts two-run homer. COL 2, CHS 0
Bottom 1: Josh Stowers' sacrifice fly scores Brandon Lockridge from third base. COL 2, CHS 1
Bottom 3: Wilkerman Garcia and Josh Breaux strike RBI doubles. CHS 3, COL 2
Top 6: Juan Uriarte blasts his first dinger of the season. COL 3, CHS 3
Bottom 7: Lockridge knocks in a run when he grounds out to third … Stowers doubles in a run … Garcia scores on a passed ball. CHS 6, COL 3
The Fireflies must win on Friday to ward off the sweep. First pitch between Columbia and Charleston is scheduled for 7:05 ET at Joe Riley Park. Right-hander Colin Holderman (1-0, 1.80) starts for the Fireflies and will toe the rubber against RiverDogs righty Luis Gil (1-1, 1.23).