'Birds Bats Silenced Again by Salem in 5-1 Defeat
Carson Carter posts three scoreless innings out of the 'pen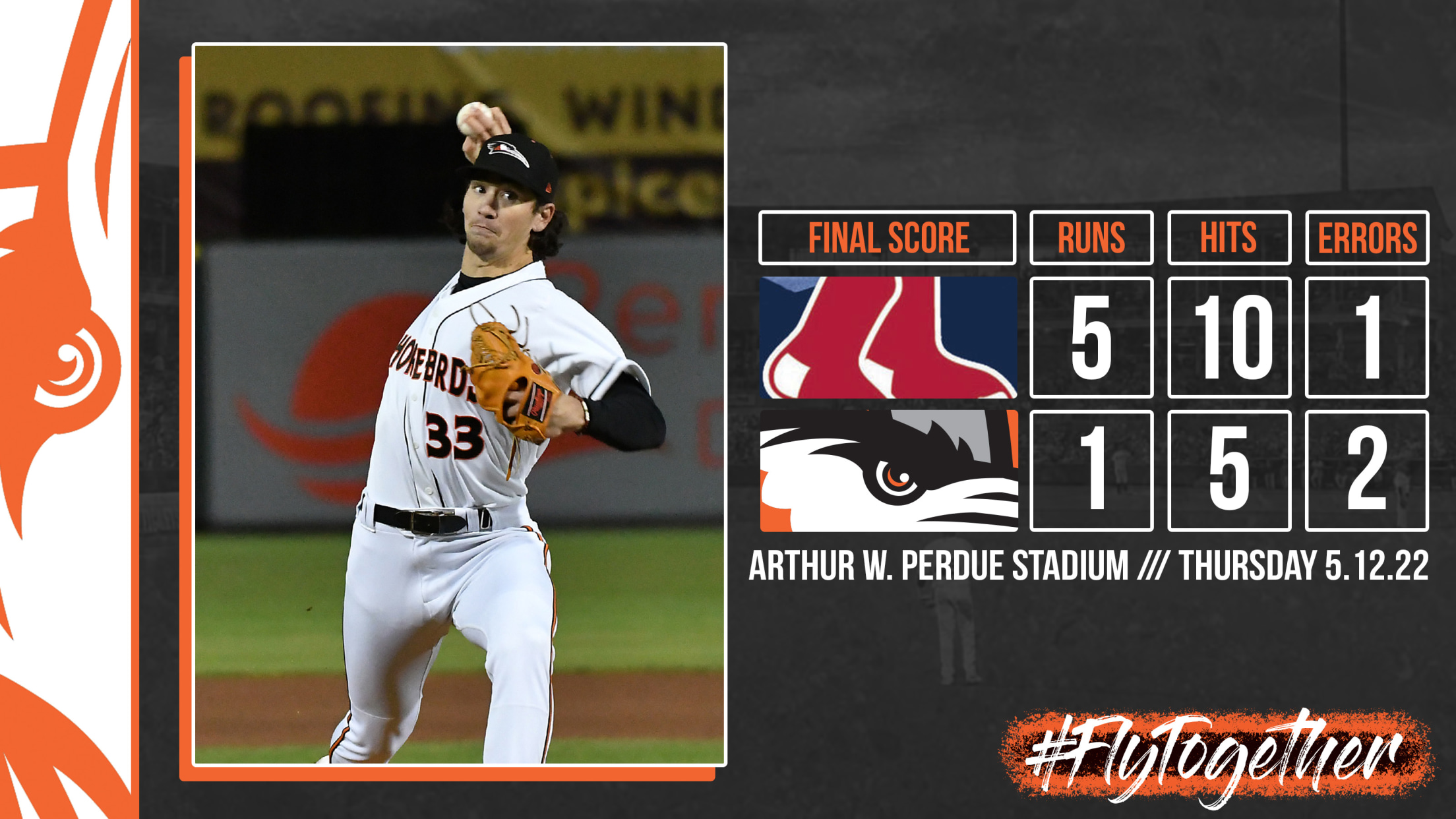 SALISBURY, MD – A four-run third-inning for the Salem Red Sox was too much for the Delmarva Shorebirds in a 5-1 loss on Thursday night at Arthur W. Perdue Stadium. The loss for the Shorebirds (9-21) is their eighth straight at home while the Red Sox (15-15) won their fourth
SALISBURY, MD – A four-run third-inning for the Salem Red Sox was too much for the Delmarva Shorebirds in a 5-1 loss on Thursday night at Arthur W. Perdue Stadium.
The loss for the Shorebirds (9-21) is their eighth straight at home while the Red Sox (15-15) won their fourth game in a row overall.
The four-run third began for Salem with a Eddinson Paulino single and Miguel Ugueto then doubled him home. Ugueto then stole third and after a strikeout, Nathan Hickey walked before Blaze Jordan singled home Ugueto. A walk to Tyler Miller was followed by a walk to Eduardo Vaughan to force home a run and make it 3-0. Jose Garcia then grounded into a fielder's choice that brought home a run and made it 4-0.
The Shorebirds got a run back in the fifth on an Isaac De León RBI triple to cut it to 4-1.
Salem brought home an insurance run in the ninth when Garcia singled home Vaughan to cement the score at 5-1.
Gabriel Jackson (1-3) fired five one-run innings for Salem to secure the win. Jackson allowed four hits and a walk while striking out five.
Conor Grady (1-2) absorbed the loss for Delmarva, allowing four runs on five hits and four walks over three innings, striking out five.
Joey Stock picked up his second save of the season with two shutout innings for Salem, allowing a hit and two walks while striking out three.
The Shorebirds and Red Sox continue their series on Friday, May 13. Shane Davis (1-2, 2.81) gets the ball for Delmarva against Juan Daniel Encarnacion (1-3, 6.10) for Salem. First pitch from Perdue Stadium is slated for 7:05 p.m. with pregame coverage beginning at 6:50 p.m. on MiLB.TV and theshorebirds.com with Sam Jellinek on the call.
ABOUT THE DELMARVA SHOREBIRDS
The Delmarva Shorebirds were founded in 1996 and have been the Class-A affiliate of the Baltimore Orioles since 1997. The Shorebirds have won two South Atlantic League championships in 1997 and 2000 and were named the MiLB.com Minor League Team of the Year in 2019 after going 90-48 in the regular season. Based in Salisbury, Maryland, the Shorebirds are proud to represent the entire Delmarva Peninsula and have hosted two SAL All-Star Games in 1999 and 2011. The Shorebirds are owned by 7th Inning Stretch, LP, based in Stockton, California headed by Chairman Tom Volpe and President Pat Filippone.