'Birds Overpowered by Wood Ducks Bats
Six-Run Fourth Dooms 'Birds in Loss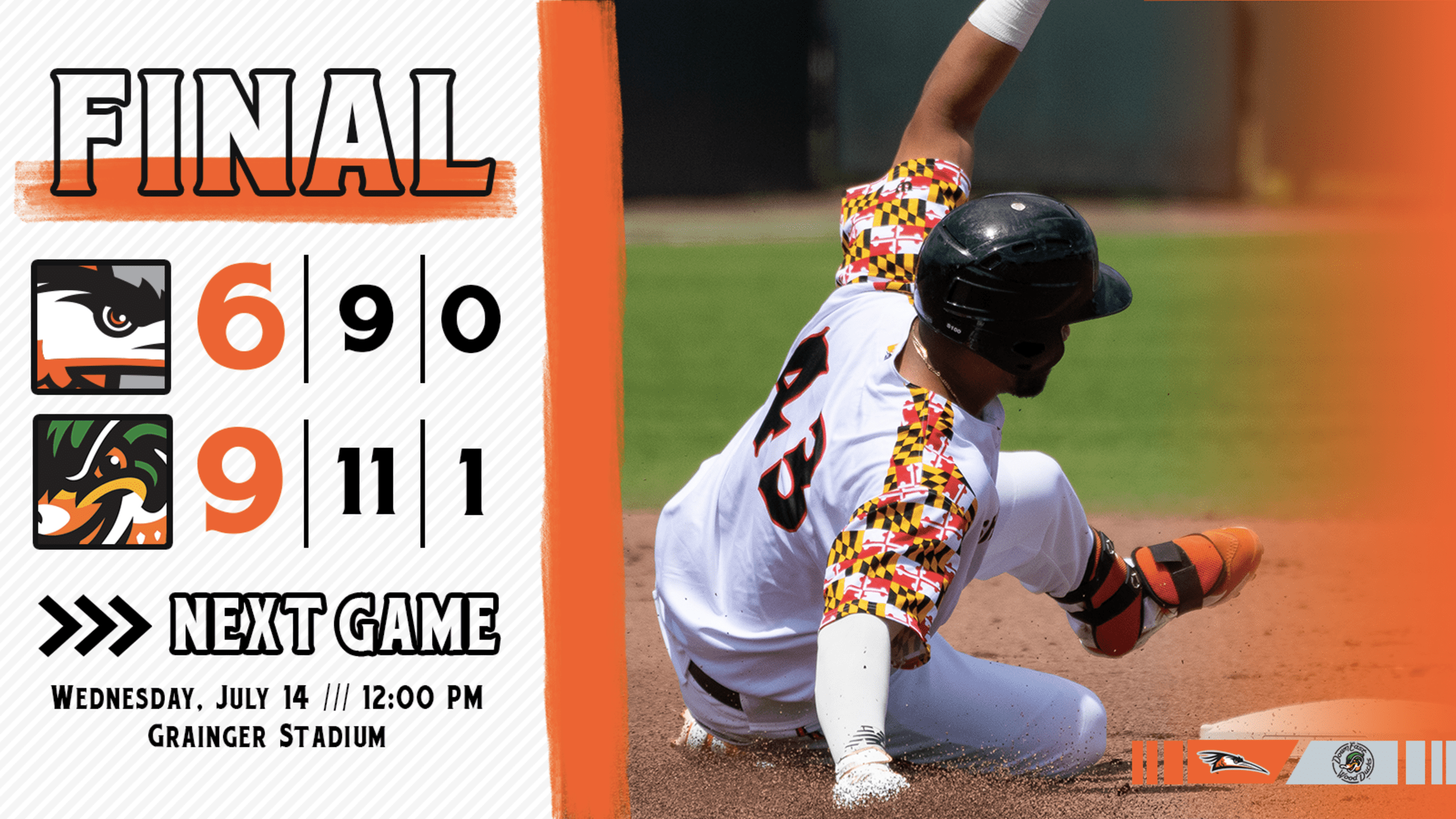 SALISBURY, MD - The Delmarva Shorebirds saw an early lead slip away on Tuesday night as they fell 9-6 to the Down East Wood Ducks at Grainger Stadium. The Shorebirds (37-22) brought the bats out early to announce their presence on the Wood Ducks (33-27) home turf. Darell Hernaiz and
SALISBURY, MD - The Delmarva Shorebirds saw an early lead slip away on Tuesday night as they fell 9-6 to the Down East Wood Ducks at Grainger Stadium.
The Shorebirds (37-22) brought the bats out early to announce their presence on the Wood Ducks (33-27) home turf.
Darell Hernaiz and Hudson Haskin both singled with one away in the Delmarva first before TT Bowens walked to load the bases. After a strikeout, Cristopher Cespedes beat out an infield single to bring home the first run of the contest. Andrew Martinez then walked to force home another run before Ryne Ogren knocked a single up the middle to plate two more to make it 4-0 Delmarva.
Down East got on the board in the bottom of the second courtesy of a Cody Freeman solo homer, his fourth of the season.
In the fourth, Ryne Ogren was hit by a pitch to open the inning and Lamar Sparks subsequently walked. After a strikeout, Hernaiz dumped a single to right to load the bases. Haskin then worked a walk to force in a run and make it 5-1 Delmarva.
Down East stormed back in the bottom of the fourth. Dustin Harris and Cody Freeman both singled to begin the inning before Christian Inoa slammed a three-run homer to left, his fourth of the season, to make it 5-4. Keyber Rodriguez rekindled the rally with a single and Angel Aponte then tripled him home to put the Wood Ducks up by two. Aponte was then balked home to extend the Down East lead to 6-4. Two outs later, Jayce Easley beat out a bunt single and advanced to second on a wild pitch. Luisangel Acuna proceeded to beat out an infield single that allowed Easley to score all the way from second base, capping the frame with Down East ahead 7-5.
The Shorebirds clawed back a run in the fifth. With one away, Cespedes walked and one out later Ogren reached on a single to shortstop. Lamar Sparks followed him up by tagging a single to left, scoring Cespedes to make it 7-6.
Down East added some insurance in the eighth with a Dustin Harris two-run single to put the game on ice at 9-6.
Leury Tejada (2-2) earned the win out of the bullpen for Down East. Tejada fired three innings of one run ball, allowing three hits and two walks while striking out three.
Griffin McLarty (1-5) started for Delmarva and absorbed the loss. McLarty allowed six runs on six hits and a walk, striking out five.
Spencer Mraz earned his sixth save of the season for Down East, hurling two shutout innings, allowing a hit and a walk, striking out four.
Delmarva boasted a balanced offensive attack with seven of nine starters collecting hits. Hernaiz (2-5, R) and Ogren (2-4, 2 RBI, R) had multi-hit performances. Finishing 0-for-5, Mason Janvrin saw his 36-game on-base streak come to a close.
Down East one-upped the Shorebirds with eight of nine starters collecting hits. Freeman finished 2-for-4 with a homer to lead the Wood Ducks charge.
The Shorebirds will look to rebound on Wednesday, July 13 against Down East. Brandon Young (3-0, 3.24) goes for Delmarva against John Matthews (2-2, 5.09) for the Wood Ducks. First pitch is slated for 12:00 p.m. from Grainger Stadium.
**
ABOUT THE DELMARVA SHOREBIRDS**
The Delmarva Shorebirds were founded in 1996 and have been the Class-A affiliate of the Baltimore Orioles since 1997. The Shorebirds have won two South Atlantic League championships in 1997 and 2000 and were named the MiLB.com Minor League Team of the Year in 2019 after going 90-48 in the regular season. Based in Salisbury, Maryland, the Shorebirds are proud to represent the entire Delmarva Peninsula and have hosted two SAL All-Star Games in 1999 and 2011. The Shorebirds are owned by 7th Inning Stretch, LP, based in Stockton,California headed by Chairman Tom Volpe and President Pat Filippone.