'Birds Wrap July With Fourth Straight Win Over Hillcats
Delmarva finishes month at 12-12, first month this season at .500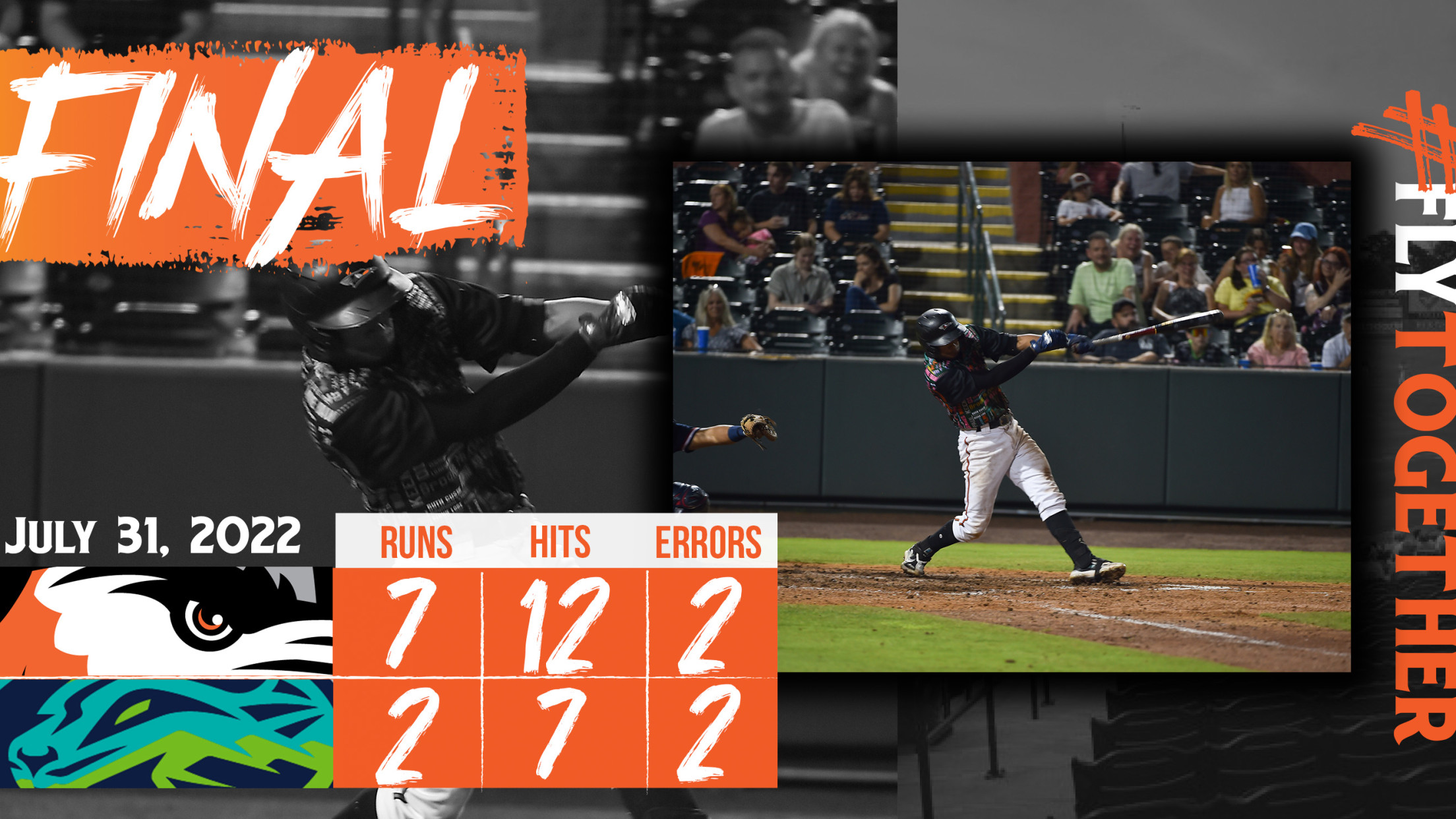 LYNCHBURG, VA. – The Delmarva Shorebirds coasted to a 7-2 win over the Lynchburg Hillcats to wrap a 5-1 road trip on Sunday evening at Bank of the James Stadium. The fourth straight win represents the longest road winning streak for the Shorebirds (34-61, 13-17) who have now leapfrogged the
LYNCHBURG, VA. – The Delmarva Shorebirds coasted to a 7-2 win over the Lynchburg Hillcats to wrap a 5-1 road trip on Sunday evening at Bank of the James Stadium.
The fourth straight win represents the longest road winning streak for the Shorebirds (34-61, 13-17) who have now leapfrogged the Hillcats (46-50, 11-19) in the Carolina League standings.
Delmarva opened the scoring in the third inning. After both teams had their first six batters retired, the 'Birds got on the board on a Michael Mantecon two-run homer, his first homer of the season.
Lynchburg answered back with a run in the bottom half of the third. Wilfri Peralta doubled to start the inning and scooted around the bases on back-to-back groundouts, scoring on Cesar Idrogo's bounce out.
The 'Birds got that run right back in the top of the fourth. Isaac De Leon and Frederick Bencosme both singled to start the inning and two outs later, Roberto Martinez singled to score De Leon and make it 3-1.
Three more came in for the 'Birds in the sixth. Bencosme walked to start the frame before Noelberth Romero singled to right, with an error allowing Bencosme to score while Romero went to third. Stiven Acevedo then doubled home Romero before Acevedo scored later in the inning on an Elio Prado RBI groundout.
The 'Birds scored one more time in the seventh on a Romero RBI fielder's choice.
Lynchburg got an unearned run in the eighth on an errant throw, but Delmarva held on firmly for the 7-2 win.
Hugo Beltran (4-5) earned the win for Delmarva with a scoreless inning of relief, allowing a hit and striking out two.
Will Dion (5-4) suffered the loss for Lynchburg, allowing three runs in 4.1 innings on seven hits, striking out eight
Following an off-day Monday, the Shorebirds kick off a 12-game homestand on Tuesday, August 2, beginning with a six-game series with the Augusta Green Jackets at Arthur W. Perdue Stadium. First pitch on Tuesday is slated for 7:05 p.m with pregame coverage beginning at 6:50 p.m. on MiLV.TV and theshorebirds.com with Sam Jellinek on the call.
ABOUT THE DELMARVA SHOREBIRDS
The Delmarva Shorebirds were founded in 1996 and have been the Class-A affiliate of the Baltimore Orioles since 1997. The Shorebirds have won two South Atlantic League championships in 1997 and 2000 and were named the MiLB.com Minor League Team of the Year in 2019 after going 90-48 in the regular season. Based in Salisbury, Maryland, the Shorebirds are proud to represent the entire Delmarva Peninsula and have hosted two SAL All-Star Games in 1999 and 2011. The Shorebirds are owned by 7th Inning Stretch, LP, based in Stockton, California headed by Chairman Tom Volpe and President Pat Filippone.