'Birds Keep Playoff Hopes Alive with Crucial Win Over FredNats
Peter Van Loon fires four shutout frames in first start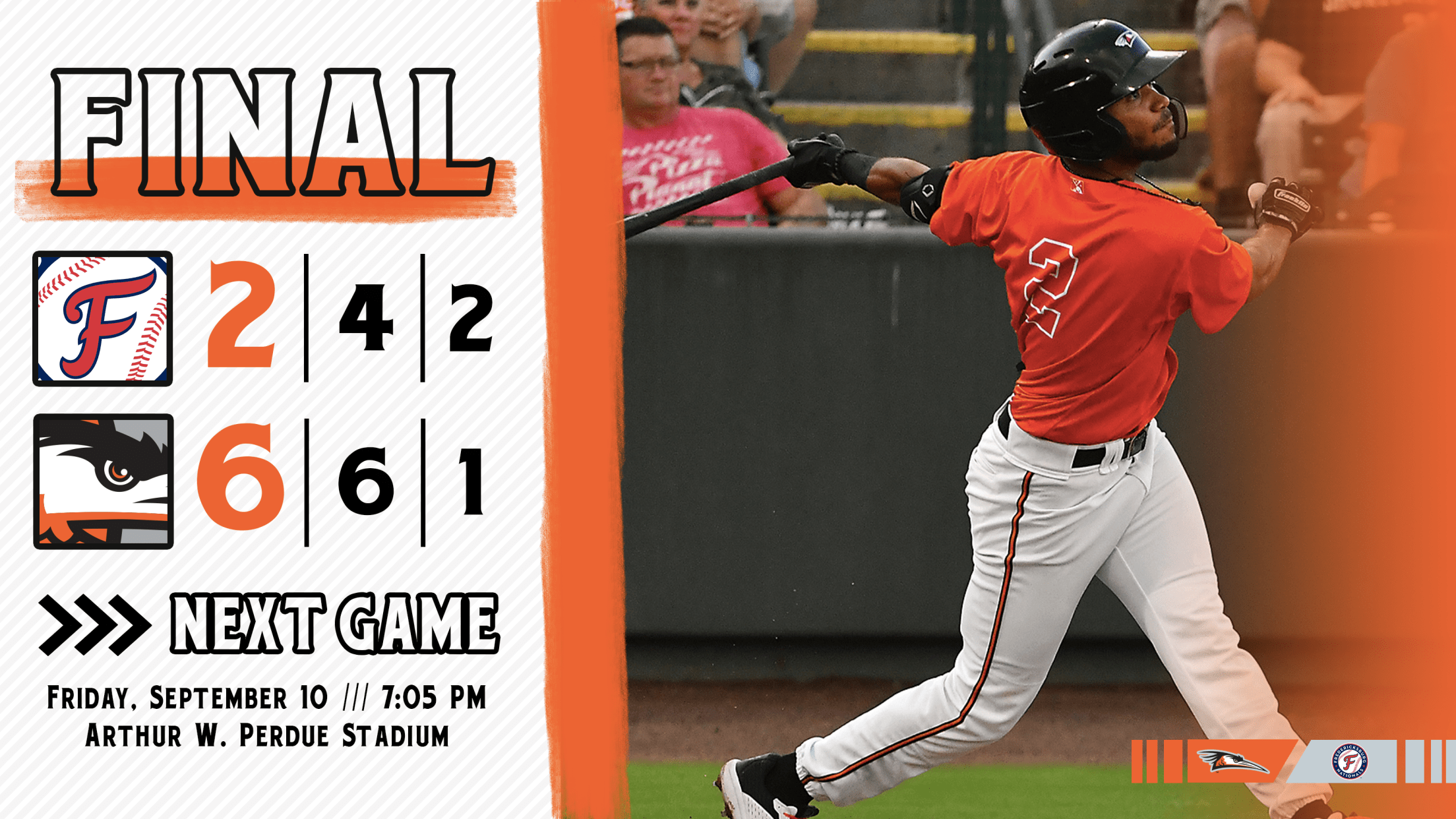 SALISBURY, MD - Heading down the home stretch of the season, the Delmarva Shorebirds kept themselves on the fringes of the postseason hunt with a 6-2 win over the Fredericksburg Nationals on Thursday night at Arthur W. Perdue Stadium. With the win over the Nationals (39-72), the Shorebirds (62-49) find
SALISBURY, MD - Heading down the home stretch of the season, the Delmarva Shorebirds kept themselves on the fringes of the postseason hunt with a 6-2 win over the Fredericksburg Nationals on Thursday night at Arthur W. Perdue Stadium.
With the win over the Nationals (39-72), the Shorebirds (62-49) find themselves six games out of a playoff spot with nine to play.
For the first time since Saturday, Delmarva plated the first runs of the game. In the third inning, the Shorebirds loaded the bases before two wild pitches pushed two runs home to open the scoring.
The FredNats answered in the fifth to tie the game. After two one-out walks, Jacob Young stepped in with two away and drilled a two-run double to knot the game at 2-2.
The game did not stay tied for long as Darell Hernaiz belted a two-run homer, his sixth of the year, in the bottom of the fifth to restore Delmarva's two-run lead.
The Shorebirds added two insurance runs in the seventh with back-to-back two out RBI singles from Colton Cowser and Coby Mayo to secure the 6-2 win.
Conor Grady (1-0) collected the win out of the bullpen for Delmarva. Grady allowed two runs on two hits and four walks, striking out three.
Andry Lara (0-1) suffered the loss for the FredNats after allowing four runs on three hits and five walks, striking out three.
Although absent from the decision, Delmarva starter Peter Van Loon was excellent, firing four shutout frames. He struck out four and retired the final 10 batters he faced.
The Shorebirds will look to string together wins against the FredNats on Friday, September 10. Carlos Tavera (0-0, 3.18) goes for the Shorebirds against Matt Merrill (2-2, 5.54) for the FredNats. First pitch is slated for 7:05 p.m. with pregame coverage beginning at 6:50 p.m. on MiLB.TV and Fox Sports 960 AM with Sam Jellinek on the call.
ABOUT THE DELMARVA SHOREBIRDS
The Delmarva Shorebirds were founded in 1996 and have been the Class-A affiliate of the Baltimore Orioles since 1997. The Shorebirds have won two South Atlantic League championships in 1997 and 2000 and were named the MiLB.com Minor League Team of the Year in 2019 after going 90-48 in the regular season. Based in Salisbury, Maryland, the Shorebirds are proud to represent the entire Delmarva Peninsula and have hosted two SAL All-Star Games in 1999 and 2011. The Shorebirds are owned by 7th Inning Stretch, LP, based in Stockton,California headed by Chairman Tom Volpe and President Pat Filippone.