Adley Rutschman Named O's Player of the Month
No. 1 pick arrived at Delmarva on August 21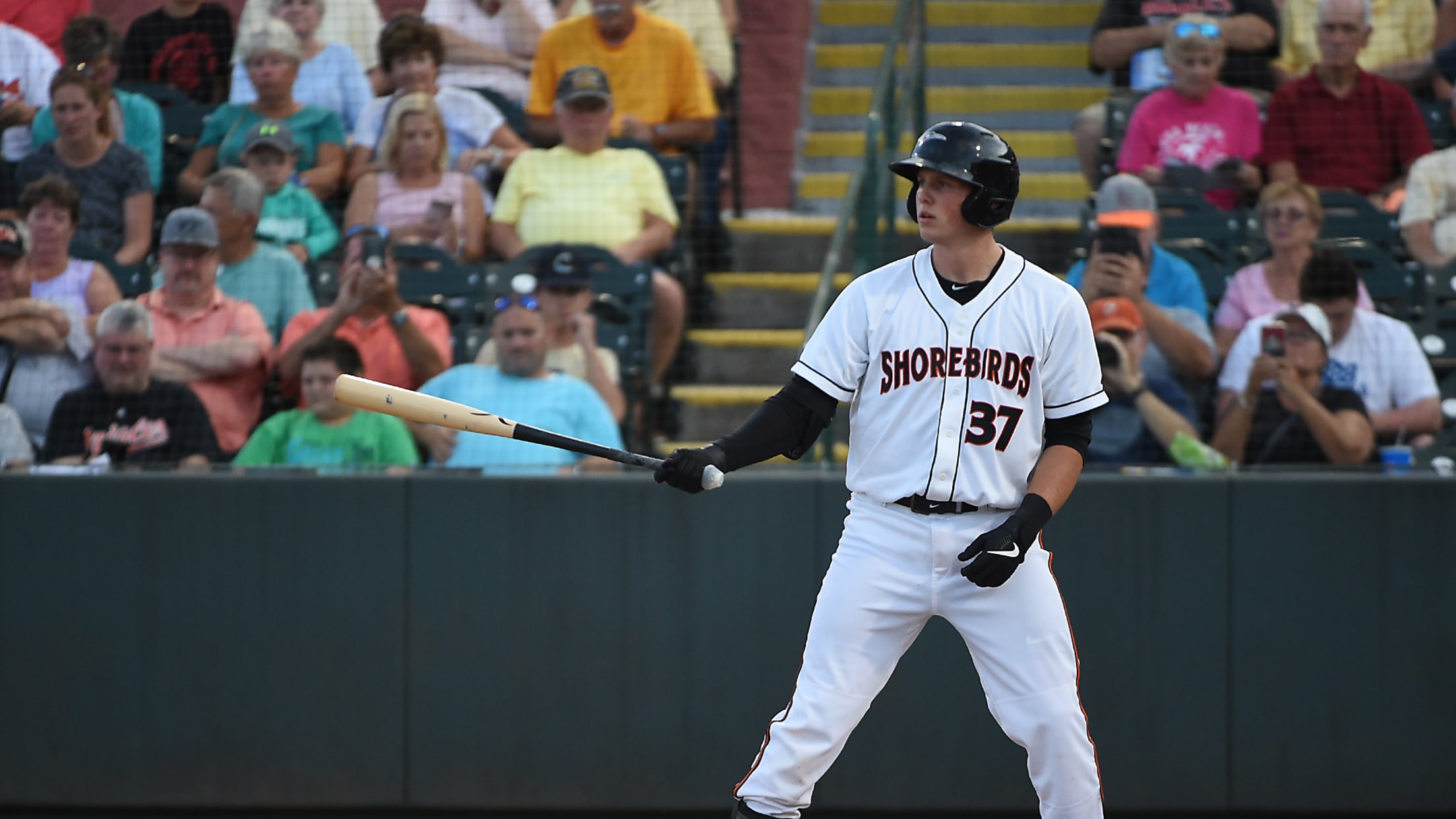 (Joey Gardner)
SALISBURY, MD - The Delmarva Shorebirds, in conjunction with the Baltimore Orioles, are pleased to announce that catcher Adley Rutschman has been named the organization's Minor League Player of the Month for August.Rutschman, a 21-year-old from Portland, Oregon, put up stout numbers in 27 games between short-season Aberdeen and Class-A
SALISBURY, MD - The Delmarva Shorebirds, in conjunction with the Baltimore Orioles, are pleased to announce that catcher Adley Rutschman has been named the organization's Minor League Player of the Month for August.
Rutschman, a 21-year-old from Portland, Oregon, put up stout numbers in 27 games between short-season Aberdeen and Class-A Delmarva in August, slashing .258/.359/.412 with seven doubles, a triple, two home runs, 21 RBIs, 14 runs scored, and a .771 OPS.
After receiving a promotion from the Gulf Coast League to Aberdeen on July 27, Rutschman caught fire with the IronBirds on August 9, igniting a 10-game hitting streak that saw him slash .462/.521/.744 and drive in 14 runs. The crown jewel of the streak came on August 19 when he went 5-for-5 with a triple, homer, and four RBIs. He also had the best seat in the house for the first no-hitter in Aberdeen history, catching for pitchers Jake Lyons, James Ryan, and Kyle Martin as the IronBirds blanked Vermont 7-0 on August 12.
One day after his five-hit outburst, the Orioles announced Rutschman's promotion to Delmarva. He made his debut with the Shorebirds on August 21, becoming the first-ever No. 1 overall pick to suit up for the home team at Arthur W. Perdue Stadium. Rutschman caught five different pitchers in a combined two-hit shutout that night as the Shorebirds downed Greensboro 1-0. One week later he hit his first Delmarva home run, a two-run blast at Lakewood on August 27.
Rutschman, currently the Orioles' top prospect and the No. 6 prospect in all of Minor League Baseball, really found his stroke during the Shorebirds' brief run in September. He went 2-for-4 with a two-run homer in his final regular season game on September 1. In Game 1 of the Northern Division Championship Series at Hickory on September 4, Rutschman drove in the Shorebirds' first run with a first-inning RBI double. Two days later he notched Delmarva's only two hits in Game 2 against the Crawdads; he also found himself involved in a defensive rundown play in the seventh and threw out a would-be basestealer at second base in the ninth, helping to preserve a scoreless deadlock into extra innings.
The Orioles drafted Rutschman first overall out of Oregon State in the 2019 MLB First-Year Player Draft. His signing scout was Brandon Verley.
The Shorebirds finished the 2019 season claiming four of the Orioles' monthly minor league honors. Adam Hall was named Player of the Month in April, while Grayson Rodriguez and Drew Rom took home Pitcher of the Month in April and May, respectively. Delmarva finished the season 90-48, the best mark in franchise history, and made the South Atlantic League postseason for the first time since 2005.