Three Hits from Florentino Helps Shorebirds Split Series with Fireflies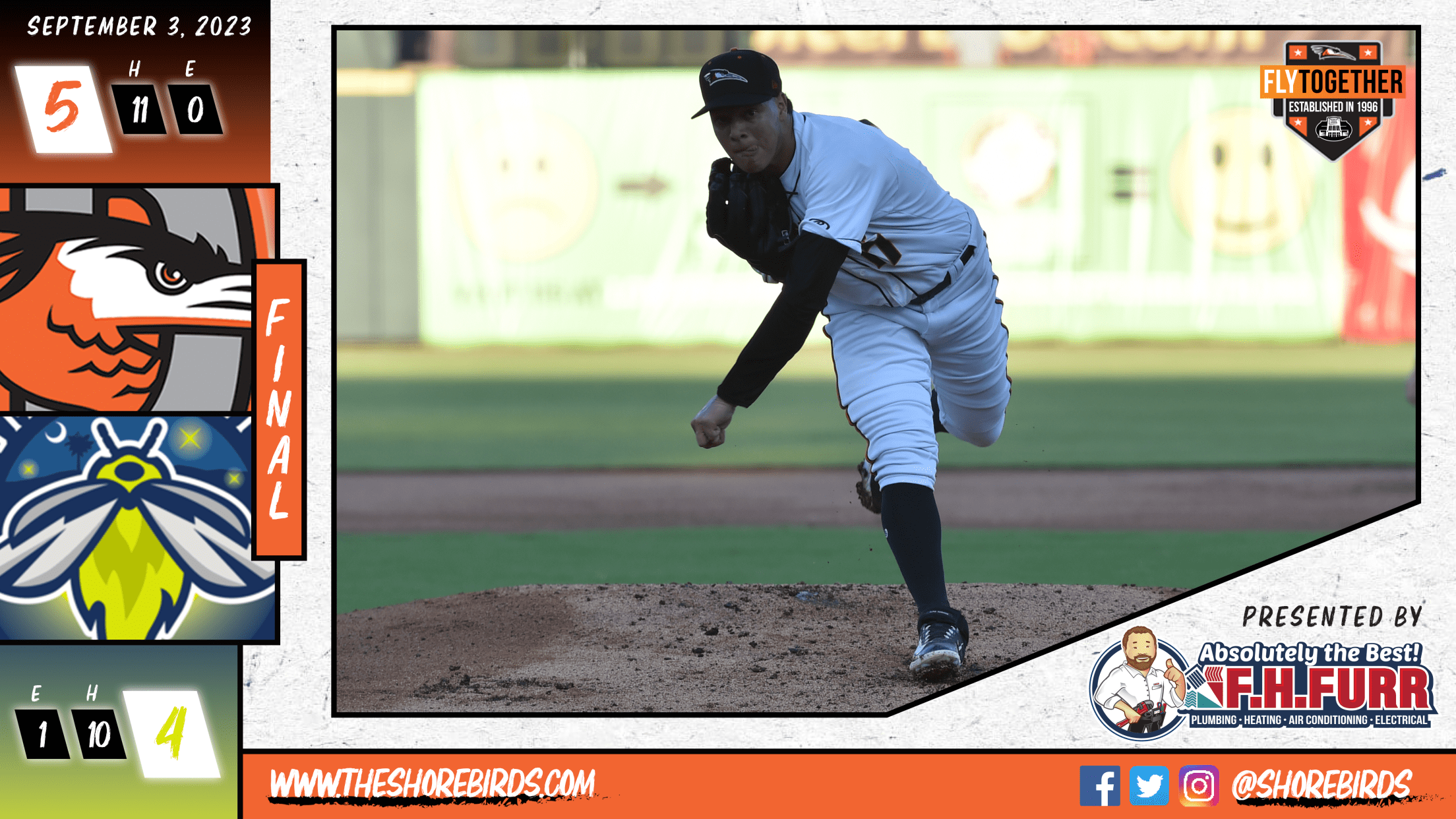 Delmarva Rallies to Defeat Columbia in Ten Innings Three Hits from Florentino Helps Shorebirds Split Series with Fireflies COLUMBIA, SC: The Delmarva Shorebirds (26-33) finished their 12-game road trip with an exciting, 5-4 victory in 10 innings over the Columbia Fireflies (29-31) on Sunday night. After a scoreless first two
Delmarva Rallies to Defeat Columbia in Ten Innings
Three Hits from Florentino Helps Shorebirds Split Series with Fireflies
*COLUMBIA, SC: *The Delmarva Shorebirds (26-33) finished their 12-game road trip with an exciting, 5-4 victory in 10 innings over the Columbia Fireflies (29-31) on Sunday night.
After a scoreless first two innings, Columbia scored the game's first run on a sacrifice fly from Jared Dicky to make it 1-0 Columbia after three innings.
Delmarva would then face a 4-0 deficit after the fourth following a three-run shot by Lizandro Rodriguez with two outs.
However, Delmarva would make their move in the top of the fifth. With runners at first and second, Tavian Josenberger bunted for a single down the third base line, but Enrique Bradfield Jr. surprised everyone as he never stopped running and scored from second to cut the deficit to 4-1. Mac Horvath then scored moments later from second base on an error by the Columbia infield, making 4-2. Stiven Acevedo would plate one final run in the frame with a groundout to short that brought home Josenberger, pulling the Shorebirds within one at 4-3 after five.
In the sixth, Enrique Bradfield Jr. would tie the game with a sacrifice fly to left field as Randy Florentino scored from third, evening the score at four apiece after six.
The game would remain tied through the end of regulation thanks to excellent work out of the bullpen by Raul Rangel who tossed five scoreless innings of relief to force extras with the game still tied at four.
In the tenth, with two outs and a runner at second, Randy Florentino delivered the goods his third hit of the game as a grounder into centerfield scored TT Bowens, giving Delmarva their first lead of the game at 5-4.
Zane Barnhart took over in the bottom half with a chance to earn his first professional save. With the bases loaded and one out, the 17th-round pick for the Orioles would deliver as he struck out Trevor Werner, followed by a fly ball to center off the bat of Brett Squires that Matthew Etzel caught to secure a 5-4 victory in ten innings.
Raul Rangel (2-1) picked up the win in relief for the Shorebirds with Zane Barnhart (1) getting the save. Columbia reliever Chazz Martinez (6-8) suffered the loss.
After consecutive series splits on the road, Delmarva now returns home for the final series of the regular season starting on Tuesday night at 7:05 p.m. as the battle the Fredericksburg Nationals.
F.H. Furr Plumbing, Heating, Air Conditioning & Electrical has partnered with Megee Home Services and is now providing residential products and services in the plumbing, heating, air conditioning, and electrical business to the Delaware region. The dedicated team of service professionals takes pride in building strong relationships with the customers in their community while providing leading standards of service. They have committed themselves to the highest degree of professional development and training in the industry, to work diligently in exceeding every expectation of the client in need. Based out of Manassas, Va., the company has expanded throughout, Northern Va., Rockville, Md., Fredericksburg, Richmond, Va and Delaware. For more information, please visit, https://www.fhfurr.com/ or call 800-772-FAST