Eastern Shore Legend: Homer "Doc" Smoot
First Eastern Shore Native to play in the MLB in the 20th Century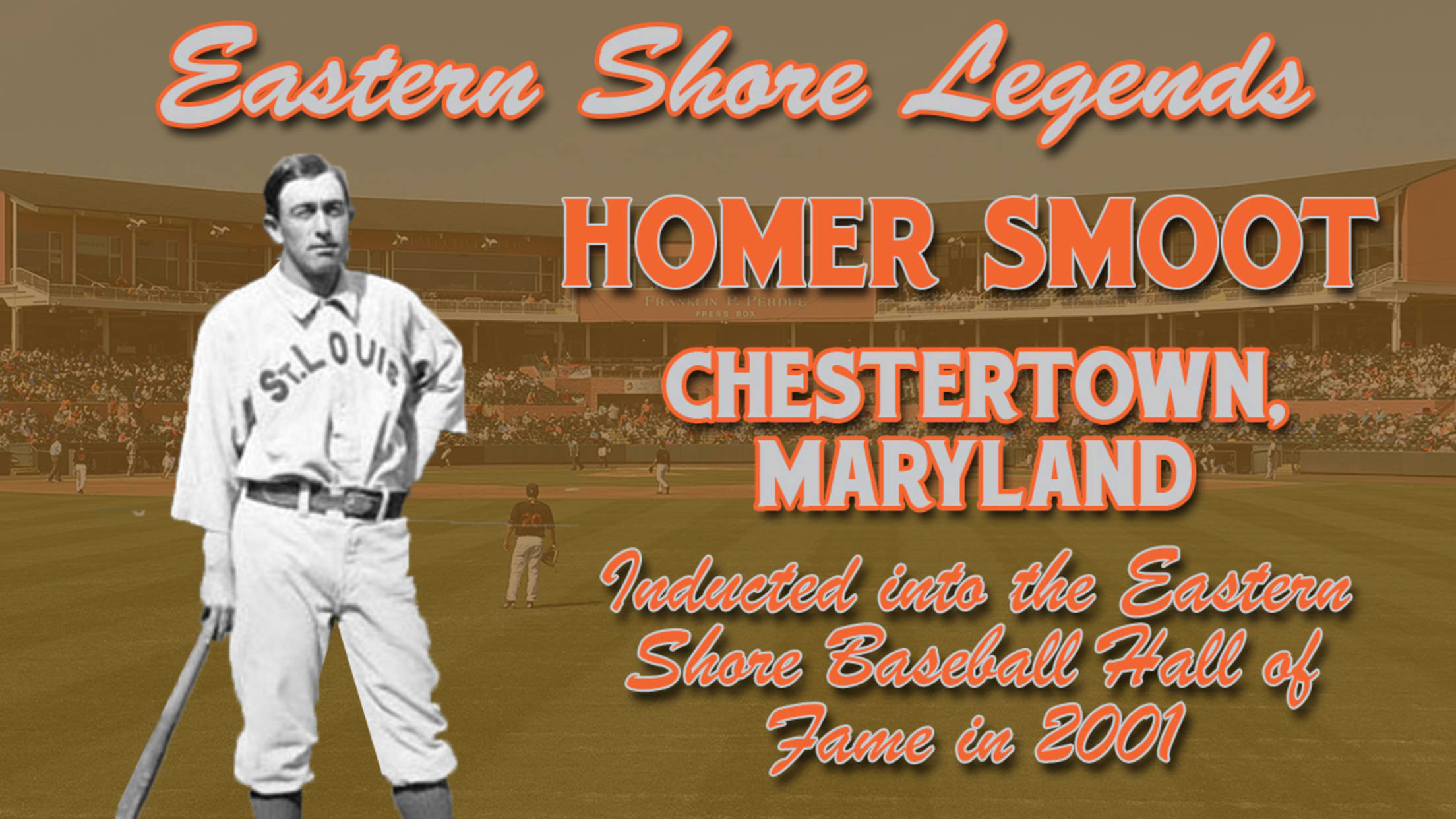 Homer Smoot's time in the MLB can not compare to other legendary players to come from the Eastern Shore like Home Run Baker and Jimmie "Double XX" Foxx who each are Hall of Famers, but Smoot still turned in an impressive baseball career all starting here on Delmarva. In fact,
Homer Smoot's time in the MLB can not compare to other legendary players to come from the Eastern Shore like Home Run Baker and Jimmie "Double XX" Foxx who each are Hall of Famers, but Smoot still turned in an impressive baseball career all starting here on Delmarva. In fact, it was thanks to Homer Smoot that the Eastern Shore started to become more of a household name and widely known area thanks to his brief time in the MLB.
Homer Vernon Smoot was born in the small town of Galestown, Maryland, on March 23, 1878, making him the oldest player for the Eastern Shore Legends series. With not many records well preserved, there is not much known about Smoot's childhood or other activities in baseball. However, what is known is his time at Washington College playing baseball in 1898 where he started to make a name for himself in the baseball circuit. Additionally, like many other Eastern Shore Legends, Smoot was able to develop his skills and become a more well-rounded ballplayer when he spent some time early in his career traveling the Shore playing semi-pro baseball in the Delaware towns of Purcell and Laurel, as well as Cambridge and Salisbury.
Smoot got his first taste of professional baseball when he signed with the Allentown Peanuts in 1900. He was not able to spend much time with them, as the league they were affiliated with, the Atlantic League, would fold mid-season. A team in Worcester, Massachusetts called the Worcester Farmers gave him another professional opportunity shortly thereafter. He spent the 1900 and 1901 seasons with the team and boasted a batting average of .356, the best in the Eastern League.
Smoot's success caught the eye of St Louis Cardinals owner Frank Robinson. The Cardinals lost many players when the newly formed St. Louis Browns were formed in 1902. The manager for the Browns, Jimmy McAleer, took six players from the Cardinals to give them a competitive edge including giving Smoot the opportunity to play in the MLB which made Smoot one of the first Eastern Shore Native to play in the MLB.
Smoot was the Cardinals everyday centerfielder when the Cardinals were unfortunately one of the worst teams during his time with them. The Cardinals in 1902 had a losing record of 56-78. Even with struggles, Smoot had some impressive moments. While he did not lead the league in any offensive or defensive stats in his first season, he was the team leader in doubles (19), SLG (.380), and OPS (.730), and tied with homers with Patsy Donovan (3). His most memorable game came on April 25 against the Cincinnati Reds, where he hit two inside-the-park-home-runs.
In 1903 and 1904, The Cardinals continued their losing woes with losing records of 43-94 and a more improved 75-79 respectfully. Smoot continued to be a consistent bat as one of their best hitters, either leading the team in an offensive stat, or in the top three.
His best MLB season came in 1905. Although the Cardinals had another losing season, the brightest moment was the success Smoot had at the plate. He led the team in Hits (166), Doubles (21), Triples (16), Homers (4), RBI (58), and AVG (.311). His success caught people's attention, where he was in the Top Ten in the NL in AVG (7th), SLG (10th), and OPS (9th).
Smoot's playing career started on the downward trend in 1906, where his production took a turn for the worse. After another rough start with the Cardinals, they traded him to the Cincinnati Reds where 1906 marked the end of Smoot's MLB career. Some say that his eyesight was getting worse, but that was proven untrue in his obituary when it was said his eyesight "remained undimmed." Others speculate that he was unlucky during the season and he had a season-long slump
Smoot played in a few more seasons in the minors after his stint in the MLB where he played three seasons with the Toledo Mud Hens of the American Association. While he did not have great success like he did in St. Louis, he was able to have two seasons with his batting average over .300 in 1907 and 1908. He later went to the Kansas City Blues of the American Association in 1911, and later in the year joined the Wilkes-Barre Barons of the New York State League and stayed for two seasons. Although he was offered opportunities to coach in baseball, he wanted to go home and care for his family. He decided to hang up his cleats and picked up a shovel, starting work on his farm in Galestown in 1912.
For 12 years, he enjoyed his life working on his farm. In 1925, he was given another opportunity to manage in professional baseball, this time close to home. Smoot took on the job of managing for the Salisbury Indians where in his one year of managing, the Indians record was 46-44, good for third place in the 1925 season, edging the Dover Dobbins who were fourth. The top two teams in 1925 were the Parksley Spuds, and the Eastern Shore League Champions Cambridge Canners.
Smoot's health greatly affected him after baseball as Fibromyalgia forced him to retire from baseball in 1912. It was possibly one of the reasons he started to lose his playing abilities in 1906. On March 25, 1928, two days after his 50th birthday, Smoot passed away in Salisbury from Spinal Meningitis. Washington College posthumously honored him in 1992 by enshrining him in the Washington College Athletics Hall of Fame. His son, Roger Smoot, played baseball like his father and signed with the Cardinals in 1927.