Fredericksburg Tops Delmarva in Pitcher's Duel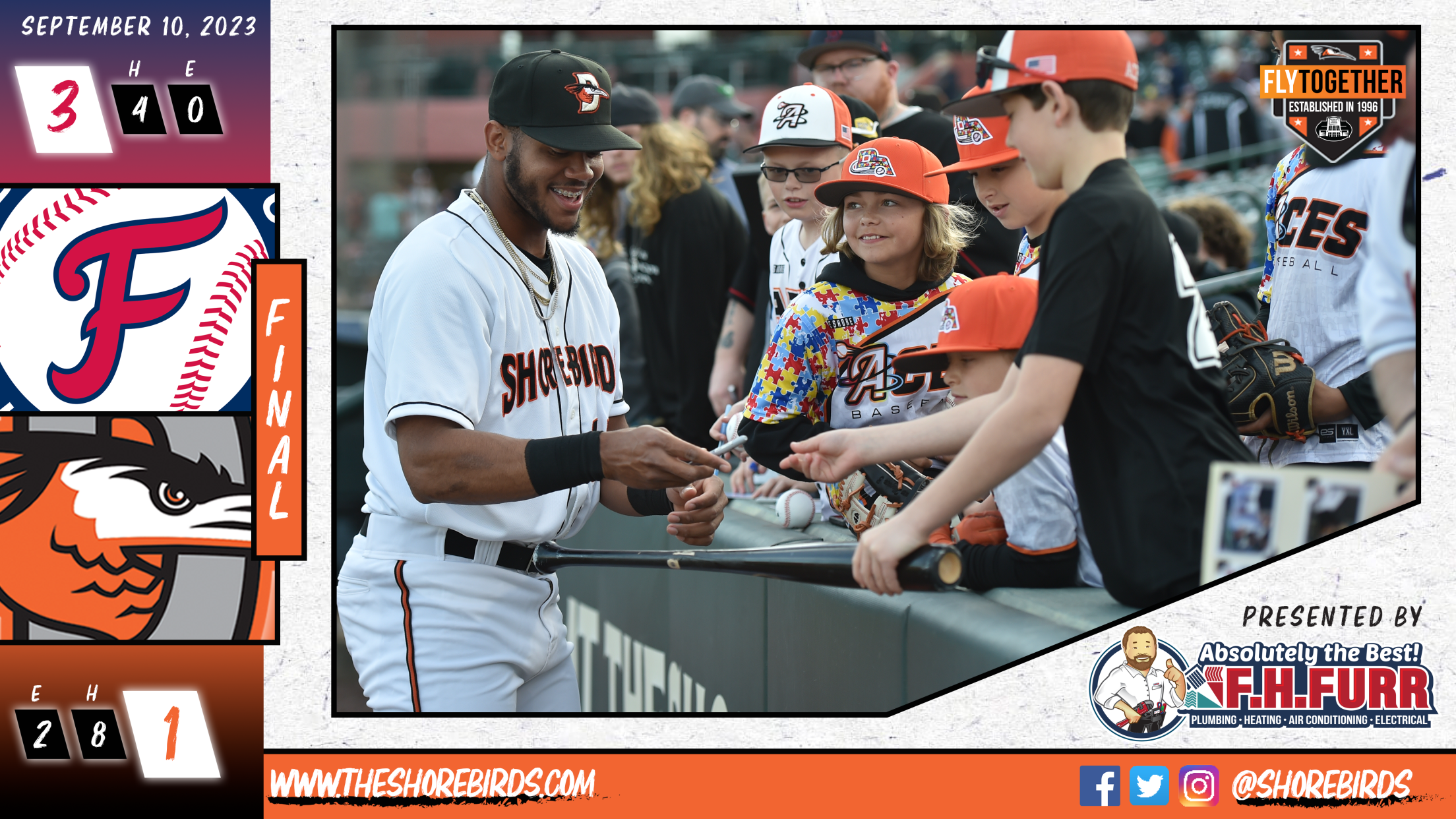 Fred Nats Defeat Shorebirds in Final Game of the Season Fredericksburg Tops Delmarva in Pitcher's Duel SALISBURY, MD: The Delmarva Shorebirds (56-74) were defeated by the Fredericksburg Nationals (65-63) by a score of 3-1 in the final game of the regular season on Sunday afternoon. It was a scoreless game
Fred Nats Defeat Shorebirds in Final Game of the Season
Fredericksburg Tops Delmarva in Pitcher's Duel
SALISBURY, MD: The Delmarva Shorebirds (56-74) were defeated by the Fredericksburg Nationals (65-63) by a score of 3-1 in the final game of the regular season on Sunday afternoon.
It was a scoreless game through the first four innings until the Nationals broke the tie with an RBI single by Johnathon Thomas with two outs, giving Fredericksburg a 1-0 lead.
The Fred Nats would register another run in the top of the sixth on a sacrifice fly by Roismar Quintana to plate Christian Vaquero from third base, pushing the Delmarva deficit to 2-0.
The Shorebirds would fight back in the bottom of the sixth as they pulled within a run in the bottom of the sixth on an RBI single by Jake Cunnigham who scored Stiven Acevedo to make it a one-run game at 2-1, but Delmarva would strand the tying run at third base and go-ahead man at second when the inning ending.
With the score still 2-1 in the ninth inning, Fredericksburg added a run on a single by Marcus Brown with Elijah Green coming home on the play to make it a 3-1 game.
Delmarva would bring the tying run to the plate in the final inning, but were unable to score and would fall 3-1 in the final game of the 2023 regular season.
Gabriel Agostini (1-0) earned the win for the Nationals with Juan Rojas (1-3) taking the loss for the Shorebirds. Marquis Grissom Jr. (11) picked up the save by getting the final three outs in the ninth.
The regular season for the Shorebirds concluded with them finishing 56-74 overall and 28-37 in the second half.
F.H. Furr Plumbing, Heating, Air Conditioning & Electrical has partnered with Megee Home Services and is now providing residential products and services in the plumbing, heating, air conditioning, and electrical business to the Delaware region. The dedicated team of service professionals takes pride in building strong relationships with the customers in their community while providing leading standards of service. They have committed themselves to the highest degree of professional development and training in the industry, to work diligently in exceeding every expectation of the client in need. Based out of Manassas, Va., the company has expanded throughout, Northern Va., Rockville, Md., Fredericksburg, Richmond, Va and Delaware. For more information, please visit, https://www.fhfurr.com/ or call 800-772-FAST