Fredericksburg Wins High-Scoring Game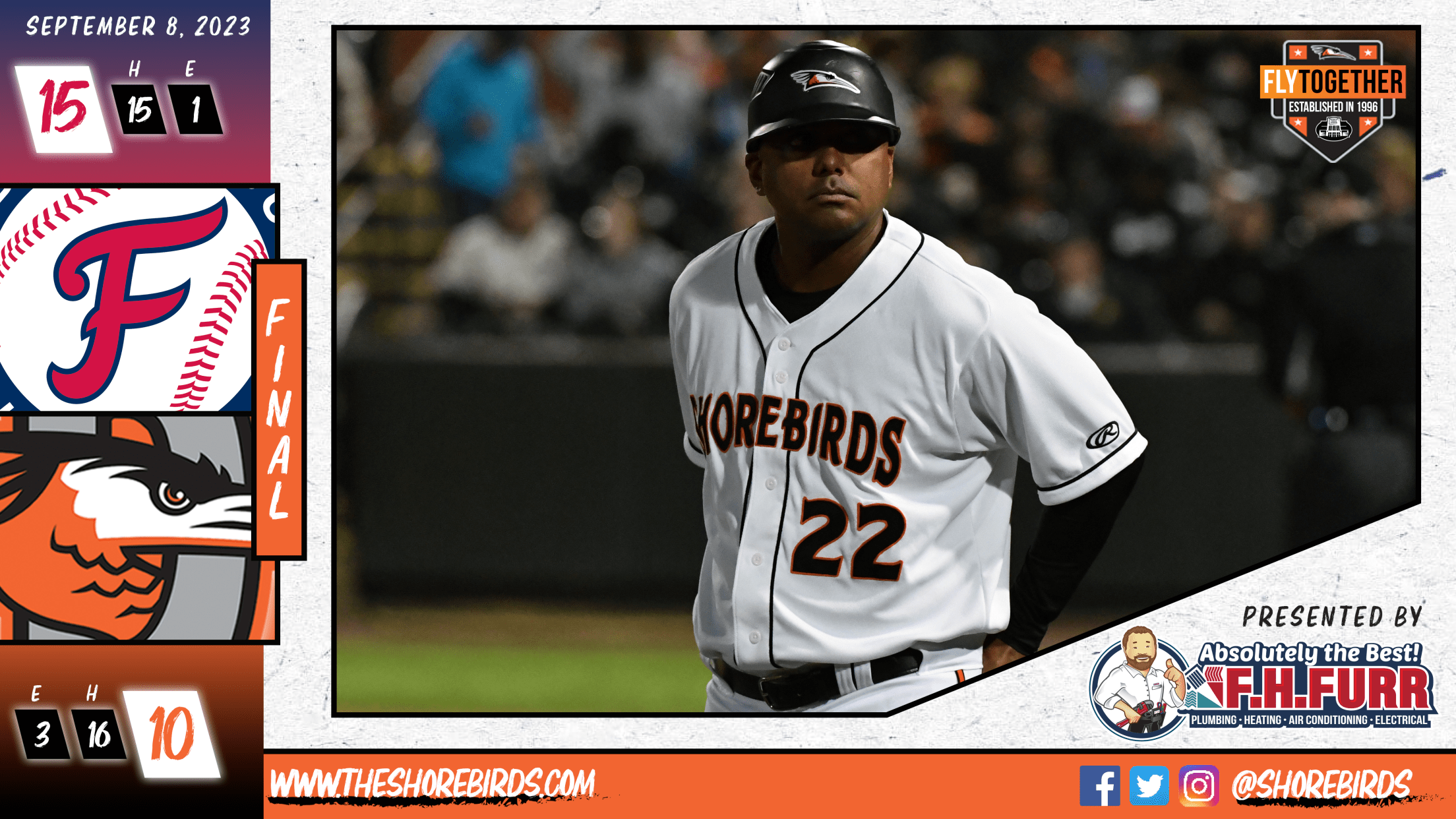 Fred Nats Outscore Shorebirds on Friday Fredericksburg Wins High-Scoring Game SALISBURY, MD: The Delmarva Shorebirds (28-36) lost a slugfest to the Fredericksburg Nationals (34-30) on Friday night, 15-10. Delmarva fell behind in the top of the first as Elijah Green put Fredericksburg ahead with an RBI single to score Jonathan
Fred Nats Outscore Shorebirds on Friday
Fredericksburg Wins High-Scoring Game
SALISBURY, MD: The Delmarva Shorebirds (28-36) lost a slugfest to the Fredericksburg Nationals (34-30) on Friday night, 15-10.
Delmarva fell behind in the top of the first as Elijah Green put Fredericksburg ahead with an RBI single to score Jonathan Thomas, making it 1-0.
The Shorebirds would counter with four runs in the bottom of the second on an RBI single by Randy Florentino, a run-scoring fielder's choice by Erison Placencia. an RBI double by Adam Crampton, and a single by Tavian Josenberger that plated Crampton to put Delmarva in front 4-1.
Fredericksburg came back with two runs in the third on a two-run single by Marcus Brown to pull within one at 4-3.
The offense for Delmarva counterpunched with a run in the third with an RBI double by Randy Florentio to extend the Delmarva lead to 5-3.
However, the Fred Nats would snatch the lead away in the top of the fourth with a two-run double by Phillip Glasser. He would score moments later on a double play to put Delmarva behind 6-5.
The Shorebirds would get one of those runs back in the fourth on a sacrifice fly by Tavian Josenberger to score Adam Crampton, making it a 6-6 game.
Disaster would strike for Delmarva in the top of the fifth as the Nationals scored five runs, bringing nine batters to the plate to open an 11-6 lead.
Delmarva was able to get one of those runs back in the bottom of the seventh with an RBI single by Randy Florentino, his third hit and third RBI of the game made it 11-7.
The Nationals would use the home run ball to extend their advantage to its largest as Geraldi Diaz hit a two-run shot in the sixth with Roismar Quintana belting one in the seventh to put the Shorebirds behind 15-7.
Angel Tejada would look to start a rally in the seventh as he plated two with a single to make it a six-run game at 15-9.
Randy Florentino would match his career-best for RBIs as he drove home a fourth run in the ninth with a sacrifice fly, but ultimately Delmarva would fall short by a score of 15-10.
Pedro Gonzalez (8-3) earned the win in relief with Alfred Vega (4-5) taking the loss for the Shorebirds.
Delmarva will look to snap a two-game losing streak on Saturday and even the series at three as Juan Rojas gets the start for the Shorebirds against Bryan Polanco for the Nationals. First pitch is at 7:05 p.m.
F.H. Furr Plumbing, Heating, Air Conditioning & Electrical has partnered with Megee Home Services and is now providing residential products and services in the plumbing, heating, air conditioning, and electrical business to the Delaware region. The dedicated team of service professionals takes pride in building strong relationships with the customers in their community while providing leading standards of service. They have committed themselves to the highest degree of professional development and training in the industry, to work diligently in exceeding every expectation of the client in need. Based out of Manassas, Va., the company has expanded throughout, Northern Va., Rockville, Md., Fredericksburg, Richmond, Va and Delaware. For more information, please visit, https://www.fhfurr.com/ or call 800-772-FAST