Shorebirds Announce 2020 Promotions
Sixteen giveaways, 14 fireworks nights highlight jam-packed season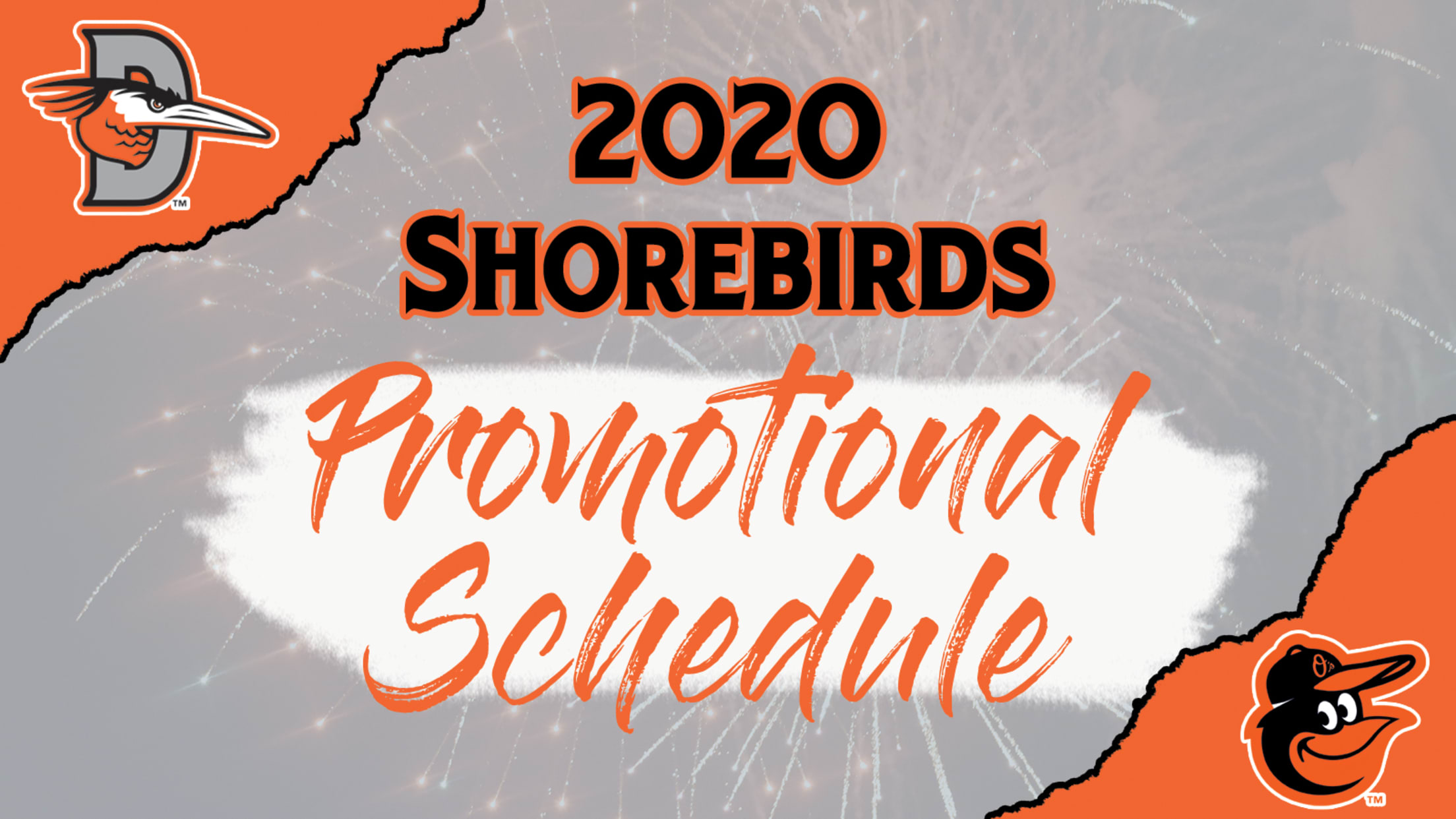 SALISBURY, MD - After revealing the rundown at the 19th annual Hot Stove Banquet, the Delmarva Shorebirds are pleased to publicly announce their giveaway schedule for the 2020 season, which begins on Thursday, April 9, against the Asheville Tourists at Arthur W. Perdue Stadium.Highlights of the schedule are 16 gate
SALISBURY, MD - After revealing the rundown at the 19th annual Hot Stove Banquet, the Delmarva Shorebirds are pleased to publicly announce their giveaway schedule for the 2020 season, which begins on Thursday, April 9, against the Asheville Tourists at Arthur W. Perdue Stadium.
Highlights of the schedule are 16 gate giveaways, including four bobbleheads and five hats courtesy of Spicer Bros. Construction, Inc. as well as 14 Q105 Fireworks Nights, in addition to weekly promotions and themes that cover all 69 scheduled openings.
The season begins on April 9 with a magnet schedule giveaway, with a poster schedule giveaway coming the next night, April 10. The first Q105 Fireworks Night of the season will come after the Saturday, April 11 doubleheader. On April 25 the Shorebirds will host Scout Night, capped with Q105 fireworks, both presented by Dr. Susan Vickers at Seaside Smiles.
May 8 will be Star Wars Night, featuring a Trey Mancini Jedi bobblehead giveaway presented by Pohanka of Salisbury. On May 22, Harry Potter Night comes to Salisbury, featuring a Shorebirds Harry Potter scarf giveaway. The next night, May 23, will end with Q105 fireworks.
June kicks off with Perdue Farmers Night on June 5, capped with Q105 fireworks presented by Perdue Foods. June 6 is Mountaire Farms Faith and Family Night with the game starting at a special time, 6:35 p.m. On June 26 the Shorebirds will give away a Hawaiian Shirt presented by Pepsi, and June 27 is Delaware State Fair Night, featuring giveaways of both concert tickets and general admission tickets to the Delaware State Fair, with Q105 fireworks closing the festivities.
July 4 falls on a Saturday this season; the Shorebirds will host the Hagerstown Suns at 6:05 p.m. and wear special patriotic jerseys during the game, and the night concludes with a Q105 fireworks show, the largest Fourth of July fireworks show on Delmarva. July 17 will be Nickelodeon Night, featuring a visit from Marshall the Firehouse Pup from the hit TV show PAW Patrol. On July 18, the Shorebirds will mark the 50th anniversary of the Beatles' final album Let It Be with Beatles Night, including a special Beatles themed Q105 fireworks show presented by Wor-Wic Community College.
August will feature bobblehead giveaways galore: an Adley Rutschman bobblehead on August 7, presented by Perdue Foods; a Lou Taylor bobblehead giveaway on #WeAreWorcester Night, August 20; and a Grayson Rodriguez bobblehead presented by Delaware Express on August 23.
The Bank of Delmarva Money Giveaway comes on August 1, ending with Q105 fireworks. On August 8 the Shorebirds will host the annual Mountaire Farms Family night, capped with a Q105 fireworks show presented by Mountaire Farms. August 21 marks the third Scrapple Night as the Shorebirds will play as the Delmarva Scrapple and give away scrapple-themed socks at the gate.
The regular season comes to a close on Friday, September 4, as the Shorebirds take on the Lexington Legends. The finale will serve as Fan Appreciation Night, featuring several giveaways and specials and ending with the last Q105 fireworks show of the year.
In addition to the special promotions on Fridays and Saturdays, the Shorebirds will feature recurring weekday specials throughout the year. Monday nights are 47 ABC $3 Buck Mondays presented by Wicomico Heating & Air Conditioning. Every Tuesday is Wag Your Tail Tuesday presented by Concord Pet Foods & Supplies where fans are encouraged to bring their dogs to the game. Wednesdays are Silver Sluggers Nights presented by Penninsula Home Care for our Shorebirds fans 55 and older. Thursday is KISS 95.9 Thirsty Thursday, and Friday will be Froggy 99.9 Big Beer Friday. Each Sunday afternoon and evening will be Perdue Strike Out Hunger Sunday, where fans can bring in canned food items for $5 Upper Reserve tickets, and postgame Kids Run the Bases presented by Chili's Grill & Bar.
Fans can click here for the complete 2020 promotional schedule. Tickets for the upcoming 2020 season can be purchased online or by calling 410-219-3112.