Delmarva Spins Two-Hit Shutout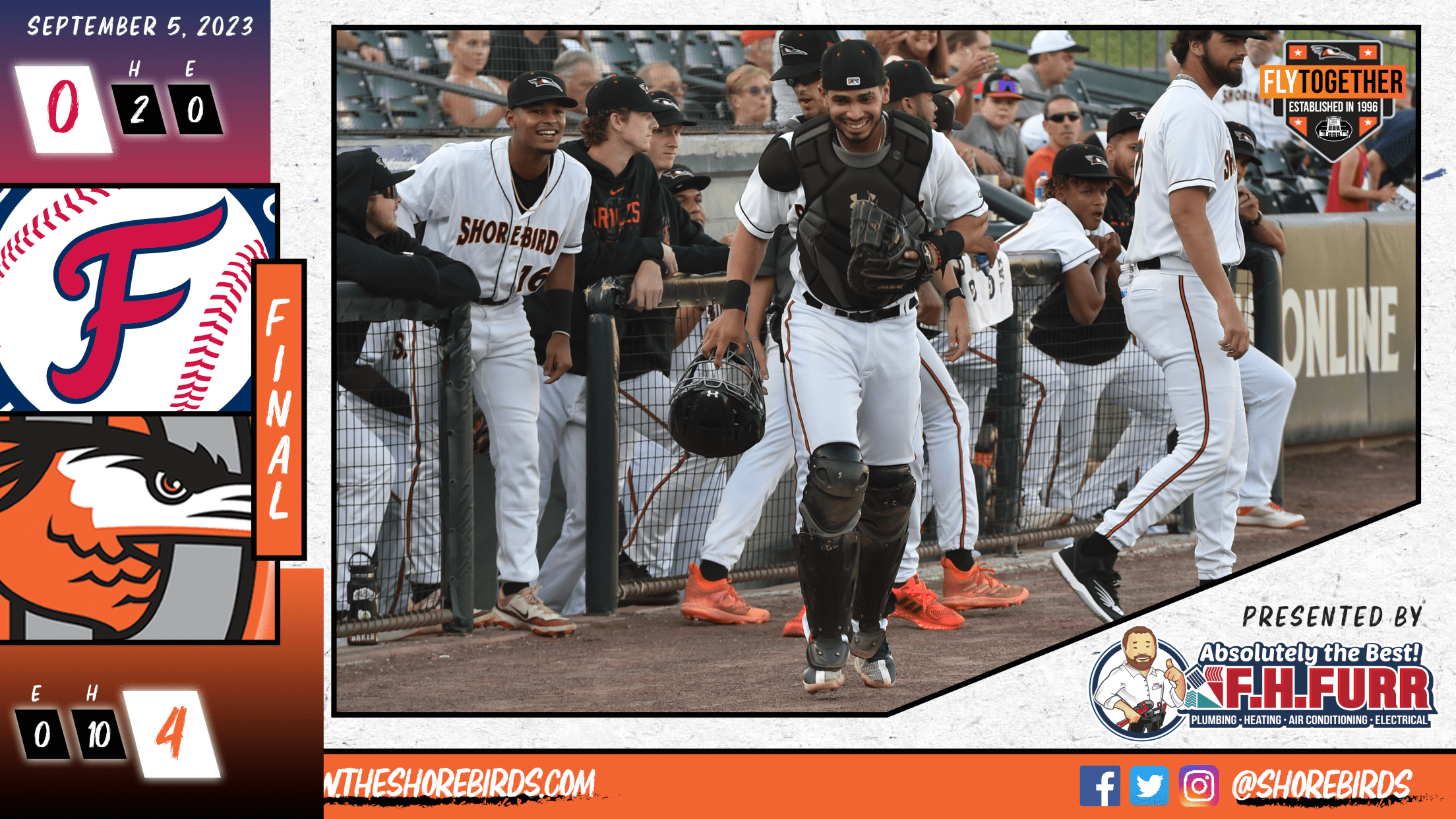 Shorebirds Blank Nationals in Series Opener Delmarva Spins Two-Hit Shutout SALISBURY, MD: The Delmarva Shorebirds (27-33) began their final homestand of the regular season with a two-hit shutout of the Fredericksburg Nationals (31-29) as they took the opening matchup, 4-0. After a scoreless first two innings, the Shorebirds grabbed the
Shorebirds Blank Nationals in Series Opener
Delmarva Spins Two-Hit Shutout
SALISBURY, MD: The Delmarva Shorebirds (27-33) began their final homestand of the regular season with a two-hit shutout of the Fredericksburg Nationals (31-29) as they took the opening matchup, 4-0.
After a scoreless first two innings, the Shorebirds grabbed the lead in the bottom of the third on an RBI single by Luis Valdez to score Angel Tejada, giving Delmarva a 1-0 edge. Valdez would then score moments later on a double by Jalen Vasquez to put the Shorebirds ahead 2-0 after three frames.
With the game still 2-0 in the seventh, the Nationals broke up a combined no-hitter with two outs on an infield single by Phillip Glasser, but Adam Stauffer escaped the inning without allowing a run to keep the 2-0 lead intact.
The Shorebirds added a pair of insurance runs in the eighth on an RBI single by Randy Florentino followed by a run-scoring groundout by Angel Tejada to double the advantage to 4-0 after eight innings.
Teddy Sharkey would take care of business in the eighth and ninth innings to capture his second save, and a 4-0 shutout win over the Fred Nats.
Kelvin LaRoche (1-0) picked up the win in relief with Teddy Sharkey (2) earning the save. Starting pitcher, Riley Cornelio (4-8) took the loss for Fredericksburg.
The series continues on Wednesday night with a doubleheader on Wednesday at 5:05 p.m. with Juan De Los Santos matching up with Liam Sullivan in game one and Moises Chace battling Jefrem Leon in the nightcap.
F.H. Furr Plumbing, Heating, Air Conditioning & Electrical has partnered with Megee Home Services and is now providing residential products and services in the plumbing, heating, air conditioning, and electrical business to the Delaware region. The dedicated team of service professionals takes pride in building strong relationships with the customers in their community while providing leading standards of service. They have committed themselves to the highest degree of professional development and training in the industry, to work diligently in exceeding every expectation of the client in need. Based out of Manassas, Va., the company has expanded throughout, Northern Va., Rockville, Md., Fredericksburg, Richmond, Va and Delaware. For more information, please visit, https://www.fhfurr.com/ or call 800-772-FAST