Fredericksburg Evens Series with Delmarva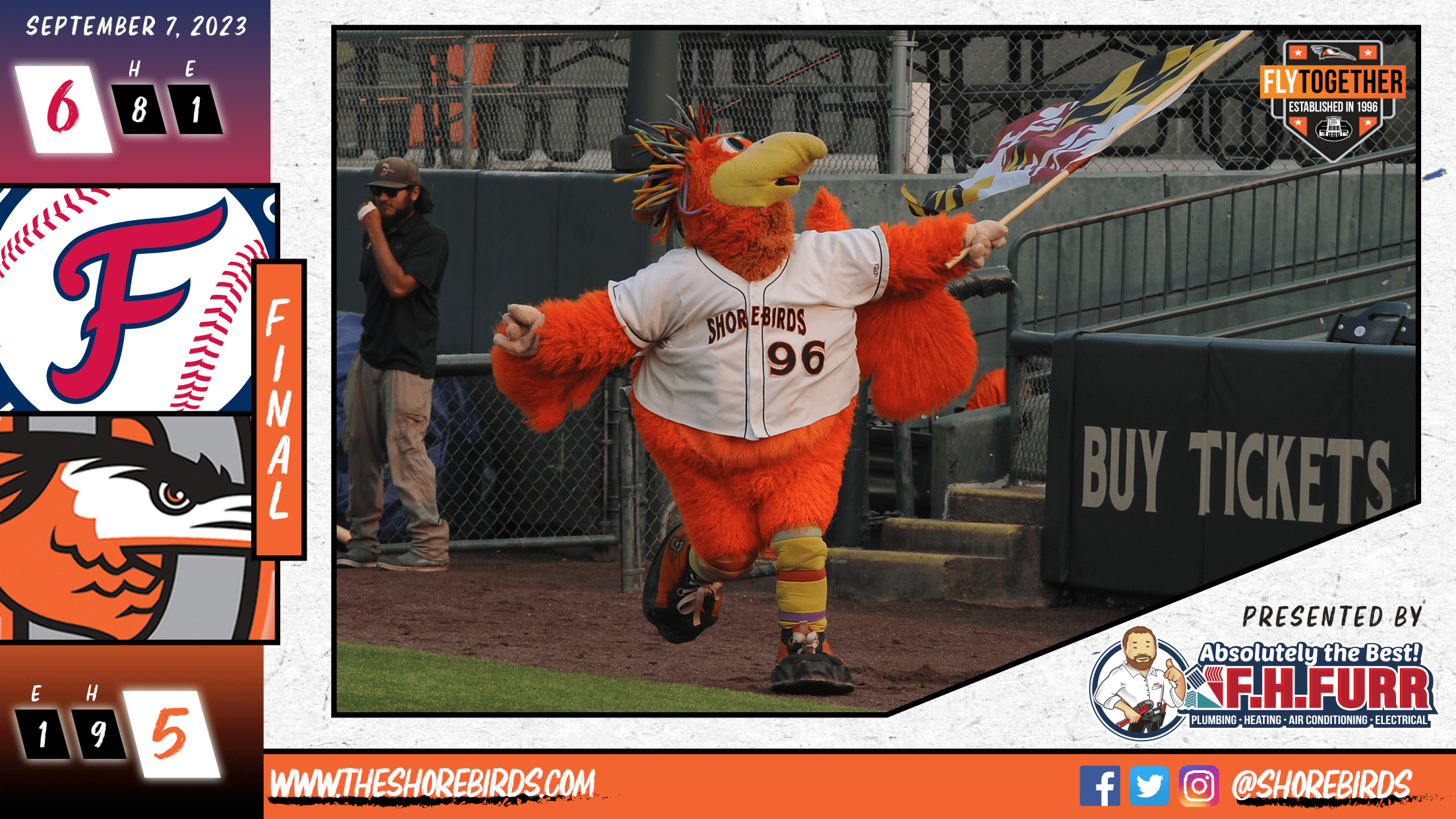 Shorebirds Fall by One Run on Thursday Night Fredericksburg Evens Series with Delmarva SALISBURY, MD: The Delmarva Shorebirds (28-35) were defeated by the Fredericksburg Nationals (33-30) by a score of 6-5 on Thursday night Fredericksburg would score the game's first run with an RBI groundout by Christhian Vaquero in the
Shorebirds Fall by One Run on Thursday Night
Fredericksburg Evens Series with Delmarva
SALISBURY, MD: The Delmarva Shorebirds (28-35) were defeated by the Fredericksburg Nationals (33-30) by a score of 6-5 on Thursday night
Fredericksburg would score the game's first run with an RBI groundout by Christhian Vaquero in the opening frame, making it 1-0 Nationals.
Delmarva would counter in the bottom half of the inning as Aneudis Mordan doubled to the wall in right-center to plate Anderson De Los Santos and Jake Cunningham to give Delmarva their first lead at 2-1.
The Nationals tied the game in the top of the second with an RBI triple by Marcus Brown. Brown then scored not too long after on an infield single by Jonathan Thomas to make it 3-2 Nationals.
The Shorebirds would counter with an RBI single by Adam Crampton to tie the game at three. A wild pitch scored Crampton moments later to put Delmarva back in the lead at 4-3.
The speed of Luis Valdez would play a major factor in the third inning as he forced an error by the pitcher Mikey Tepper on a throw to third base as he attempted to seal, the throw away allowed him to score, giving the Shorebirds their largest lead at 5-3.
The Fred Nats would come all the way back as they pulled within one on a wild pitch in the fourth, followed by a two-run homer by Max Romero Jr. in the fifth to put the Shorebirds behind 6-5 after five innings.
The pitching would settle in for both sides as neither club could score the rest of the way and that would work in the favor of the Nationals as they would hold on to win 6-5 to even the series at two wins each.
Johan Otanez (1-0) earned the win in his first outing with the Nationals in relief with Randy Beriguete (0-4) taking the loss for the Shorebirds. Moises Diaz (2) picked up the save by recording the final nine outs of the game.
The series continues on Friday as Luis De Leon draws the start for Delmarva against Luke Young for the Nationals. First pitch is slated for 7:05 p.m.
F.H. Furr Plumbing, Heating, Air Conditioning & Electrical has partnered with Megee Home Services and is now providing residential products and services in the plumbing, heating, air conditioning, and electrical business to the Delaware region. The dedicated team of service professionals takes pride in building strong relationships with the customers in their community while providing leading standards of service. They have committed themselves to the highest degree of professional development and training in the industry, to work diligently in exceeding every expectation of the client in need. Based out of Manassas, Va., the company has expanded throughout, Northern Va., Rockville, Md., Fredericksburg, Richmond, Va and Delaware. For more information, please visit, https://www.fhfurr.com/ or call 800-772-FAST