Regular Season Finale Scheduled for Sunday Afternoon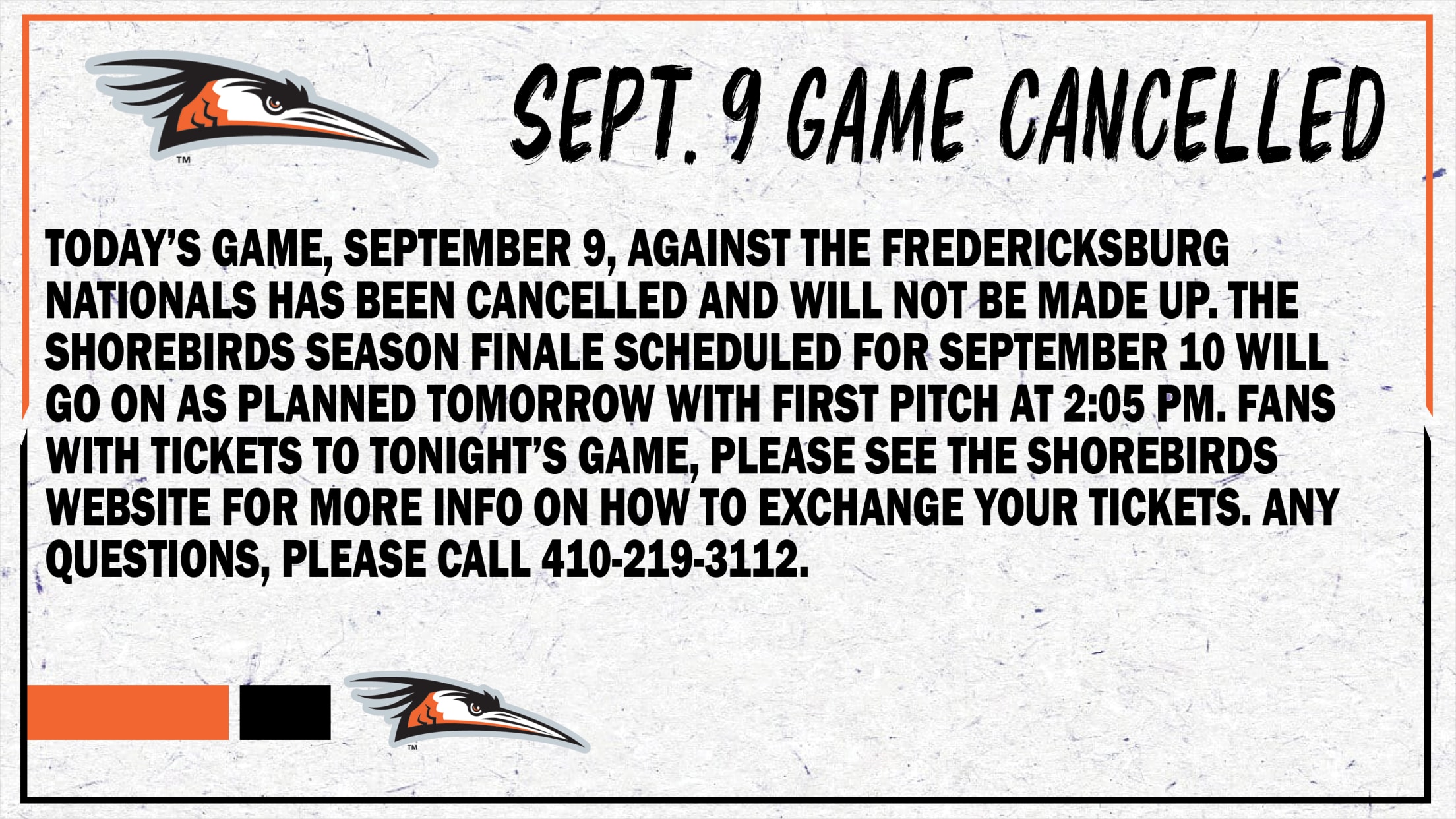 Shorebirds - FredNats Game for September 9 Cancelled Regular Season Finale Scheduled for Sunday Afternoon SALISBURY, MD: The Delmarva Shorebirds & Fredericksburg Nationals Game scheduled for September 9 has been canceled and will not be made up due to inclement weather. The Shorebirds and Nationals season finale on September 10
Shorebirds - FredNats Game for September 9 Cancelled
Regular Season Finale Scheduled for Sunday Afternoon
SALISBURY, MD: The Delmarva Shorebirds & Fredericksburg Nationals Game scheduled for September 9 has been canceled and will not be made up due to inclement weather.
The Shorebirds and Nationals season finale on September 10 will go on as scheduled with a 2:05 first pitch. The game will feature Fan Appreciation Day where all fans will have the chance to win some awesome prizes. In addition, it will also be the final Perdue Strike Out Hunger Sunday game of the season along with Kids Run the Bases after the game presented by F.H. Furr.
Fans with tickets to Saturday, September 9, can exchange their tickets for equal or lesser value for the Shorebird's final game of the season tomorrow, September 10 at 2:05 PM. For all fans unable to use their tickets for the September 10 game, the Shorebirds will have separate communication with all September 9 ticket holders about an exchange policy for the 2024 season in the near future.
To exchange your tickets for tomorrow's Sunday, September 10 game, please click this link or you can call the office at 410- 219-3112. If you have any questions, please contact the Shorebirds front office at 410-219-3112.
Thank you for your continued support of the Delmarva Shorebirds and Go Shorebirds!