Shorebirds Win SAL Community Service Award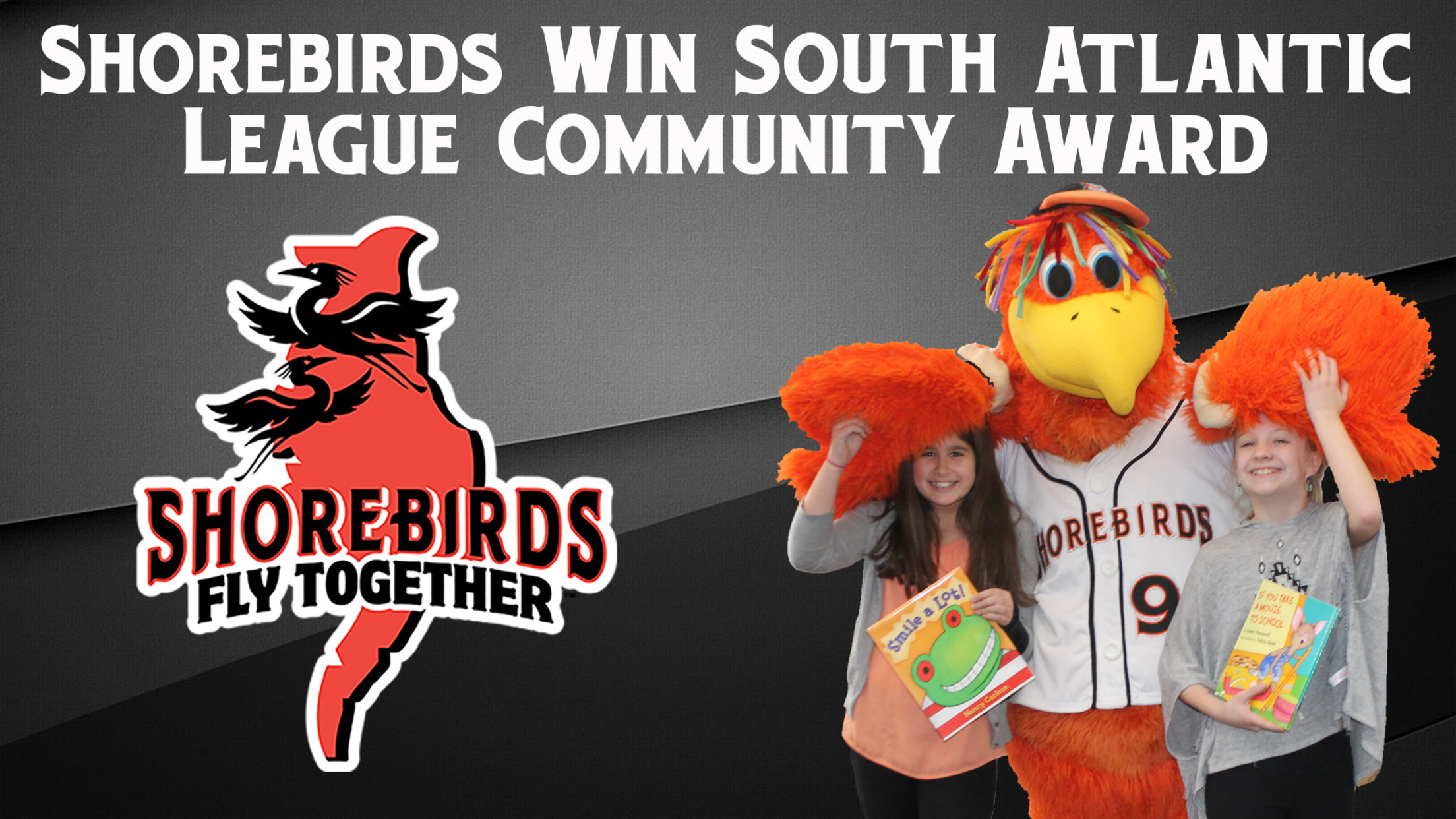 SALISBURY, Md. -- The Delmarva Shorebirds have been named the 2018 Community Service Organization of the Year by the South Atlantic League. This award recognizes the Shorebirds' outstanding, on-going commitment to charitable service, philanthropy, and leadership within the Delmarva community. The Community Service Organization of the Year award is one
SALISBURY, Md. -- The Delmarva Shorebirds have been named the 2018 Community Service Organization of the Year by the South Atlantic League. This award recognizes the Shorebirds' outstanding, on-going commitment to charitable service, philanthropy, and leadership within the Delmarva community. The Community Service Organization of the Year award is one of the league's Outstanding Achievement Awards, which are announced every year after the conclusion of the regular season.
The Shorebirds strive to be more than just a baseball team by supporting the community that supports us. The Shorebirds organization, front office staff, players, and coaches have been extremely committed to serving and supporting the Delmarva community in any way possible.
With the help and partnership of the Community Foundation of the Eastern Shore, the Shorebirds rebranded the Community Fund to the Shorebirds' Fly Together Fund. The Fly Together Fund coincides with the social media usage of #FlyTogether but also encompasses support of the Delmarva Peninsula.
The Fly Together Fund was created to help fund local community projects, Little Leagues, and nonprofit organizations. So far this calendar year, the fund has donated $24,384 along with in-kind donations valued at $23,010.
"The Shorebirds are proud to be involved with and provide numerous community programs on the Delmarva Peninsula. I want to thank everyone in the Delmarva community who has been a part of the Shorebirds community outreach programs and events. We hope you will continue to join us in our Fly Together Fund and community relations initiatives in the future," said Shorebirds' General Manager Chris Bitters. "Winning this award is such a great honor. Thank you so much to Shorebirds' Community Relations Manager, Kathy Damato, for leading the organization in all of our community relations efforts. She has gone above and beyond to help us win this award and it is thoroughly appreciated."
Each of the 14 South Atlantic League teams, along with field managers and umpires, participated in the voting for the South Atlantic League Outstanding Achievement Awards. The Shorebirds will be nominated for the Minor League Baseball John Henry Moss Community Service Award, which honors the founder of the South Atlantic League for his dedication and charitable service to baseball and his community during his 50-year tenure as a league president. Moss founded the South Atlantic League and presided over it from 1959-2008. The winner of this prestigious award will be announced at the Baseball Winter Meetings this December in Las Vegas, NV.
For more information about the Delmarva Shorebirds' community relations involvement, please contact Kathy Damato at [email protected]. The Shorebirds are owned and operated by Seventh Inning Stretch, LLC, who also own the Stockton Ports of the California League and the Everett AquaSox of the Northwest League. Delmarva opens up the 2019 season on the road in Lexington on Thursday, April 4th. The Shorebirds' first home game at Arthur W. Perdue Stadium will be on Thursday, April 11th against the Lakewood BlueClaws.