Silver Anniversary Team: Jason Fransz, Left Field
Fransz's sensational second half took Delmarva to '05 postseason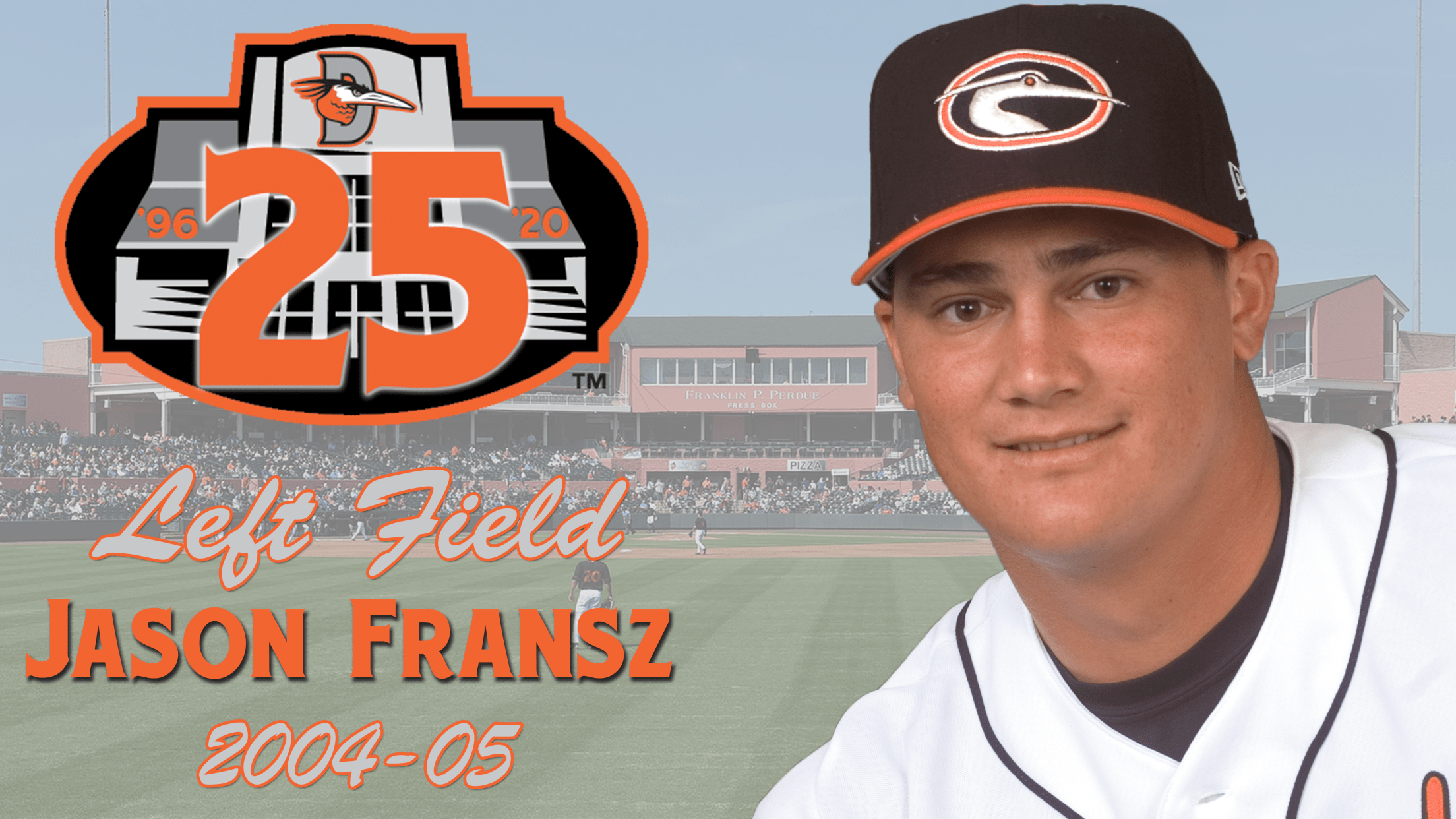 With the infield set, we move into the outfield portion of our Shorebirds Silver Anniversary Team. Due to the flexible nature of the three outfield positions, our expert panel voted for three players on one general outfield ballot; the winners were assigned a position based on where they primarily played
With the infield set, we move into the outfield portion of our Shorebirds Silver Anniversary Team. Due to the flexible nature of the three outfield positions, our expert panel voted for three players on one general outfield ballot; the winners were assigned a position based on where they primarily played during their time with Delmarva.
First up is a middle-period Shorebird who put up some of the finest offensive numbers of anybody to call Perdue Stadium home. While not the flashiest name in franchise history, his prowess in a Delmarva uniform earned him the backing of every single voter.
Left Field: Jason Fransz, 2004-05
131 games, .310/.375/.561, 89 R, 39 2B, 28 HR, 136 RBI, .936 OPS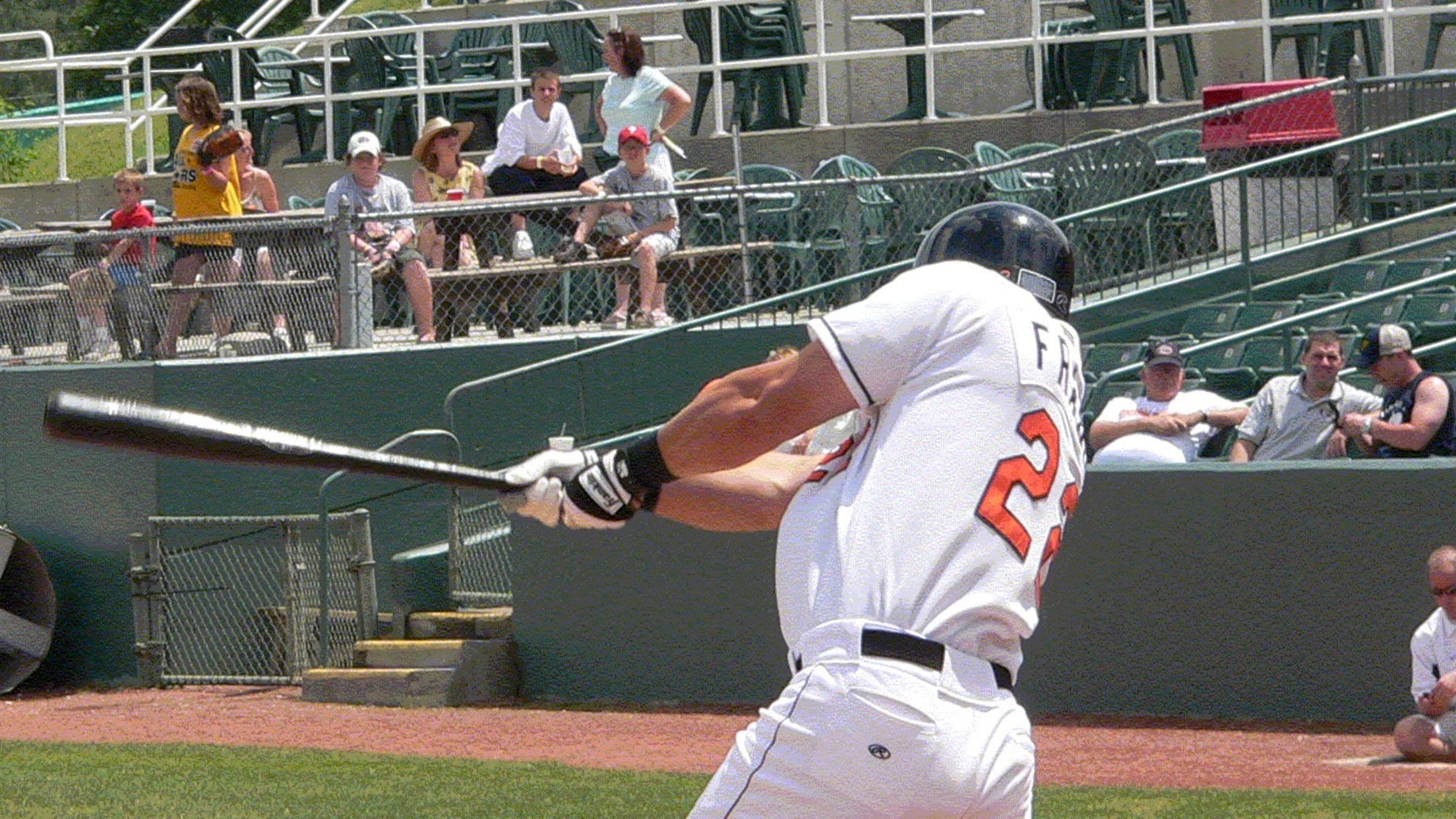 Not every Shorebird superstar achieves major league success. Every baseball player eventually hits his peak, either at a certain level or age. Jason Fransz never made it to The Show. He never made it to Triple-A or Double-A either. It doesn't mean he never made an impact in pro baseball. For one summer, Fransz was the talk of the Delmarva Peninsula, stringing together a run so dazzling it burned him into the record books.
Fransz, an eighth-round pick for Cubs back in 2002, was already a journeyman by the time he reached Delmarva. Chicago flipped him to Texas for major leaguer Doug Glanville just a year after drafting him, and the Rangers did the same to Baltimore in the summer of 2004. Fransz got his first Orioles assignment with Delmarva; already a veteran of two Class-A teams (Lansing and Clinton in the Midwest League), he excelled in a late season stint with the Shorebirds, batting .317 with six homers and 25 RBIs in just 28 games.
Back at the same level as a 24-year-old to begin 2005, Fransz was in danger of falling off the radar completely. He was only hitting .230 with two homers heading into a June 10 matchup against Lakewood, a warm Friday night on the Eastern Shore with almost 4,000 in attendance at Arthur W. That night Delmarva manager Gary Kendall slotted Fransz eighth in the batting order, relegated to designated hitter.
The game was a tight one, and the Shorebirds found themselves down 3-2 to the BlueClaws in the bottom of the ninth. With two out, Matt Houston singled to keep the home team's hopes alive. That brought up Fransz, who honed in on a pitch from Lakewood's Jacob Barrack and launched it to left. The ball landed beyond the fence for a walkoff two-run homer, and Fransz almost flew around the bases before his teammates mobbed him at the plate after the dramatic 4-3 win.

More than just one big moment, the June 10 heroics sparked the hottest summer of Fransz's life. He hit three more home runs before to close the first half and came back from the All-Star Break locked and loaded. He went on a blistering pace in the second half, slashing .330/.400/.626 over 60 games while pounding 16 home runs and 17 more extra-base hits and knocking in an astounding 72 runs. He caught regional attention as well, winning two South Atlantic League Player of the Week awards along the way.
By the time Labor Day rolled along, Fransz had authored himself one of the most vaunted final lines in Delmarva history. He set a franchise records with a .563 slugging percentage and 111 runs batted in; no other Shorebird has ever cracked triple digit RBIs. Fransz's 22 home runs marked just the third 20-homer season in team history, behind only 1997 Bash Bros. Calvin Pickering and Ryan Minor. His 223 total bases were third all-time at that point and are still top-five in Shorebirds history.
Most importantly, Fransz's white-hot bat helped the Shorebirds get into the SAL postseason; Delmarva went 42-27 after the break, winning the Northern Division second half crown before losing a tight three-game semifinal series to Hagerstown. Up until 2019 it was the franchise's most recent foray into playoff baseball.
Fransz stayed hot the next season, finally cracking High-A with Frederick. He put up All-Star numbers in the Carolina League, pounding 24 round-trippers with 84 RBIs over 124 games. Much like the season before in Delmarva, the Keys overcame a slow first half to win the second half Northern Division crown. Frederick then upset Wilmington in the CL semifinals - Fransz plated two with a key single in the decisive Game 3 - before falling to the league-best Kinston Indians in the finals.
Despite two eye-catching seasons, Fransz saw the writing on the wall as he finished his age-25 season and hadn't yet made it past A-ball. He retired from baseball and public life after the 2006 season. While his momentum from that magical 2005 season never took him to the game's highest level, Fransz can forever say that for one summer he had one baseball world in his hands.

Best of the Rest
Darrell Dent (1997) - The top speed demon in Shorebirds history, Dent's franchise-record 60 stolen bases have never been seriously challenged since. He provided a top-of-the-lineup spark as Delmarva won its first SAL pennant. Dent got as high as Triple-A in 1999 and played in the Orioles system one more season. After spending 2001 in Double-A for the Dodgers, Dent played short stints in Italy and stateside independent ball before retiring. Dent swiped 208 bases with a 74.6 percent success rate in his seven-year affiliated career.
Darnell McDonald (1998) - A fan-favorite in his rookie season, 19-year-old McDonald hit .261 with 37 extra-base hits and 35 stolen bases to help the Shorebirds make the playoffs for the third straight season. He toiled in the minors for five more full seasons before finally making his big-league debut for the Orioles in 2004. McDonald played in 331 games across seven nonconsecutive years for six major league teams between 2004 and 2013, including a 117-game stint as Boston's regular center fielder in 2010. He retired after the 2013 season at age 34.
Rick Elder (1999-2001) - After two lukewarm stints Delmarva, Elder finally broke out for the Shorebirds in 2001, pounding 16 home runs with 64 RBIs and a .814 OPS over 112 games. That would be his swansong in the Orioles system, though; he resurfaced with the Indians in 2003 and then played three more seasons in independent ball before retiring at age 26 in 2006.
Jeff Fiorentino (2004) - A late season addition, Fiorentino came up from short-season Aberdeen and made a huge impact for the Shorebirds in just 49 games, batting .296 with 10 homers, 36 RBIs, and a .944 OPS. He began the next year in Frederick where he hit 22 dingers in 103 games; in between he earned a promotion to The Show straight from High-A. Fiorentino played in 58 major league games, all but two with the Orioles, between 2005 and 2009. He also played in the A's and Braves systems, plus two stellar years with the York Revolution in the prestigious Atlantic League, calling it a career as a 30-year-old after the 2013 campaign.
Delmarva Shorebirds Silver Anniversary Team
Catcher: Chance Sisco (2014)
First Base: Calvin Pickering (1997)
Second Base: Willie Harris (1999-2000)
Third Base: Ryan Minor (1997; mgr. 2010-12, 2014-17)
Shortstop: Orlando Cabrera (1996)
Left Field: Jason Fransz (2004-05)
Center Field: February 20
Right Field: February 27
Designated Hitter: March 5
Right-Handed Starting Pitcher: March 12
Left-Handed Starting Pitcher: March 19
Right-Handed Reliever: March 26
Left-Handed Reliever: April 2
The Delmarva Shorebirds Silver Anniversary Team was voted on by a panel of experts who have deep, longstanding ties to the Shorebirds organization. The panel considered several factors to make well-rounded decisions on who best represents the history of the Delmarva franchise as both a competitive team in its own right and as a step on the road to major league glory. Members of the panel include: Chris Bitters, Shorebirds general manager; Will DeBoer, Director of Broadcasting & Communications; Gil Dunn, Delmarva Shorebirds Fan Club president; Dr. Richard A. Passwater, a.k.a. "Doc Shorebird," team historian; Ricky Pollitt, The Daily Times sportswriter; Bryan Records, longtime Shorebirds clubhouse assistant; Randy Scott, Froggy 99.9 FM radio personality and former Shorebirds broadcaster; and Jimmy Sweet, Shorebirds assistant general manager.