Silver Anniversary Team: Orlando Cabrera, Shortstop
Fifteen-year MLB veteran was first Shorebird in Show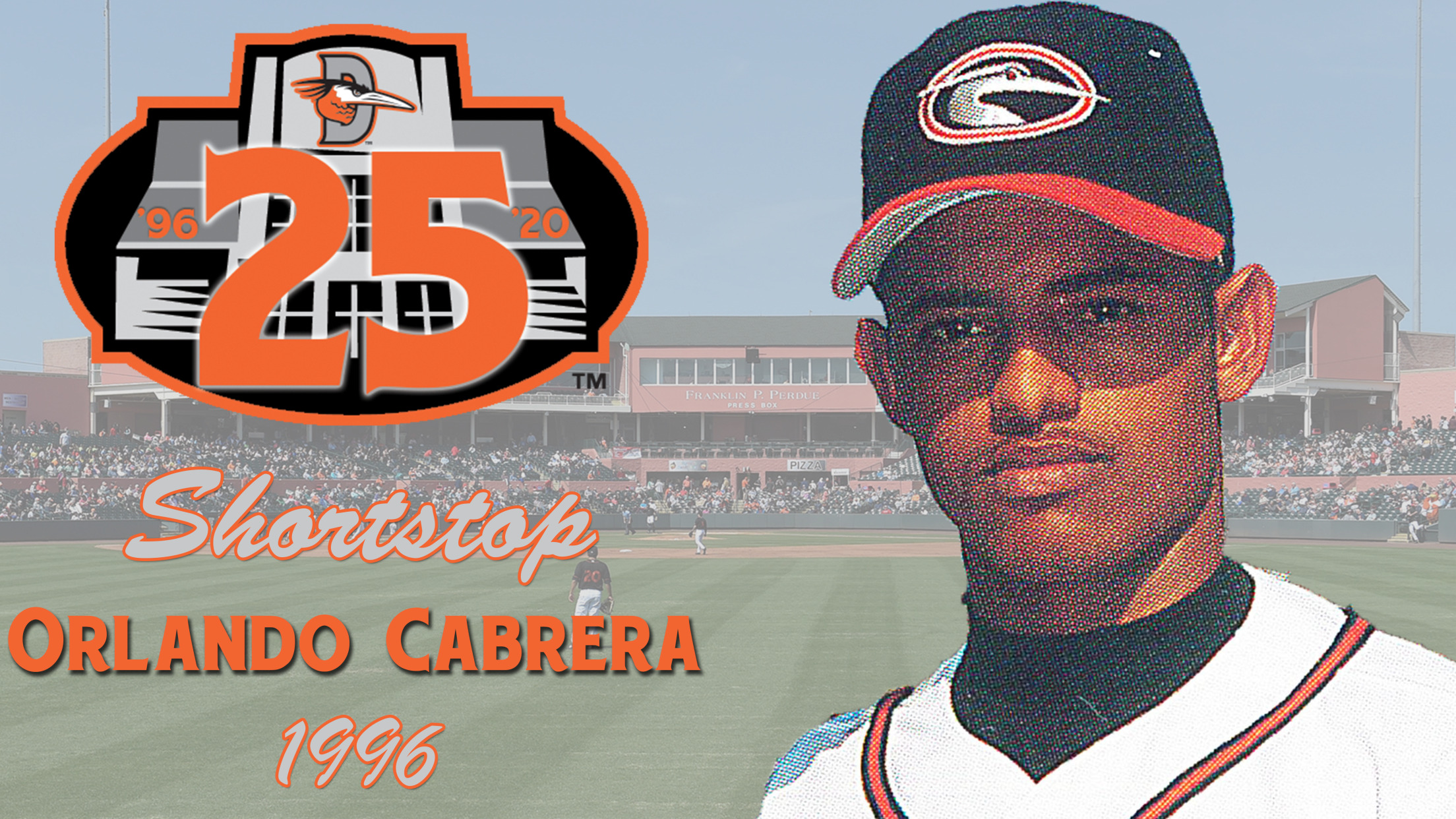 Rounding out the infield on our Shorebirds Silver Anniversary Team is our shortstop. Sometimes seen as the captain of the infield, the shortstop is often deemed the team's best all-around athlete. Most professional ballplayers were more often than not one-time shortstops, usually on their high school teams. Most grew into
Rounding out the infield on our Shorebirds Silver Anniversary Team is our shortstop. Sometimes seen as the captain of the infield, the shortstop is often deemed the team's best all-around athlete. Most professional ballplayers were more often than not one-time shortstops, usually on their high school teams. Most grew into new positions, but a select elite remained committed to their original outpost; the cream of that crop makes it all the way to the major leagues as a shortstop.
In one of the closest votes of the entire Silver Team ballot, our expert panel selected a standout Shorebird who helped establish a winning culture at the birth of the franchise. He then became Delmarva's first representative at the highest level of the game and became a sought-after talent for a generation.
Shortstop: Orlando Cabrera, 1996
134 games, .252/.327/.404, 86 R, 28 2B, 14 HR, 65 RBI, 51 SB, .731 OPS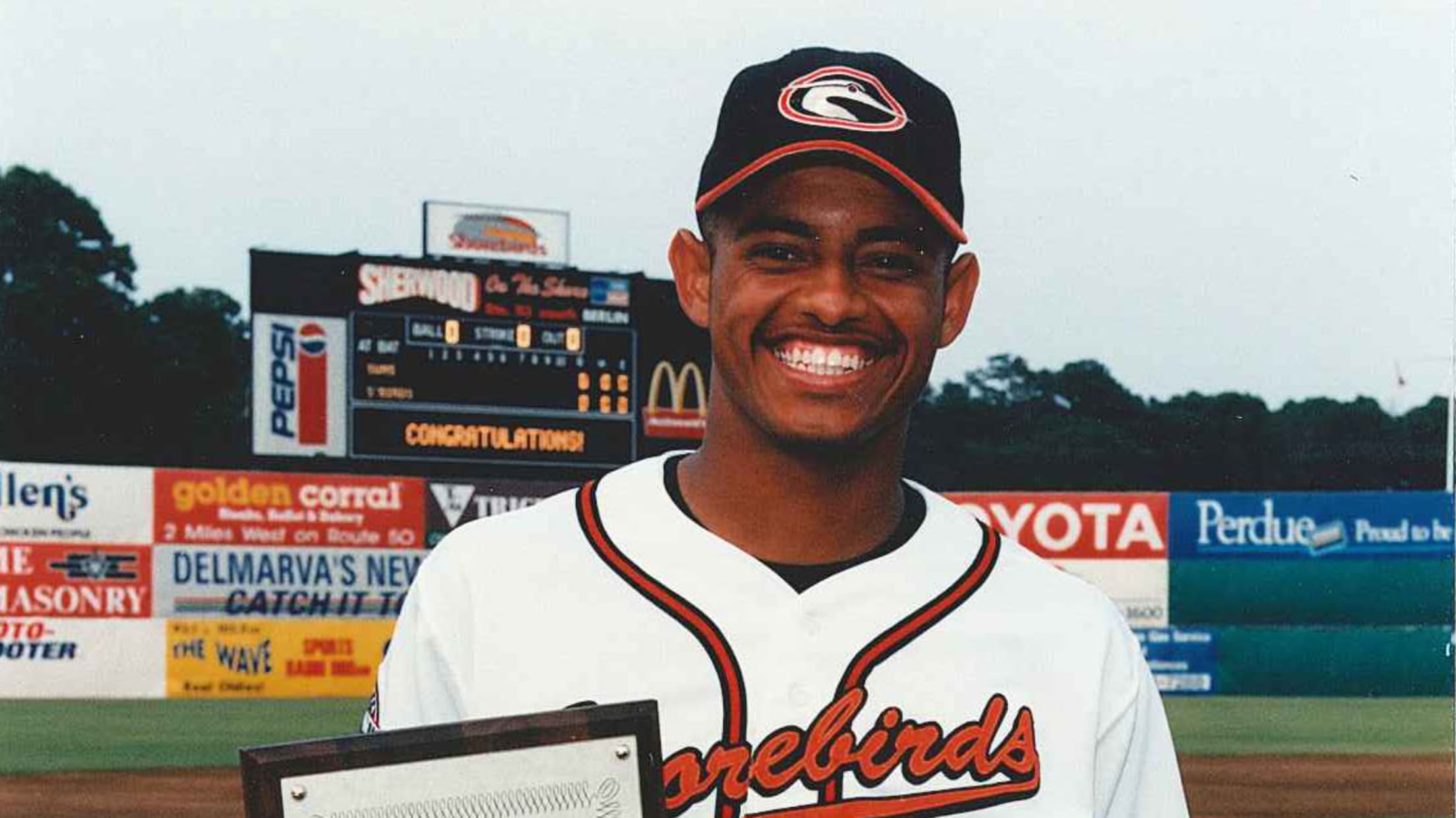 When the Albany Polecats became the Delmarva Shorebirds after the 1995 season, they still had one year left on a development deal with the Montreal Expos. A move into the Orioles' fold was all but inevitable, but that one year spent with the Expos became the Shorebirds' standard-bearer for regular season excellence for almost a quarter century. Those inaugural Shorebirds won 83 games and eventually sent 10 players to the major leagues. The first was Orlando Cabrera.
Born in Colombia, Cabrera signed with the Expos as a teenager and debuted in the Gulf Coast League in 1994. After spending most of '95 in short-season Vermont, the young shortstop earned a spot in Class-A with the brand-new franchise in Delmarva in '96. Cabrera led off the team's first-ever game with a single, and from there he and his teammates hit the ground in a dead sprint, starting out 13-1 on the way to a 47-win first half and a Northern Division title.
By midseason Cabrera and four of his teammates were South Atlantic League All-Stars, and the beat rolled on in the second half. Instead of carving up the team after the break, Montreal largely kept the Shorebirds together; nine everyday players appeared in at least 115 games for manager Doug Sisson that season, including a team-best 134 from Cabrera. He led the Shorebirds with 14 home runs, 86 runs scored, and 51 stolen bases, setting the pace at the top of the lineup and delivering more than enough offensive pop for a pitching staff that turned in a remarkable 2.85 ERA.
Cabrera and the '96 Shorebirds finished 83-59, establishing a franchise wins record that would stand until last year's Shorebirds went 90-48. Delmarva dispatched Asheville before falling to Savannah in the SAL championship series, the one peak they would fail to scale on the year.
Despite the Expos' desire to stay, Baltimore moved into Perdue Stadium in 1997; no matter for Cabrera, though, who was destined for much greater things that season. He rose up from High-A West Palm Beach to Double-A Harrisburg to Triple-A Ottawa before debuting at Stade Olympique on September 3, becoming the first former Shorebird to make it to The Show.

Over the next eight years Cabrera was one of the faces of the Expos, winning a Gold Glove at short in 2001 and playing in all 162 games in '01 and '03. He then got swept up in the famous four-team trade at the 2004 deadline, moving to Boston to replace Nomar Garciaparra at short. During the ALCS Cabrera became an unsung hero, hitting .379 with five runs and five RBIs over the seven games as the Red Sox overcame a 3-0 hole to beat the Yankees; his diving catch to rob Alex Rodriguez of an RBI single in the top of the 11th of Game 4 eventually set up David Ortiz's walkoff homer in the 12th. Cabrera and his teammates would not be denied in the World Series, sweeping St. Louis to break an 86-year dry spell and one of baseball's most famous curses.
After 2004 Cabrera became a much-traveled, well-respected piece in many playoff teams' puzzles. He helped the L.A. Angels to the ALCS the next season and took them back to the postseason in 2007, winning another Gold Glove. That season began a stretch of four straight playoff appearances for Cabrera on four different teams as he appeared in October for the White Sox (2008), Twins (2009), and Reds (2010). He retired after the 2011 season at age 36, amassing 2,055 career hits over 1,985 games for nine different franchises.
Montreal may be long gone, but Cabrera's memory remains on the Eastern Shore 24 years later. The Shorebirds gave away a t-shirt with his emblazoned with his old Delmarva No. 18 in 2011, what ended up being his final major league season. Along with '96 teammates Javier Vazquez and Michael Barrett he remains one of the most recognizable and longest-tenured major league Shorebirds.
Perhaps most importantly, for a fanbase that had not seen affiliated minor league baseball since the end of the Truman administration, Orlando Cabrera was their first superstar. The first captain of the infield is now the cornerstone of Delmarva Shorebirds lore.

Best of the Rest
Brian Roberts (1999) - Roberts played the first 47 games of his pro career with the Shorebirds, hitting .252 with 13 extra-base hits and 17 stolen bases. He matriculated to the Orioles two years later and became one of the faces of the franchise for over a decade. Roberts played 13 of his 14 major league seasons in Baltimore, making two All-Star teams and leading the American League in doubles twice (his 56 two-sackers in 2009 are an O's record). He retired after one season with the Yankees in 2014 and joined the O's broadcast booth in 2018.
Manny Machado (2011) - The closest threat to Cabrera's hold on the position, Machado put his footprint on the Shorebirds in just 38 games, batting .276 with six homers and 24 rib-eyes. At third overall in 2010 he was the highest draft pick to ever play in Delmarva until 2019 top pick Adley Rutschman. Machado was front and center for the entire league at the SAL All-Star Game at Perdue Stadium, dueling with Hagerstown superstar Bryce Harper for the limelight. Machado exploded into The Show the next year and spent seven remarkable seasons with the Orioles, earning four All-Star nods, two Gold Gloves at third base, and two top-five MVP finishes. The O's flipped him to the Dodgers at the deadline in 2018 for five prospects, and Machado signed a then-record breaking 10-year, $300 million contract with the Padres in early 2019.
Ryan Mountcastle (2016) - Mountcastle set the tone for his rise through the Orioles system by spending his entire 19-year-old season in Delmarva. He hit .281 with 28 doubles and 10 dingers over 115 games, earning organizational All-Star laurels at season's end. After rising through Frederick and Bowie over the next two seasons, Mountcastle took his game to new heights with Norfolk last season, winning International League MVP with 25 homers, 83 RBIs, and an .871 OPS as one of the youngest players in Triple-A. He's expected to crack the bigs at some point in 2020.
Cadyn Grenier (2018-19) - One of the highest profile pure rookies to play at Perdue Stadium in recent memory, Grenier came straight to the Shorebirds in 2018 after winning a dramatic College World Series title with Oregon State. Grneier made his pro debut on July 5 and got his first hit the next day; two nights later he led off the ninth with a single, stole two bases on consecutive pitches, and scored the winning run in a walkoff over Hickory. Grenier played 125 games over two seasons with Delmarva, showing advanced glove chops at short and growing skills at the plate before earning a promotion to Frederick last July.
Delmarva Shorebirds Silver Anniversary Team
Catcher: Chance Sisco (2014)
First Base: Calvin Pickering (1997)
Second Base: Willie Harris (1999-2000)
Third Base: Ryan Minor (1997; mgr. 2010-12, 2014-17)
Shortstop: Orlando Cabrera (1996)
Left Field: February 13
Center Field: February 20
Right Field: February 27
Designated Hitter: March 5
Starting Pitchers: March 12
Relief Pitchers: March 19
The Delmarva Shorebirds Silver Anniversary Team was voted on by a panel of experts who have deep, longstanding ties to the Shorebirds organization. The panel considered several factors to make well-rounded decisions on who best represents the history of the Delmarva franchise as both a competitive team in its own right and as a step on the road to major league glory. Members of the panel include: Chris Bitters, Shorebirds general manager; Will DeBoer, Director of Broadcasting & Communications; Gil Dunn, Delmarva Shorebirds Fan Club president; Dr. Richard A. Passwater, a.k.a. "Doc Shorebird," team historian; Ricky Pollitt, The Daily Times sportswriter; Bryan Records, longtime Shorebirds clubhouse assistant; Randy Scott, Froggy 99.9 FM radio personality and former Shorebirds broadcaster; and Jimmy Sweet, Shorebirds assistant general manager.