Silver Anniversary Team: Ryan Minor, Third Base
Bash Brother from '97 managed Delmarva for seven years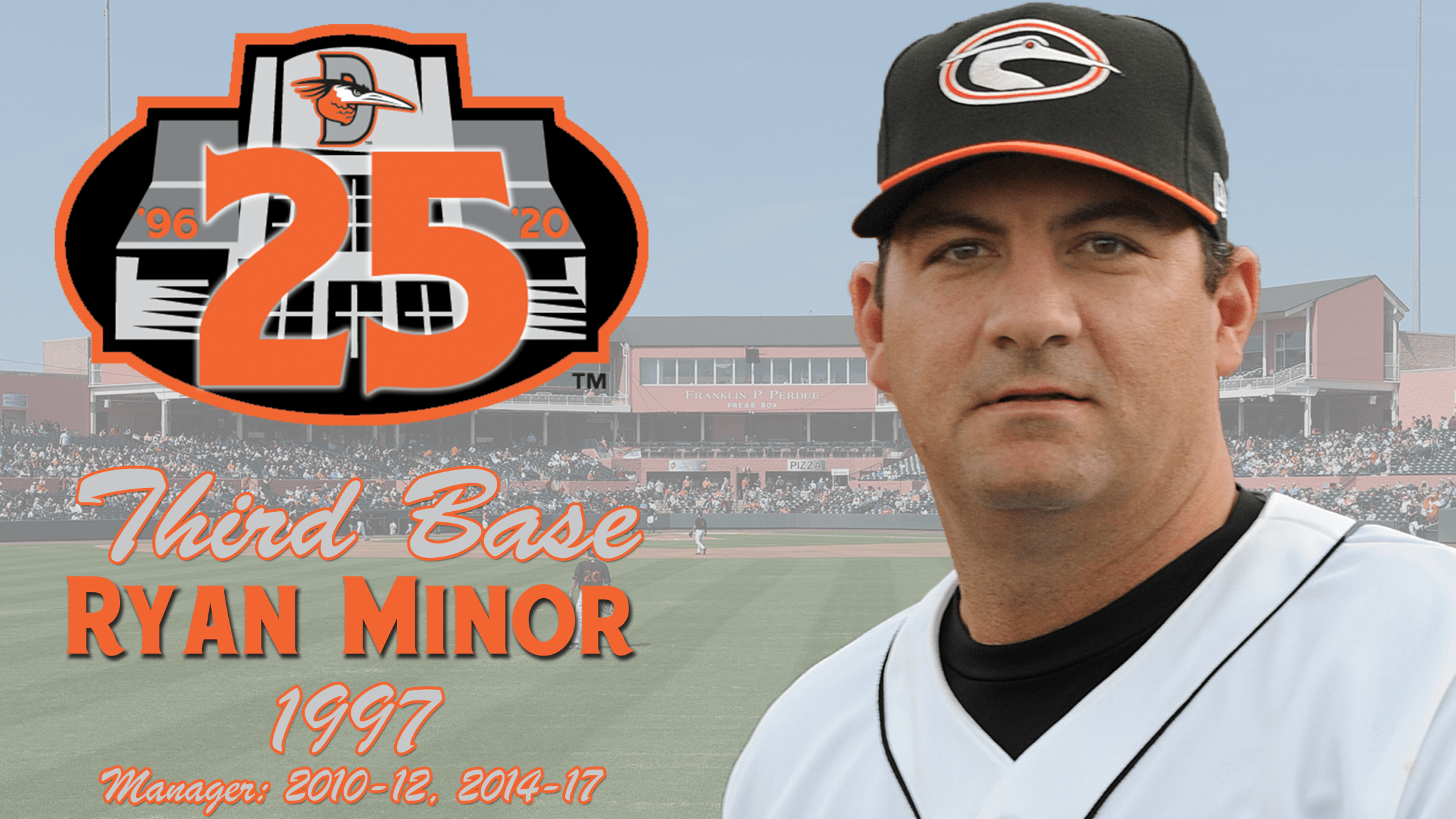 Our trip through the Shorebirds Silver Anniversary Team now takes us to the hot corner. Third base, like first, is where power bats and impact players congregate. Gamechangers make their home at third base, in the Orioles' case a franchise icon in Brooks Robinson. Our expert panel's near-unanimous pick for
Our trip through the Shorebirds Silver Anniversary Team now takes us to the hot corner. Third base, like first, is where power bats and impact players congregate. Gamechangers make their home at third base, in the Orioles' case a franchise icon in Brooks Robinson. Our expert panel's near-unanimous pick for third base not only made a baseball home at Arthur W. Perdue Stadium but a real-life home in Salisbury, becoming the franchise's longest on-field presence.
Third Base: Ryan Minor, 1997
134 games, .307/.387/.545, 83 R, 42 2B, 24 HR, 97 RBI, .932 OPS
Manager - 2010-12, 2014-17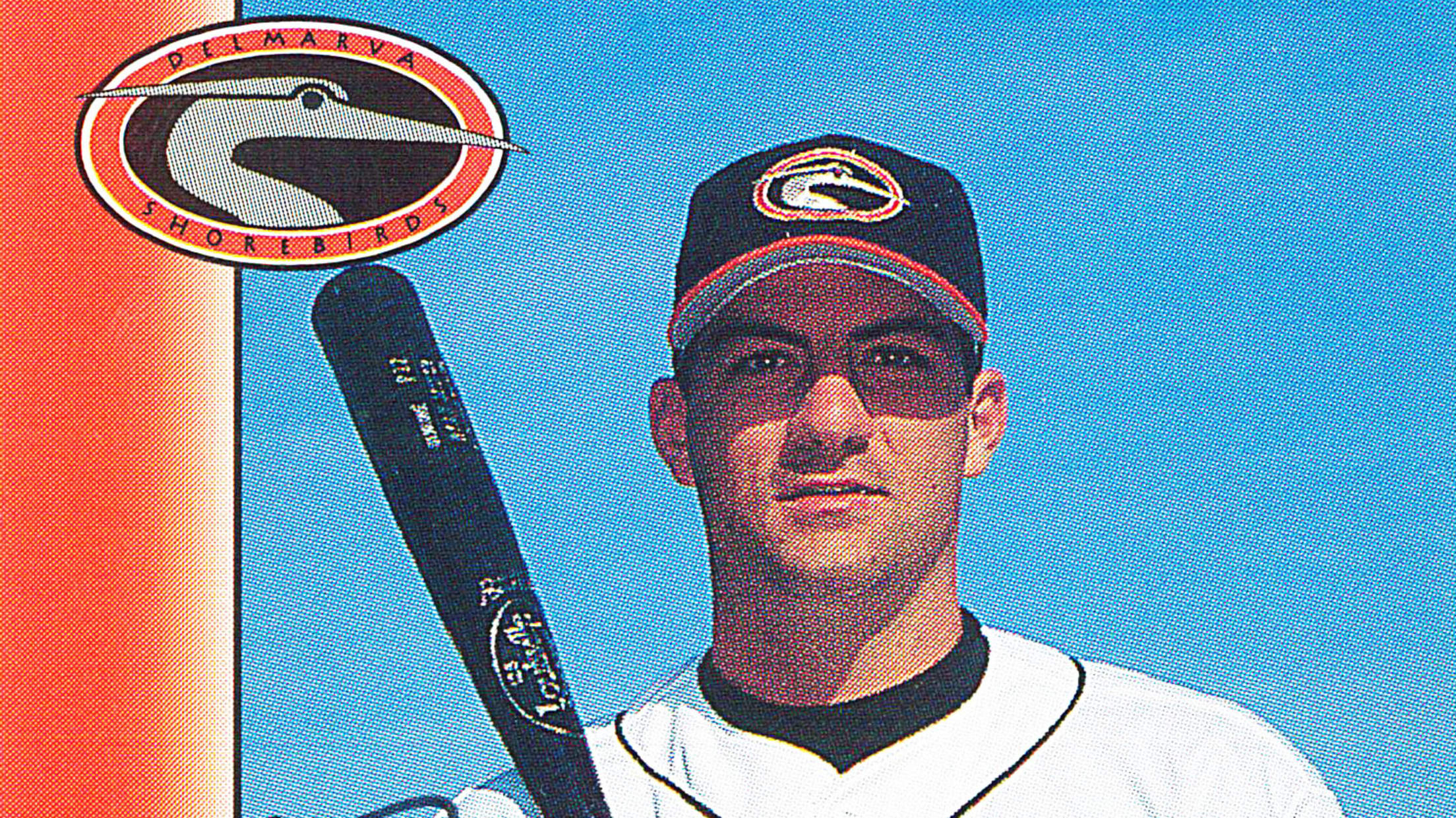 Ryan Minor already had name recognition by the time he arrived on the Eastern Shore in 1997. A two-way star at Oklahoma, he scored almost 2,000 career points and led the Sooner basketball team to back-to-back NCAA Tournament appearances in 1995 and 1996, becoming a second-round pick for the Philadelphia 76ers. But he chose the diamond over the hardwood and ultimately became the first name that many Shorebirds fans think of when they think of their favorite team.
Paired with Bash Brother Calvin Pickering at first base, Minor became a terror for opposing teams during the Shorebirds' 1997 run to the South Atlantic League pennant. He pounded out 42 doubles as part of 67 extra-base hits for 266 total bases, three franchise records rarely challenged in 22 years since. At one time he held the Shorebirds' single-season hits (150) and RBIs (97) marks and still ranks top-five in batting average (.307), runs (83), home runs (24), slugging (.554), and even HBPs (15).
"We always tried to push each other and be the best on the field," said Pickering of Minor in his own Silver Anniversary Team interview earlier this month. Pickering outpaced Minor by one dinger that season, and the duo still remain top-two on the Shorebirds' single-season home run leaderboard. "We challenged each other, and we were definitely the best one-two punch coming up at the time."
It was a charmed season for Minor, who played in the SAL All-Star Game and was named the Sally League's Top MLB Prospect, an honor no Delmarva player would match until Grayson Rodriguez in 2019. Alongside several teammates that captured the Appalachian League title for Bluefield the year before, the Shorebirds notched 77 regular season wins and played in front of a league-leading 324,412 fans at Perdue Stadium. The Shorebirds went to the eight-team SAL postseason as a wild card, knocking off Hickory and Charleston (WV) before sweeping Greensboro for the title.
Minor's rise continued the next season in Double-A Bowie; he put together strong numbers with the Baysox and earned a late-season callup, debuting at Camden Yards on September 13 with a pinch-hit single and run against the Angels. One week later, Minor became the answer to a trivia question when he replaced Cal Ripken, Jr. in the Orioles' lineup, ending the Iron Man's streak at 2,632 consecutive games played.

Over the next two seasons Minor split his time between Baltimore and Triple-A Rochester, playing in 76 games for the O's before being traded to Expos in late 2000 for pitcher Jorge Julio. He suited up in 55 more games for Montreal in 2001 for a total of 142 in his major league career. The Mariners claimed Minor off waivers at the end of 2001 and he played in their system, plus stints on the Dodgers and Marlins farms, for the next three years. After two resurgent years in the independent Atlantic League - he bashed 42 home runs and 144 RBIs for Atlantic City and Lancaster - Minor retired from the game in 2005 at age 31.
Baseball still had a grip on him, though. Immediately Minor transitioned to coaching, staying in the Atlantic League on staff for the Road Warriors in 2006 and York Revolution in 2007. In 2008 he returned to Salisbury and became the Shorebirds' hitting coach, a role he'd fill for two seasons before being promoted to manager in 2010.
From there, Minor became a Delmarva institution. He managed the Shorebirds for seven of the next eight years, winning 435 games. His wife Allyson and children Reagan and Finley were frequent guests at Perdue Stadium, greeting husband and father by the third base dugout before and after games. Minor was instrumental in the development of a new generation of Orioles prospects, and in 2014 he had a front-row seat to watch Drew Dosch surpass him to become Delmarva's new single-season hit king.
Minor ultimately spent 12 years coaching in the Orioles system, managing for 10 between Delmarva and the Frederick Keys. He recently joined the Detroit Tigers system, set to manage the Gulf Coast League West Tigers in 2020. While he may be in a new organization, Minor and his family will always be able to claim Salisbury as home.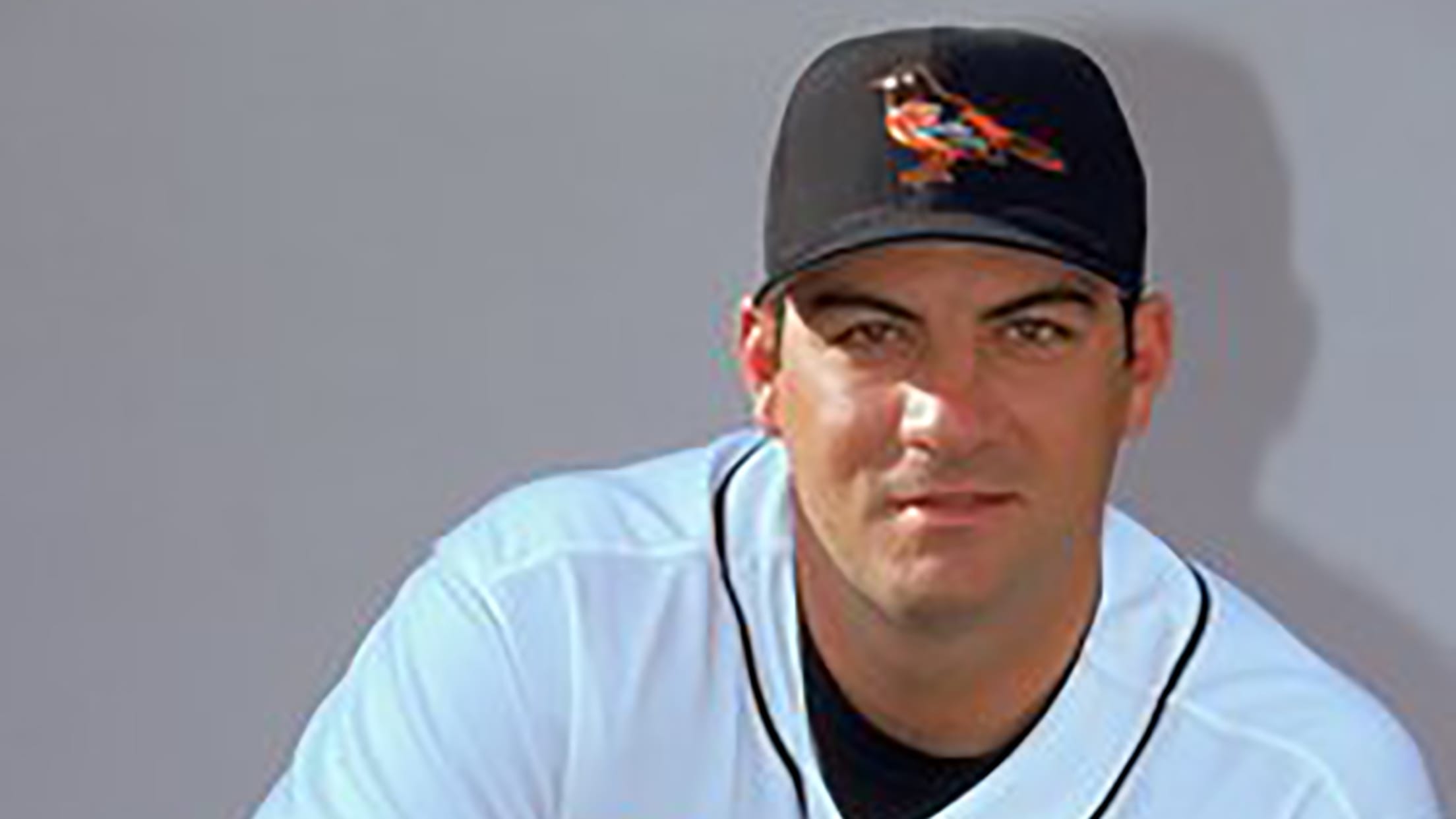 Best of the Rest
Jose Fernandez (1996) - A feared slugger on the inaugural Shorebirds, SAL All-Star Fernandez cracked 41 extra-base hits, including 12 home runs, helping Delmarva win 83 games and reach the Sally League championship series. Two years later he made it to Montreal, one of 10 members of that first Delmarva team to play in the major leagues. Fernandez appeared in eight games for the Expos in 1999 and 13 games for Anaheim in 2001; he then embarked on a long and respected international career, putting up stellar numbers in Japan, Korea, and Mexico before retiring at age 38 in 2013.
Napoleon Calzado (1999-2000) - Sally League All-Star and Team MVP, "Nappy" Calzado hit .278 and plated 83 runs for Delmarva's second pennant winner in 2000. He toiled in the Orioles and Braves systems for five more years before finally earning a midseason callup to Baltimore in 2005, playing in four major league games. Calzado closed out the decade in Mexican and independent ball, retiring in 2009.
Ty Kelly (2010-11) - Kelly spent two full seasons with the Shorebirds, playing for the home team in the 2011 SAL All-Star Game at Perdue Stadium. He finally cracked the bigs in 2016 with the Mets and played 118 games in the majors over three years between New York and the Phillies. A journeyman who played for seven different organizations, Kelly retired after spending last season in Triple-A Salt Lake (Angels), capping an 11-year minor league career.
Jonathan Schoop (2011) - Part of a dynamic infield duo with Manny Machado, Schoop hit .316 with an .890 OPS over 51 games for the Shorebirds, earning an early-June promotion to Frederick that l cost him a likely SAL All-Star nod. He debuted for the O's in 2013 and became the team's representative to the 2017 MLB All-Star Game in Miami. In six years with the Orioles Schoop hit .261 with 106 home runs and 312 RBIs; he was dealt to the Brewers at the 2018 trade deadline and played the 2019 season with the Twins before signing with the Tigers last month.
Drew Dosch (2014) - Dosch put together an outstanding rookie season for the Shorebirds, batting .314 with 50 RBIs and 76 runs scored on the way to an SAL All-Star bid and postseason Organizational All-Star recognition. On August 16 at Hickory, Dosch blooped a ninth-inning single to left for his 151st hit, surpassing his manager Ryan Minor to become Delmarva's single-season hit king (his mark of 157 still stands). He was an All-Star for High-A Frederick in 2015 and Triple-A Norfolk in 2018, retiring after that season with the Tides.
Delmarva Shorebirds Silver Anniversary Team
Catcher: Chance Sisco (2014)
First Base: Calvin Pickering (1997)
Second Base: Willie Harris (1999-2000)
Third Base: Ryan Minor (1997; mgr. 2010-12, 2014-17)
Shortstop: February 6
Left Field: February 13
Center Field: February 20
Right Field: February 27
Designated Hitter: March 5
Starting Pitchers: March 12
Relief Pitchers: March 19
The Delmarva Shorebirds Silver Anniversary Team was voted on by a panel of experts who have deep, longstanding ties to the Shorebirds organization. The panel considered several factors to make well-rounded decisions on who best represents the history of the Delmarva franchise as both a competitive team in its own right and as a step on the road to major league glory. Members of the panel include: Chris Bitters, Shorebirds general manager; Will DeBoer, Director of Broadcasting & Communications; Gil Dunn, Delmarva Shorebirds Fan Club president; Dr. Richard A. Passwater, a.k.a. "Doc Shorebird," team historian; Ricky Pollitt, The Daily Times sportswriter; Bryan Records, longtime Shorebirds clubhouse assistant; Randy Scott, Froggy 99.9 FM radio personality and former Shorebirds broadcaster; and Jimmy Sweet, Shorebirds assistant general manager.