1996 Nuts manager Poldberg retires from baseball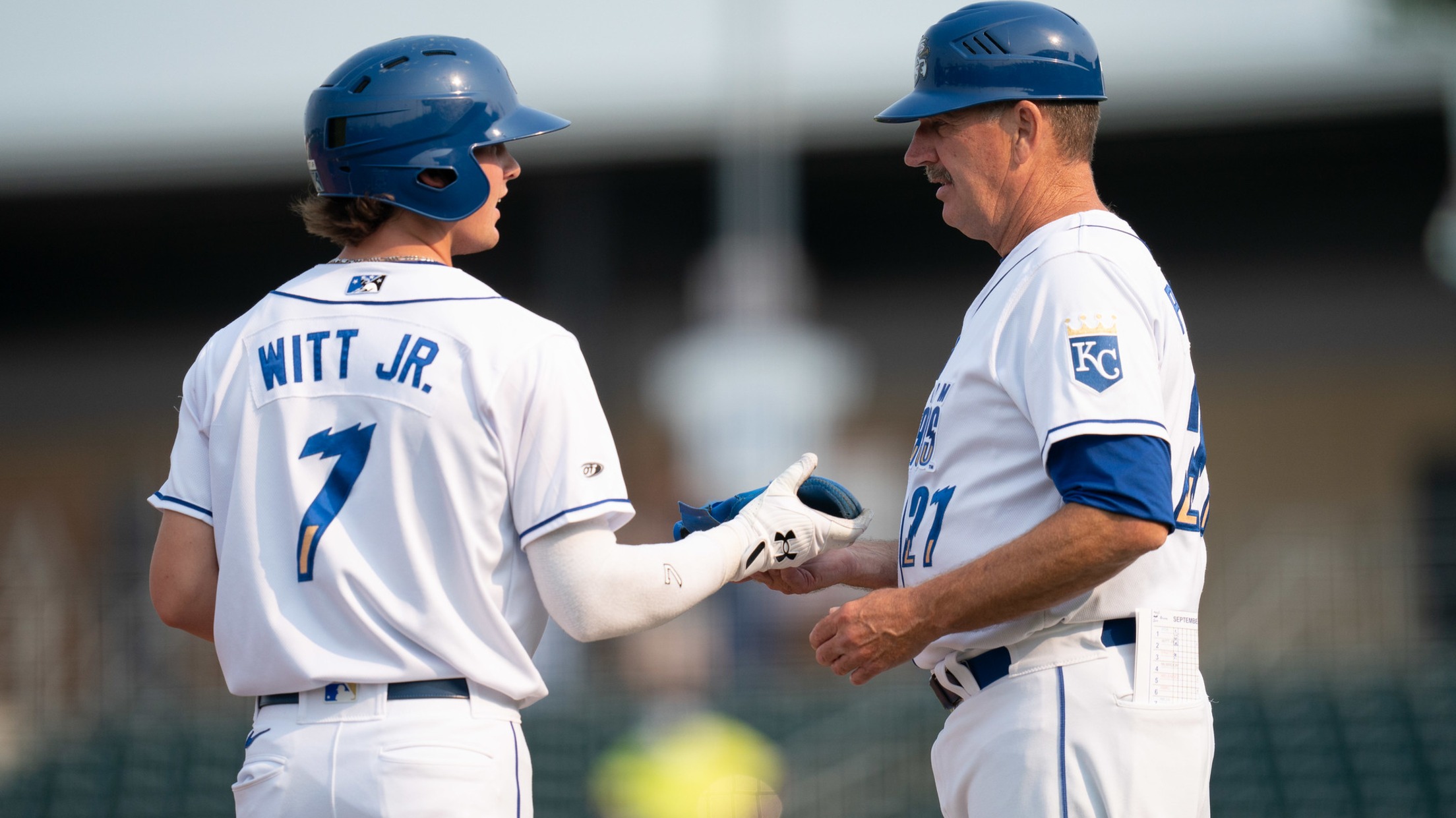 (Minda Haas Kuhlmann)
Brian Poldberg, who managed the inaugural 1996 Lansing Lugnuts, retired from professional baseball as of the conclusion of the 2021 season, finishing with 1,415 career managerial victories in Minor League Baseball. Poldberg hung up his spikes after leading the Kansas City Royals' Triple-A affiliate, the Omaha Storm Chasers, to a
Brian Poldberg, who managed the inaugural 1996 Lansing Lugnuts, retired from professional baseball as of the conclusion of the 2021 season, finishing with 1,415 career managerial victories in Minor League Baseball.
Poldberg hung up his spikes after leading the Kansas City Royals' Triple-A affiliate, the Omaha Storm Chasers, to a 73-56 record, a half-game back of Toledo for first place in the Triple-A East's Midwest Division. It was the seventh straight season he had spent at the helm of the Storm Chasers, beginning with a Triple-A championship campaign in 2014.
A catcher, Poldberg spent his college years at Wayne State (Nebraska), Fort Hays State, and Emporia State before signing with the New York Yankees. He played three years in the Yanks' system, suiting up alongside such notables as Don Mattingly, Rex Hudler, Otis Nixon, Willie McGee, Mike Morgan, and Buck Showalter, before joining the Royals' organization from 1983-1985. He spent all three seasons in his future managerial home of Omaha, Nebraska, catching future Major Leaguers Bud Black, Charlie Leibrandt, Danny Jackson, David Cone, and Steve Farr.
Poldberg retired from playing pro baseball following the 1985 season. He returned home and tried a life in construction. "I enjoyed being outside," he recalled to the Emporia Gazette. "It just made me realize how good I did have it.... I wish every pro player had to go out and do a physical labor job and find out.... You think you've got it bad, but there's guys that go out there and bust their butt every day and you've got it pretty good."
In 1987, Poldberg returned to baseball as a coach, joining the Midwest League's Appleton Foxes, the Royals' Low-A affiliate. (He also made two emergency pitching appearances that season for the Foxes, allowing two runs in one inning in total.) A year later, he was given his first managerial assignment, helming Appleton, and raising the curtain on what would become a 21-year, 2,863-game career.
(That Foxes team, interestingly, included 20-year-old pitching prospect Tom Gordon, who was honored that season as Baseball America's 1988 Minor League Player of the Year.)
Poldberg was a 38-year-old coaching veteran when he arrived in Lansing, Michigan, on November 10, 1995, to introduce himself to the fans of the league's newest franchise. He was coming off a year as the skipper of the Sultans of Springfield, who would be moving to Lansing to become the Lugnuts in 1996. "To develop quality players for the major leagues, you've got to win," Poldberg told the Lansing State Journal's Chris Baldwin. "You have to win to get the total player. You can make a good player, but if you don't teach him how to win, you're still lacking some ingredients for the major league level.
"It's a fine line between developing a player to move up and winning a game as the season goes on. But yeah, I want to win."
Poldberg entered 1996 without a winning season as a manager, and he left it in the same fashion, with the Lugnuts finishing 68-71. That was far from the whole story; Poldberg's Nuts surged in the second half of the season, capped by a white-hot August, to tie the West Michigan Whitecaps for the division title and earn an invite to a best-of-three first-round series with the powerful Whitecaps.
Lansing dropped the first game of the series at home, 11-6, then struck back to win at Old Kent Park, 6-3. "The Lansing Lugnuts could have won a staring contest with Nick Saban Wednesday night," Chris Baldwin wrote for the Lansing State Journal, and Joanne C. Gerstner added, "Don't put the Big Lug in hibernation yet. The purple prancer has a strong chance of wriggling the Macarena in Oldsmobile Park this weekend in a round two series."
But the decisive Game 3 was a heartbreaker. The Lugnuts tied the game in the ninth inning on a Carlos Febles RBI single before falling in 11 innings, 3-2, on a throwing error by shortstop José Cepeda. "It could have gone either way a million times," said Poldberg afterward. "It just went their way in the end." Said catcher Matt Treanor, "It all went so fast. The game flew by and then it was like the entire season had flown by."
So concluded Brian Poldberg's only season managing in Lansing, replaced by Bob Herold in 1997.
It did not take Poldberg long, however, to come back to visit. In early April 1997, he was back at Oldsmobile Park in his new capacity as Kansas City Royals roving catching instructor. "It's weird to be back, no question," Poldberg told the Lansing State Journal's Larry Lage. "It's hard to come back and be on the sideline with not much to say during the game. But it's good to be back because I had a lot of fun here last year. This was such a great atmosphere with great fans. I made a lot of friends in the area so I'm excited to see them. But I don't miss this weather." The new position was a positive one, Poldberg said to Lage, because "I'm home with my family a lot more. I can be in my hometown Omaha with the AAA team or I'm only six hours away in Wichita with the AA team."
In 1998, Poldberg returned to the road as the manager for High-A Wilmington. The year was a resounding success, bolstered by a strong contingent of former Lugnuts, rocketing the Blue Rocks to an 86-54 record and the Carolina League championship. In one fell swoop, Poldberg had his first winning season as a manager and his first championship ring. At season's end, Kansas City presented him with the Dick Howser Award as the organization's most outstanding player development person.
Brian Poldberg returned to his post as roving catching instructor from 1999-2003 before joining the Kansas City Royals' Major League coaching staff, serving as bullpen in 2004-2005, first base coach in 2006 and third base coach in 2007.
After four years in the Majors, Poldberg returned to development and minor league managing: first, to Double-A Northwest Arkansas from 2008-2013, where he led the Naturals to the 2010 Texas League title and was again honored with the Howser Award. And then back to his beloved Omaha, at the Triple-A level, from that championship summer of 2014 until his retirement on October 3, 2021, at season's end.
"The time's here," Poldberg said in a statement put out by the Storm Chasers. "I've been in it for 40-plus years and my body's telling me that it's harder to get out there every day and do the things that I feel I need to do to do the job right. After 41 years of being in baseball and being married for 36, I've never spent a summer with my family, so I'm looking forward to that. It's been a great honor to have played for and managed my hometown team. It's odd to be in professional baseball and be in your hometown and work and I've been very fortunate the last seven years to do that."
Brian Poldberg photo credit: Minda Haas Kuhlmann, Omaha Storm Chasers
# # #