2020 Envisioning: The Lugnuts' Next Outfield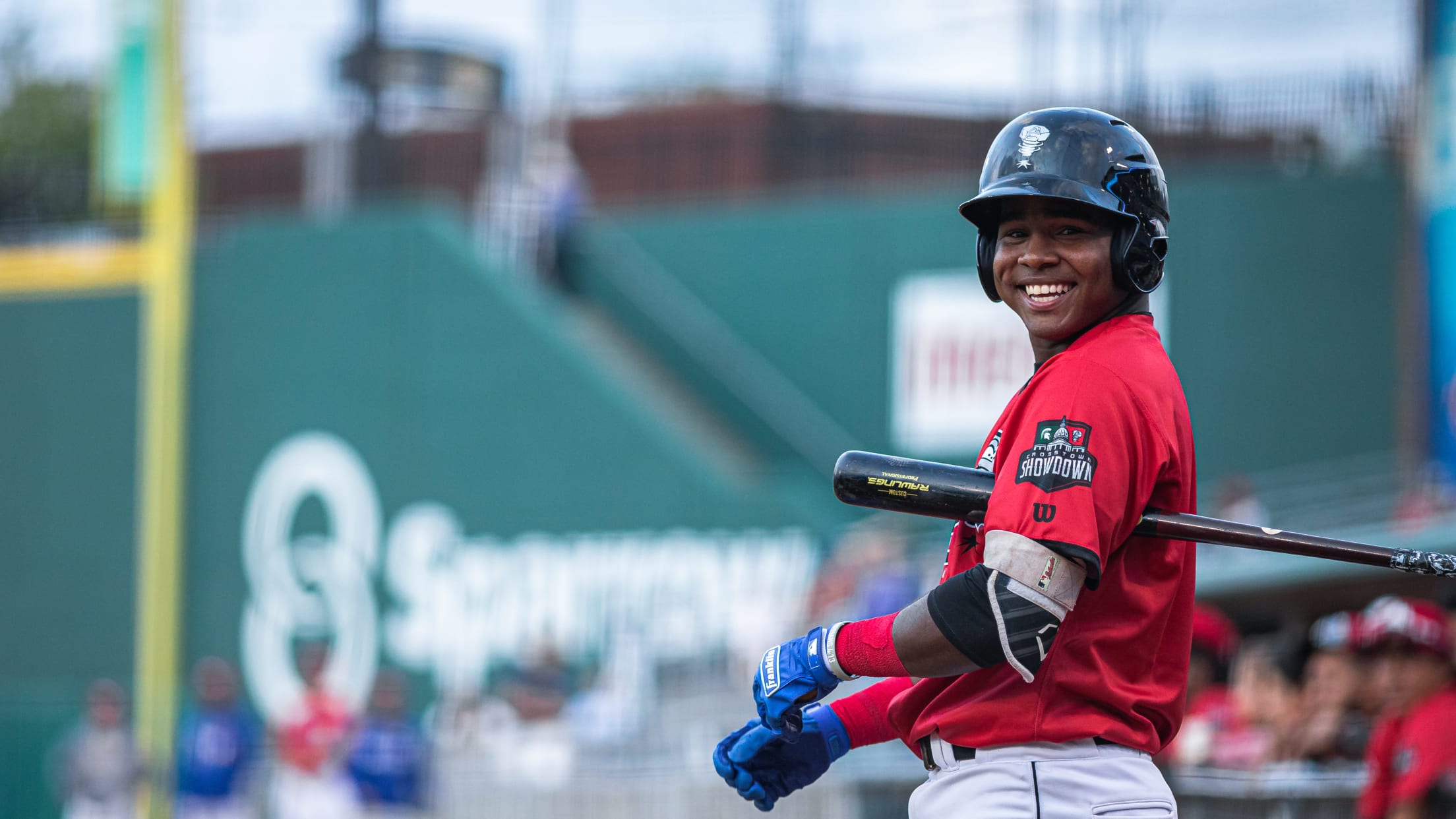 This is rookie-league outfielder Jhon Solarte, likely a year or two away from playing in Lansing - but he made a winning first impression in September. (Miguel Arcaute / Lansing Lugnuts)
Part I - click here to read it - was a look at which of the Blue Jays' current Top 30 prospects could play in Lansing in 2020, the 25th season of Lugnuts baseball.Part II featured a closer look at the Lugnuts' potential catchers and infielders.Today, we move to the outfield.*
Part I - click here to read it - was a look at which of the Blue Jays' current Top 30 prospects could play in Lansing in 2020, the 25th season of Lugnuts baseball.
Part II featured a closer look at the Lugnuts' potential catchers and infielders.
Today, we move to the outfield.
*
The 2019 Lugnuts outfield had Reggie Pruitt, Griffin Conine and Otto Lopez, each of whom is highly likely (as close to 100% as you could get, barring injury, trade, etc.) to start next year in A-Adv. Dunedin; DJ Neal and Hunter Steinmetz, who are candidates to return; and Dominic Abbadessa and Mc Gregory Contreras, who are interesting: Neither one hit in Lansing (Abbadessa hit .189 with a .571 OPS, Contreras hit .211 with a .593 OPS), and then after they were both transferred to Vancouver, neither one hit for the Canadians (Abbadessa - .184 with a .468 OPS, Contreras - .211 with a .579 OPS).
So Neal could be back, Steinmetz could be back, Abbadessa could be back and Contreras could be back. Four outfielders is pretty much the max - three starters, and one getting a breather before entering the lineup tomorrow.
But there are some other names you should know:

RF Will Robertson came up in the prospect preview as the Jays' No. 19 prospect. He was taken in the fourth round in June from Creighton, learning that he had been drafted at 32,000 feet above the ground, which meant that he went from the Bluejays to the Blue Jays. Fangraphs rated him the 61st best player in the draft, but Toronto got him at pick 117. He spent his pro debut in Vancouver putting up adequate stats overall thanks to a hot finish (.268, 11 2B, 6 HR, .769 OPS), which you would hope bodes well for next year.

CF Cameron Eden was drafted in the sixth round in June from California, where he had played shortstop as a freshman and sophomore before switching to center field as a junior. He had a strong offensive season for the Bears, too, slashing .370/.442/.560 with 20 steals and eight home runs, but it didn't translate in Vancouver: he batted .220 with one homer, eight steals and a .576 OPS. Looking from the outside in, Eden might just break through under the radar as his pro career goes along, the same way he improved each year in college.
Vancouver's other outfielders were Abbadessa, Contreras and
Adrian Ramos
(.104 avg., 12-for-115, nine steals).
*
Down in Adv. Rookie Bluefield...
Justin Ammons played left field (seven games) center field (11 games) and right field (five games) and he hit. He was signed as an undrafted free agent on July 16th from the University of Tennessee, where he had been the Volunteers' leadoff hitter and starting right fielder. With the Vols, he hit .254 with 54 hits in 54 games. With the Bluefield Blue Jays, he hit .382/.442/.490 with 39 hits (including 11 doubles) in 25 games. That's the kind of year that gets a guy jumped up the ladder to Lansing.

Spencer Horwitz came up in the infield preview, so not much more is needed here. He hit .330 in 51 games for Bluefield before he was sent up to Vancouver, and he played significant time at first base and left field. He's very likely to be a Lugnut, and placed wherever he can fit in defensively to get his bat into the lineup.

Eric Rivera was Bluefield's 2019 leadoff hitter and might just become Lansing's 2020 leadoff hitter. He played in 33 games in center field and 20 games in left field for the Blue Jays after being taken in the 14th round this past June from Florida Atlantic (where he was helped significantly by a Tampa Bay Rays second-rounder). Rivera is another hit guy, just like Ammons and Horwitz: he hit .284 with a .378 on-base percentage in the Appy League, walked (30) more than he struck out (28), and went 7-for-7 in steals.

It's probably not yet Steward Berroa's or D.J. Daniels's time to make Lansing out of spring training, but we might see at least one as the season proceeds. The switch-hitting Berroa has played in the Crosstown Showdown against Michigan State each of the last two years, batting leadoff in the Lugnuts' order in the exhibition. In his first season in Bluefield, he hit .236 with a .349 OBP and stole 14 bases; he's likely heading to Vancouver in 2020. The power-hitting Daniels spent 2016 and 2017 in the Gulf Coast League and each of the last two years in the Appy League, so he too is likely ticketed for Vancouver. A sixth-rounder in 2016, he set career highs in every category in 2019, including nine doubles and seven home runs.
*
There are two outfielders who are worth remembering even if they're not likely to be Lugnuts in 2020.
Jhon Solarte, pictured above this article, is a switch-hitting center fielder who's 18 years old, was signed as an international free agent from hit .275 with four doubles, two triples, three homers, and a .373 OBP in the Gulf Coast League, stole 27 bags in 2018 and 11 in 2019, and asked for us to have the public address announcer introduce him as "Jhon 'The Panther' Solarte." Then he quickly corrected himself: "Jhon 'The Black Panther' Solarte." The soundtrack to "Black Panther" was his walk-up music. Charisma for days! Fangraphs rates Solarte as the Blue Jays' No. 36 prospect.

Dasan Brown, drafted in the third round in June and considered the Jays' No. 18 prospect by MLB Pipeline and No. 20 prospect by Fangraphs. He didn't play too much in his pro debut - 14 games in the Gulf Coast League. I recommend you read Laura Armstrong's profile of Brown.
*
A hypothetical 2020 Lugnuts offense:
C
Philip Clarke
1B
Spencer Horwitz
2B
Miguel Hiraldo
SS
Jordan Groshans
3B
Trevor Schwecke
LF Justin Ammons
CF
Cameron Eden
RF
Will Robertson
DH
Mc Gregory Contreras
A completely different hypothetical 2020 Lugnuts offense:
C
Ryan Sloniger
(or
Hagen Danner
)
1B
PK Morris
2B
Tanner Morris
SS
Leonardo Jimenez
3B
Ronny Brito
LF
Dominic Abbadessa
CF
Eric Rivera
RF
DJ Neal
DH
Angel Camacho
We have a basic understanding as to who will be Nuts next year, yet we don't
really
have a clear picture -- which makes the work the players put in this offseason matter all that much more to their initial assignments and how successful they will be in the coming year. (A constant guarantee: Hard work pays off.)
*
Part IV, the final part:
The 2020 Pitchers!