A day after allowing 17, Nuts win with a shutout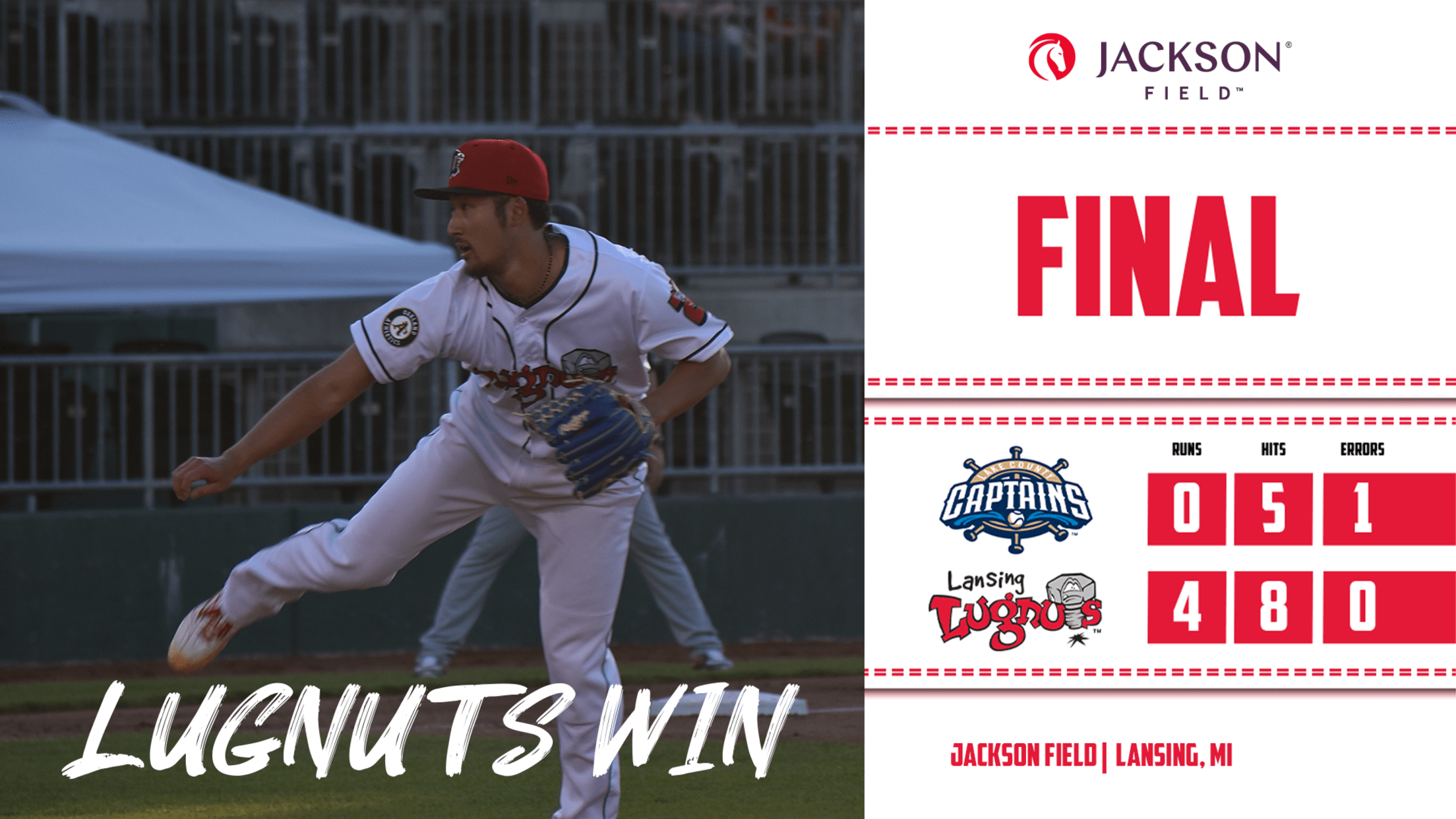 LANSING, MI – On Wednesday, the Lansing Lugnuts allowed 19 hits and 17 runs in a 17-10 loss. 24 hours later, Shohei Tomioka and Jack Cushing combined on a five-hit shutout, sending the Lugnuts (30-34) to a 4-0 victory over the Lake County Captains (34-29) on Thursday night at Jackson®
LANSING, MI – On Wednesday, the Lansing Lugnuts allowed 19 hits and 17 runs in a 17-10 loss. 24 hours later, Shohei Tomioka and Jack Cushing combined on a five-hit shutout, sending the Lugnuts (30-34) to a 4-0 victory over the Lake County Captains (34-29) on Thursday night at Jackson® Field™.
The shutout took the headlines away from the High-A debut for 20-year-old Cleveland prospect right-hander Daniel Espino, the 24th overall selection in the 2019 draft, who struck out nine batters in four innings.
But Espino also did what Tomioka and Cushing did not: He allowed a pair of runs, with Jordan Díaz singling home Drew Millas in the first inning and Cobie Vance plating Díaz with a sacrifice fly in the fourth inning.
Lansing added two to its lead in the fifth on a run-scoring balk by reliever Kevin Coulter and a Guldberg RBI single.
The rest of the night belonged to the Lugnuts' tandem of right-handers.
Making his third career start, Tomioka struck out three Captains in four scoreless innings, allowing a walk, a single and a double, spaced between each of the first three frames.
Cushing took it the final five innings, pitching around two singles in the fifth and a single and two walks in the sixth. He then found a groove, setting down the final 10 batters of the game in order.
In the win, Millas went 2-for-4 with a single, double and two runs scored; Guldberg went 2-for-3 with two singles, a walk and a steal; and Shane Selman went 1-for-4 with a single and a run scored to extend his on-base streak to 17 games.
The fourth game of the six-game series is a special Frontline Friday: The first 1000 fans will receive a Bo Bichette 25th Anniversary Bobblehead presented by Sparrow, with LAFCU Fireworks following the 7:05 p.m. game. The starting matchup will see Lansing right-hander Reid Birlingmair (4.72 ERA) face Captains prospect right-hander Tanner Burns (3.33 ERA). To purchase tickets, visit lansinglugnuts.com or call (517) 485-4500.
# # #