From Lansing to MLB in a year? Alejandro Kirk becomes 22nd Nut to achieve feat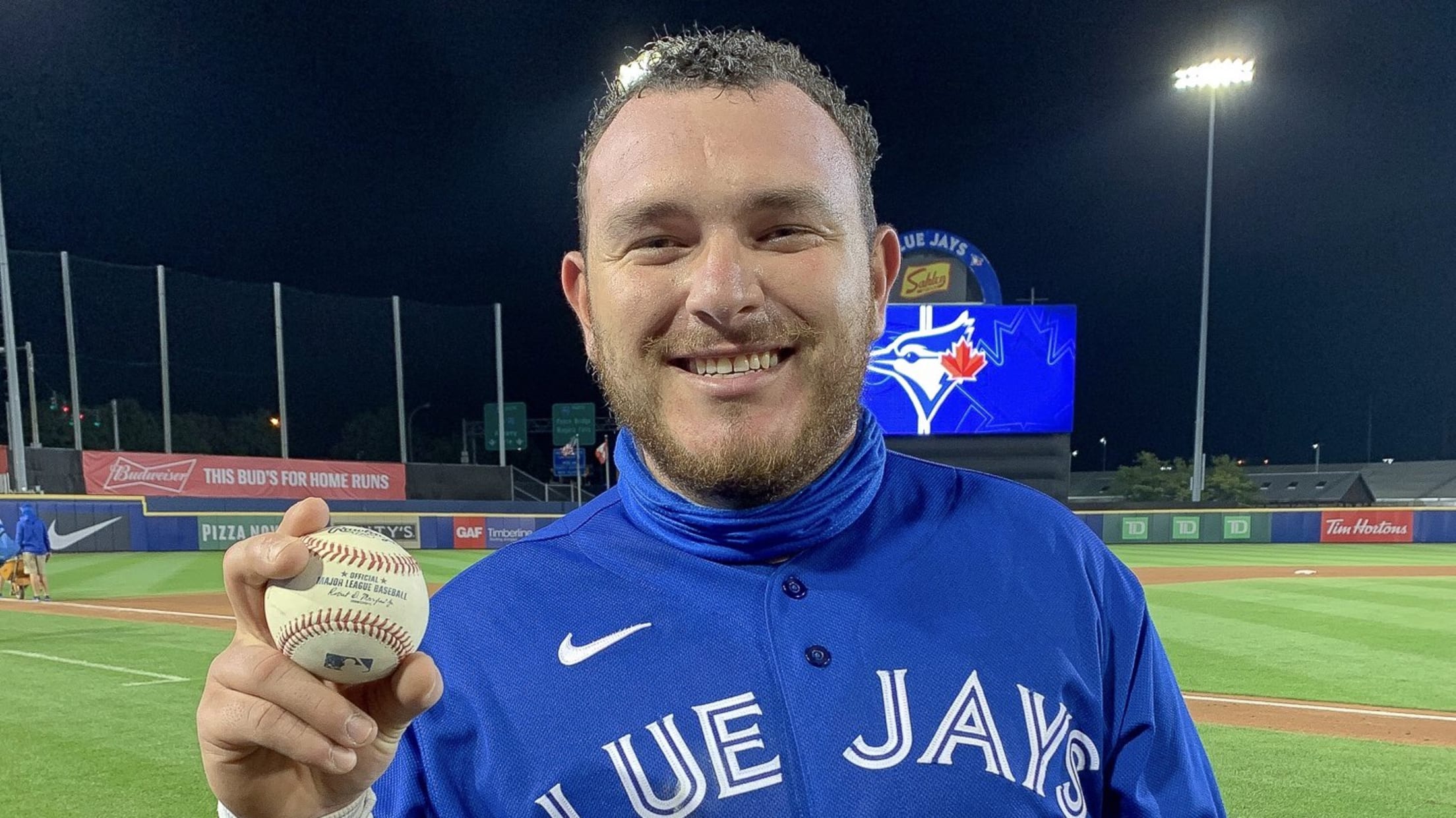 (Toronto Blue Jays)
Alejandro Kirk was a Lansing Lugnut in 2019 for 21 games to start the year. He walked 18 times and struck out only eight times; he bashed 10 extra-base hits, including three homers; he even stole home in Fort Wayne. Then, when the Blue Jays called Riley Adams up to
Alejandro Kirk was a Lansing Lugnut in 2019 for 21 games to start the year. He walked 18 times and struck out only eight times; he bashed 10 extra-base hits, including three homers; he even stole home in Fort Wayne. Then, when the Blue Jays called Riley Adams up to Double-A New Hampshire, he was promoted to A-Advanced Dunedin in early May and continued to flourish through the rest of the year.
He was expected to begin this year in New Hampshire, but there was no Minor League Baseball season. Instead the Blue Jays included him in their 60-player pool and sent him to their Alternate Site in Rochester to play and develop and maybe, just maybe, get a chance at the Majors.
That chance arrived, prompted by injuries to two of the Jays' most impactful hitters, Teoscar Hernandez and Rowdy Tellez, in combination with continued offensive ineffectiveness from the Jays' catchers. Toronto needed more offense. Alejandro Kirk provides offense.
On Saturday, September 12th, Alejandro Kirk made his Major League debut, jumping over Double-A and Triple-A to start at catcher for the Blue Jays. He went 1-for-3, hit the ball over 100 mph twice, drew a walk, and scored a run, and the Jays beat the Mets, 3-2. That victory came the day after Toronto had been steamrolled, 18-1, and it put the Blue Jays back on track.
With his debut, Alejandro Kirk became the 22nd Lugnut to reach the Majors a year or less after playing in Lansing and the 153rd Lugnut total to reach the Major Leagues.
*
The first Lugnut to reach the Major Leagues was reliever (1) Jose Santiago, who played for the Nuts in both 1996 and 1997, and then made the Majors with the Kansas City Royals later in that 1997 season. Santiago and Kendall Graveman (2014) remain the only players to ever reach the Majors the same year they played for the Lugnuts.
Santiago was one of five Royals prospects who rocketed through the minors from Lansing to Kansas City, joining (2) Jeff Wallace (1996 in Lansing, 1997 in KC); (3) Jeremy Giambi (1997 in Midwest League, 1998 in MLB); (4) Dan Reichert (1998, 1999); and (5) Lance Carter (1998, 1999).
A switch to the Chicago Cubs in affiliations entering 1999 landed the Lugnuts a blue chip prospect in teenage outfielder (6) Corey Patterson, who was in the Majors by 2000. (7) Ace Juan Cruz '00 followed in 2001, followed by (8) Sergio Mitre (2002, 2003); (9) Felix Sanchez (2002, 2003); and (10) Jermaine Van Buren (2004, 2005).
2005 was the first season the Lugnuts partnered with the Toronto Blue Jays, with (11) right-hander Casey Janssen playing the part of Corey Patterson, dazzling in Lansing and making the Blue Jays a year later. First-round slugging outfielder (12) Travis Snider lit up the Midwest League in 2007 and reached Toronto in 2008. A year later, a pair of pitchers accomplished the feat, with (13) Brad Mills and (14) Marc Rzepczynski going from the 2008 Nuts starting rotation to the 2009 Blue Jays pitching corps. (15) Drew Hutchison earned a call-up from Lansing to Dunedin with 24 consecutive scoreless innings in 2011, and then broke into the Majors in 2012. That same year, 2012, saw unheralded outfielder (16) Kevin Pillar win the Midwest League MVP Award on his way to a 2013 MLB debut.
The aforementioned (17) Kendall Graveman was one of a trio of Lugnuts who put their names on the map in 2014, joining lefty (18) Daniel Norris, who overcame 2013 struggles to catch helium, and Canadian outfielder (19) Dalton Pompey, who played for the Nuts in 2012 and 2013 before coming home to Ontario with the Blue Jays in 2014.
All of these players, save Alejandro Kirk, share a common thread to their journey: stops in Double-A and/or Triple-A on their way to the Major Leagues. That was not the case, however for Kevin Durant-lookalike (20) Miguel Castro, who zoomed up through Vancouver, Lansing and Dunedin in 2014, opened eyes at Major League Spring Training in 2015, and shockingly made the Blue Jays' Opening Day roster.
Before Kirk, the most recent Lugnut to reach the Majors a year after Lansing was fireballing (21) Yennsy Diaz, who went from 2017-2018 Lugnuts starter to Blue Jays bullpen in 2019.
*
In case you were wondering: Another catcher, Matt Treanor, owns the record for the most years between playing for the Lugnuts and reaching the Major Leagues. Treanor played in the Midwest League in the Lugnuts' inaugural 1996 season and then, eight years later in 2004, reached the Major Leagues with the Florida Marlins -- the same year he married three-time Olympic gold medalist volleyball legend Misty May in 2004. Thus began a five-team, ten-year, 468-game Major League career for Treanor. That's the life of a capable No. 2 catcher.
# # #