Balanced effort leads to Lugnuts' fourth straight win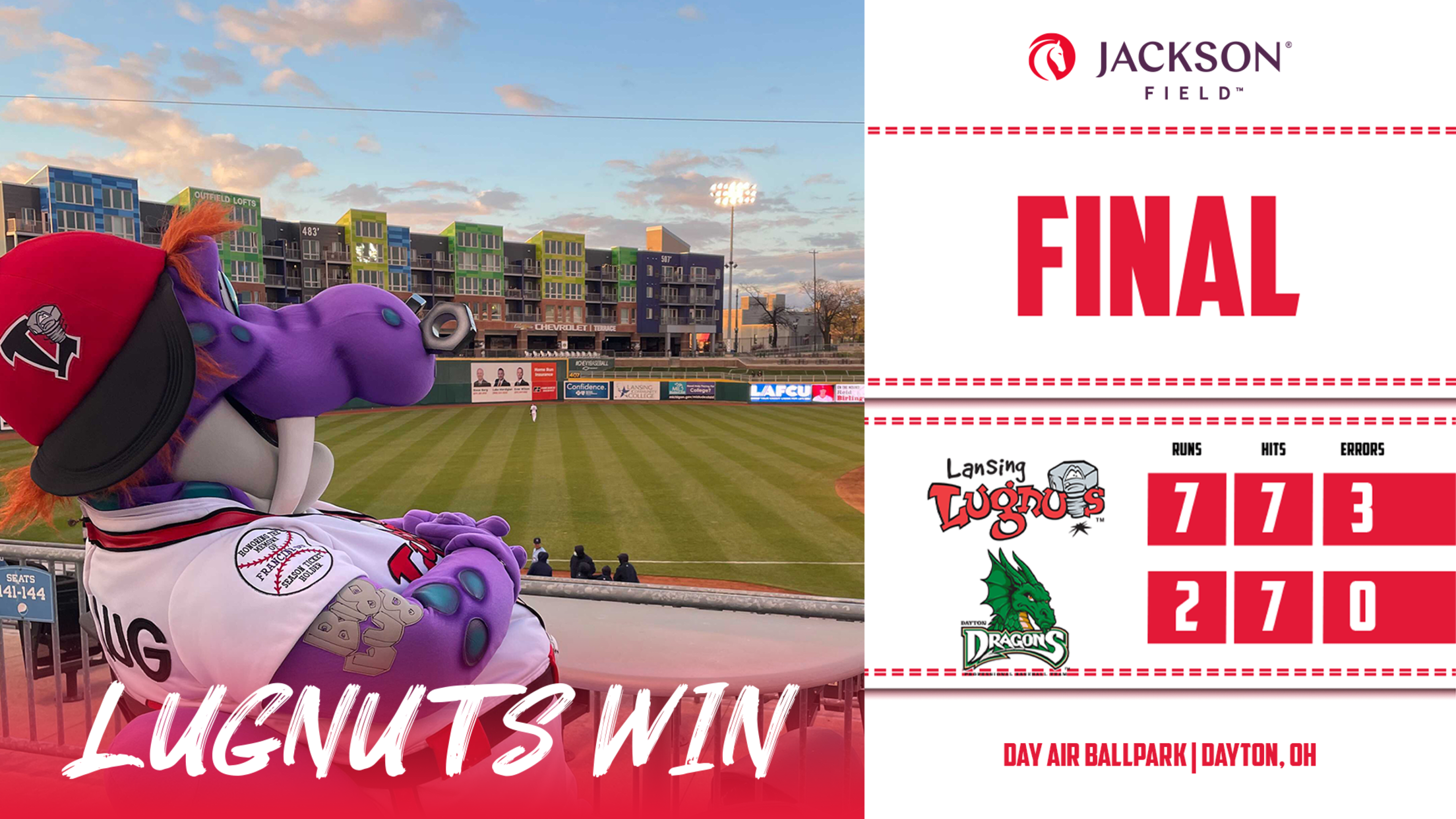 DAYTON, OH – The Lansing Lugnuts (5-3) received RBIs from six different hitters while a combined effort from four pitchers brought a shutout into the ninth inning before finishing with a 7-2 victory over the Dayton Dragons (5-3) on Wednesday night at Day Air Ballpark. The victory was the Lugnuts'
DAYTON, OH – The Lansing Lugnuts (5-3) received RBIs from six different hitters while a combined effort from four pitchers brought a shutout into the ninth inning before finishing with a 7-2 victory over the Dayton Dragons (5-3) on Wednesday night at Day Air Ballpark.
The victory was the Lugnuts' fourth straight, including two in a row over Dayton, moving Lansing into a first-place tie with the Dragons atop the High-A Central's East Division.
The game was decided by two different relief appearances that began in the same scenario: runners at first and second base, none out, in the sixth inning.
For the first five innings, the Dragons' Noah Davis matched zeroes with the Lugnuts' Brady Basso (3 IP, 2 hits, 0 walks, 5 strikeouts) and Bryce Nightengale (2 IP, 2 hits, 2 walks, 1 strikeout). Davis began the sixth inning by walking Drew Millas and giving up a single to Jordan Díaz – his first hit allowed of the game. That prompted Dayton to call upon Jake Gilbert, who gave up an RBI double to Ryan Gridley to break the deadlock. Patrick McColl followed with an RBI groundout before a Gilbert wild pitch brought in Gridley for a 3-0 Lugnuts lead.
In the home half of the sixth, Nightengale walked the first two Dragons before yielding to Michael Danielak, who induced a 6-4-3 double-play ball from Quin Cotton and a popout from Eric Yang, ending the threat.
That was the start of three scoreless innings from Danielak, who struck out two and coaxed a second double-play grounder to end the eighth.
Meanwhile, the Lugnuts' offense piled on against the Dragons bullpen. In the seventh, Millas and Díaz lined back-to-back RBI doubles for a 5-0 lead. And in the eighth, Elvis Peralta, Jr. drilled an RBI triple – the Nuts' first triple of the year – and came in on a Lester Madden, Jr. RBI groundout for a 7-0 lead.
Dayton averted a shutout with two outs in the bottom of the ninth, thanks to Miguel Hernández's two-run seeing-eye single off Charlie Cerny.
The Lugnuts finished the game with four more doubles, giving them an MiLB-leading 25 doubles for the season in just eight games.
Lansing goes for a fifth straight win on Thursday night at 7:05 p.m., sending right-hander Shohei Tomioka (0.00 ERA) to the mound in his first professional start, opposed by Dayton right-hander Graham Ashcraft (4.91).
The next Nuts homestand will run from Tuesday, May 25, through Sunday, May 30, against the Great Lakes Loons. To purchase tickets, please visit lansinglugnuts.com or call (517) 485-4500.
# # #