Birlingmair twirls a gem in Lugnuts' 7-1 win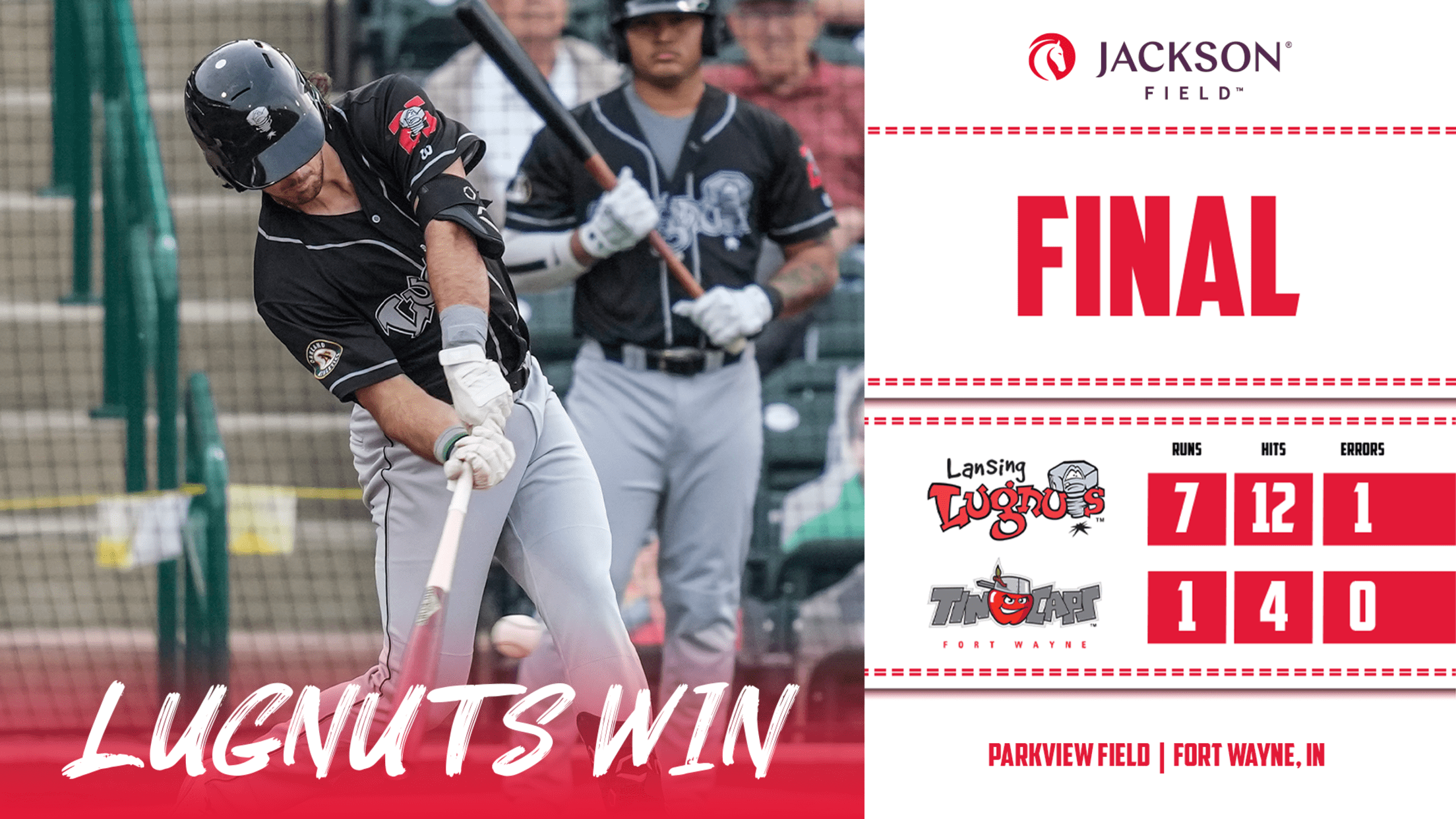 FORT WAYNE, Ind. – Reid Birlingmair allowed just one hit in six shutout innings and the Lansing Lugnuts (8-8) used a big first inning to cruise to a 7-1 victory over the Fort Wayne TinCaps (6-9) on Friday night at Parkview Field. Fort Wayne starter Anderson Espinoza recorded only two
FORT WAYNE, Ind. – Reid Birlingmair allowed just one hit in six shutout innings and the Lansing Lugnuts (8-8) used a big first inning to cruise to a 7-1 victory over the Fort Wayne TinCaps (6-9) on Friday night at Parkview Field.
Fort Wayne starter Anderson Espinoza recorded only two outs in the first inning, facing the entire nine-man starting lineup and allowing two walks and five singles, including a two-run single by Jake Suddleson and RBI singles from Cobie Vance and Ryan Gridley. Reliever Edwuin Bencomo relieved Espinoza in time to face lead-off hitter Max Schuemann and tossed a run-scoring wild pitch to give the Lugnuts a quick 5-0 lead.
That was more than enough for Birlingmair, who needed only 69 pitches, 43 for strikes, to become the first Lugnuts pitcher to work six innings in 2021 – and faced only one batter above the minimum in the process. The former UIC Flame struck out five, induced two double plays, and allowed just a second-inning Tirso Ornelas double, a fourth-inning Agustin Ruiz walk and a fifth-inning Grant Little HBP.
The TinCaps broke up the shutout against reliever Dalton Sawyer with an unearned run in the seventh, thanks to a two-base dropped pop-up by first baseman Jordan Díaz and a Justin Lopez RBI single three batters later.
Sawyer worked 1 1/3 innings overall in the game, striking out two, before yielding to Aiden McIntyre for the final five outs, including three strikeouts.
In the eighth inning, Suddleson added insurance with a solo home run to left field, his second homer of his pro career.
In the ninth inning, Drew Millas doubled home Schuemann to close out the scoring.
The Lugnuts finished the game with 12 hits, led by two apiece from Schuemann, Suddleson, Vance and Michael Guldberg. Schuemann increased his on-base streak to 10 games, while Guldberg pushed his to a team-high 11 games.
The fifth game of the six-game series will see a strong prospect match-up between Lugnuts right-hander Colin Peluse (1.13 ERA), who becomes the ninth different Nut to start a game in 2021, against Fort Wayne left-hander Ethan Elliott (0.60), who has struck out 28 batters while allowing just four hits, three walks and one run in 15 innings this season. First pitch is at 6:35 p.m. on Saturday.
The next Nuts homestand will run from Tuesday, May 25, through Sunday, May 30, against the Great Lakes Loons. To purchase tickets, please visit lansinglugnuts.com or call (517) 485-4500.
# # #