Caps top Lugnuts by a touchdown, 17-10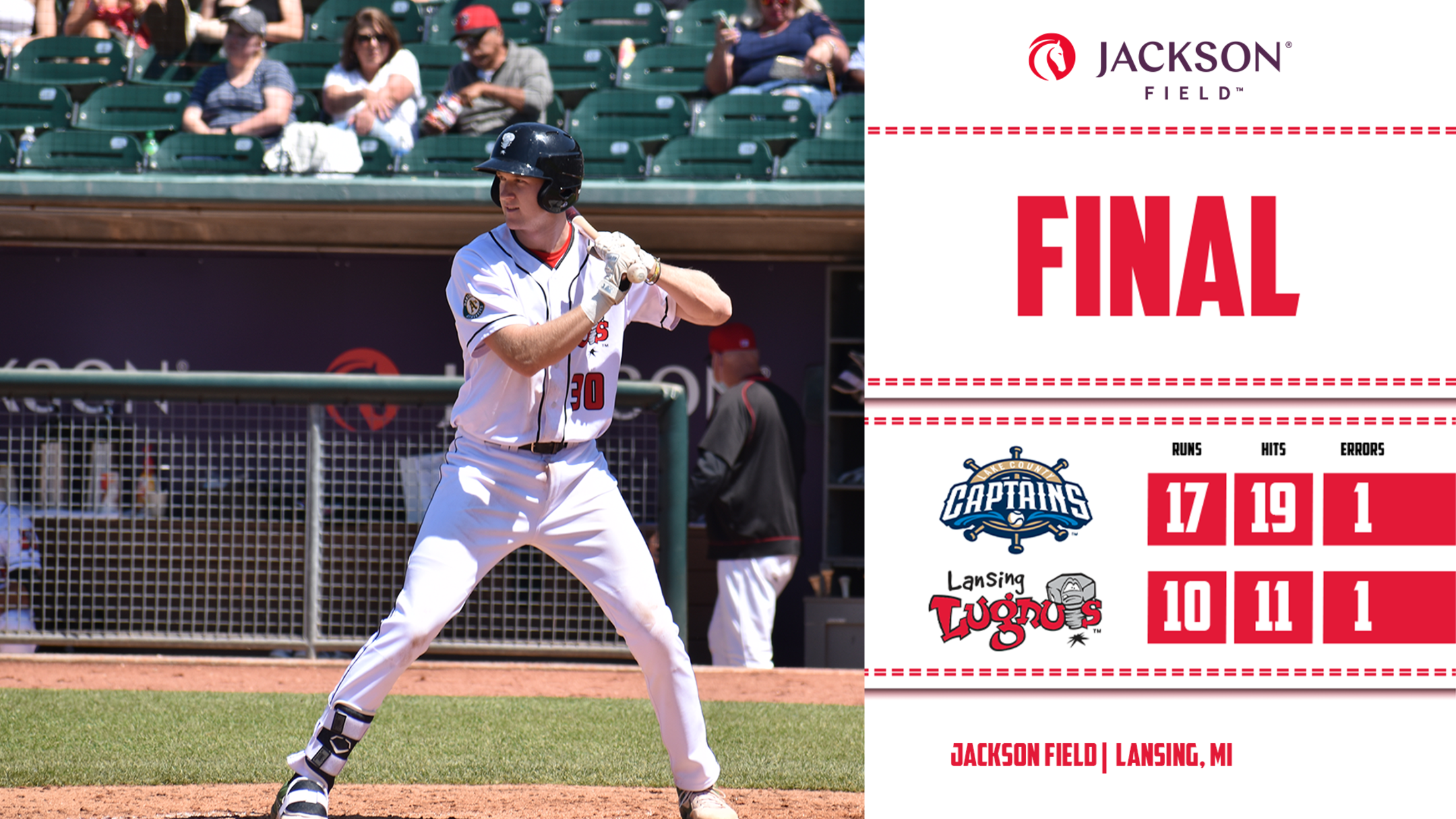 LANSING, MI – It was a game that saw seven Lake County Captains hit by pitches, a game in which the Lansing Lugnuts scored nine runs in the final three innings, and a game in which 11 pitchers were used – including the hottest hitter on the Lugnuts, who tossed
LANSING, MI – It was a game that saw seven Lake County Captains hit by pitches, a game in which the Lansing Lugnuts scored nine runs in the final three innings, and a game in which 11 pitchers were used – including the hottest hitter on the Lugnuts, who tossed a perfect inning).
In the end, it was a game in which the Captains (34-28) outslugged the Lugnuts (29-33), 17-10, in four hours and 25 minutes on Wednesday night at Jackson® Field™.
Lake County's offense came on the shoulders of two big innings: a seven-run fourth against Richard Guasch and reliever Leudeny Pineda, and a six-run eighth against relievers Dalton Sawyer and Charles Hall.
Lansing countered with a five-run seventh, two-run eighth and two-run ninth, with the biggest swings highlighted by a Shane Selman two-run seventh-inning double and Patrick McColl eighth-inning solo home run. The double was one of two hits for Selman in the game, extending his on-base streak to a team-high 16 games.
Selman then moved from left field to the mound to work a perfect ninth inning, following Guasch, Pineda, Zach Rafuse, Charlie Cerny, Sawyer and Hall to the mound for the Nuts. It was the second scoreless inning of the lefty's pro career, following an inning on the hill for Short-Season Vermont in 2019.
Jordan Díaz and William Simoneit also enjoyed two-hit games in the loss, with every Lugnuts starter save for Cobie Vance and the debuting Marcos Brito hitting safely in an 11-hit barrage. For their part, Vance drew two walks and scored two runs while Brito drew a bases-loaded walk and scored one run.
Lake County collected 19 hits – three apiece by four separate players – while drawing eight walks and getting plunked a remarkable seven times (two by Guasch, two by Pineda, two by Rafuse, one by Cerny), a High-A Central single-game record that would have also topped the late Low-A Midwest League single-game record of six held by Lansing Lugnuts pitchers against Lake County on June 10, 2019, and Peoria Chiefs pitchers at Lansing on May 3, 2017. Captains catcher Joe Donovan was hit three times himself, Brayan Rocchio was hit twice, and Clark Scolamiero and José Tena were each hit once.
Lansing right fielder Lester Madden, Jr., was also hit by a pitch. It was that kind of night.
Captains shortstop Rocchio added his own memorable footnote to the game. After reaching base in all four of his plate appearances in the series opener the night before, thanks to two singles and two doubles, Rocchio reached base in each of his first six plate appearances thanks to three singles, two HBPs and one walk. The streak ended in the eighth on an RBI fielder's choice.
Lake County leadoff hitter Quentin Holmes had his own surreal night, striking out five times in a row between the second inning and the seventh before providing an RBI single in the eighth inning. Holmes finished the game 1-for-7.
Lansing sends the talented right-hander tandem of Shohei Tomioka (3.34 ERA) and Jack Cushing (1.38) to the mound on Thursday night, opposed by 2019 Cleveland first-rounder Daniel Espino in his Captains debut. Thursday is also a Labatt Blue Thirsty Thursday, with $2 domestic drafts and $4 craft drafts! To purchase tickets, visit lansinglugnuts.com or call (517) 485-4500.
# # #