Captains blank Lugs, 8-0, ended early by inclement weather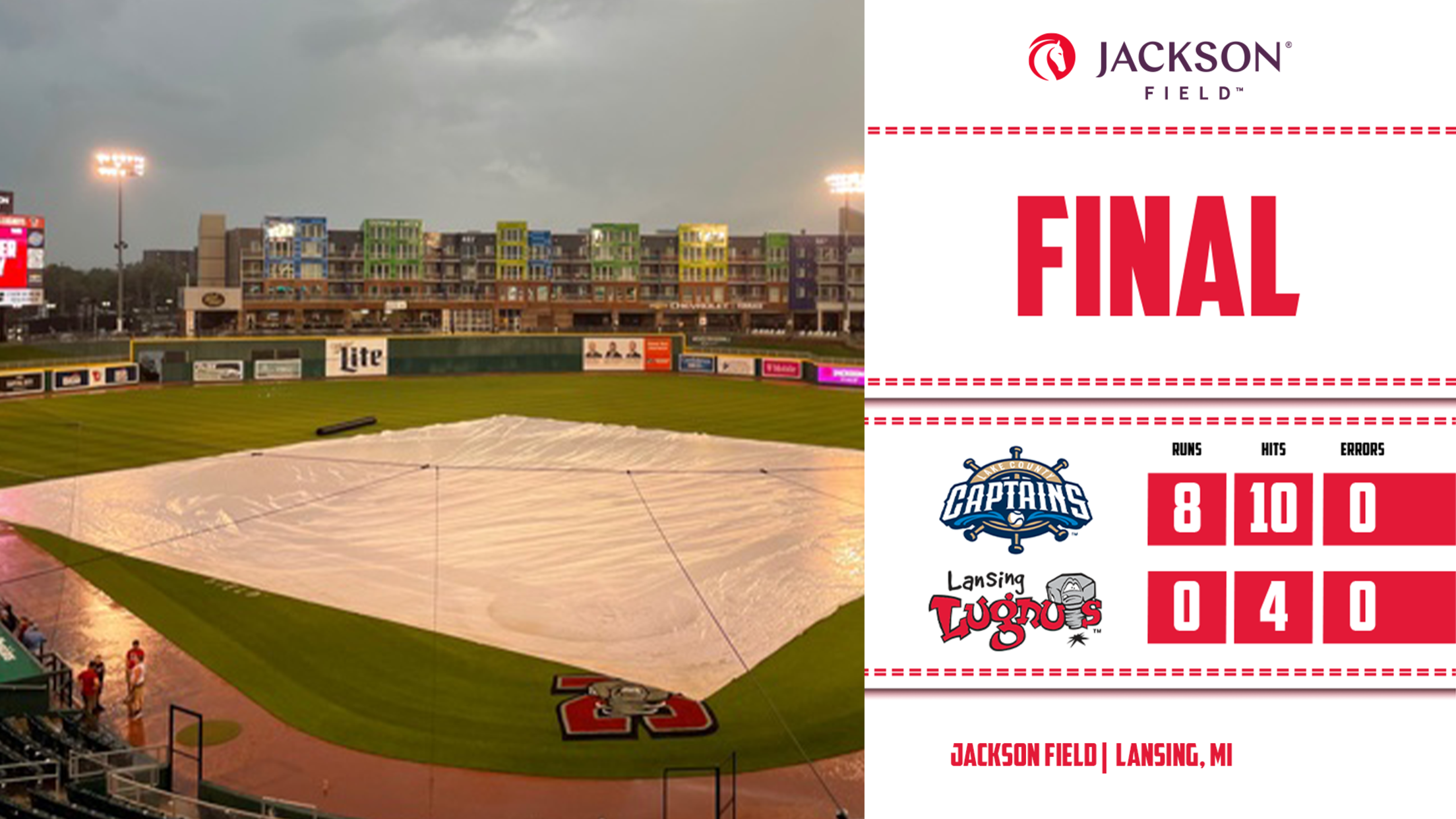 LANSING, MI – Brayan Rocchio went 4-for-4 and Alex Royalty tossed five shutout innings, helping the Lake County Captains (33-28) shut out the Lansing Lugnuts (29-32), 8-0, in a game ended early due to inclement weather on Tuesday night at Jackson® Field™. Lake County had scored two runs on three
LANSING, MI – Brayan Rocchio went 4-for-4 and Alex Royalty tossed five shutout innings, helping the Lake County Captains (33-28) shut out the Lansing Lugnuts (29-32), 8-0, in a game ended early due to inclement weather on Tuesday night at Jackson® Field™.
Lake County had scored two runs on three hits in a rainy sixth inning against Lugnuts reliever Sam Romero before the downpour proved too much, evidenced by Romero throwing four straight pitches to walk Bryan Lavastida before loosing a wild pitch on his first offering to George Valera. An hour and 14 minutes of waiting later, the game was called.
The contest, the first following the unofficial midway point of the 120-game season, began in a similar fashion to how the season began: Lugnuts Opening Day starter Seth Shuman facing Lake County.
Unlike May 4, however, Shuman fared poorly: Will Brennan led off with a home run and Joe Naranjo added a two-run single in a three-run first inning. In the second, Rocchio singled home Victor Nova for a 4-0 lead. And in the fifth, Lavastida followed a Rocchio double with a two-run homer to center. Shuman's night concluded at five innings, seven hits, six runs, one walk and four strikeouts.
Meanwhile, Royalty made short work of the Lugnuts in his five frames, allowing only a pair of Shane Selman doubles, a Michael Guldberg single, a William Simoneit walk and a Lazaro Armenteros single (whom he then picked off), while striking out three.
The best moment for a Lugnut occurred in Denver, where Vladimir Guerrero, Jr., who played for the 2017 Nuts, slugged a 468-foot home run in the Major League Baseball All-Star Game. The starting A.L. first baseman and leading vote-getter, Guerrero, Jr., finished 1-for-3 with two runs batted in.
Wednesday is a Dog Days of Summer, with dogs welcome to the ballpark! Lansing sends right-hander Richard Guasch (2.86 ERA) against Lake County right-hander Xzavion Curry (3.04) at 7:05 p.m. in the second game of the six-game series. To purchase tickets, visit lansinglugnuts.com or call (517) 485-4500.
# # #