Captains hold off Lugs in four-hour-plus epic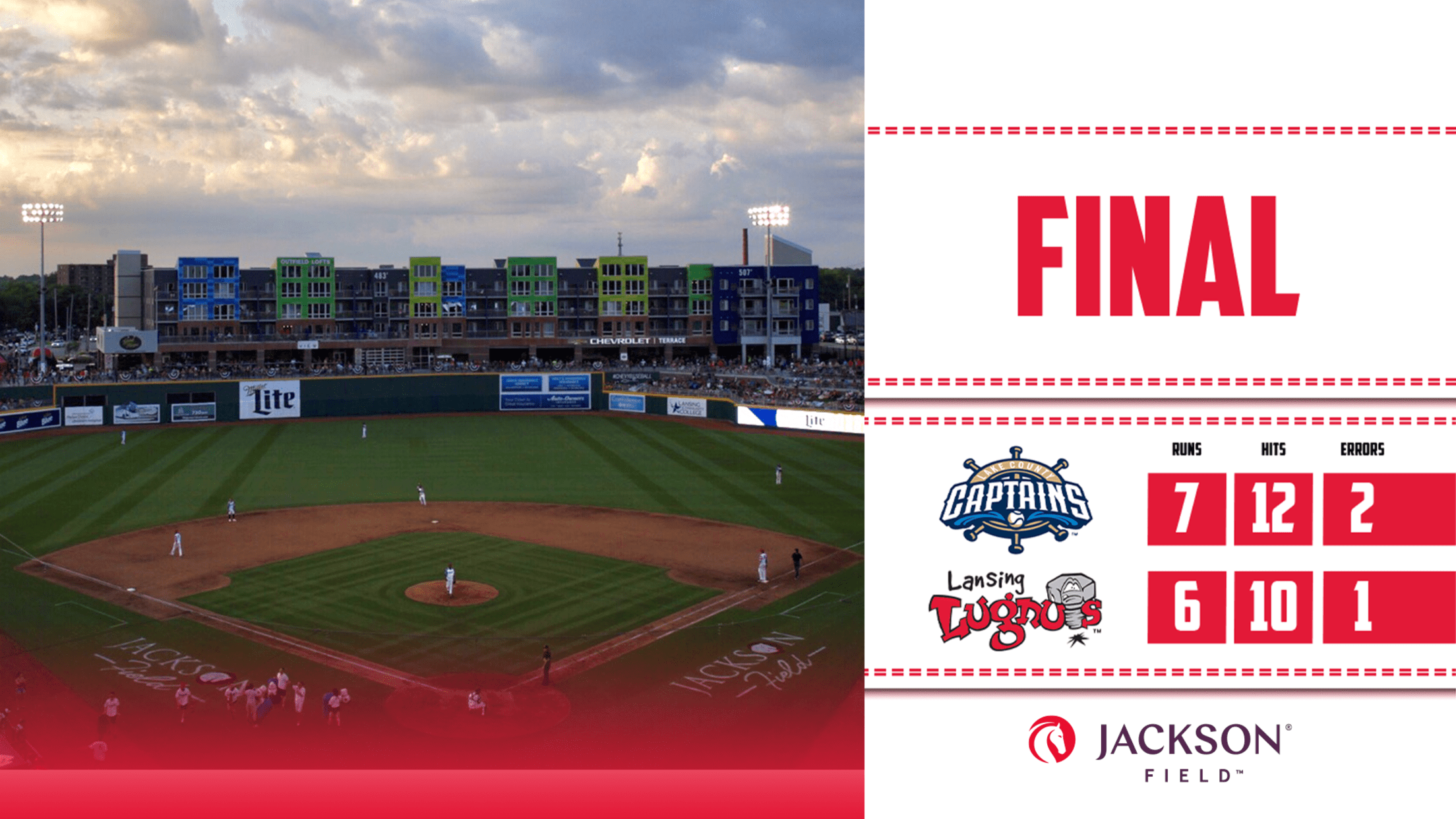 LANSING, Mich. – Right fielder Jonathan Engelmann tracked down a Shane Selman drive into the deep right-center gap with the tying run at third base, and the Lake County Captains (2-1) survived the Lansing Lugnuts, 7-6, in a rollercoaster four-hour, 18-minute game on Thursday night at Jackson® Field™. The game
LANSING, Mich. – Right fielder Jonathan Engelmann tracked down a Shane Selman drive into the deep right-center gap with the tying run at third base, and the Lake County Captains (2-1) survived the Lansing Lugnuts, 7-6, in a rollercoaster four-hour, 18-minute game on Thursday night at Jackson® Field™.
The game included 355 total pitches, 22 hits, 12 walks, 19 strikeouts, three passed balls, three errors and two balks.
William Simoneit blasted RBI doubles in the first and third innings to help the Lugnuts build an early 4-0 lead against Caps spot-starter Nathan Ocker.
Our Highlight of the Night: The first of two RBI doubles from William Simoneit! pic.twitter.com/whVYMpP7Z3

— Lansing Lugnuts (@LansingLugnuts) May 7, 2021
But the Captains carved into the deficit with two runs in the fifth against Lansing reliever Bryce Nightengale before seizing a 6-5 lead with a four-run seventh against Charlie Cerny.
After the Captains added an insurance run in the eighth on an Engelmann RBI groundout, building their lead to 7-5, Lansing closed within one run in the bottom of the inning on a run-scoring double-play ball from Jordan Díaz.
In the ninth, Max Schuemann singled with one out, stole second, and was balked to third when Captains right-hander Jared Janczak abruptly stopped his motion due to a ball leaving the Caps' bullpen and traveling into fair territory in the left-field corner. But Janczak, who fired the final 3 2/3 innings, responded by getting Jared McDonald and Selman on flyouts to Engelmann in right to end the game.
Lansing starter Richard Guasch worked 2 2/3 scoreless innings before departing due to elevated pitch count, striking out three while allowing one hit and three walks.
The Lugnuts' offense was led by Schuemann, who reached base four times on three walks and a single. Díaz finished 2-for-5 with an RBI double, while leadoff hitter Michael Guldberg went 1-for-3 with two runs scored, two stolen bases, a walk and a hit-by-pitch.
The fourth game of the six-game series is a Frontline Friday, honoring essential workers in the Greater Lansing community, with the gate opening at 6 p.m. and a 7:05 p.m. start. To purchase tickets, please visit lansinglugnuts.com or call (517) 485-4500.
# # #