Guasch impresses, Cubs stun Lugs late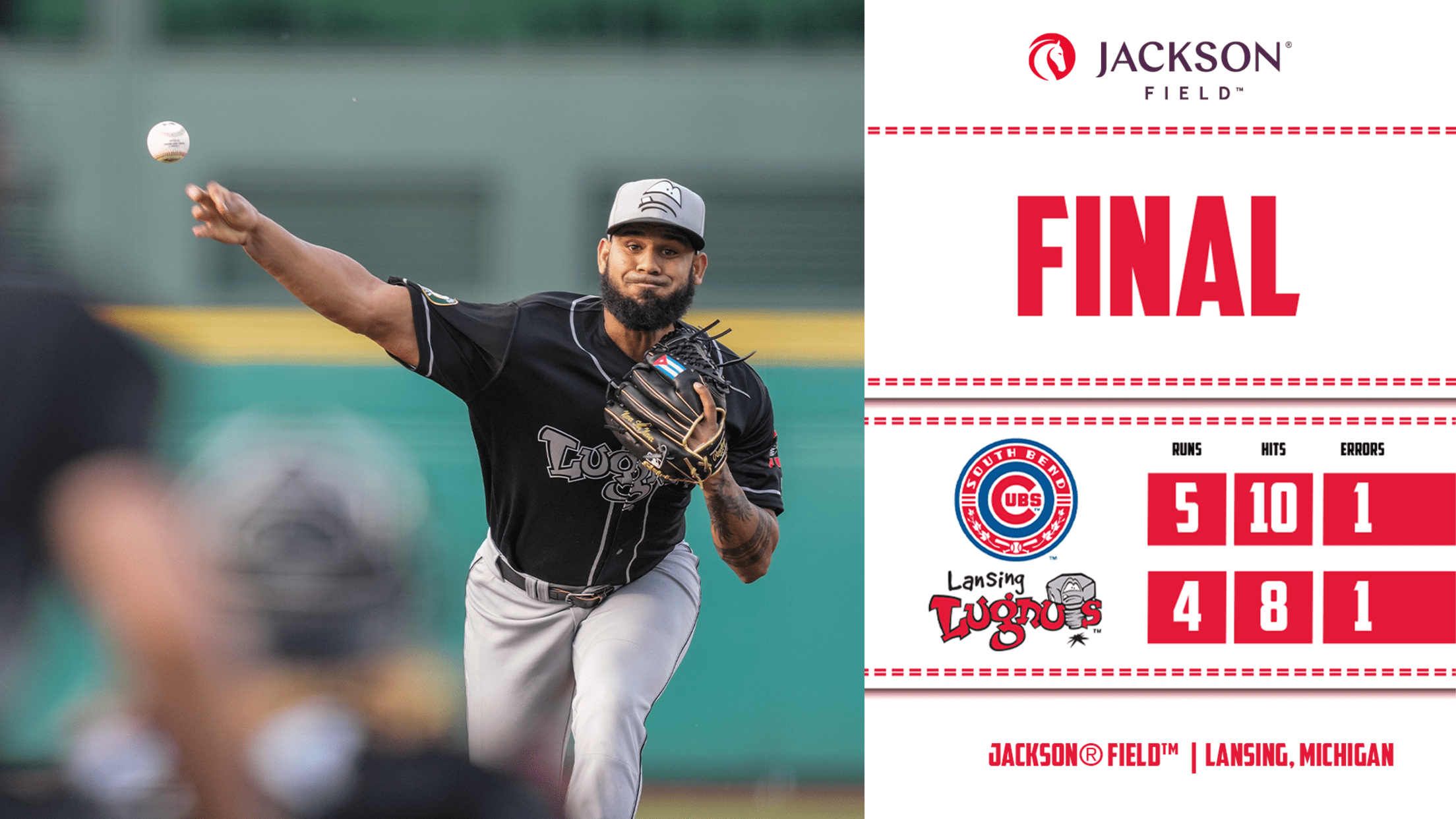 LANSING, Mich. – Richard Guasch struck out eight batters in six shutout innings, but the Lansing Lugnuts (12-15) watched a late 4-0 lead disappear in a 5-4 loss to the South Bend Cubs (13-13) on Thursday night at Jackson® Field™. Guasch, possessor of what Baseball America's Mark Chiarelli called "the
LANSING, Mich. – Richard Guasch struck out eight batters in six shutout innings, but the Lansing Lugnuts (12-15) watched a late 4-0 lead disappear in a 5-4 loss to the South Bend Cubs (13-13) on Thursday night at Jackson® Field™.
Guasch, possessor of what Baseball America's Mark Chiarelli called "the best slider in the [Oakland] system," responded from allowing eight unearned runs in his last outing with a gem. The 23-year-old right-hander limited South Bend to three singles and a walk in an overpowering performance, setting down 13 of the last 14 batters he faced.
The Lugnuts' offense supported him with a three-run fourth inning against Cubs starter Chris Kachmar, keyed by a Ryan Gridley two-run double, increasing the lead to 4-0 on a Kachmar run-scoring wild pitch in the sixth.
But the Cubs took quick advantage once Guasch left the game. Making his Lugnuts debut, right-hander Brock Whittlesey allowed two runs on four hits to the first five batters he faced, departing with runners at second and third in the seventh inning. Dalton Sawyer extricated the Lugnuts from the jam, but not before a Josue Huma RBI comebacker brought the Cubs within 4-3.
In the ninth inning, the Cubs completed the comeback against Lugnuts closer Jack Weisenburger. After a leadoff single by Yonathan Perlaza and a strikeout of Jake Washer, Bryce Windham and Bradlee Beasley supplied back-to-back RBI triples, pushing the Cubs into the lead.
In the bottom of the ninth, pinch-hitter Max Schuemann drew a walk against hard-throwing lefty Burl Carraway (thereby extending his on-base streak to 21 games), stole second and moved to third on a wild pitch, but Carraway combined with Samuel Reyes to retire Cobie Vance, Drew Millas and Jake Suddleson on flyouts to center field, right field and left field to end the game.
Lugnuts right-hander Reid Birlingmair (3.54 ERA) gets the ball on Friday at 7:05 p.m., the fourth game of the six-game series, opposed by South Bend right-hander Bradford Deppermann (2.70). The first 1,000 fans in attendance will receive a Lugnuts 25th Anniversary Noah Syndergaard Bobblehead, the second of four bobbleheads to be given out in the set, and the first LAFCU Fireworks show of the season will follow the game. To purchase tickets, visit lansinglugnuts.com or call (517) 485-4500.
# # #