Henley, Locos ride life in the fast lane to 8-5 win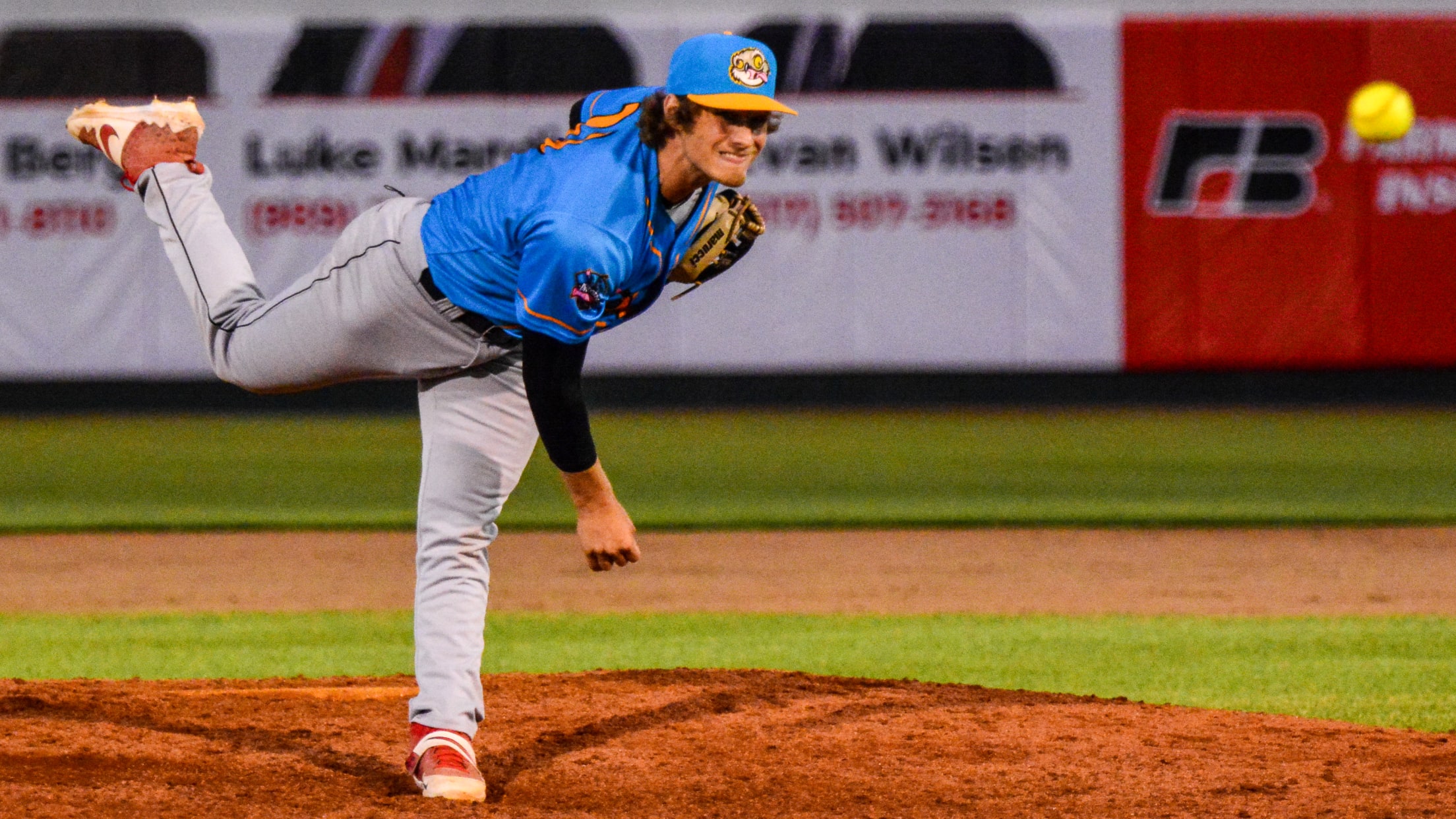 (MQH Photo Video)
LANSING, Mich. – Brock Henley (Davenport) drilled a tie-breaking three-run double and the Locos came from behind with four runs in the seventh inning for the second straight night, beating the Lugnuts, 8-5, on Thursday night in the Lemonade League at Cooley Law School Stadium. On Wednesday, the Locos gave
LANSING, Mich. – Brock Henley (Davenport) drilled a tie-breaking three-run double and the Locos came from behind with four runs in the seventh inning for the second straight night, beating the Lugnuts, 8-5, on Thursday night in the Lemonade League at Cooley Law School Stadium.
On Wednesday, the Locos gave up four runs to blow a 3-2 lead in the top of the seventh, only to score four runs in the bottom of the seventh for a 7-6 win on Owen Ruddock's (Davenport) walk-off single.
On this night, there was a similar reversal of fortune: The Locos brought a 4-1 lead to bottom of the sixth, but the Lugnuts rallied on an Andrew Morrow (MSU) RBI double, a Zaid Walker (MSU) RBI infield single, a Gabe Sotres (MSU) RBI grounder and a run-scoring wild pitch to take a 5-4 lead.
But in the top of the seventh inning with two outs and Zach Heeke (CMU) aboard, Lugnuts reliever Garrett Larner (Cleary) walked three straight Locos to tie the score at 5-5. Luke LaLumia (Davenport) relieved Larner – and college teammate Henley ripped a line drive to left-center to clear the bases.
Nolan Knauf (Saginaw Valley State, _pictured above_) pitched a scoreless bottom of the seventh to secure the win.
Locos starting pitcher Jesse Heikkinen (MSU) pitched four innings, the longest stint for a Lemonade Leaguer thus far, allowing a run on three hits and striking out four. Lugnuts starter Dustin Renfroe (Wayne State) worked 3 2/3 innings, striking out three while allowing a run on one hit and three walks.
Henley distinguished himself among the hitters, going 2-for-3 with two doubles, two runs scored, a walk and three driven in. Locos teammates Adam Purdy (Concordia) went finished 3-for-5 with a pair of RBI singles and Sean Haddlesey (Albion) went 1-for-2 with a triple, two walks and two runs scored.
In the loss for the Lugnuts, Walker went 2-for-4 with a run, two singles, two runs scored, and four stolen bases, twice swiping both second and third base. (Note that if Walker was a professional Lansing Lugnut, playing Minor League Baseball, four stolen bases would have tied the single-game franchise record, set by Samad Taylor in 2018. As it is, he now owns the young Lemonade League single-game record.)
The next Lemonade League game will be played on Friday at 7 p.m. at Cooley Law School Stadium, with the Cedar Street gate opening at 6 p.m. Masks are mandatory.
Lemonade League is a college wood-bat league featuring Minor League Baseball umpires, yellow baseballs, seven-inning games, and extra innings replaced by a one-on-one Home Run Derby – although none was needed on this night. Every Lemonade League game is livestreamed FREE across multiple social and digital platforms, including the Lansing Lugnuts' Facebook and Twitter pages.
For more information, visit lansinglugnuts.com or call (517) 485-4500.
# # #