Lugnuts officially become A's High-A affiliate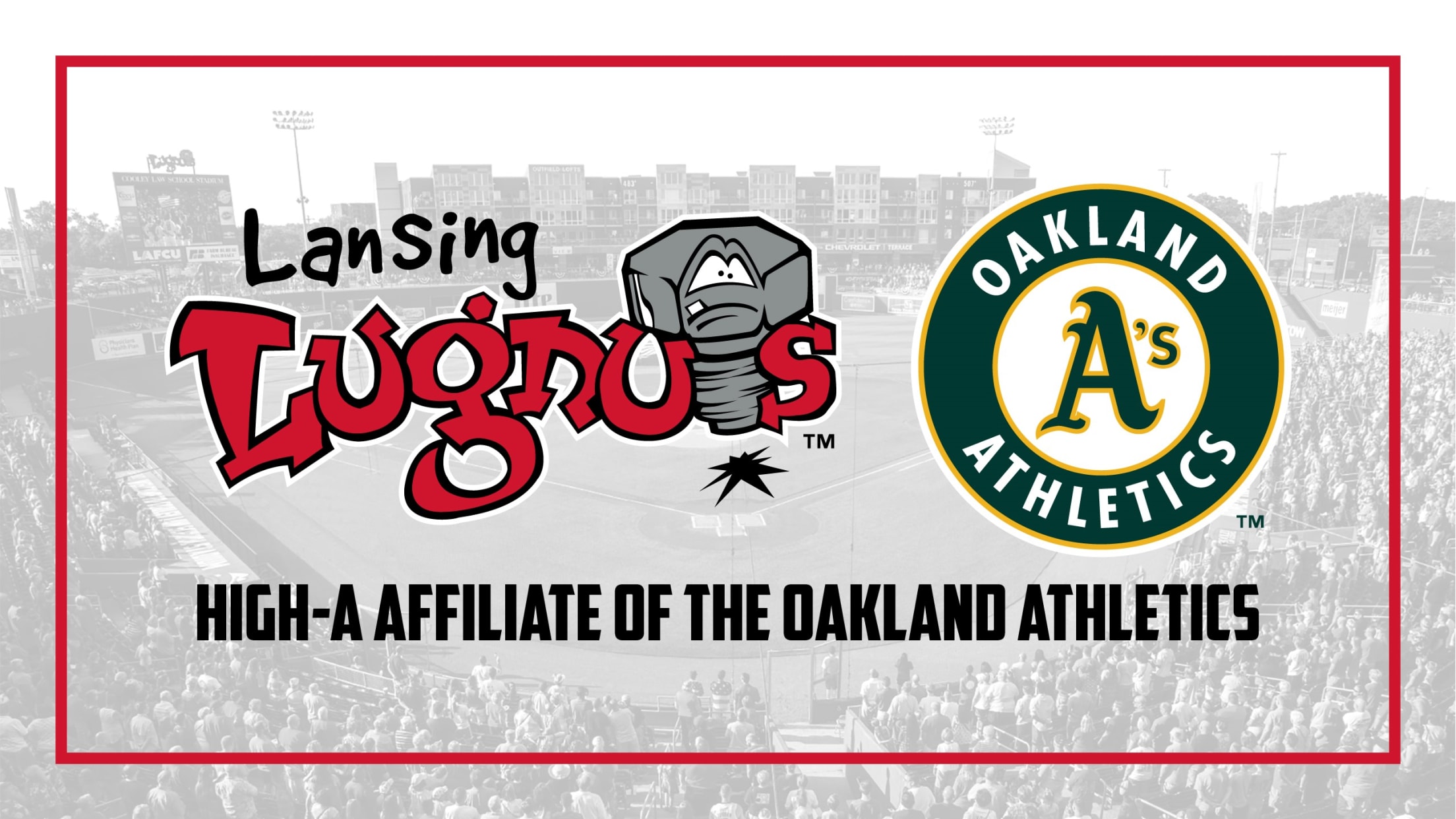 LANSING, Mich. - The Lansing Lugnuts have signed the Player Development License (PDL) to become the new High-A Central League affiliate for the Oakland Athletics, with the 10-year agreement going into effect as of Wednesday, February 10th. "We are proud to make this official: We are partnering with the Oakland
LANSING, Mich. - The Lansing Lugnuts have signed the Player Development License (PDL) to become the new High-A Central League affiliate for the Oakland Athletics, with the 10-year agreement going into effect as of Wednesday, February 10th.
"We are proud to make this official: We are partnering with the Oakland Athletics' organization, we are moving up a level in Minor League Baseball, and we are one of the select 120 licensed affiliated Minor League Baseball teams moving forward," said Lansing Lugnuts owner Tom Dickson. "In doing so, we have ensured that Lansing is the home of affiliated Minor League Baseball for many seasons to come while also hosting the highest standard of baseball Lugnuts fans have ever seen."
The Oakland Athletics, winners of nine World Series championships and 17 division titles, including the 2020 American League West title, become the fourth affiliate in Lugnuts history, following the Kansas City Royals (1996-1998), Chicago Cubs (1999-2004) and Toronto Blue Jays (2005-2020). Those previous three organizations produced over 150 Major Leaguers, nearly 1700 victories and two Midwest League championships in Lansing.
The Lugnuts will be joined in the High-A Central League's Eastern Division by the Dayton Dragons, Fort Wayne TinCaps, Great Lakes Loons, Lake County Captains and West Michigan Whitecaps. The Western Division will comprise the Beloit Snappers, Cedar Rapids Kernels, Peoria Chiefs, Quad Cities River Bandits, South Bend Cubs and Wisconsin Timber Ratttlers.;
"We are excited to unveil this new model, which not only provides a pipeline to the Majors, but continues the Minor Leagues' tradition of entertaining millions of families in hundreds of communities," said Commissioner of Baseball Robert D. Manfred, Jr. "In modernizing our Minor League system, we prioritized the qualities that make the Minor Leagues such an integral part of our game while strengthening how we develop professional athletes on and off the field. We look forward to demonstrating the best of our game throughout local communities, supporting all those who are working hard to grow the sport, and sharing unrivaled technology and resources with minor league teams and players."
In moving up from the Low-A to the High-A classification, the Lugnuts will have only the Athletics' Double-A and Triple-A affiliates separating them and Oakland, speeding up the timeline for Nuts players to ascend from Lansing to the Major Leagues.
The Lugnuts' coaching staff, as announced by Oakland, will feature manager Scott Steinmann, who directed the A's Double-A affiliate the last two seasons and has 596 career victories as a Minor League manager, joined by pitching coach Don Schulze, hitting coach Javier Godard, assistant hitting coach Anthony Phillips, head athletic trainer Brian "Doc" Thorson and sport performance coach Connor Hughes.
"We cannot wait to welcome Lugnuts fans back to Jackson® Field™ and show our newest players and coaches how special it is to play baseball in Lansing," said Dickson. "The 2021 season cannot come soon enough."
For more information on the Lansing Lugnuts, visit lansinglugnuts.com or call (517) 485-4500.
# # #