Lugnuts walk off to split doubleheader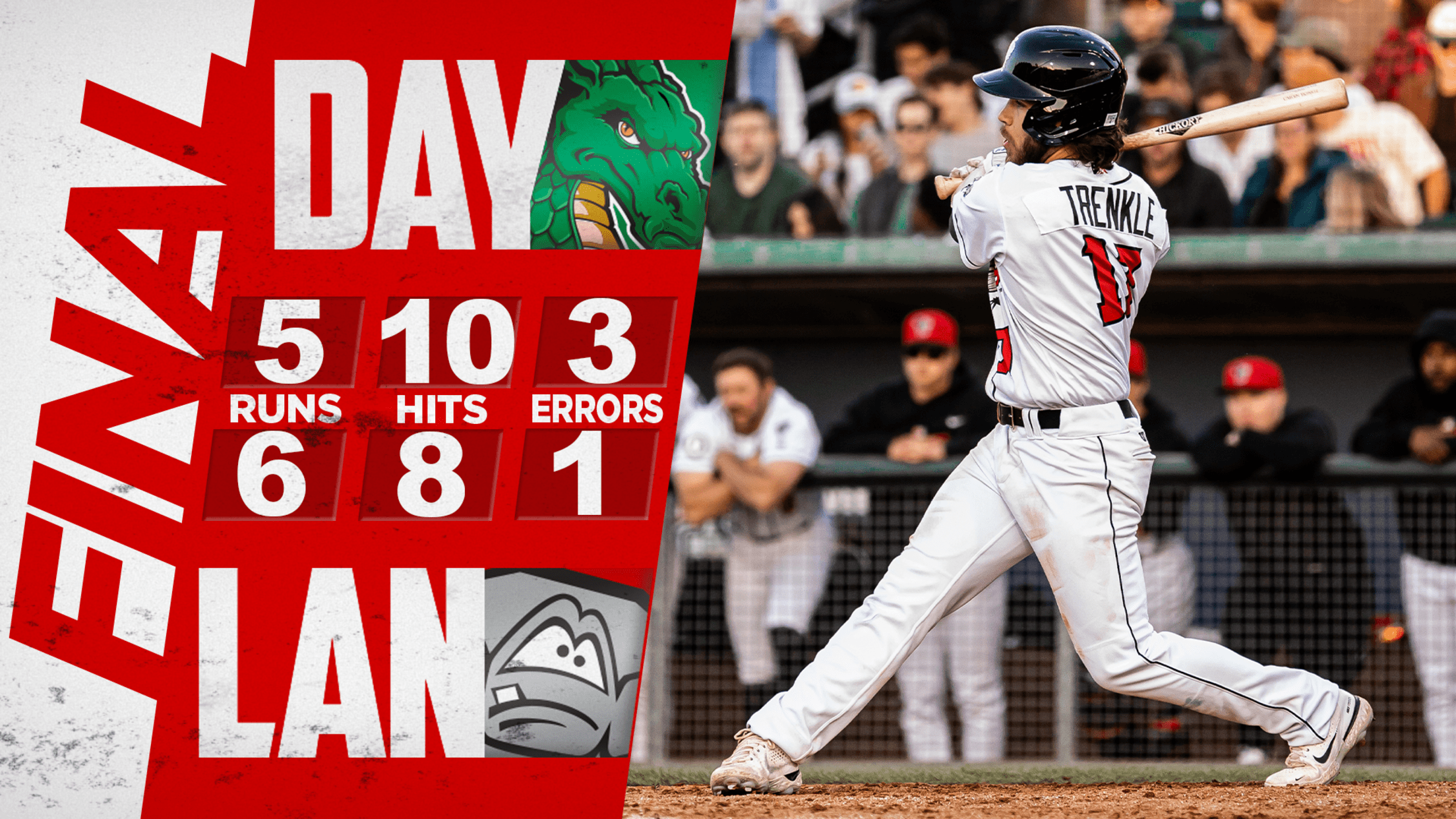 LANSING, Mich. – Caeden Trenkle delivered a game-tying sacrifice fly in the bottom of the seventh and a game-winning RBI single in the bottom of the ninth, helping the Lansing Lugnuts (12-11) split a doubleheader with the Dayton Dragons (10-14), winning 6-5 in the nightcap after dropping the opener 7-4
LANSING, Mich. – Caeden Trenkle delivered a game-tying sacrifice fly in the bottom of the seventh and a game-winning RBI single in the bottom of the ninth, helping the Lansing Lugnuts (12-11) split a doubleheader with the Dayton Dragons (10-14), winning 6-5 in the nightcap after dropping the opener 7-4 on Thursday night at Jackson® Field™.
The Nuts have split three of the four doubleheaders they have played this season, with one more still to come in two weeks at home against Lake County. This was also Lansing's third walk-off win of the current homestand – and all three have come by identical 6-5 scores.
Please enjoy tonight's walk-off winner!

🎙️: @jgoldstrass, @AdamJaksa #GoNuts pic.twitter.com/lXc3EeNj6z

— Lansing Lugnuts (@LansingLugnuts) May 5, 2023
Trailing 3-0 in the sixth inning of Game 2, the Lugnuts ruined Javi Rivera's shutout bid via a a single from Jack Winkler, a double from Max Muncy and RBI groundouts from Daniel Susac and Euribiel Ángeles. (Ángeles's grounder was foul for nearly the entirety of its journey up the first-base side before rolling fair directly in front of the base.)
An inning later facing Jake Gozzo, Alex Campos singled and moved to second on a throwing error by second baseman Tyler Callihan, advanced to third on a Junior Pérez sacrifice bunt, and scored on a Trenkle fly to right to tie the score at 3-3.
After Dayton retook the lead on a Callihan RBI double in the eighth inning off Jorge Juan, a Danny Bautista, Jr., RBI fielder's choice retied the game against Braxton Roxby.
The Dragons went ahead again in the ninth against Mac Lardner when center fielder Pérez dropped a Jack Rogers fly ball, taking a 5-4 lead.
But Roxby threw two wild pitches to bring in placed runner Ángeles to tie the game. The first of those wild pitches came on a dropped third strike to Campos; the second moved the Lugnuts runner into scoring position, where Trenkle plated with an opposite-field line drive to left-center.
It was the Lugnuts' leadoff hitter's first hit of the doubleheader, and it came after his 18-game on-base streak ended with an 0-for-4 showing in Game 1.
In a no-decision, Lansing starter Mitch Myers turned in his second consecutive quality start, striking out five while allowing three runs in six innings. Juan followed with six strikeouts in two innings, giving the 6-foot-9 right-hander 22 strikeouts in just 11 1/3 innings. Mac Lardner handled the top of the ninth, setting the stage for Trenkle's heroics.
Jorge Juan pitched the 7th and 8th innings tonight, and he struck out six more batters.

Juan has whiffed 22 batters in 11 1/3 innings this year.

I do not get tired of making Juan strikeout highlight reels. pic.twitter.com/enJKPnC32S

— Jesse Goldberg-Strassler (@jgoldstrass) May 5, 2023
The day opened with Dayton seizing quick control of Game 1 via a four-run first inning against Christian Fernandez, holding off the Lugnuts' efforts the rest of the game thanks to a pair of solo home runs from Ruben Ibarra.
In the loss, Fernandez struck out five batters in 5 1/3 innings, allowing five hits and seven runs (five earned) before Brock Whittlesey pitched the final 1 2/3 innings scorelessly.
Daniel Susac went 2-for-4 in both games of the twinbill, raising his batting average to .272. The Athletics' 2022 first-round selection is hitting .419 (13-for-31) during the current two-week homestand. Ángeles added two doubles in Game 1 while Muncy doubled twice in Game 2.
On Friday, the Lugnuts will celebrate Cinco de Mayo as the Lansing Locos, hosting the Dragons for the fourth game of the six-game series at 7:05 p.m. Gates will open at 6 p.m., with Lansing right-hander Joelvis Del Rosario (4.02 ERA) taking on Dayton right-hander Thomas Farr (3.60). For ticket information, visit lansinglugnuts.com or call (517) 485-4500.
# # #