Lugs swat four homers in 12-7 loss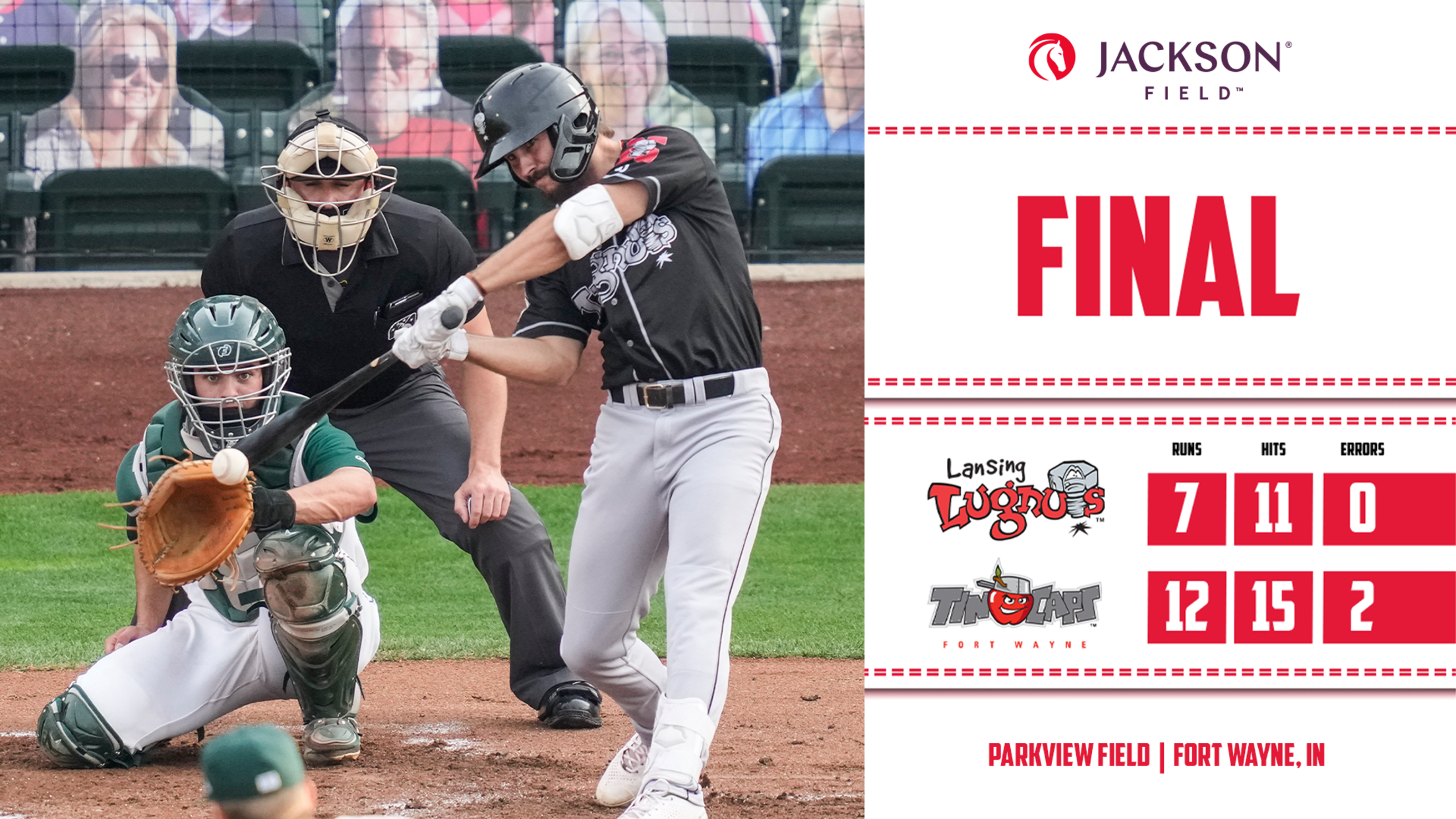 FORT WAYNE, Ind. – The Lansing Lugnuts (8-9) hit four home runs, but could not overcome a substantial early deficit in a 12-7 loss to the Fort Wayne TinCaps (7-9) on Saturday night at Parkview Field. The expected low-scoring match-up between TinCaps prospect left-hander Ethan Elliott and Lugnuts prospect right-hander
FORT WAYNE, Ind. – The Lansing Lugnuts (8-9) hit four home runs, but could not overcome a substantial early deficit in a 12-7 loss to the Fort Wayne TinCaps (7-9) on Saturday night at Parkview Field.
The expected low-scoring match-up between TinCaps prospect left-hander Ethan Elliott and Lugnuts prospect right-hander Colin Peluse did not materialize.
Elliott served up back-to-back solo home runs to Jake Suddleson and William Simoneit in the second inning and a solo shot to Jordan Díaz in the third inning. It was Suddleson's second straight game with a home run, while Díaz collected his fourth homer in a five-game span.
The TinCaps ended Peluse's night early with eight runs on 10 hits in 3 1/3 innings, climaxing with a six-run fourth inning against Peluse and reliever Bryce Nightengale that gave the hosts a commanding 10-3 lead.
Austin Beck hit his first home run of the season in the sixth inning, a towering fly off reliever Felix Minjarez to bring the Lugnuts within 10-4.
A Tirso Ornelas two-run double in the bottom of the eighth off Brandon Withers provided insurance – which proved important when the Lugnuts' offense rose up against Minjarez in the ninth.
Jared McDonald led off with a walk, Max Schuemann notched his second double of the game and Drew Millas worked a walk of his own to load the bases with none out. Michael Guldberg punched an 0-2 pitch into right-center for an RBI single, extending his on-base streak to 12 games, ending Minjarez's night and trimming the Fort Wayne advantage to 12-5. Díaz welcomed new reliever Austin Smith with an RBI infield single to third, and the Lugnuts trailed 12-6. Suddleson was called out on strikes, but Simoneit worked a bases-loaded walk to bring Lansing within 12-7.
With the potential tying run in the on-deck circle, Smith induced a game-ending 5-4-3 double-play from Beck.
Only Millas, who walked twice, failed to hit safely among the Lugnuts' lineup in an 11-hit, five-walk showing, with seven different players scoring runs and five different players driving in runs.
The Lugnuts go for a third consecutive series split on Sunday at 1:05 p.m., sending right-hander Stevie Emanuels (0.96 ERA) against Fort Wayne right-hander Matt Waldron (3.68).
The Nuts return home to Jackson® Field™ Tuesday, May 25, through Sunday, May 30, against the Great Lakes Loons. To purchase tickets, please visit lansinglugnuts.com or call (517) 485-4500.
# # #