Millas, Lugnuts blast Whitecaps, 8-1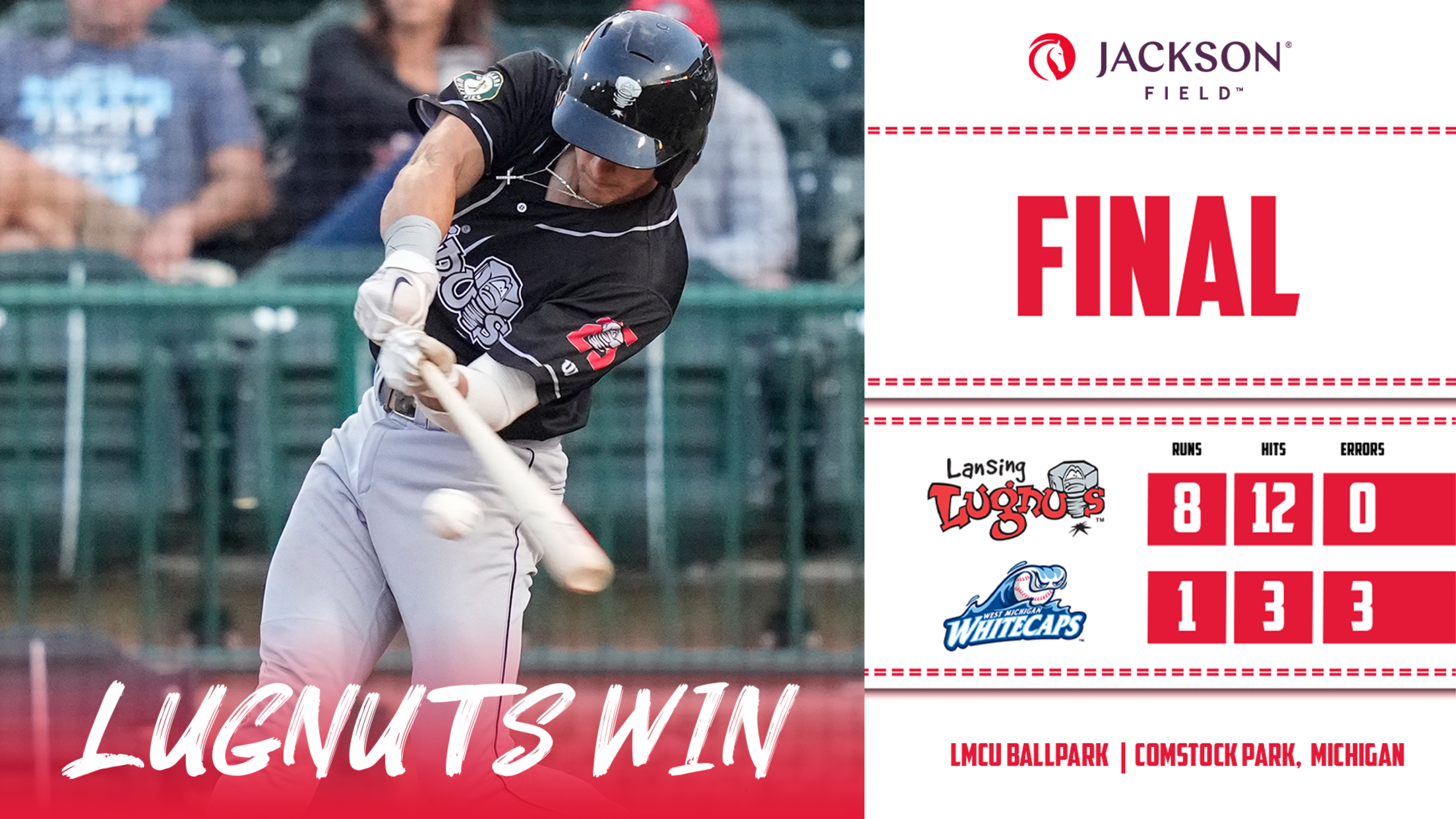 COMSTOCK PARK, Mich. – Drew Millas mashed his first professional home run amid a 3-RBI game, and the Lansing Lugnuts (16-16) used a balanced performance to thump the West Michigan Whitecaps (16-15), 8-1, on Wednesday night at LMCU Ballpark. After Rafael Kelly, Brady Basso and Jack Weisenburger combined on a
COMSTOCK PARK, Mich. – Drew Millas mashed his first professional home run amid a 3-RBI game, and the Lansing Lugnuts (16-16) used a balanced performance to thump the West Michigan Whitecaps (16-15), 8-1, on Wednesday night at LMCU Ballpark.
After Rafael Kelly, Brady Basso and Jack Weisenburger combined on a six-hit shutout in the opener, spot-starter Brock Whittlesey (1 2/3 innings), Seth Shuman (4 1/3), Charles Hall (two innings) and Brandon Withers (one inning) took their turn in striking out 10 while holding the 'Caps to three hits, two walks and one solitary fifth-inning run.
The Lugnuts' offense, limited to two runs in the opener, made things much more comfortable for the pitchers on this night.
Millas started the scoring in the third inning against Whitecaps starter Keider Montero, singling home Lester Madden, Jr. and Elvis Peralta, Jr for a 2-0 lead. It was the start of a big night for Madden, Jr., and Peralta, Jr., who finished with five hits, two walks and one HBP out of the eighth- and ninth-place slots in the order.
The Lugnuts increased their lead to 5-0 with three runs in the fifth, capped by an RBI single by Peralta, Jr.
First pro HR for @drewmillas22!!! pic.twitter.com/aR7QhanhXZ

— Lansing Lugnuts (@LansingLugnuts) June 10, 2021
After West Michigan broke up the shutout on an a Trei Cruz RBI groundout against Shuman, Millas opened up the sixth inning by hammering a Sandel De La Cruz delivery out to right field for a 6-1 lead. Four batters later, Shane Selman benefited from a swinging bunt of an RBI single, and the Nuts led by six.
A run-scoring wild pitch by Whitecaps right-hander Sam Kessler closed out the scoring in the seventh.
The Lugnuts go for a third straight win in the series on Thursday at 7:05 p.m., sending right-hander Richard Guasch (0.44 ERA) against Whitecaps right-hander Brendan White (4.26).
Lansing returns home next from June 15-20 against the Great Lakes Loons. To purchase tickets, visit lansinglugnuts.com or call (517) 485-4500.
# # #