Nuts rally against TinCaps' pen for third straight split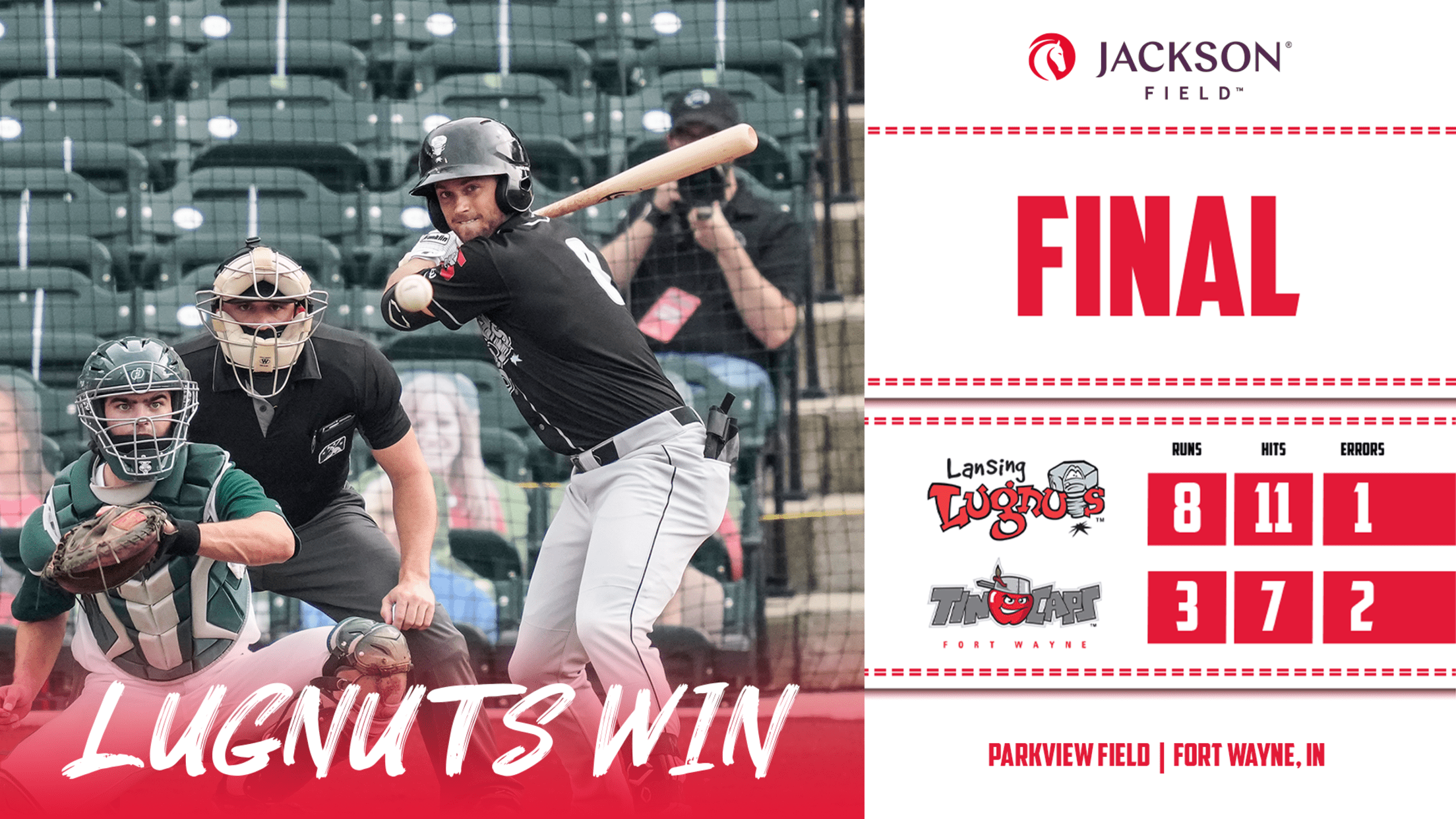 FORT WAYNE, Ind. – Patrick McColl crushed his first professional home run in a four-run eighth, and the Lansing Lugnuts (9-9) scored seven unanswered runs against the Fort Wayne TinCaps' (7-10) bullpen for an 8-3 victory on Sunday afternoon at Parkview Field. The result gave the Lugnuts their third consecutive
FORT WAYNE, Ind. – Patrick McColl crushed his first professional home run in a four-run eighth, and the Lansing Lugnuts (9-9) scored seven unanswered runs against the Fort Wayne TinCaps' (7-10) bullpen for an 8-3 victory on Sunday afternoon at Parkview Field.
The result gave the Lugnuts their third consecutive six-game series split to start the season.
Shortstop Max Schuemann drilled an opposite-field home run off Matt Waldron's first pitch of the game, but it was the only run the Lugnuts scored against Waldron in five innings.
We present to you... the first pitch of today's ballgame to @maxschuemann. pic.twitter.com/r9W5wwUcQD

— Lansing Lugnuts (@LansingLugnuts) May 23, 2021
Meanwhile, Lugnuts starter Stevie Emanuels struck out six batters in 3 1/3 innings but gave up a Jonny Homza two-run double in a three-run TinCaps third and departed after walking Justin Lopez in the fourth, his fourth walk of the game.
The Lugnuts' bullpen picked Emanuels up from there, with Charles Hall (2 2/3 innings), Aiden McIntyre (one inning) and Jack Weisenburger (two innings) blanking the TinCaps on four hits and one walk, striking out eight combined.
Fort Wayne's bullpen duo of Sam Keating and Brandon Komar did not have the same success.
Schuemann doubled off Keating in the sixth and scored on a Michael Guldberg sacrifice fly, bringing the Lugnuts within 3-2.
Facing Komar in the seventh, Ryan Gridley singled, Cobie Vance walked, and McColl attempted to sacrifice his teammates into scoring position – but first baseman Homza's throw to first sailed into the TinCaps bullpen, bringing in Gridley and Vance for a 4-3 Lugnuts lead.
The Lugnuts then opened the game up with four runs off Komar in the eighth, courtesy of a Gridley RBI single, a Vance RBI double, and the crowning blow, a two-run homer by McColl that soared an estimated 411 feet out to right.
Patrick McColl's 1st professional homer is a no-doubter! 411 feet to right, and the Lugnuts have blown it open. pic.twitter.com/gX0sKEVhTJ

— Lansing Lugnuts (@LansingLugnuts) May 23, 2021
The late outburst made this the fourth consecutive game that the Lugnuts had scored at least seven runs on 11 hits. Lansing hit a total of 11 home runs in the six-game series.
Schuemann finished 2-for-4 with a double and home run, extending his on-base streak to 12 games and giving him a league-leading 16 runs scored. Guldberg went 2-for-3 with two singles, a steal, a sacrifice bunt and a sacrifice fly, increasing his own on-base streak to 13 games.
And Shane Selman went 2-for-3 with two doubles and a sacrifice bunt, becoming the final Lugnuts position player to collect his first double of the year; Lansing leads the High-A Central with 43 doubles in addition to a league-leading 147 hits and 247 total bases.
After a day off Monday, the Lugnuts open a stretch of 12 home games in 13 days at Jackson® Field™, welcoming in the Great Lakes Loons from May 25-30 and the South Bend Cubs from June 1-6. To purchase tickets, please visit lansinglugnuts.com or call (517) 485-4500.
# # #