Opportunistic Lugnuts cool off Kernels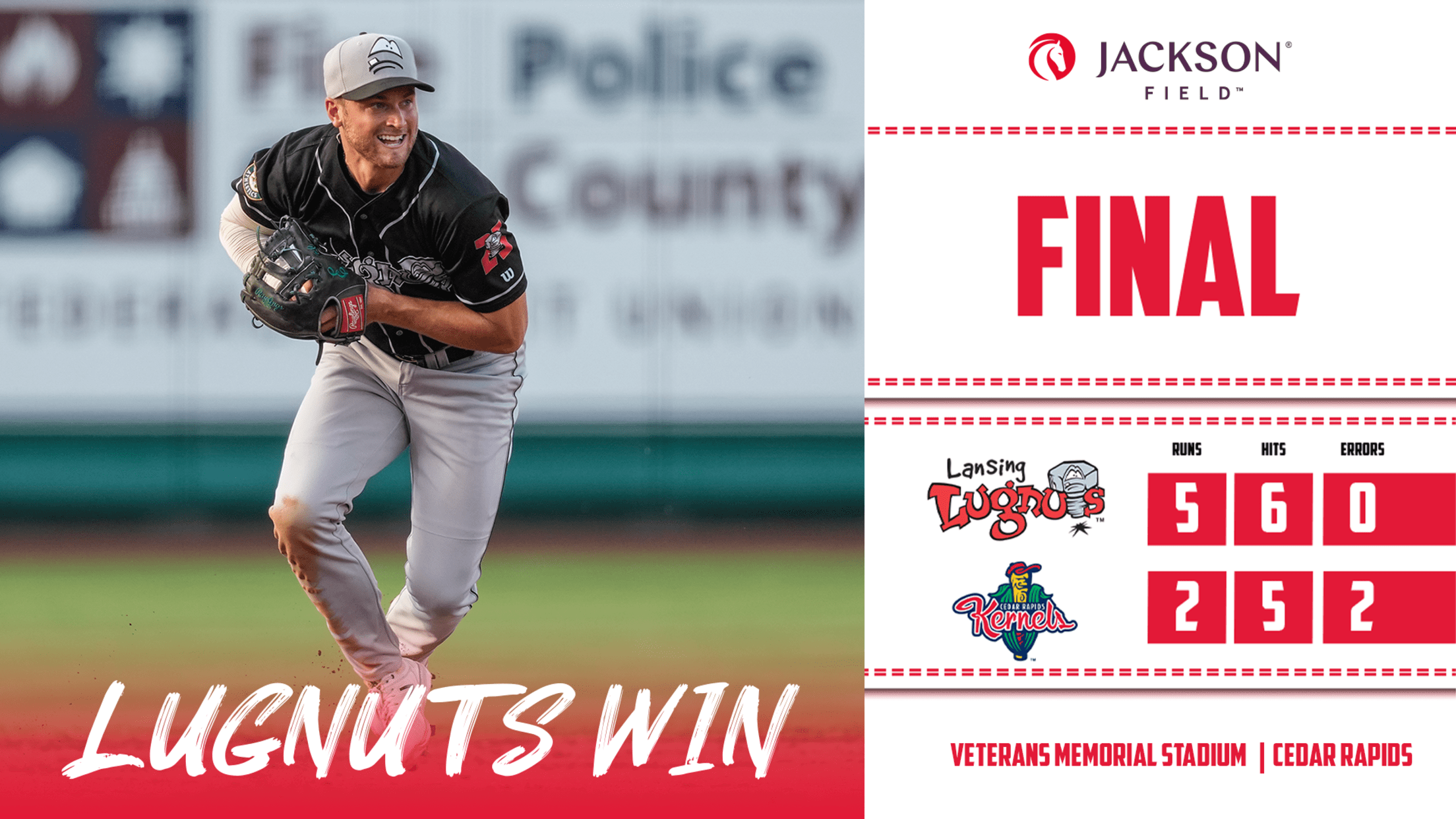 CEDAR RAPIDS, IA – The Lansing Lugnuts (21-25) broke a late deadlock with the aid of two hits, a wild pitch and two errors, halting the Cedar Rapids Kernels' (25-21) eight-game winning streak with a 5-2 victory on Friday night at Veterans Memorial Stadium. In the process, the Nuts also
CEDAR RAPIDS, IA – The Lansing Lugnuts (21-25) broke a late deadlock with the aid of two hits, a wild pitch and two errors, halting the Cedar Rapids Kernels' (25-21) eight-game winning streak with a 5-2 victory on Friday night at Veterans Memorial Stadium.
In the process, the Nuts also ended a season-high four-game losing streak.
The game was tied 2-2 entering the eighth with Cedar Rapids reliever Jonathan Cheshire on the mound. Cobie Vance led off with a grounder to third, reaching base when Seth Gray's poor throw wasn't handled by first baseman Gabe Snyder. Lazaro Armenteros sent a line drive off bases umpire Bobby Tassone, with the play immediately ruled dead and Armenteros credited with a single, moving Vance to second. Max Schuemann dropped a bunt single up the third-base line, barely beating Cheshire's throw to first and loading the bases with none out.
Then the Lugnuts went about scoring all three runners.
Cheshire's first pitch to Drew Millas was wild, sizzling past catcher Jair Camargo and hopping high off the low concrete wall behind home plate as Vance scored to give the Lugnuts a 3-2 lead. Millas grounded to first baseman Snyder, who initially checked Armenteros before turning his back and stepping on his base – at which point Armenteros seized the opportunity to dash for the plate. Snyder's rushed throw overshot Camargo as Armenteros scored and Schuemann moved to third. William Simone followed with a groundout to second, bringing in Schuemann with the Lugnuts' third and final run of the rally.
The advantage proved comfortable thanks to Brock Whittlesey, who set the Kernels down in order in each of the final two innings with two strikeouts, removing any further drama.
Whittlesey had followed Zach Rafuse, who pitched the sixth and seventh innings in his Lugnuts debut, striking out three and allowing only a single.
Schuemann and Simoneit each finished 2-for-4 to lead the Lugnuts' offense, with Schuemann opening the game with his fifth home run of the season.
Nuts starter Reid Birlingmair tossed 4 2/3 innings, fanning three while allowing four hits, one walk and two runs – one on a home run by Jair Camargo, the other on a run-scoring balk by reliever Dalton Sawyer after he departed in the fifth.
Right-hander Colin Peluse (5.58 ERA) gets the start in the fifth game of the six-game series, opposite Kernels right-hander Tyler Beck (2.63) on Saturday at 6:35 p.m. local / 7:35 p.m. Eastern.
Lansing returns home on June 29, opening a six-game series against the Dayton Dragons through Independence Day, July 4th. To purchase tickets, visit lansinglugnuts.com or call (517) 485-4500.
# # #