Schuemann sets steals record, takes MiLB lead, as Lugnuts outrun Loons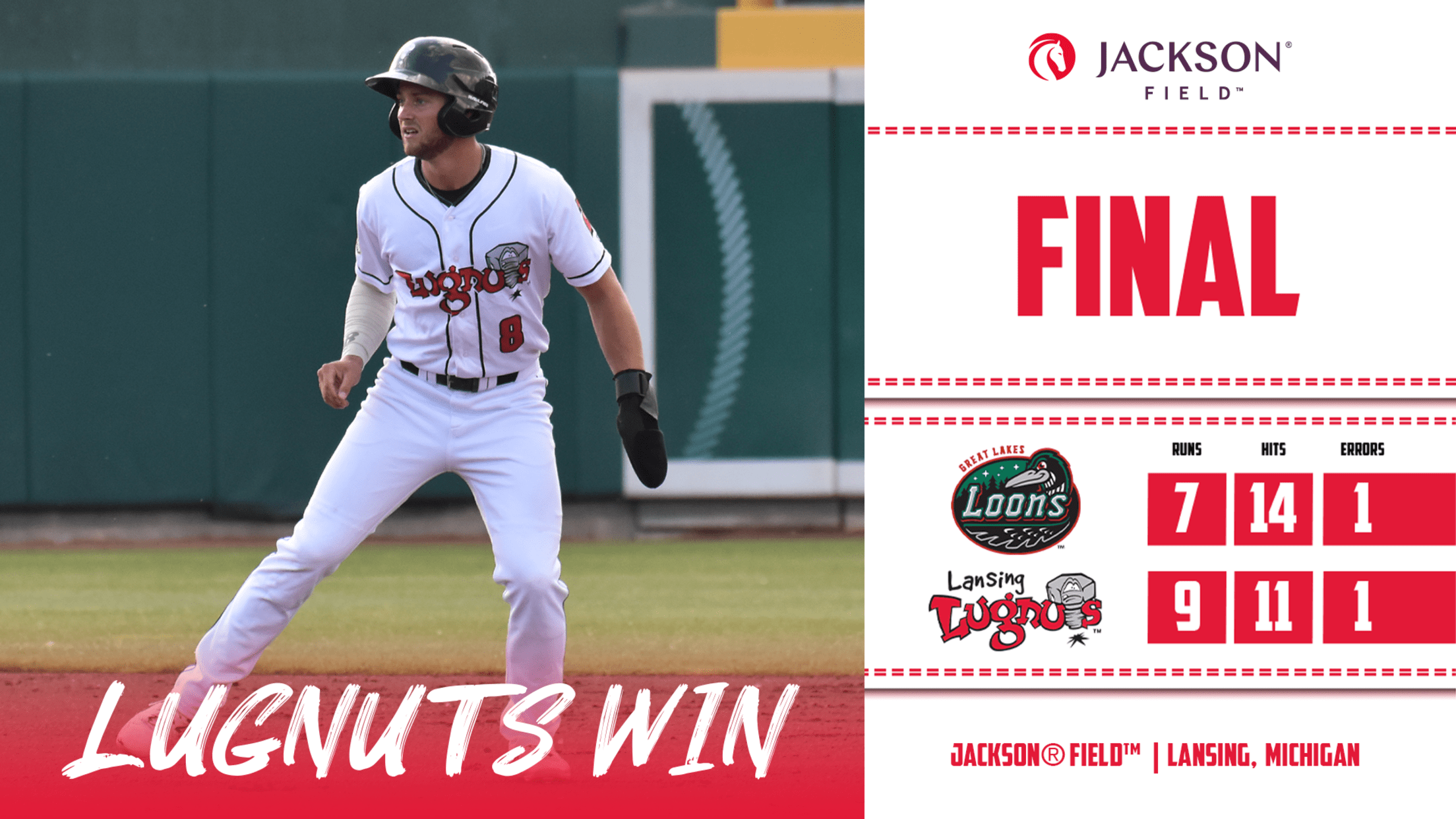 LANSING, Mich. – Max Schuemann (Portage Northern H.S. / Eastern Michigan University) set a franchise single-game record with five stolen bases, and the Lansing Lugnuts (18-19) overcame the Great Lakes Loons (18-19), 9-7, in the opener of a six-game series on Tuesday night at Jackson® Field™. The wild result saw
LANSING, Mich. – Max Schuemann (Portage Northern H.S. / Eastern Michigan University) set a franchise single-game record with five stolen bases, and the Lansing Lugnuts (18-19) overcame the Great Lakes Loons (18-19), 9-7, in the opener of a six-game series on Tuesday night at Jackson® Field™.
The wild result saw the Lugnuts score six runs in the second inning to take a 7-2 lead, only to see Great Lakes tie the game on an Andrew Shaps two-run homer in the top of the seventh.
In the bottom of the seventh, however, Loons reliever Cameron Gibbens committed a bases-loaded balk to bring in Cobie Vance with the tie-breaking run and Lazaro Armenteros followed with an RBI single for insurance, supplying the final cushion.
In the thick of everything was leadoff hitter Schuemann, who singled twice, walked twice and was hit by his league-leading 12th pitch. Schuemann stole second and third base in the first inning, stole second in the third, and then stole second and third base again in the eighth inning, breaking Samad Taylor's record of four steals set July 1, 2018.
Schuemann now has 27 stolen bases for the year, leading all of Minor League Baseball, with ten more steals than the Major League leader, Kansas City's Whit Merrifield.
Lugnuts starter David Leal pitched 4 1/3 innings in his High-A Central debut, striking out five and allowing only a Justin Yurchak two-run double in the second inning.
Brady Basso worked the next 2 2/3 innings, allowing three runs on three hits and two walks with two strikeouts and Michael Danielak allowed two runs two hits and a walk in one inning before Brock Whittlesey came in to work a scorelss eighth and Aiden McIntyre nailed down the win with a perfect ninth.
In addition to Schuemann's feats, Drew Millas went 1-for-5 with a single to extend his on-base streak to 18 games, Jordan Díaz supplied a two-run double, William Simoneit singled and doubled in four at-bats, and Cobie Vance walked twice, singled and scored three runs.
The second game of the series falls on a Dog Days of Summer with dogs welcome to the ballpark! First pitch is at 7:05 p.m. Wednesday, featuring Lugnuts right-hander Seth Shuman (1.42 ERA) matching up against Loons right-hander Logan Boyer (3.12). To purchase tickets, visit lansinglugnuts.com or call (517) 485-4500.
# # #