Suddleson slugs Lugnuts to 7-3 win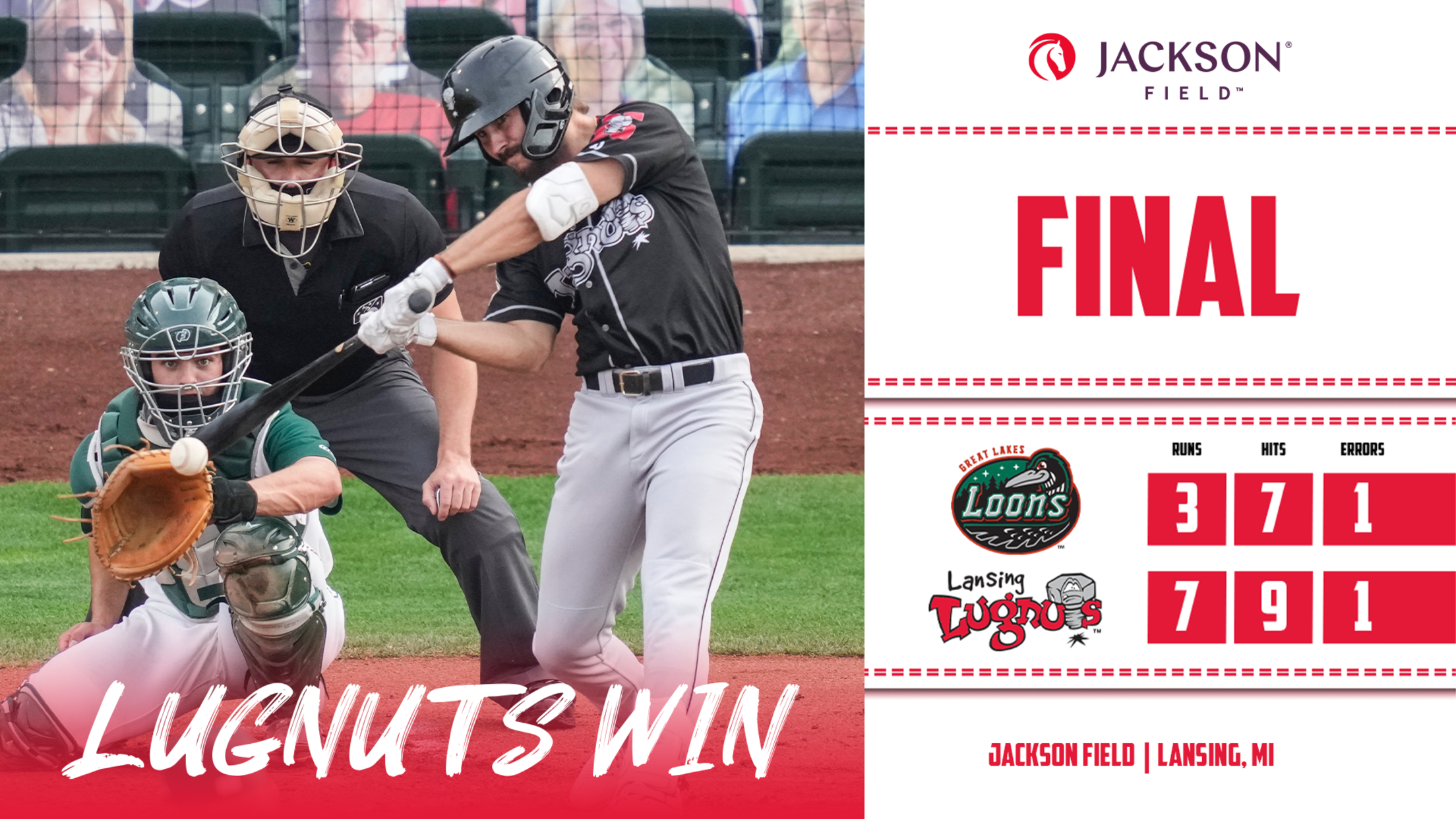 LANSING, Mich. – Right fielder Jake Suddleson went 3-for-4 with a walk, three hits and a three-run homer to blast out of a slump, and the Lansing Lugnuts (11-12) beat the Great Lakes Loons (11-12), 7-3, on Saturday night at Jackson® Field™. The game drew a near capacity crowd of
LANSING, Mich. – Right fielder Jake Suddleson went 3-for-4 with a walk, three hits and a three-run homer to blast out of a slump, and the Lansing Lugnuts (11-12) beat the Great Lakes Loons (11-12), 7-3, on Saturday night at Jackson® Field™.
The game drew a near capacity crowd of 2,198 on Mark Prior Bobblehead Night, presented by Sparrow; the 11,000 stadium capacity is limited to 2,200 fans for one more game, Sunday, before opening to full capacity on Tuesday, June 1st.
The Lugnuts had scored only five runs combined in losing three in a row to the Loons, their eighth, ninth and tenth games of the season scoring two runs or fewer – but broke out to notch their eighth game of the season with at least seven runs.
Trailing 1-0 early after an Andy Pages first-inning home run, the Lugnuts responded with a three-run second inning against Loons reliever Alec Gamboa. Austin Beck tied the score with an RBI triple to left-center, Jared McDonald untied it with an RBI single to center and Suddleson plated McDonald with an RBI single to left for a 3-1 lead.
Lugnuts starter Colin Peluse departed after allowing back-to-back singles to open up the sixth inning, relieved by Bryce Nightengale. The Loons tallied their second run on a dropped pop-up by shortstop Max Schuemann, but Nightengale bore down and retired the next nine batters in order, five by strikeout.
In the bottom of the sixth, Beck doubled with two outs and came home on an RBI double by Elvis Peralta, Jr., increasing the lead to 4-2.
Then Suddleson made sure things were nice and comfortable in the eighth, crushing his fourth home run of the year with Peralta, Jr., and Schuemann aboard for a 7-2 lead.
Aiden McIntyre allowed a run on a pair of two-out singles in the ninth, notching two strikeouts, in nailing down the win.
Center fielder Michael Guldberg went 1-for-2 with a double to extend his on-base streak to 18 games before departing midway through the game. Shortstop Schuemann increased his on-base streak to 17 games with a walk in his final plate appearance.
The victory sets up the potential for a series split with a Lugnuts win on Sunday; if accomplished, it would give the Nuts four straight six-game splits to start the year.
The Sunday series finale begins at 1:05 p.m. with gates opening at noon on a Capital City Market Kids Day featuring post-game Kids Run the Bases! A pair of 2020 draftees lock up, with Lugnuts right-hander Stevie Emanuels (2.84 ERA), taken in the fifth round by Oakland, makes the start against Los Angeles Dodgers first-rounder Bobby Miller (1.17) for the Loons.
To purchase tickets to the Sunday matinee as well as any future Lugnuts home game, visit lansinglugnuts.com or call (517) 485-4500.
# # #