Two touchdowns and a field goal: Lugs romp past Cubs, 17-3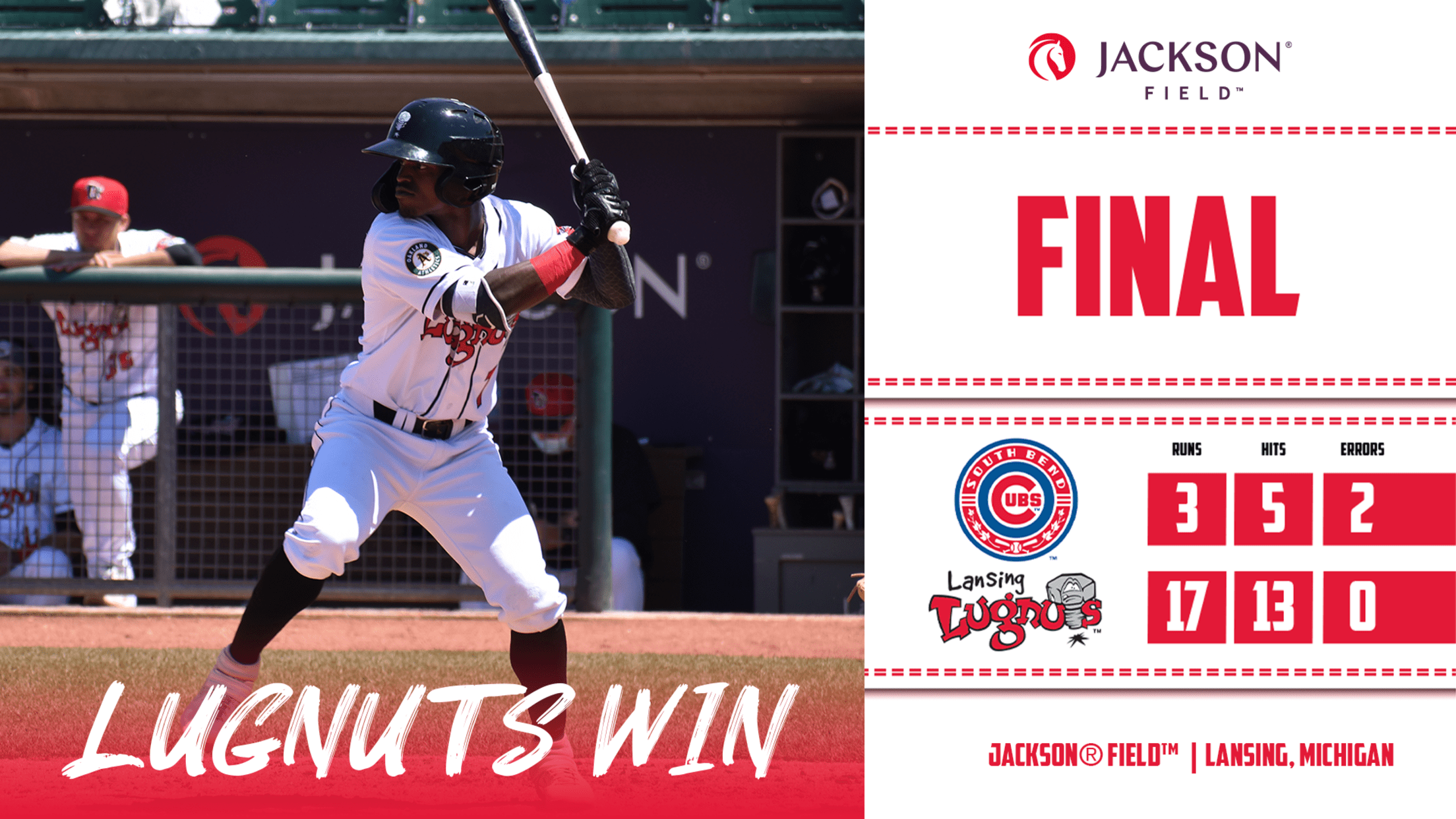 LANSING, Mich. – LAFCU Fireworks were promised after the game, but the Lansing Lugnuts' (13-15) offense delivered early, rocketing past the South Bend Cubs (13-14), 17-3, on Friday night at Jackson® Field™. The Cubs grabbed a 3-0 lead with three runs in the third inning, knocking out Lugnuts starter Reid
LANSING, Mich. – LAFCU Fireworks were promised after the game, but the Lansing Lugnuts' (13-15) offense delivered early, rocketing past the South Bend Cubs (13-14), 17-3, on Friday night at Jackson® Field™.
The Cubs grabbed a 3-0 lead with three runs in the third inning, knocking out Lugnuts starter Reid Birlingmair – and then the Lugnuts seized control of the game and never looked back.
The Nuts posted a season high in runs, hits (13) and runs scored in an inning, turning the game into a rout with an eight-run sixth that included a Max Schuemann two-run single, a Jake Suddleson two-run double and a William Simoneit three-run homer.
Leadoff hitter Schuemann finished the game 1-for-3 with two walks, three runs scored and three RBIs, extending his on-base streak to 22 games. He was topped by second baseman Elvis Peralta, Jr., who went 4-for-5 out of the nine-hole with three singles, a two-run double and four runs scored. Suddleson added two sacrifice flies to finish with four RBIs, as the Lugnuts tallied five runs apiece against three different Cubs relievers, Alex Katz, Tanner Jesson-Dalton and Juan Gámez.
The Nuts had scored 17 runs in the previous five games combined.
Of the pitchers, Birlingmair finished with a season high six walks and three hits allowed in 2 2/3 innings, striking out three, with 6 1/3 innings of scoreless relief turned in by Michael Danielak (1 1/3), Brandon Withers (1 2/3), Charles Hall (2 1/3) and Brock Whittlesey (1 inning) in succeeding him.
Saturday's fifth game of the six-game series will also feature post-game LAFCU Fireworks, with right-hander Colin Peluse (5.51 ERA) facing Cubs right-hander Max Bain (5.89) at 7:05 p.m. To purchase tickets, visit lansinglugnuts.com or call (517) 485-4500.
# # #