Chavis provides strength for Red Sox in '17
Third baseman joins with Devers, Brentz to produce plenty of pop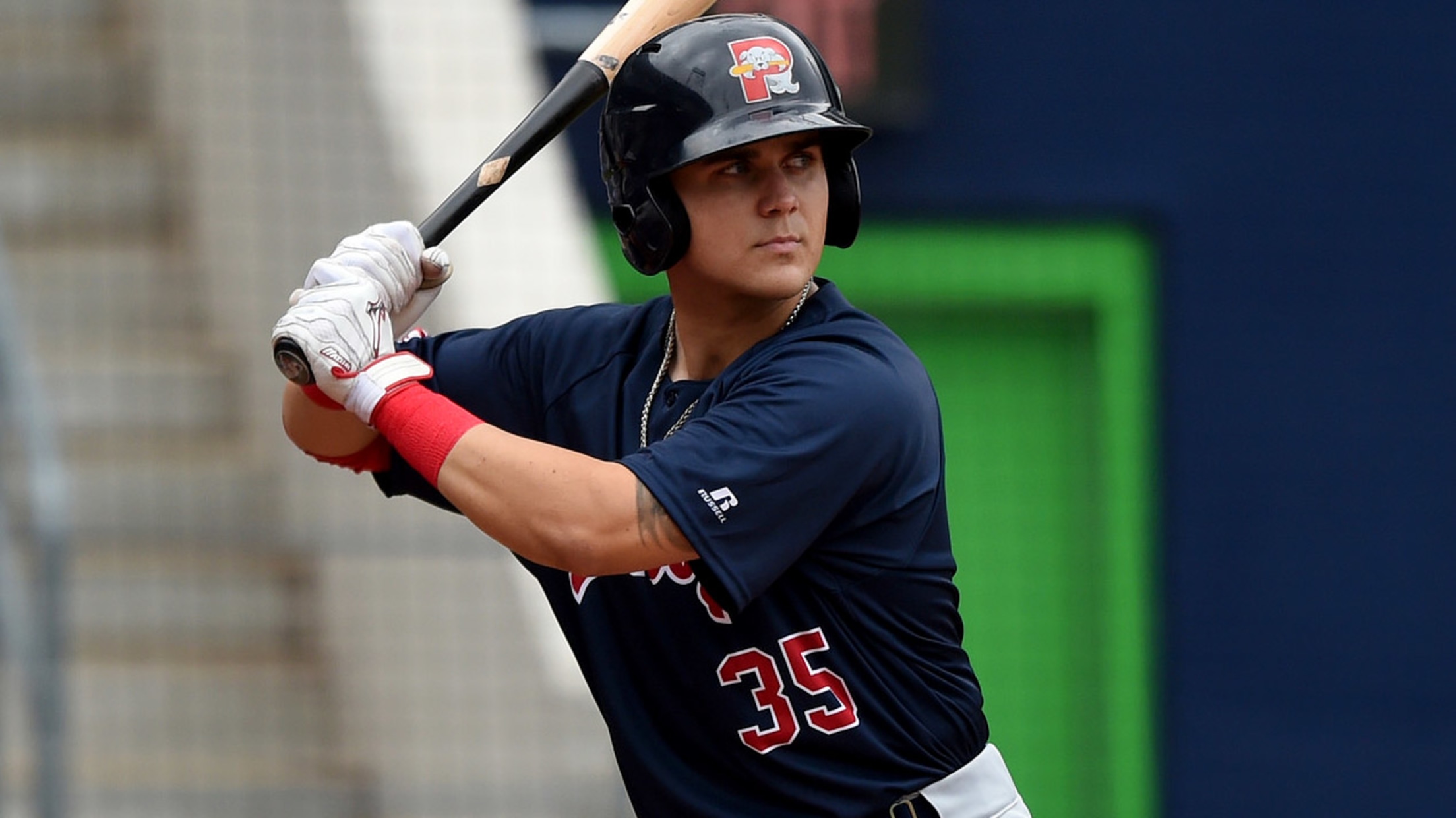 This offseason, MiLB.com is taking a look at the most outstanding campaigns by players in each system across Minor League Baseball and honoring the players -- regardless of age or prospect status -- who had the best seasons in their organization.This is not the Red Sox system of yesteryear, nor
Red Sox calling up Devers from Triple-A
Top prospect to make Major League debut Tuesday in Seattle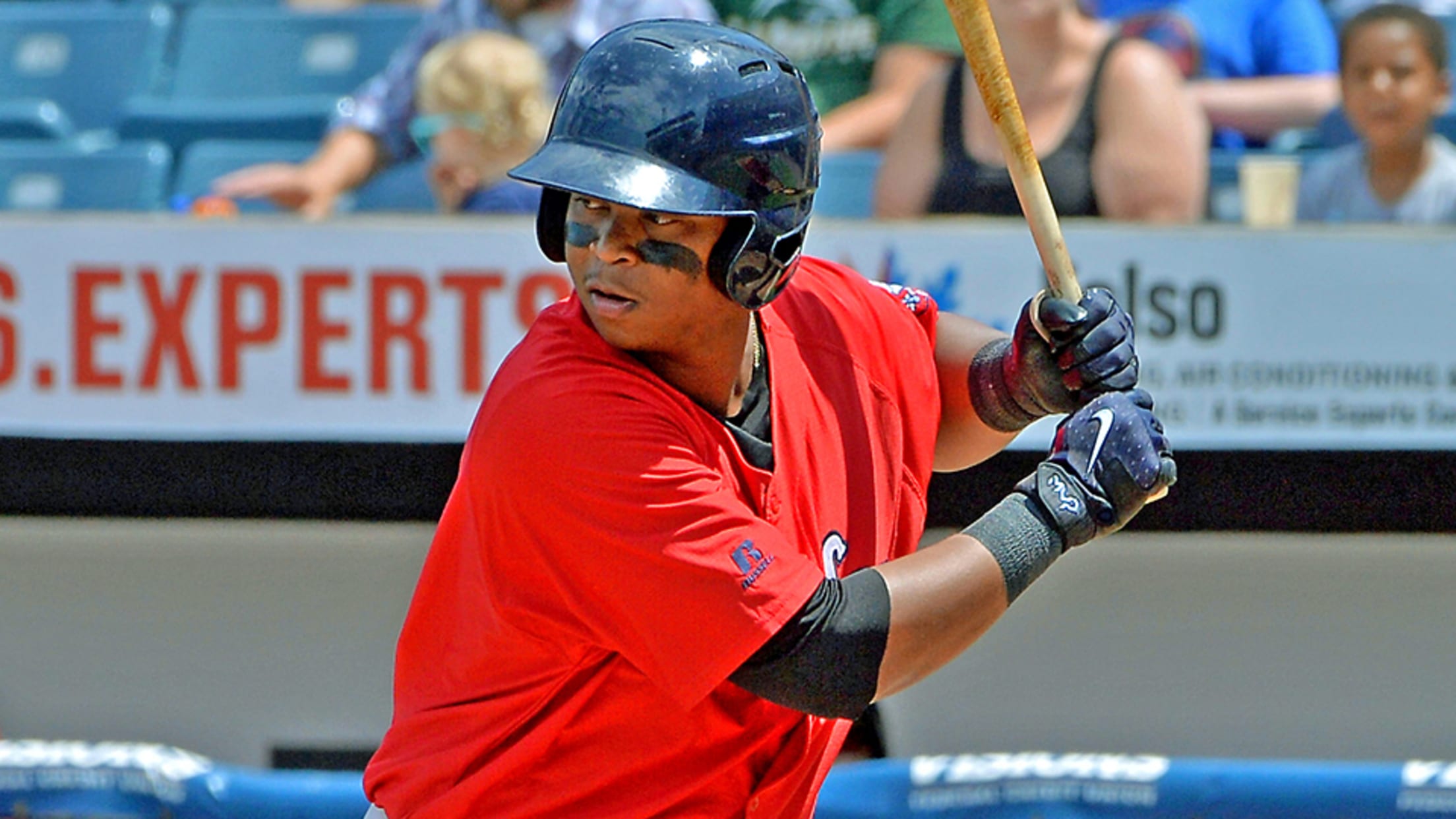 Rafael Devers probably didn't have time to unpack.Less than two weeks after they promoted him to Triple-A Pawtucket, the Red Sox announced Sunday they are calling up their top prospect to make his Major League debut, which is expected to come on Tuesday at Seattle. 
Red Sox make the call for Devers
Boston's top prospect
Apparently a 10 game stint in Triple-A was enough for Rafael Devers to show that he is ready for the show. The Red Sox have promoted their top prospect to the Major Leagues with the expectation that the 20-year-old third baseman will start on Tuesday at Seattle.
Devers does it all for PawSox in Triple-A debut
Boston's top prospect racks up four hits, crushes first IL home run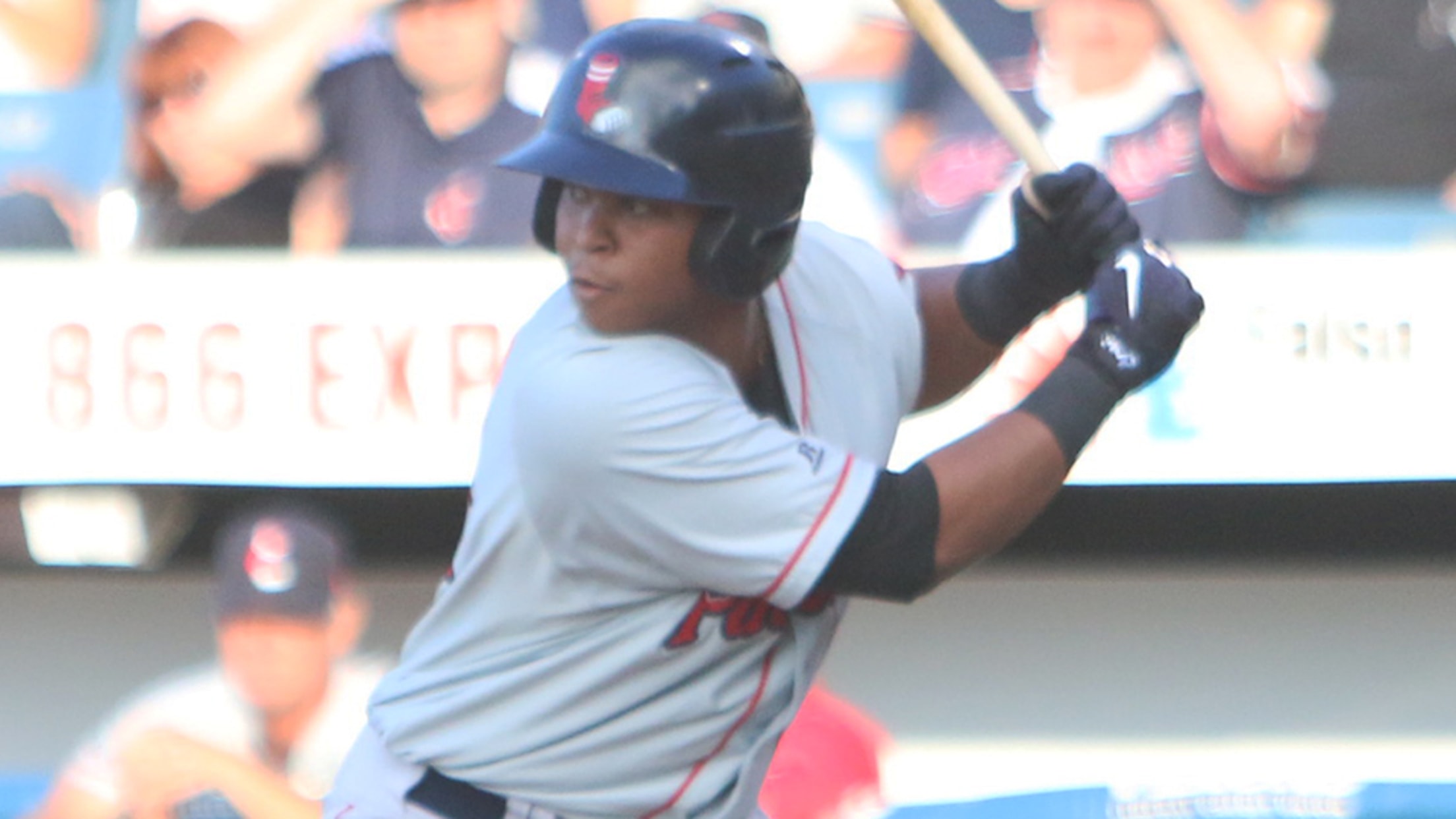 Rafael Devers announced his presence in the International League in spectacular fashion on Saturday night.Boston's top prospect went 4-for-4 with a homer, double and two RBIs in his Triple-A debut as Pawtucket defeated Syracuse, 7-4, at NBT Bank Stadium.
Red Sox promote Devers to Triple-A
Boston's top prospect moving up following second Futures Game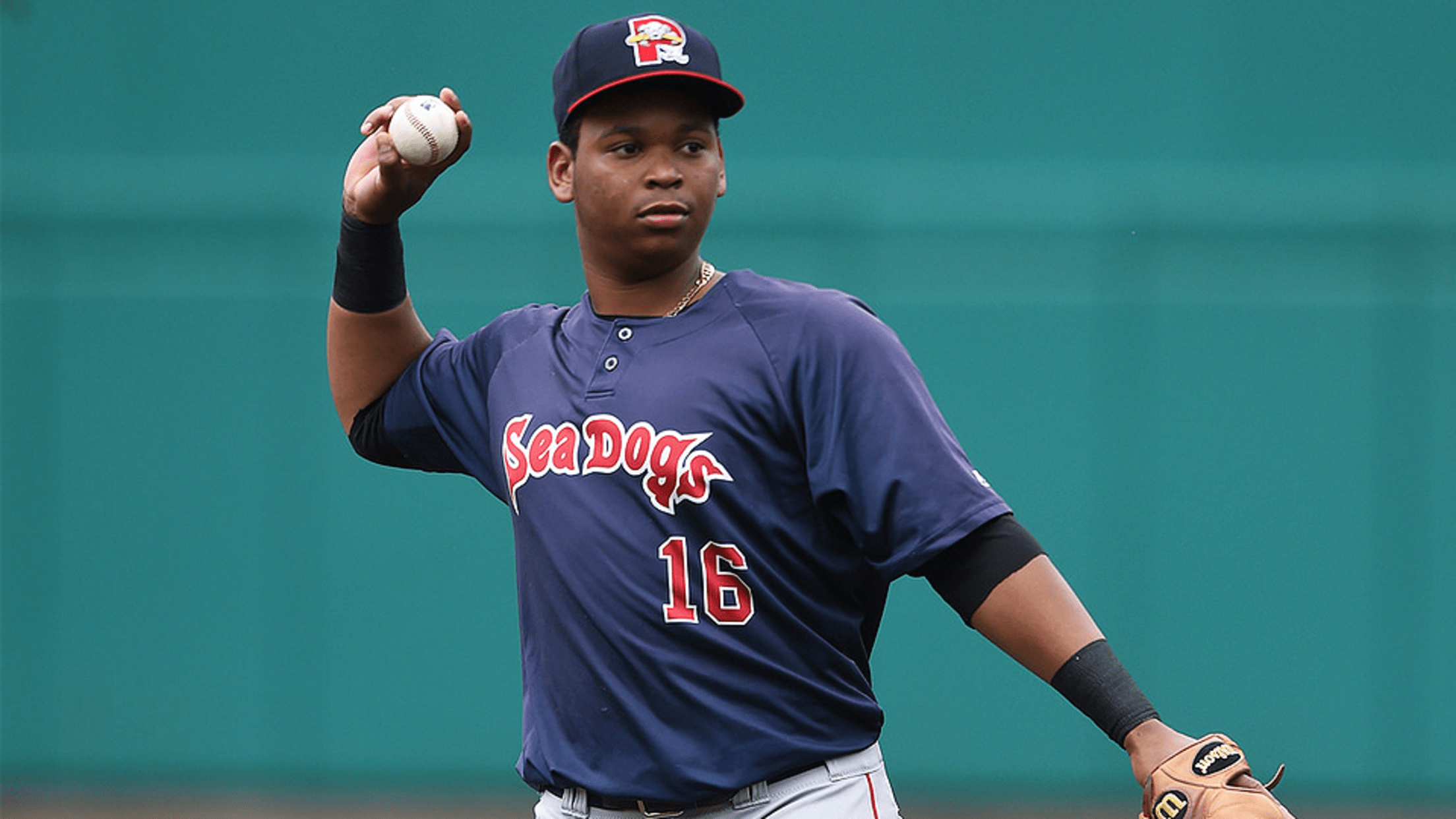 The Red Sox have promoted their No. 1 prospect, Rafael Devers, to Triple-A Pawtucket.Ranked No. 12 overall by MLB.com, the 20-year-old third baseman moves up after hitting .300 with 18 homers and 56 RBIs in 77 games with Double-A Portland, a source told CSNNE.com in Boston. The move was later confirmed
Moving on Up! Rafael Devers to Triple-A Pawtucket
Devers hit .300, 18 HR and 56 RBI with Portland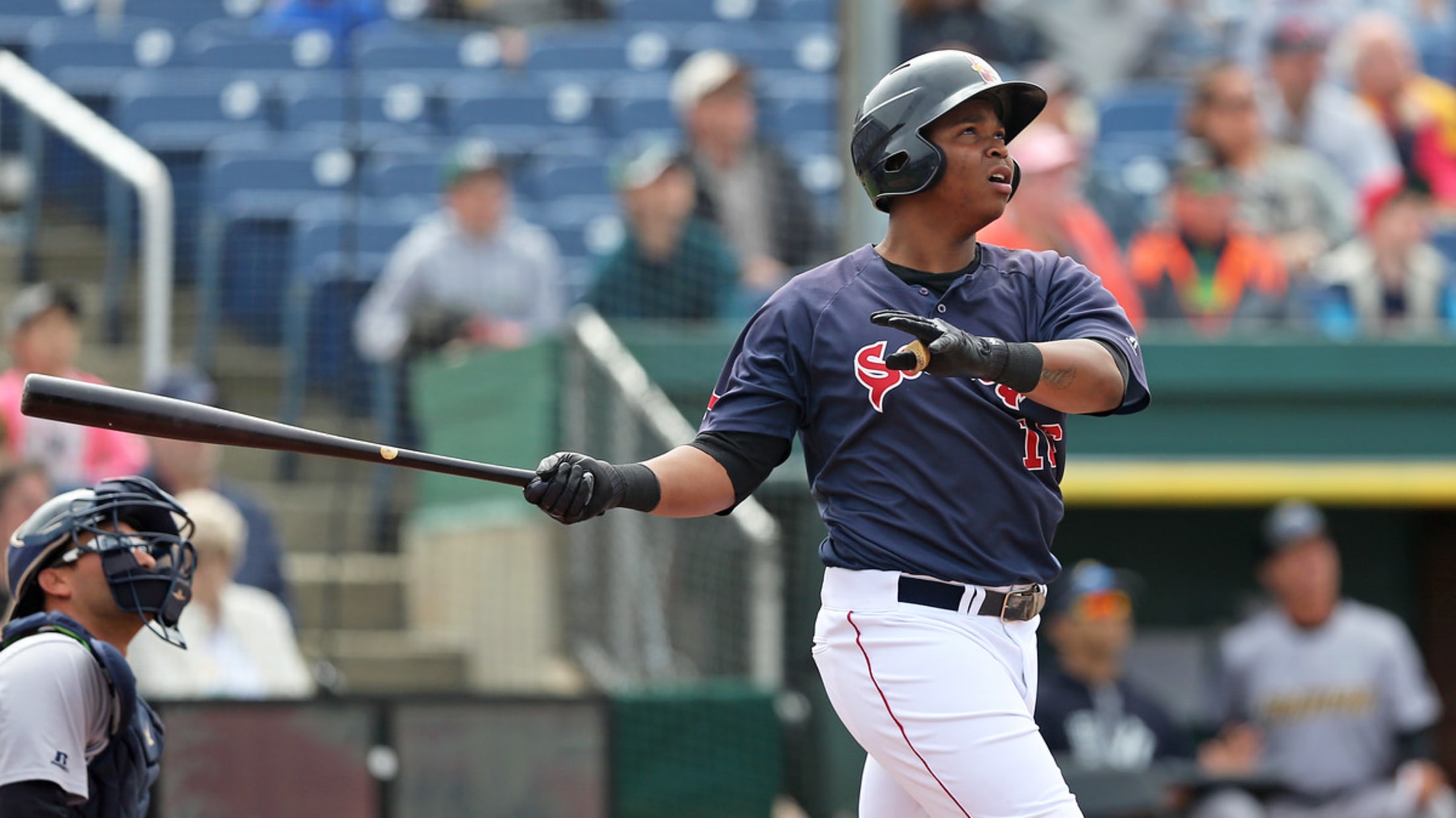 Portland, Maine - The Boston Red Sox have promoted Sea Dogs 3B Rafael Devers to the Pawtucket Red Sox (Triple-A). Devers hit .300 (86-for-277) with 18 homers (career-high) and 56 RBI in 77 games with the Portland Sea Dogs.
Futures Game participants we're excited to see
Jimenez, Kopech, Bichette among prospects to watch on Sunday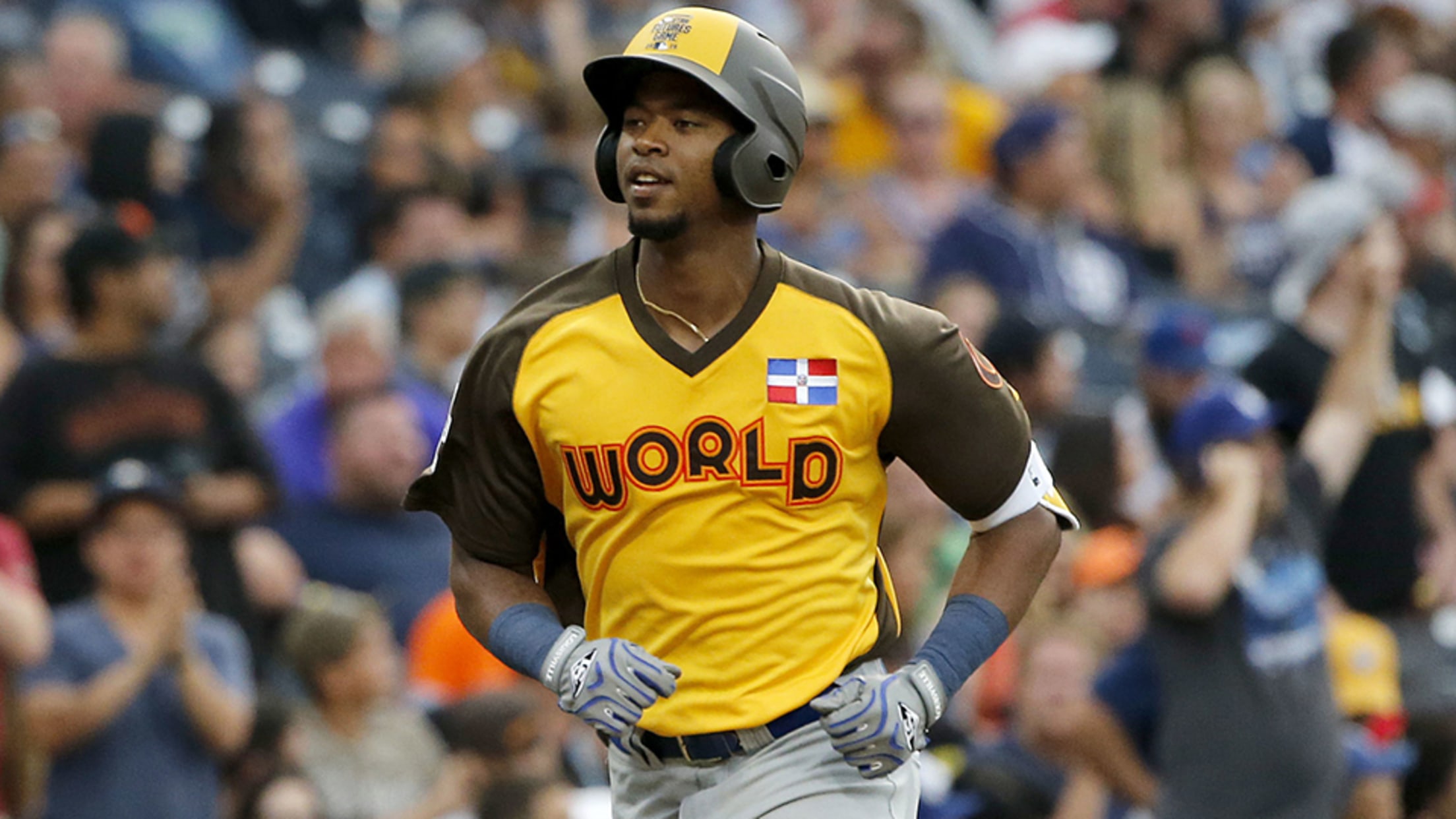 Eloy Jiménez, World OF (CHC, Myrtle Beach): The Cubs' top prospect nearly stole the show at the 2016 Futures Game in San Diego when he homered and made a spectacular catch in right field. Instead, he lost out on MVP honors to Yoán Moncada, now the top overall prospect in baseball.
Prospect Roundup: Games of July 3
Senzel, Devers blast off at Double-A; Civale shows uncanny control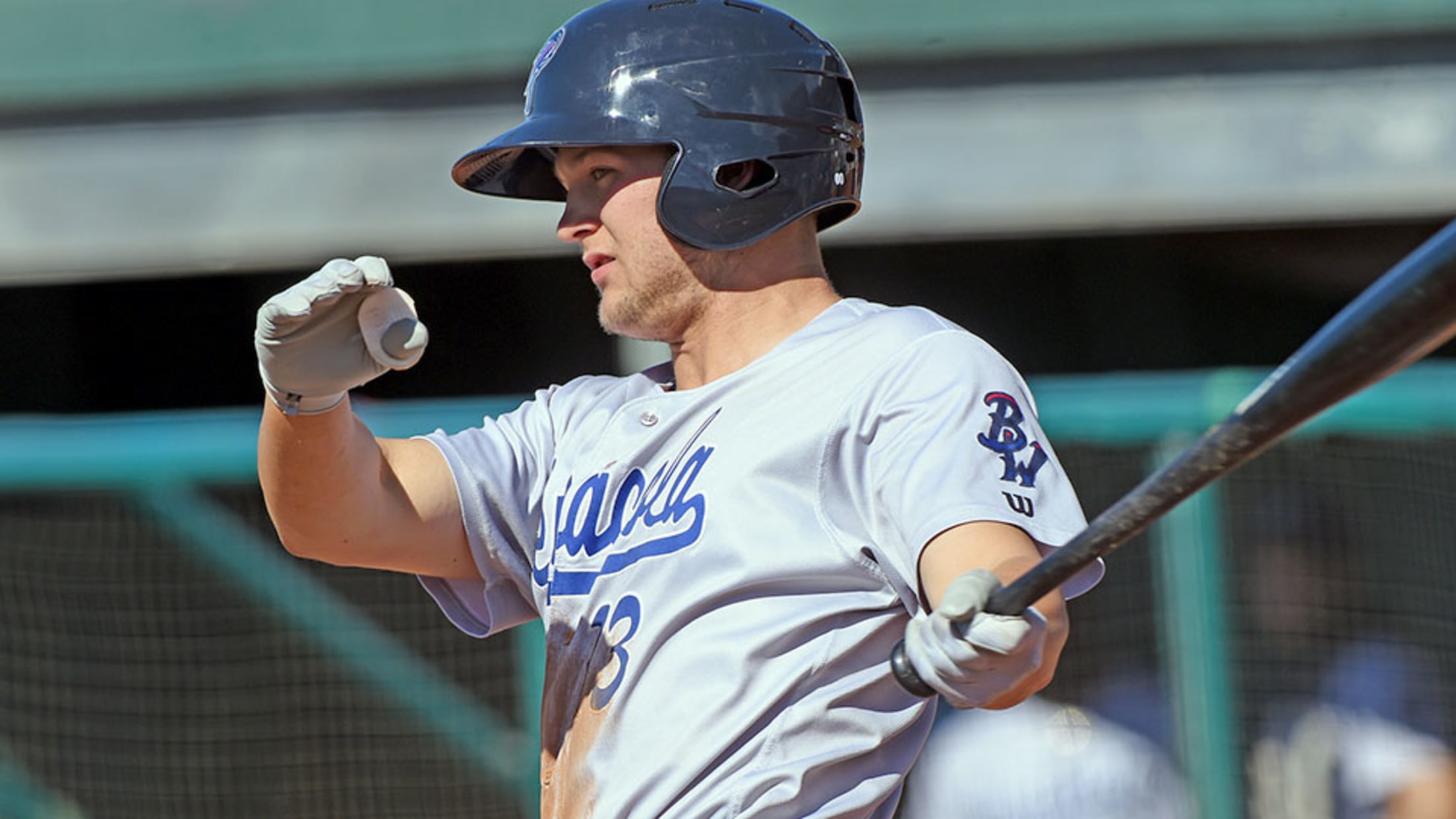 Reds 3B Nick Senzel, Double-A Pensacola: 3-for-4, HR, 3 RBI, R, CS -- The Reds' top prospect belted his first Double-A homer Monday and collected three hits for the first time with the Blue Wahoos in a 13-5 loss to Montgomery. Over 11 games for Pensacola, Senzel has continued to live up
Rafael Devers headed to SiriusXM Futures Game
Former Sea Dogs Dubon and Moncada on the World Roster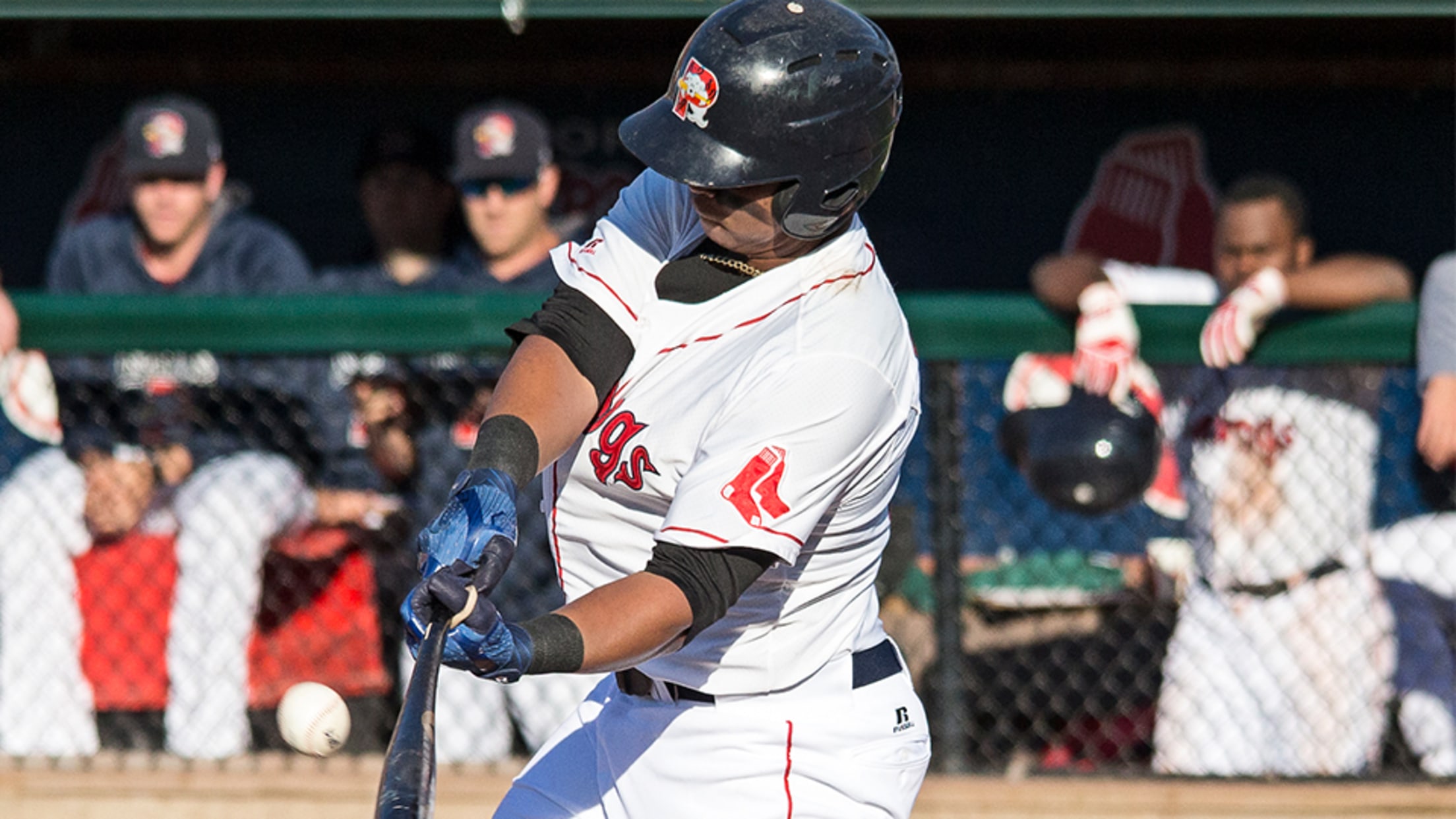 Portland, Maine - Earlier today, Major League Baseball announced the complete rosters for the annual Futures Game, taking place on July 9th at Marlins Park in Miami. Sea Dogs 3B Rafael Devers was named to the World squad. 
Devers leaves yard twice for Sea Dogs
Top Red Sox prospect halts slump with fifth pro multi-homer game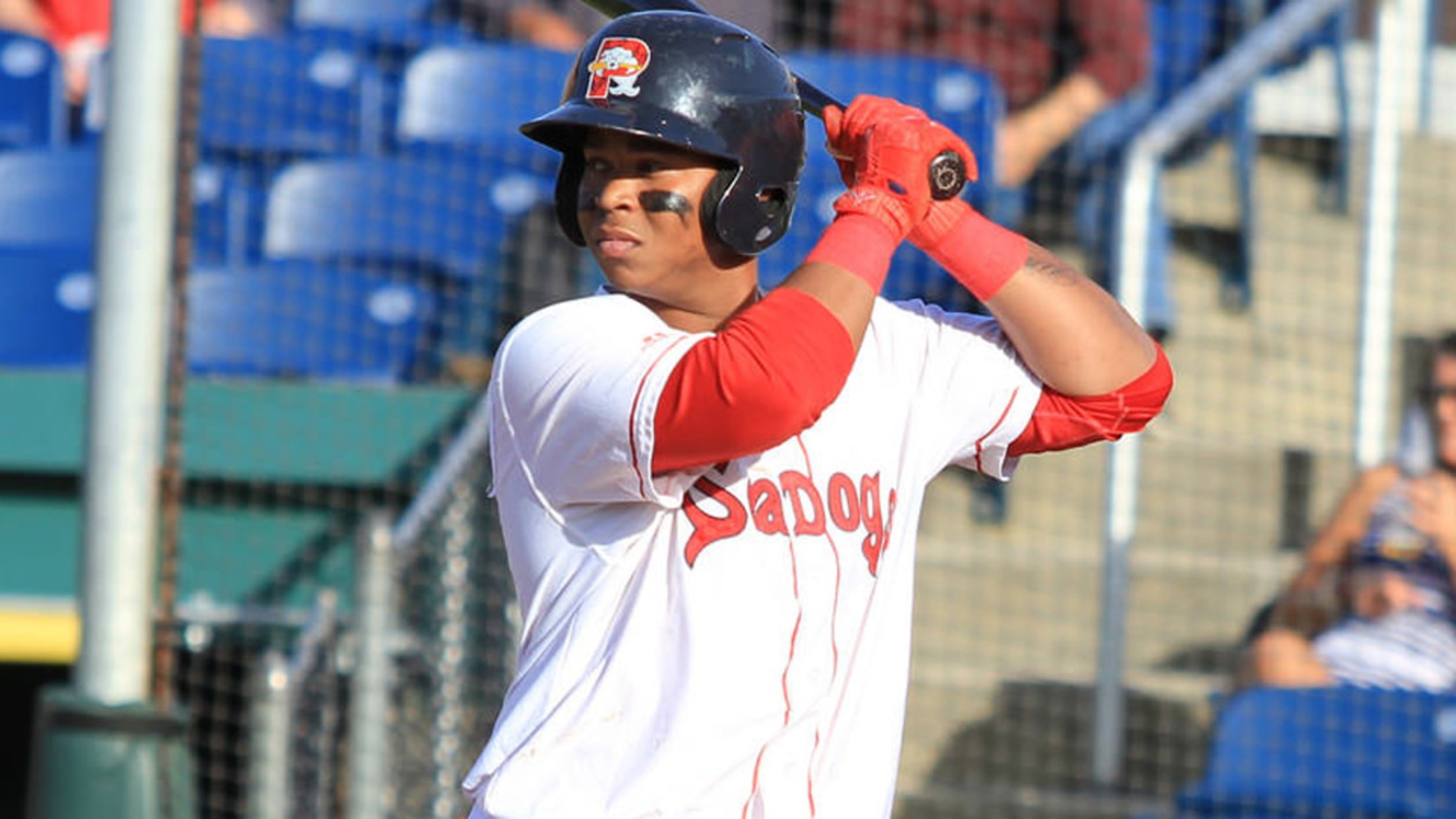 Sea Dogs hitting coach Lee May could tell Rafael Devers was less than pleased with his batting practice Wednesday. So the pair hit the cages for some swings against the machine.The extra work paid off as the top Red Sox prospect collected two homers and three RBIs in Double-A Portland's
Devers, Chavis Power Sea Dogs to 5-1 Win
Devers hits two home runs and Chavis hits his third home run in six games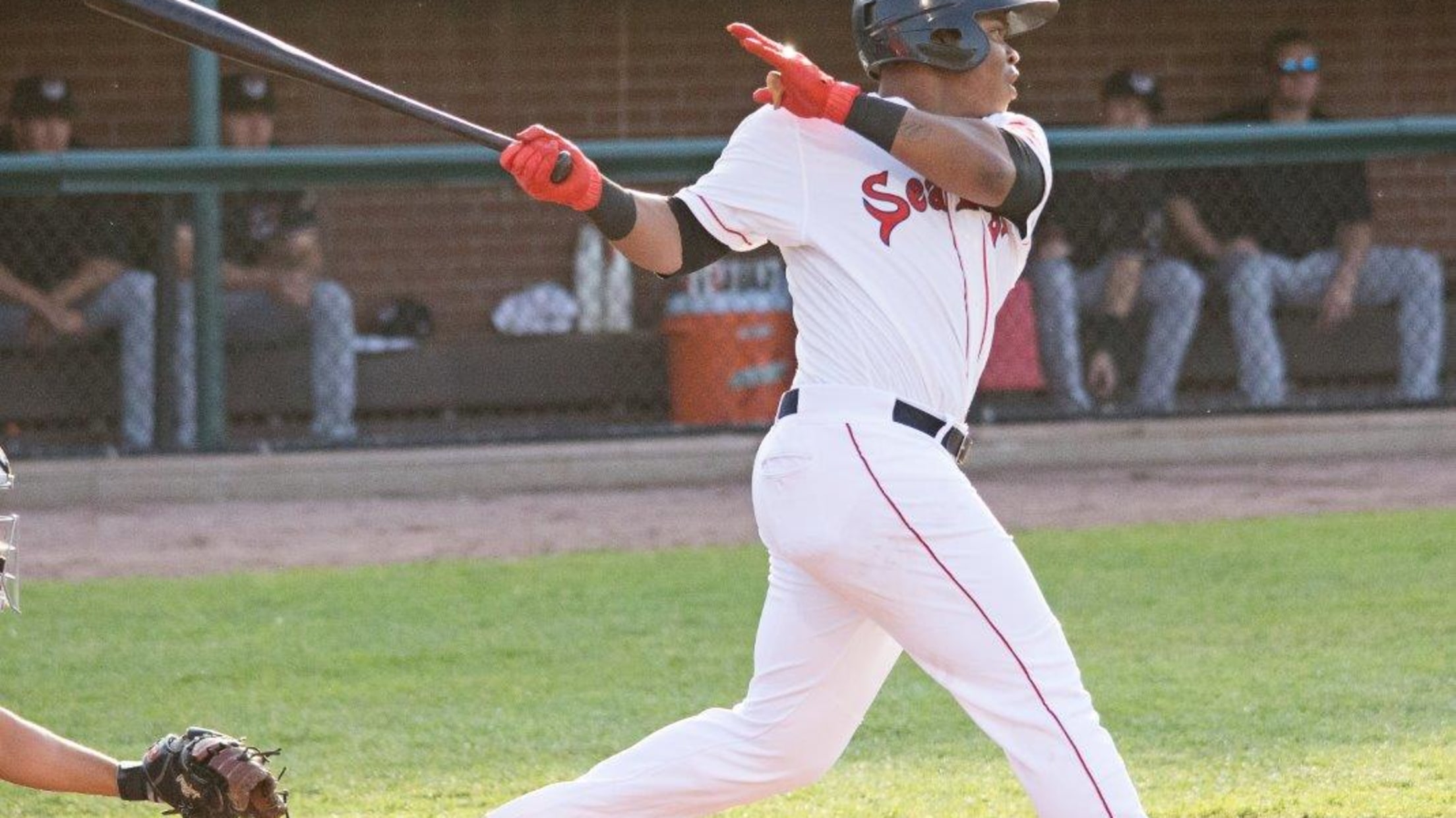 Portland, Maine- Rafael Devers cranked two home runs, Michael Chavis added another, as the Sea Dogs (35-38) won their third straight game over the New Hampshire Fisher Cats (31-46) with a 5-1 win on Wednesday night at Hadlock Field.
Sheffield, Devers, Stewart named EL All-Stars
Conlon, Mejia among other big names bound for New Hampshire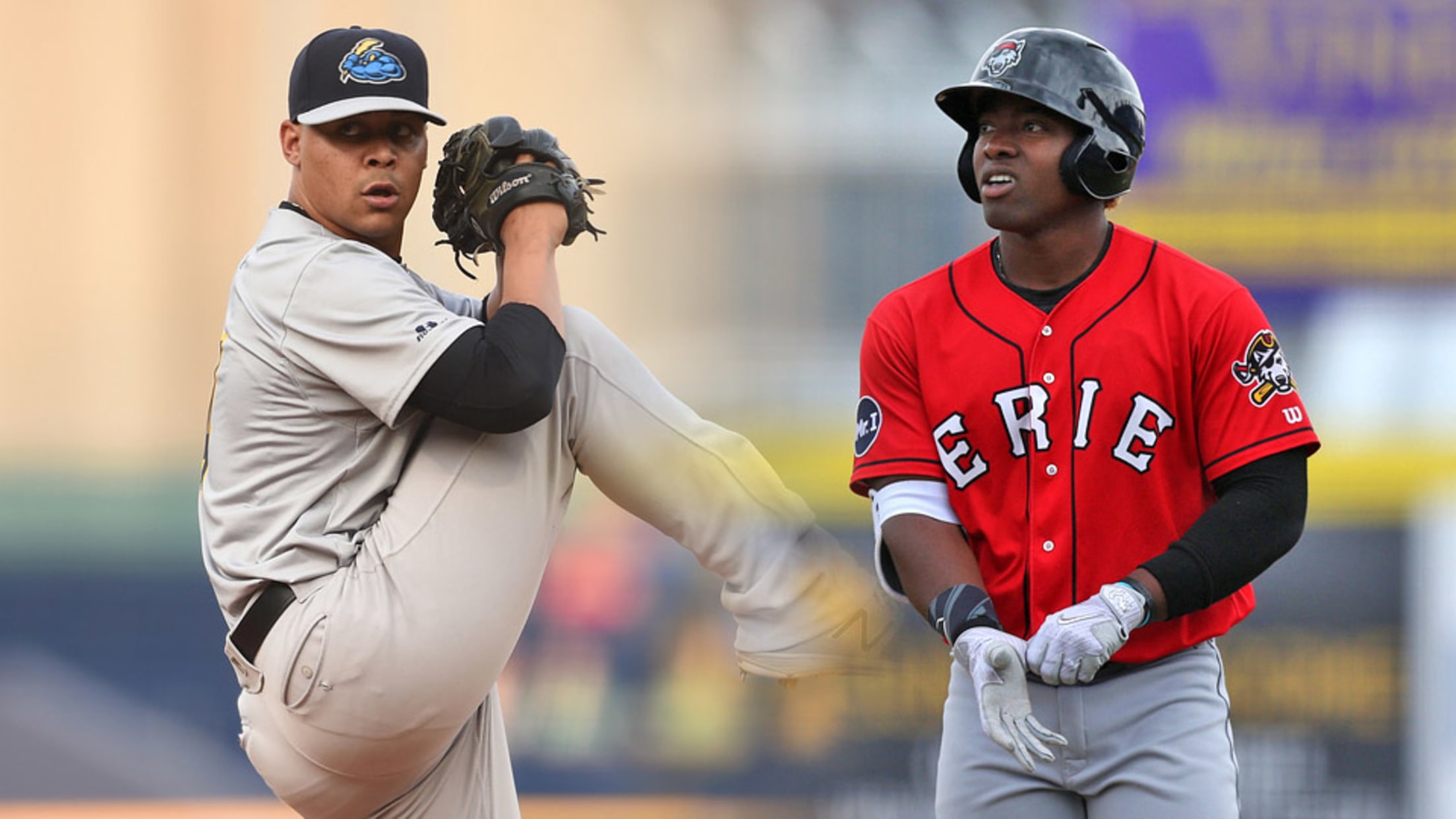 Portland's Rafael Devers, Trenton's Justus Sheffield and Erie's Christin Stewart are among the big names headed to New Hampshire after the Eastern League announced its All-Star Game rosters on Wednesday afternoon.Devers, the top Red Sox prospect and No. 12 overall, will represent the Eastern Division while Stewart, Detroit's No. 2
Devers, Mars and Stankiewicz named All-Stars
Three Sea Dogs headed to All-Star Game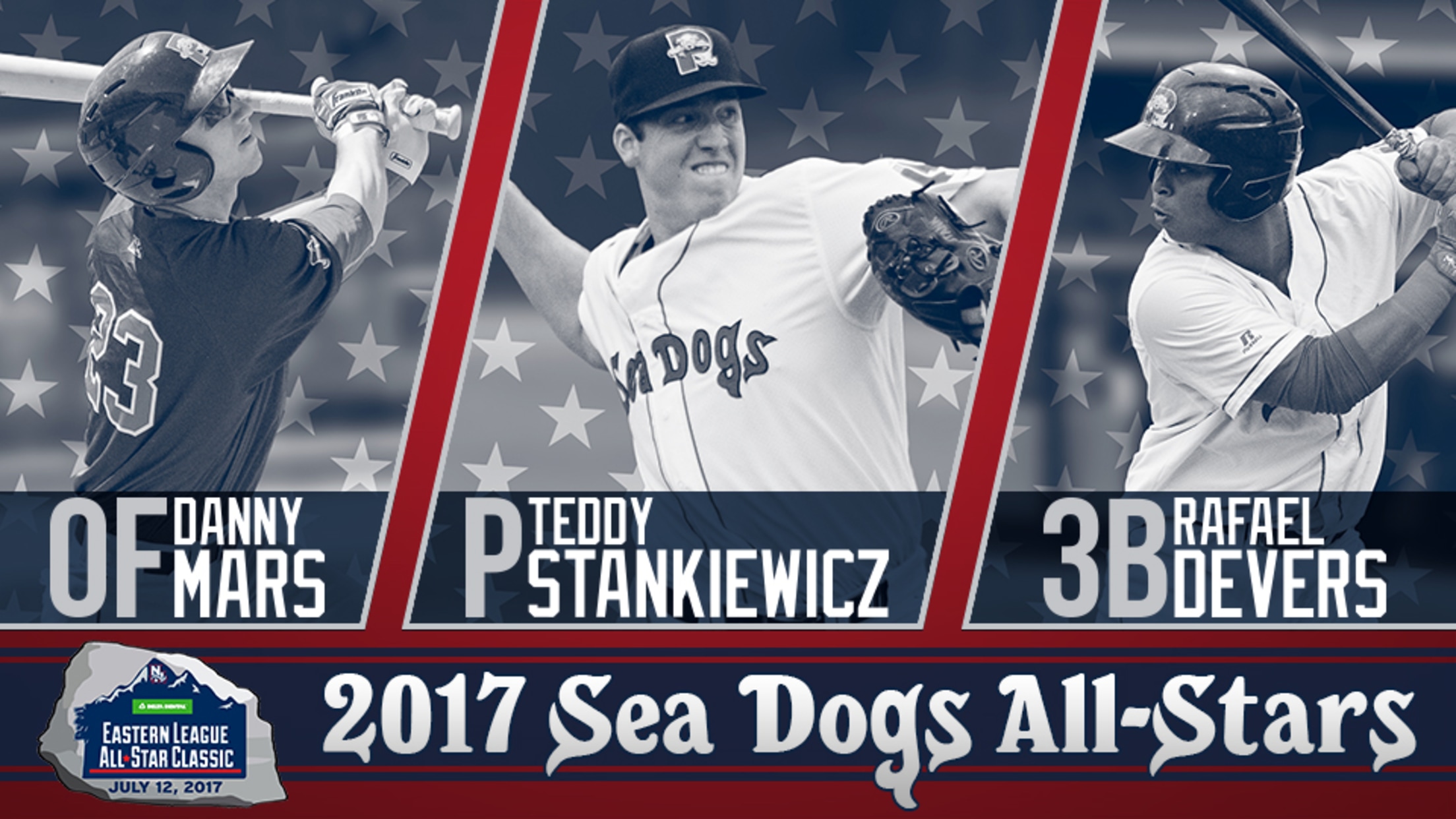 Portland, Maine - The Eastern League has announced the All-Star Rosters for the annual mid-summer classic on July 12th at Northeast Delta Dental Stadium in Manchester, New Hampshire. Sea Dogs Infielder Rafael Devers, Outfielder Danny Mars and Pitcher Teddy Stankiewicz were named to the Eastern Division roster. 
'Dogs rally in the ninth, beat Erie 4-2
Barfield game-winning hit, Lin goes 5-for-5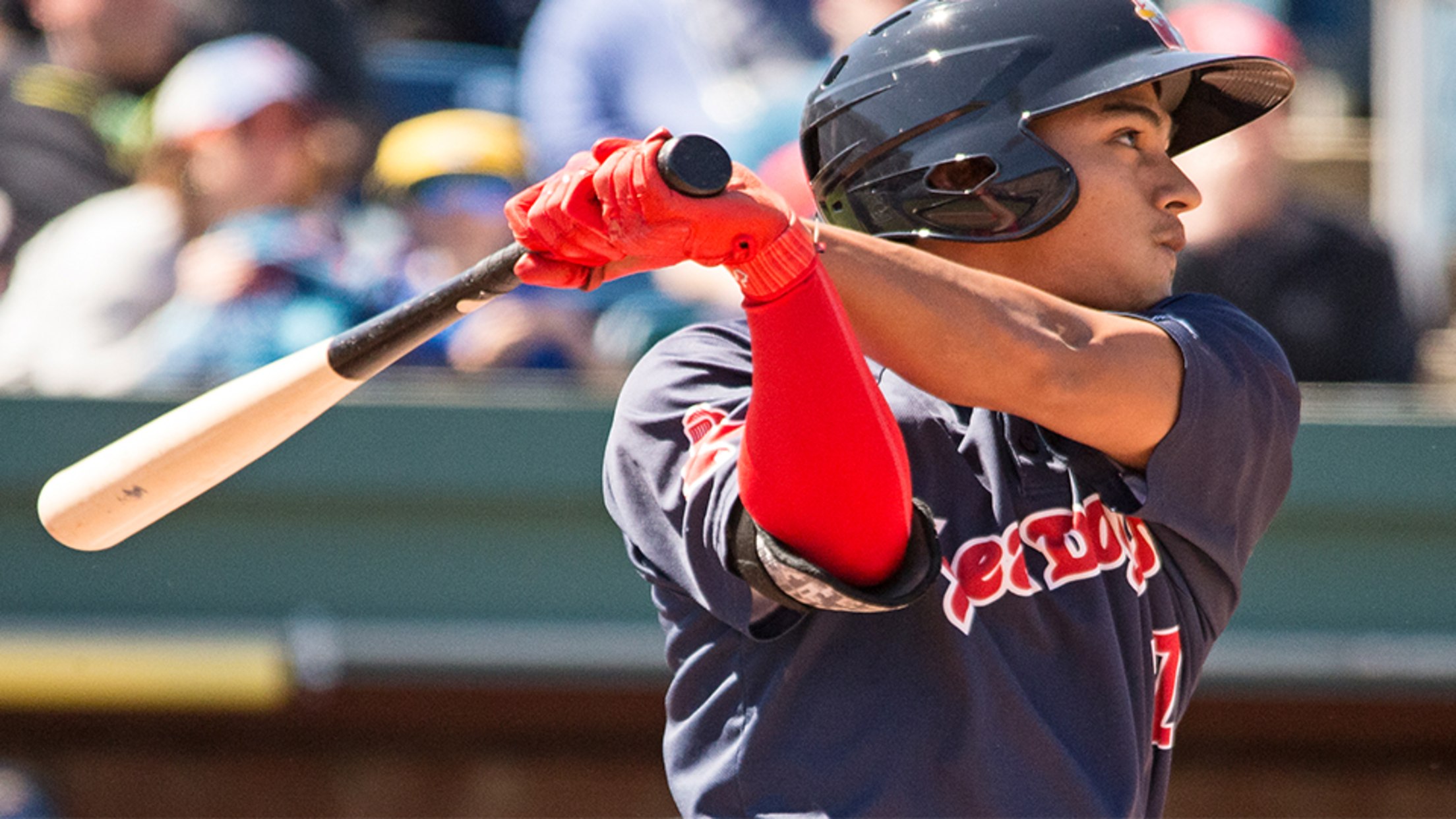 Erie, PA - The Portland Sea Dogs (31-36) snapped a 2-2 tie with two runs in the ninth inning, and held on to beat the Erie SeaWolves (34-37), 4-2, Thursday afternoon at UPMC Park. Portland finished the roadtrip 3-6, but took two of three in Erie.
Prospect Roundup: Games of June 19
Granite pads lead for IL batting title; Groome solid in rehab start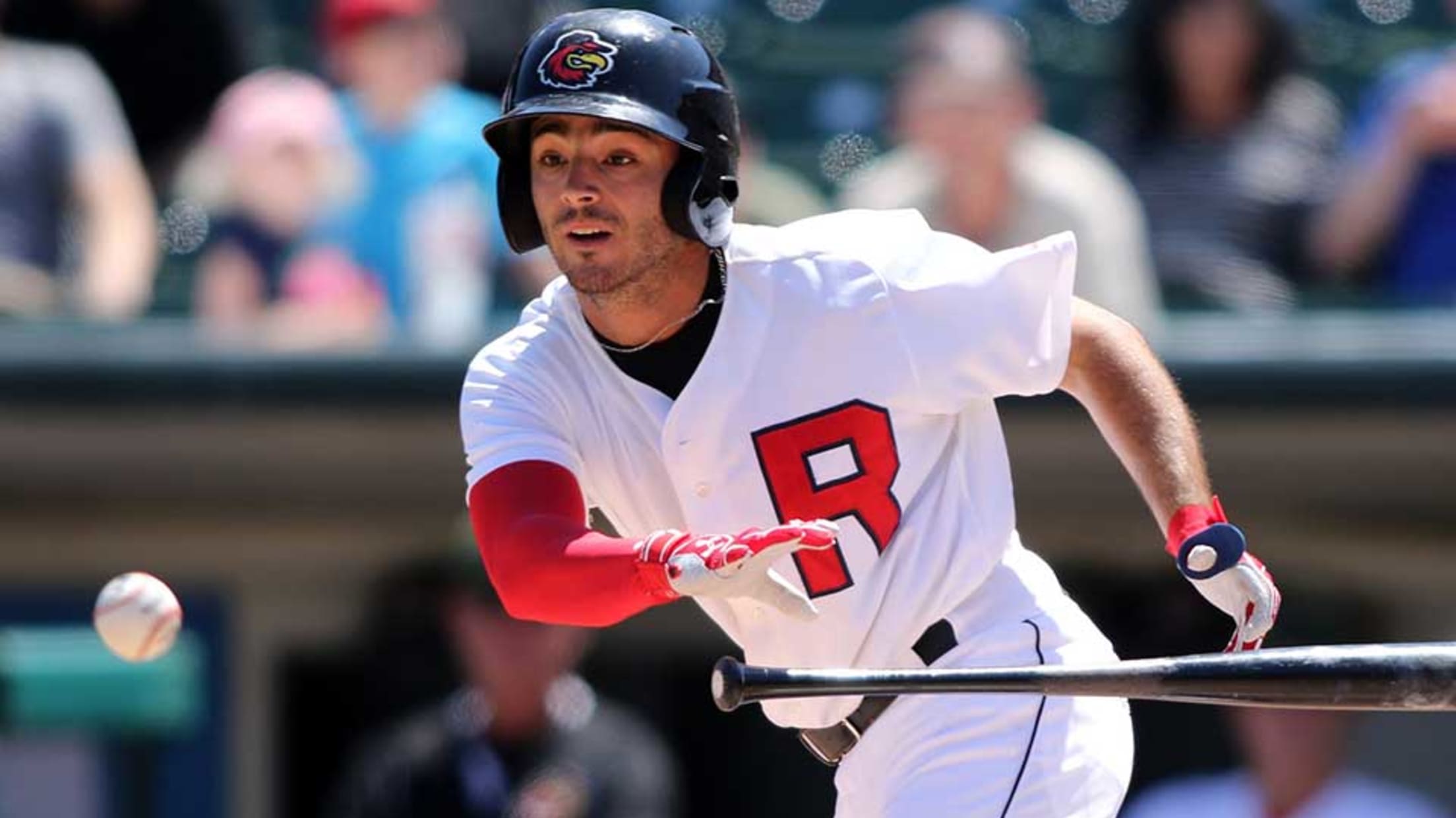 Twins OF Zack Granite, Triple-A Rochester: 3-for-5, 2B, RBI -- Granite's scorching June got even hotter Monday night as the Twins' No. 21 prospect notched his eighth three-hit game of the season. His .349 average leads the International League by a wide margin. (Scranton/Wilkes-Barre infielder Tyler Wade's .322 is closest.) The 24-year-old
Raining runs in Erie, 'Dogs win 12-6 on Monday
Drehoff fans a career-high 7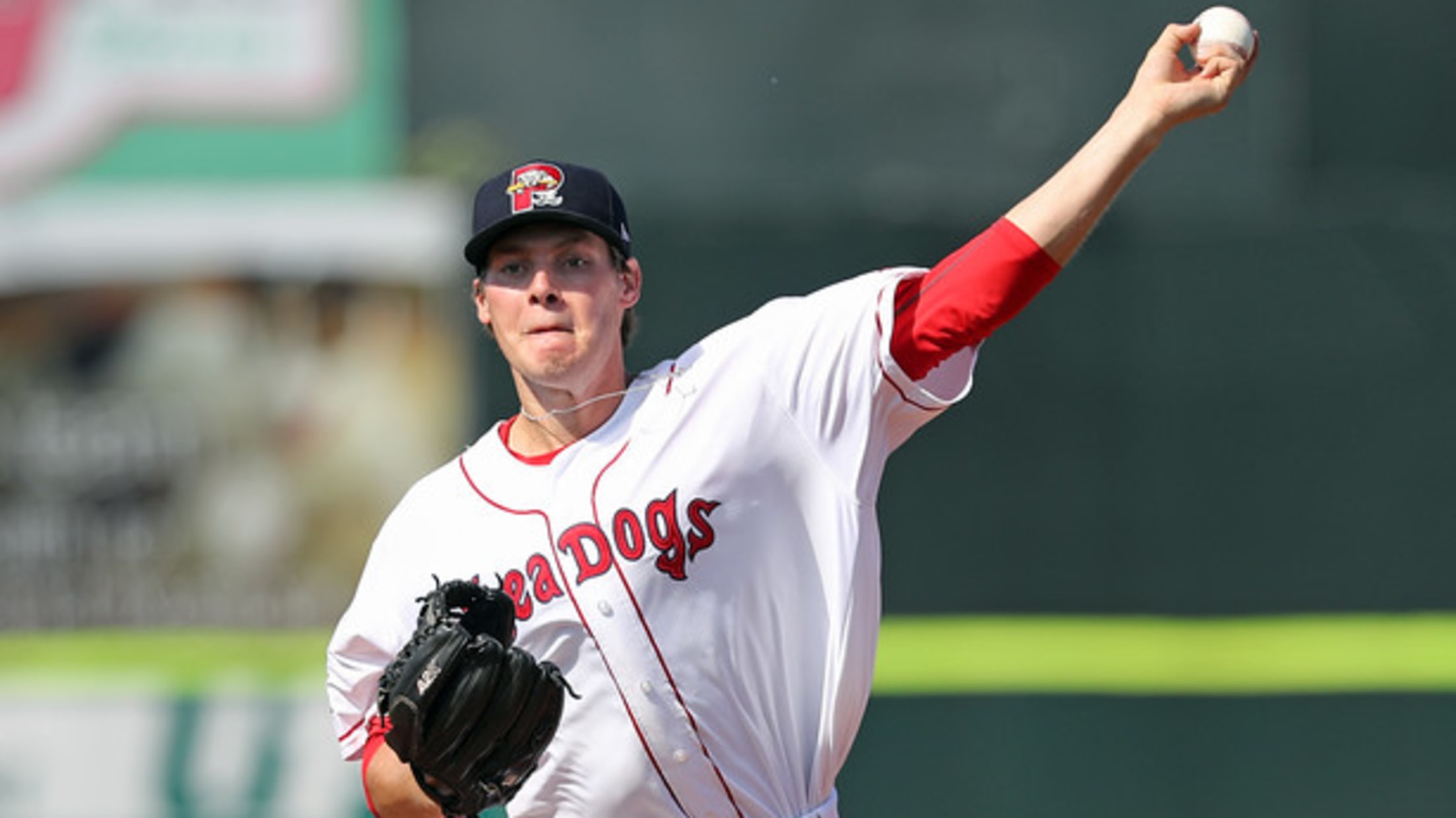 Erie, PA - The Portland Sea Dogs (30-35) had to deal with a one hour and 37 minute rain delay, but that didn't hold back their offense, defeating the Erie SeaWolves (33-36), 12-6, Monday night in the series opener at UPMC Park.
Devers hits 13th homer in 8-3 loss at Akron
RubberDucks score six unanswered runs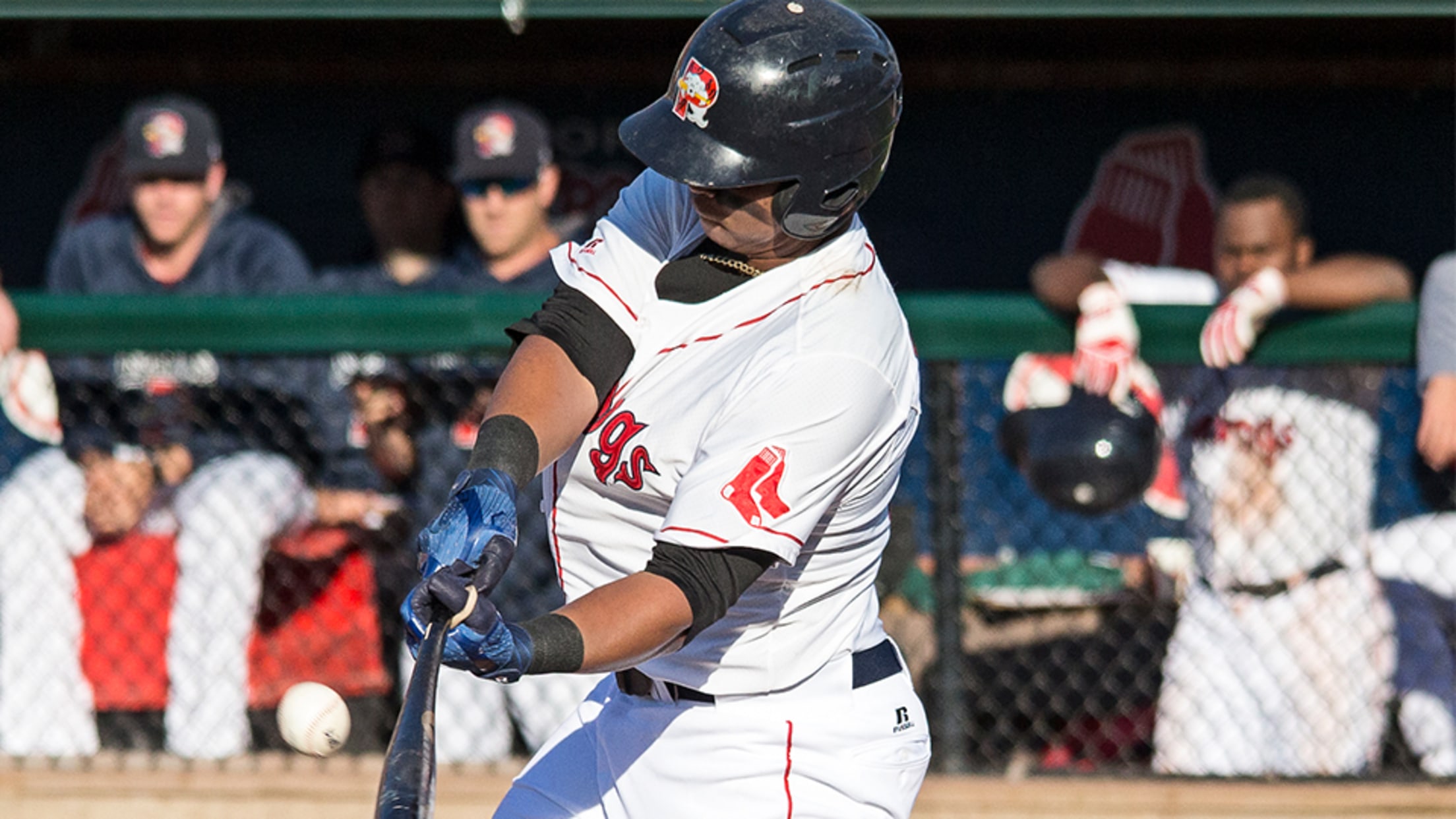 Akron, Ohio - The Akron RubberDucks (32-31) scored six unanswered runs and beat the Portland Sea Dogs (29-34), 8-3, Saturday night at Canal Park in front of a sellout crowd of 8,284 fans. The 'Dogs have dropped the first 2 games of the series and are 1-4 during their 9-game
Prospect Roundup: Games of June 15
Winker enjoys perfect day at plate; Gonsalves, Hansen fan 10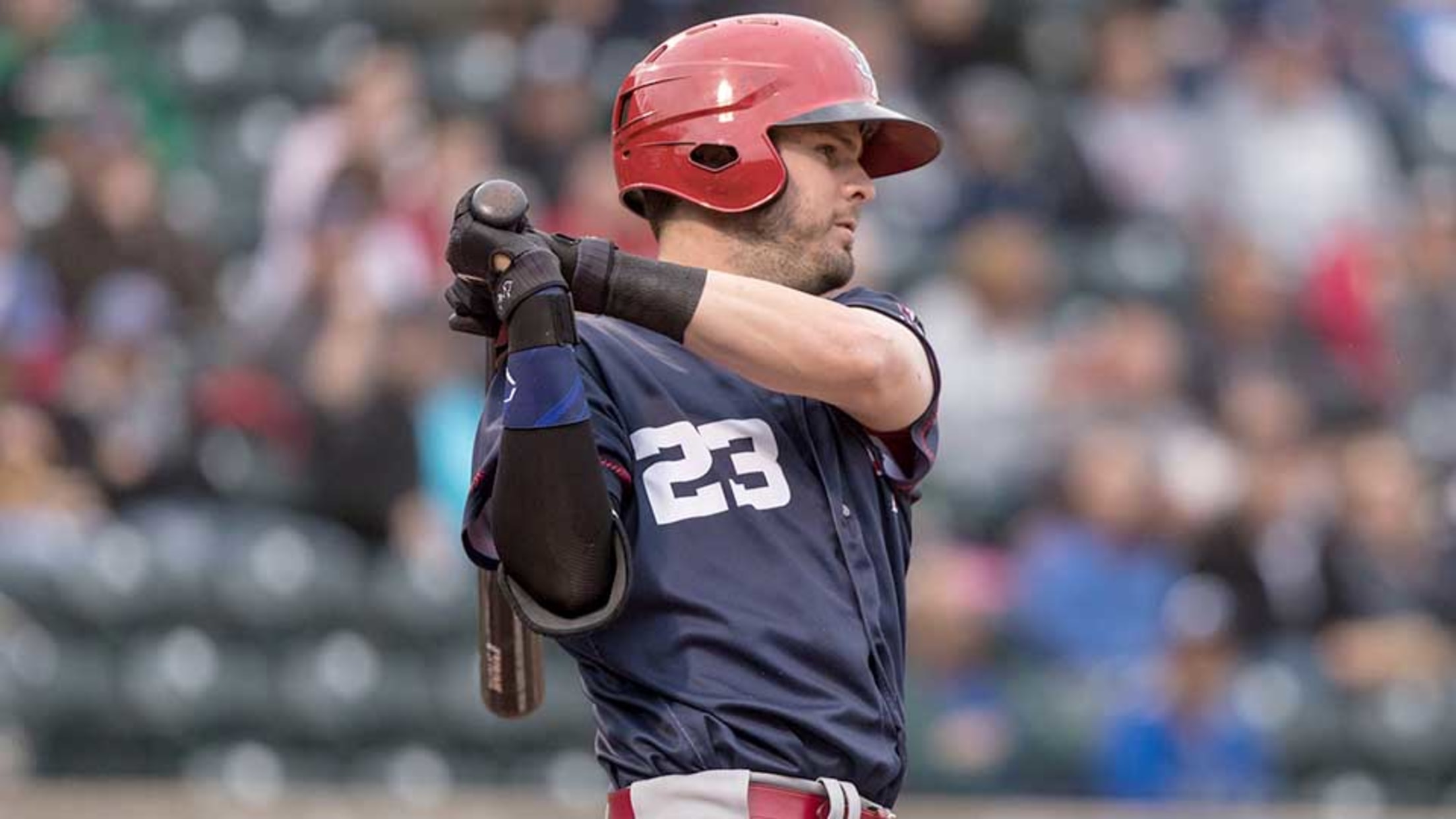 Reds OF Jesse Winker, Triple-A Louisville: 3-for-3, 2 2B, 2 BB -- For Reds fans, this was a dream performance for the team's No. 2 prospect. Winker reached in all five of his plate appearances in a 6-4 loss to Charlotte and had two doubles after entering the night with only
Hits coming in bunches for Sea Dogs' Devers
Red Sox top prospect homers in third straight multi-hit game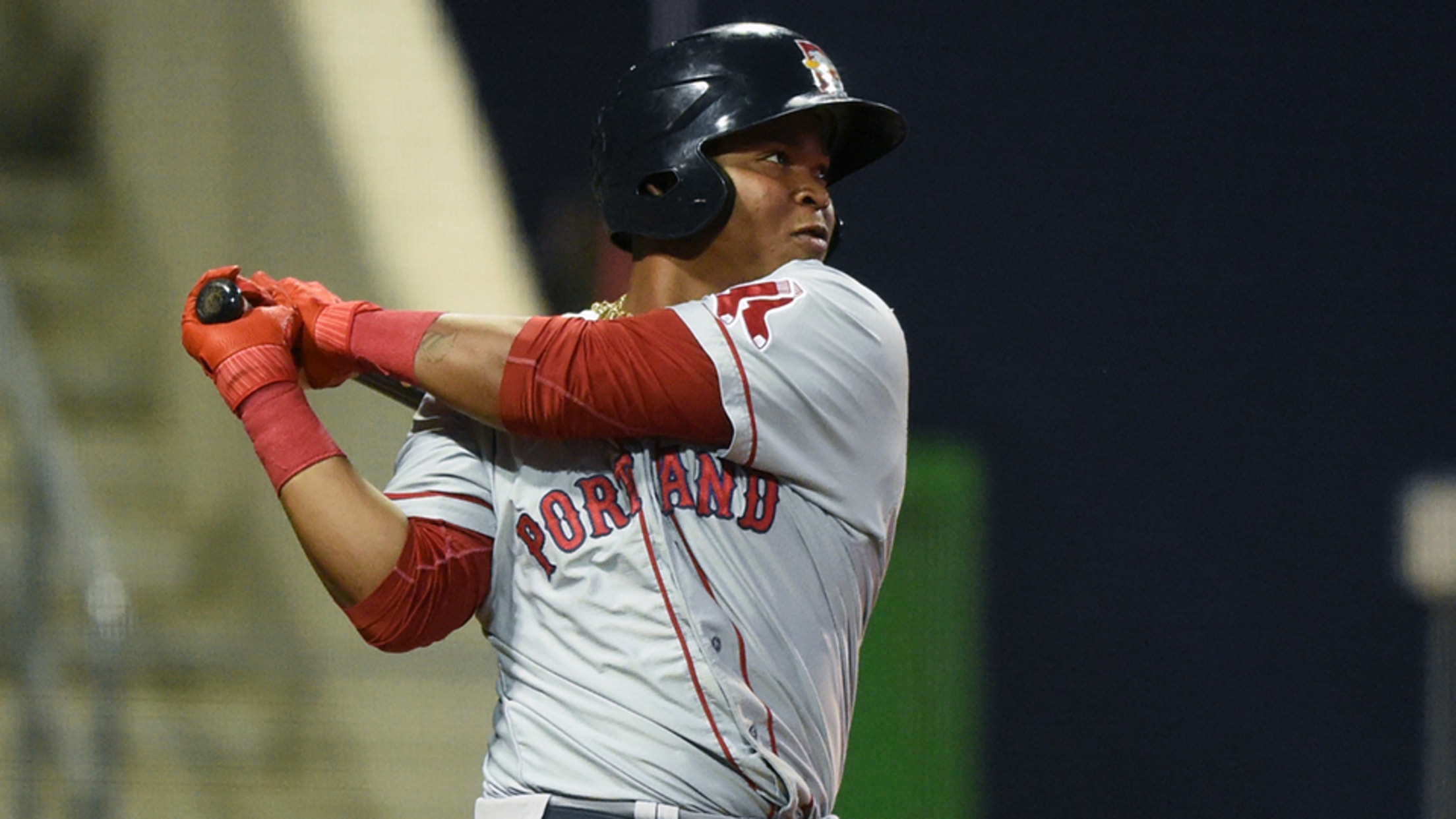 Double-A Portland may not have won in the past three days, but it wasnt for Rafael Devers' lack of trying.The top Red Sox top prospect homered in his third straight multi-hit game Friday, but Sea Dogs dropped a 7-4 decision to Binghamton at NYSEG Stadium. He also scored twice in his
Devers homers in 'Dogs 7-4 loss at Binghamton
Barfield and Olt add run-scoring doubles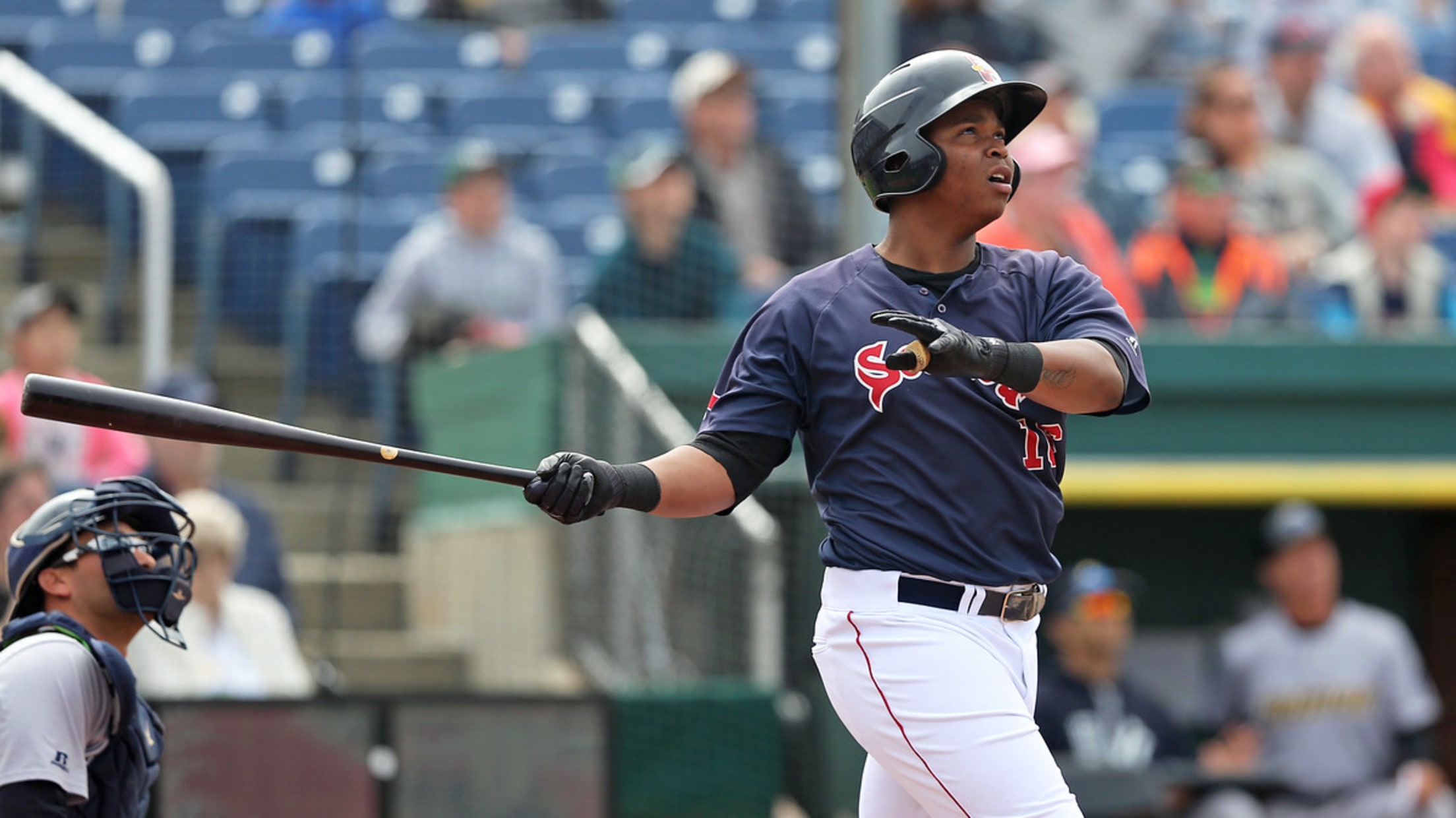 Binghamton, NY - The Binghamton Rumble Ponies (30-19) scored seven unanswered runs, defeating the Portland Sea Dogs (23-27), 7-4, Friday night at NYSEG Stadium. Rafael Devers went 3-for-4 with a 2-run homer in the loss.
Fightins hit 5 homers in 14-6 win over 'Dogs
Barfield, DePew and Lopez each homer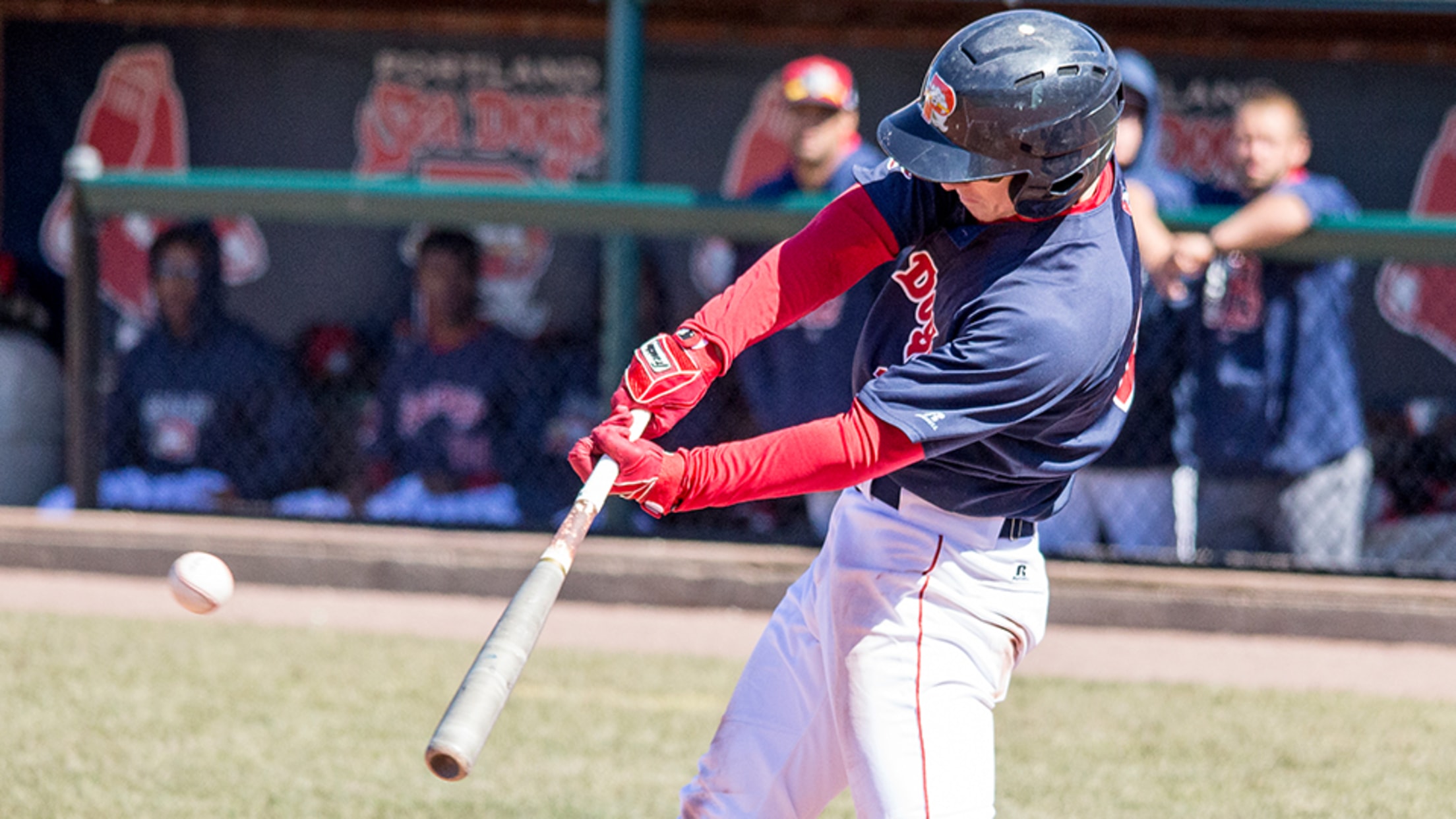 Reading, PA - The Reading Fightin Phils (27-23) hit five homers on Thursday, and defeated the Portland Sea Dogs (23-26), 14-6 at FirstEnergy Stadium. Portland dropped the final three games of the series, after winning the series opener on Tuesday.
'Dogs drop a pair in Reading, 6-2 and 4-3 in 13 innings
Barfield pitches three innings in Game 2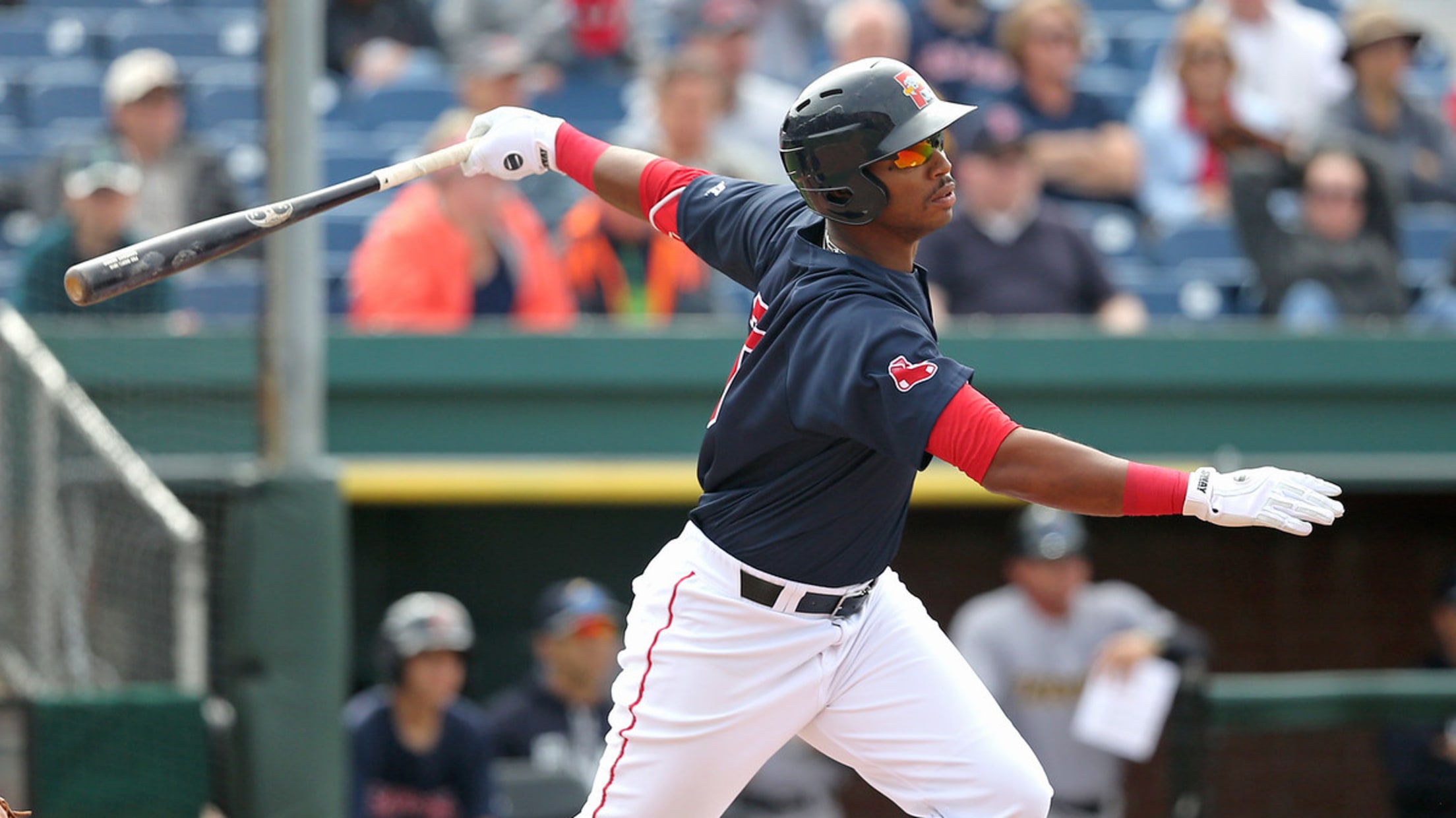 Reading, PA - The Portland Sea Dogs (23-25) dropped a doubleheader to the Reading Fightin Phils (26-23) on Wednesday night at FirstEnergy Stadium. The Fightins took the opener 6-2 and won the nightcap with a 4-3, 13-inning walk-off win.
Devers homers in 6-2 loss to Trenton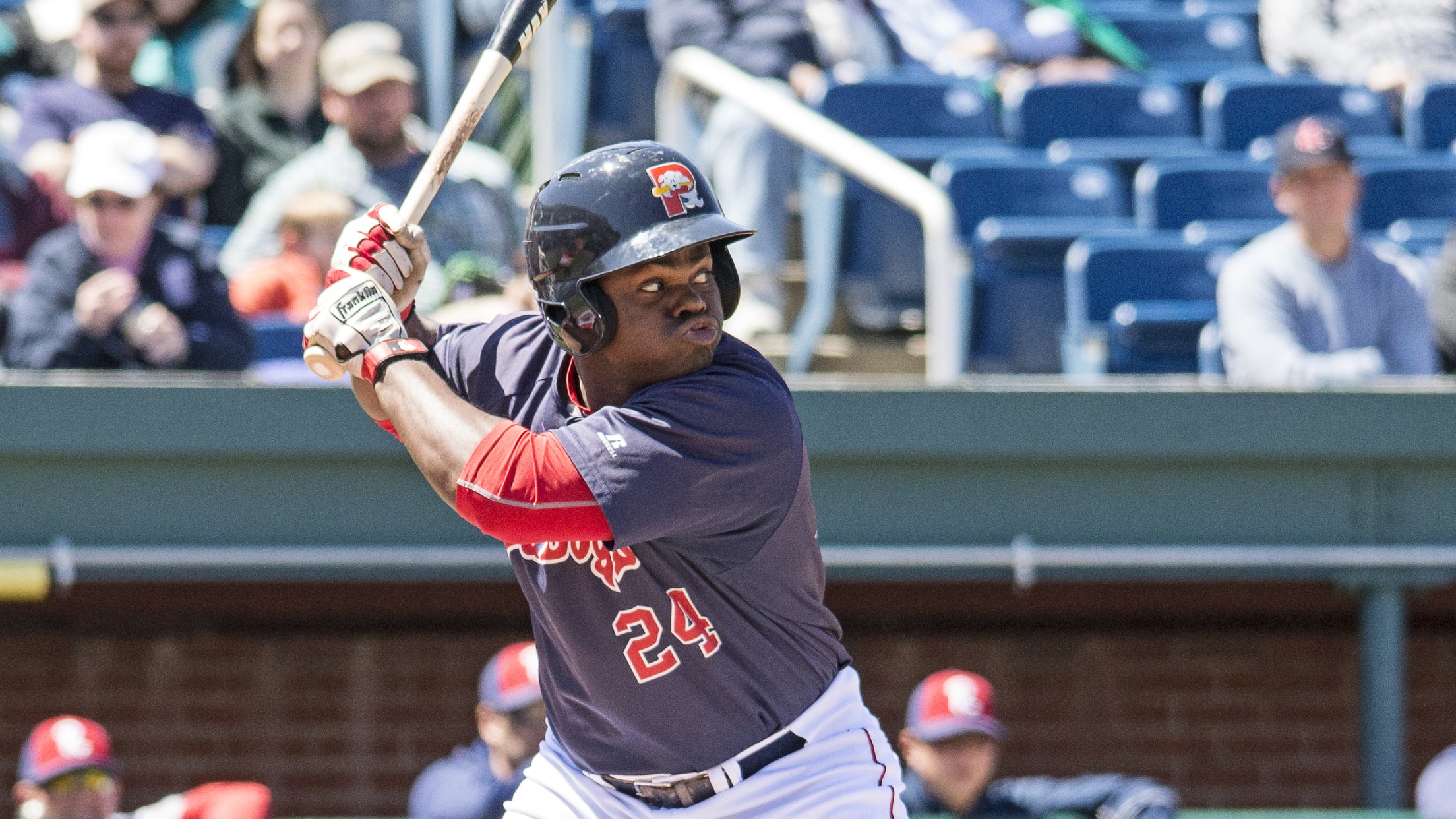 Portland, Maine- The Trenton Thunder (32-16) struck for four runs in the sixth inning and defeated the Sea Dogs (21-23) 6-2 in front of a sellout crowd of 7,368 on Sunday afternoon at Hadlock Field.
Bullpen scoreless in 4-3 win at New Hampshire
Dahlstrand earns first win in relief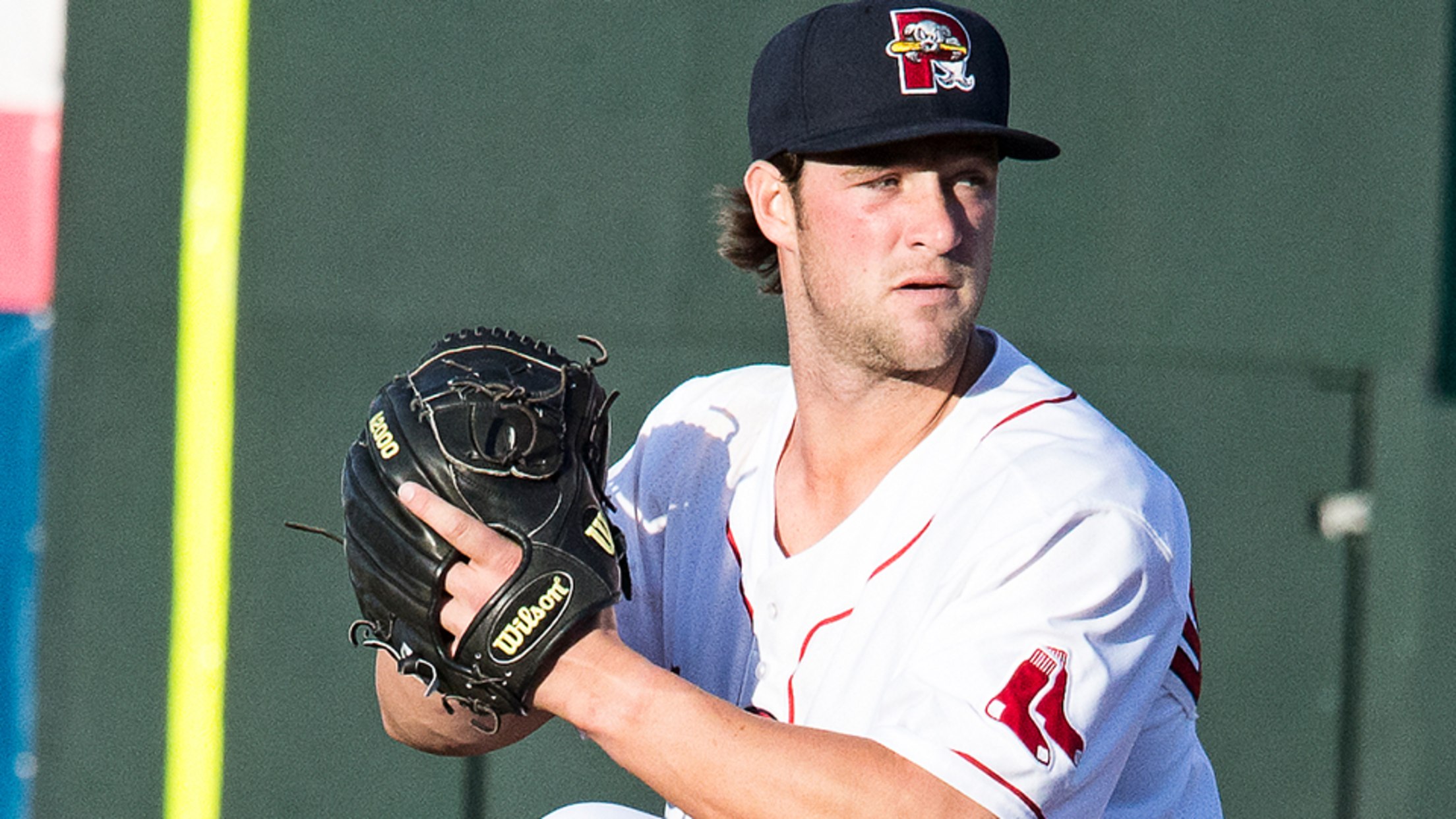 Manchester, N.H. - The Portland Sea Dogs (21-20) received six scoreless innings from their bullpen, and beat the New Hampshire Fisher Cats (16-29), 4-3, Wednesday morning at Northeast Delta Dental Stadium. With the win, the 'Dogs are now 3-3 on their 7-game roadtrip.
Prospect Roundup: Games of May 16
Urias collects four more hits; Devers continues hot month