Banda El Recodo Picks Heart of Texas for First Live Performance of 2020
Dell Diamond to Host Live Show on Saturday, October 24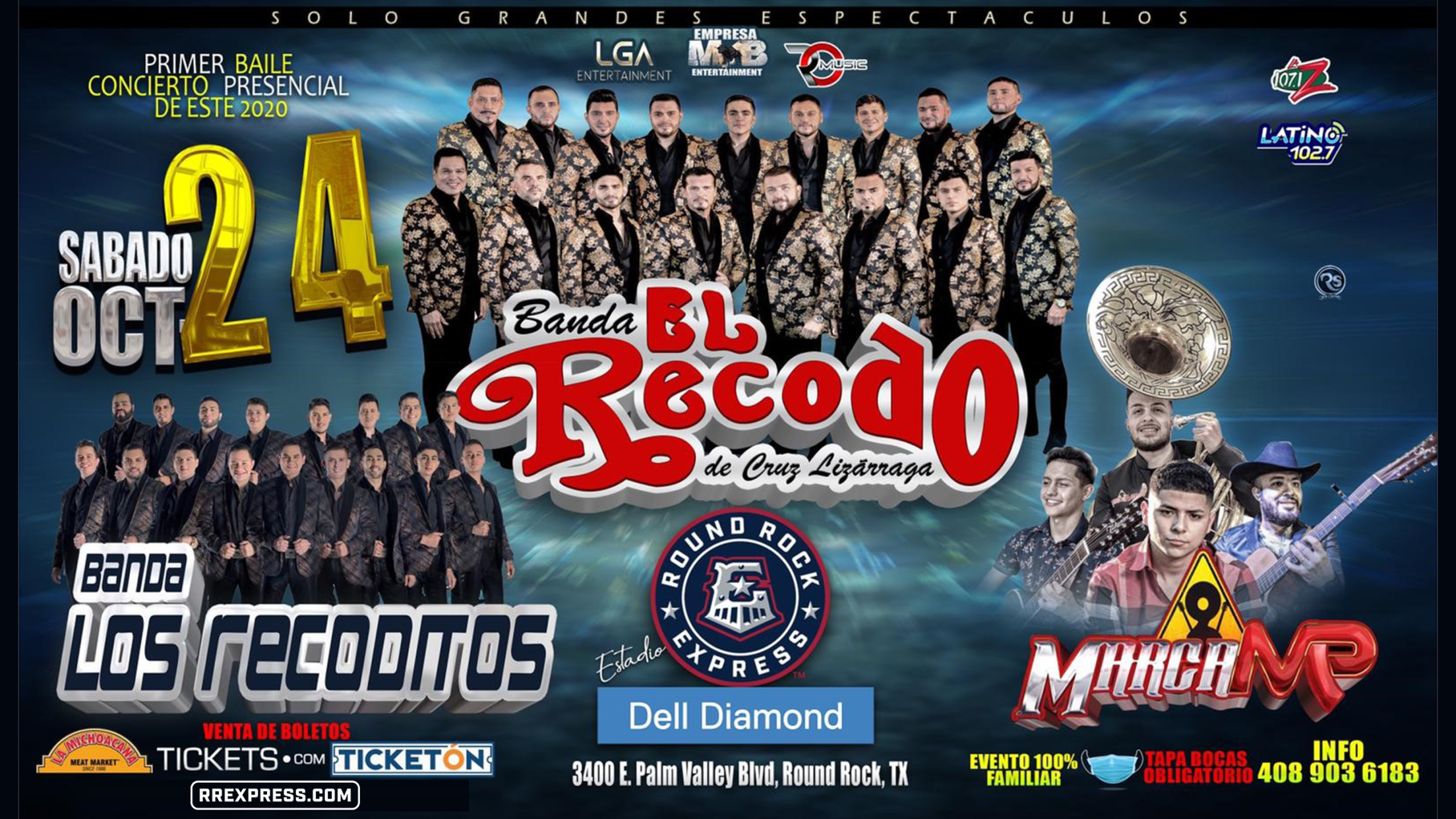 MAZATLAN, Sinaloa, Mexico – Banda El Recodo de Don Cruz Lizarraga, Mexico's most iconic Banda, known to their followers as "La Madre De Todas Las Bandas" will be performing and headlining their first full live concert of 2020 at Dell Diamond on Saturday, October 24. Banda Los Recoditos and Marca
MAZATLAN, Sinaloa, Mexico – Banda El Recodo de Don Cruz Lizarraga, Mexico's most iconic Banda, known to their followers as "La Madre De Todas Las Bandas" will be performing and headlining their first full live concert of 2020 at Dell Diamond on Saturday, October 24. Banda Los Recoditos and Marca MP, two other outright stars of regional Mexican music, will join for a full six-hour mega-concert. The show is set to begin at 6:00 p.m. with Dell Diamond gates opening at 5:00 p.m.
For one night only, this concert is bringing in full stadium staging, lights and video screens. Central Texas is in for a truly special night of performances by Mexico's current top acts.
Banda El Recodo was founded in 1938 by its pioneer Cruz Lizarraga. In 1989, Banda El Recodo became the first brass Banda to incorporate their own vocalist into their band. Prior to this, Bandas were most exclusively instrumental. They were the first Mexican Banda to perform in Europe, Asia, Africa, Australia, North and South America. They also became the first Mexican band to play live in Hawaii.
They are the only Banda to win 10 Latin Grammys and the first to perform live at the Grammys, doing so in 2008, 2010, 2015 and 2017, making them the Mexican band with the most live performances at the awards show. They have received 12 "Premios Lo Nuestro" in their career, the most ever in their genre. They are also winners of five Billboard Awards, including "Album of the Year" and "Song of the Year." They are five-time winners of Premios Oye and Premios BANDAMAX.
In 2004, they became the only Mexican Banda ever to perform at the White House, playing for Texas's own, President George W. Bush. Banda El Recodo is also the only Mexican act to perform at three FIFA World Cups, Japan 2002, Germany 2006 and Africa 2010. Most recently, they inaugurated the new beachside Estadio de Mazatlan, Mexico's first beach stadium, also becoming the first Mexican artist ever to have their Banda's logo on the jersey of a first division professional sports franchise, Mazatlan F.C.
"Central Texas and Dell Diamond is honored to host such an iconic regional Mexican act like Banda El Recodo. Alongside Los Recoditos and Marca MP, it will be a great show for those who can attend," Ryan Sanders Sports and Entertainment COO J.J. Gottsch said.
"Everyone should not wait to get their tickets as they normally do until just before show, because fans for bands like these will be traveling from Dallas, Houston, San Antonio and all over Texas once word gets out that this is an actual live concert. Get your tickets as soon as possible," Promoter and Founder of Empresa MB, LLC Edgar Munoz said.
Per Texas Governor Greg Abbott's executive order on July 2nd, face coverings are required for all individuals 10 and older in public areas. Guests will be required to wear masks when entering, exiting, and moving around inside the ballpark. Guests may remove masks when sitting in their ticketed seat or pod. A clear bag policy will also be enforced to reduce the need for security to inspect belongings of all guests. A detailed and comprehensive event safety plan can be found at RRExpress.com/Safety.
Tickets go on sale Friday, September 11 at 10:00 a.m. CST via Tickets.com, RRExpress.com, Ticketon.com and at all Michoacana Markets. Tickets in Dell Diamond's seating bowl start at $74.54 and include all parking costs, fees and taxes. Private six-foot by six-foot pods on the field that include four tickets, a table and chairs start at $541.24 and include all parking costs, fees and taxes. Due to current COVID-19 restrictions and protocols, capacities will be limited to well under Dell Diamond's normal operating capacity.
For more detailed information, tune into La Z 107.1 FM, Latino 102.7 FM or call (408) 903-6183.
To view the full lineup of a variety of special events coming to Dell Diamond in 2020, visit RRExpress.com/Events. For more information about the Express, visit RRExpress.com or call (512) 255-2255. Keep up with the Express on Facebook, Instagram and Twitter!