Express Finds First Win in Game Four Against Chihuahuas
Round Rock Tops El Paso 11-3 for Season's First Victory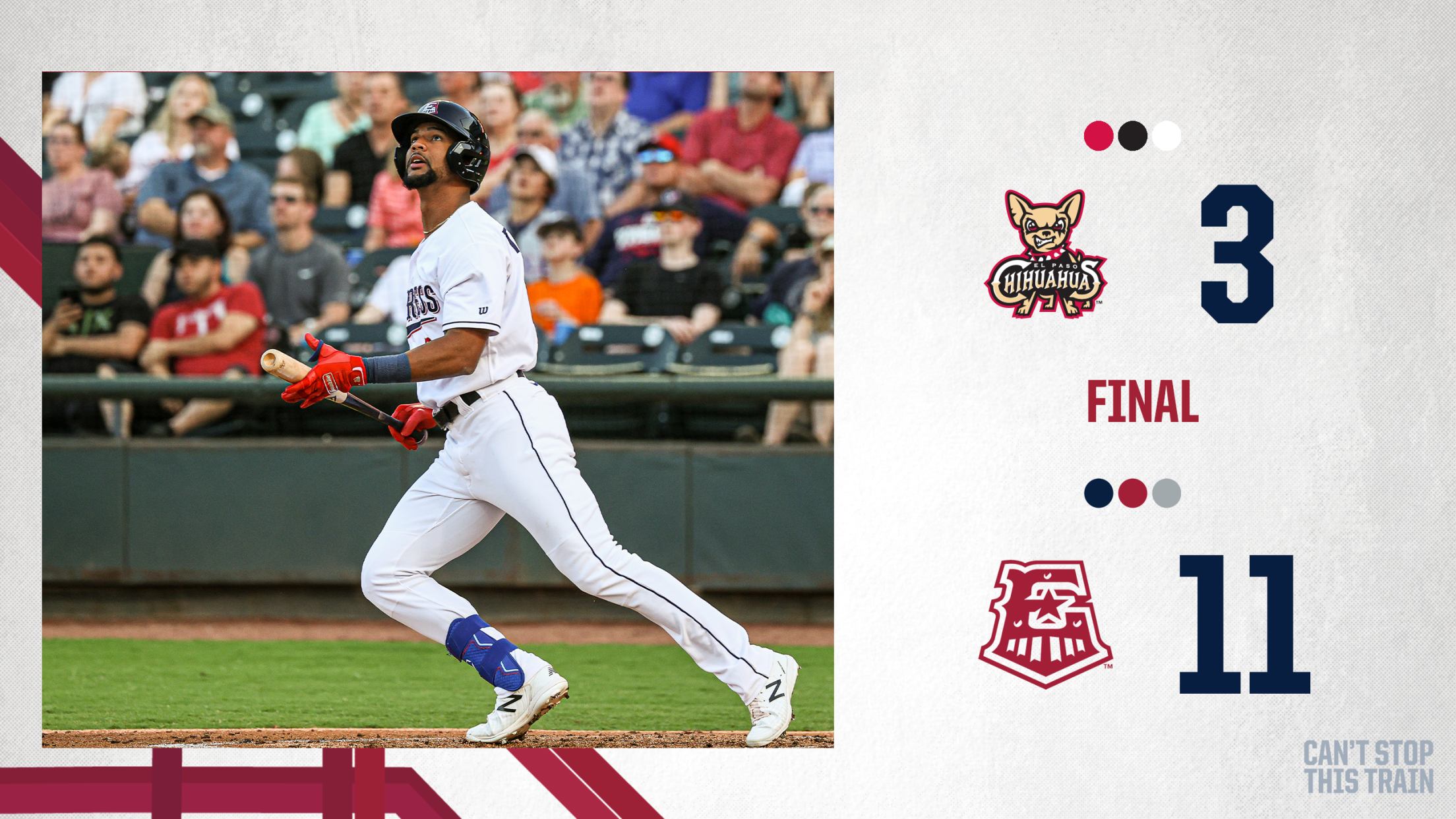 ROUND ROCK, Texas – The Round Rock Express (1-3) claimed its first win of the season on Friday night, defeating the El Paso Chihuahuas (3-1) by a score of 11-3 at Dell Diamond. The E-Train posted a six-run second inning en route to the game four victory. Round Rock reliever
ROUND ROCK, Texas – The Round Rock Express (1-3) claimed its first win of the season on Friday night, defeating the El Paso Chihuahuas (3-1) by a score of 11-3 at Dell Diamond. The E-Train posted a six-run second inning en route to the game four victory.
Round Rock reliever LHP Tyler Thomas (1-0, 3.00) earned the night's win after tossing for 3.0 innings that saw one run on two hits and one walk with two punchouts. El Paso starter LHP Ramon Perez (0-1, 45.00) went home with the loss after allowing six runs, five earned, on six hits and two walks with no strikeouts during his 1.0 inning on the bump.
Along the Train Tracks:
The first batter of the game earned the first run as El Paso RF Luis Liberato scored on a single from LF Taylor Kohlwey after hitting a leadoff double.

Round Rock posted two runs of their own in the bottom of the frame when LF Leody Taveras hit a single before stealing second. RF Zach Reks drew a walk to join him on base before an El Paso error scored Taveras and moved Reks to third. Reks scored on a single from 1B Matt Carpenter.

The Express plated six runs in the third frame, which was highlighted by a 394-foot three-run home run from DH Sam Huff, his first of the season. Other Round Rock runners scored on a combination of one double, two singles, two stolen bases and an El Paso error. The good guys took an 8-1 lead into the third.

Round Rock reached double digits, taking a 10-1 lead in the bottom of the third inning. 2B Ryan Dorow and CF Bubba Thompson knocked back-to-back leadoff singles then scored thanks to a bases-loaded walk and groundout, respectively.

Both teams put a one run on the board each in the fifth frame. Kohlwey launched a solo home run for the Chihuahuas in the top of the inning before Taveras scored for the Express on a single from C Yohel Pozo after hitting his second double of the night.

El Paso added one more in the ninth as Liberato blasted his own solo home run onto the center-field shed.
E-Train Excerpts:
LF Leody Taveras finished 5-5 on the night with two doubles, marking his first career five-hit game. He is the 22nd player in franchise history to collect five hits in a single contest. He also is the 11th of those 22 to finish a perfect 5-5.

In RHP Cole Winn's first start of the season, the No. 3-rated Texas prospect threw 4.0 innings that included two hits, one run, two walks and two strikeouts.

Four Express batters finished with multi-hit performances, including Taveras (5-5), DH Sam Huff (3-4), CF Bubba Thompson (2-5) and 2B Ryan Dorow (2-3).

Huff led Round Rock with three RBI, all being recorded on his home run hit.

1B Matt Carpenter and 3B Nick Tanielu made their offensive debuts for the E-Train. Carpenter finished 1-5 with one RBI and one strikeout while Tanielu also hit 1-5.

For the second straight contest, a position player took the mound, this time for El Paso. C Webster Rivas took the mound for the Chihuahuas in the eighth inning and tossed a scoreless frame that saw a double play.
Next up: Game five between Round Rock and El Paso is set for a 6:05 p.m. first pitch on Saturday night. Express RHP Glenn Otto (--) is due up for the start while LHP MacKenzie Gore (--) is scheduled to take the mound for the Chihuahuas.
Single game tickets as well as full season and mini season membership plans are on sale now. For more information about the Express, visit RRExpress.com or call (512) 255-2255. Subscribe to the E-Train email newsletter and keep up with the Express on Facebook, Instagram and Twitter!