Reno Uses Early Scoring to Take Game Two 5-3 Over Round Rock
Express Three-Run Rally Isn't Enough in Loss to Aces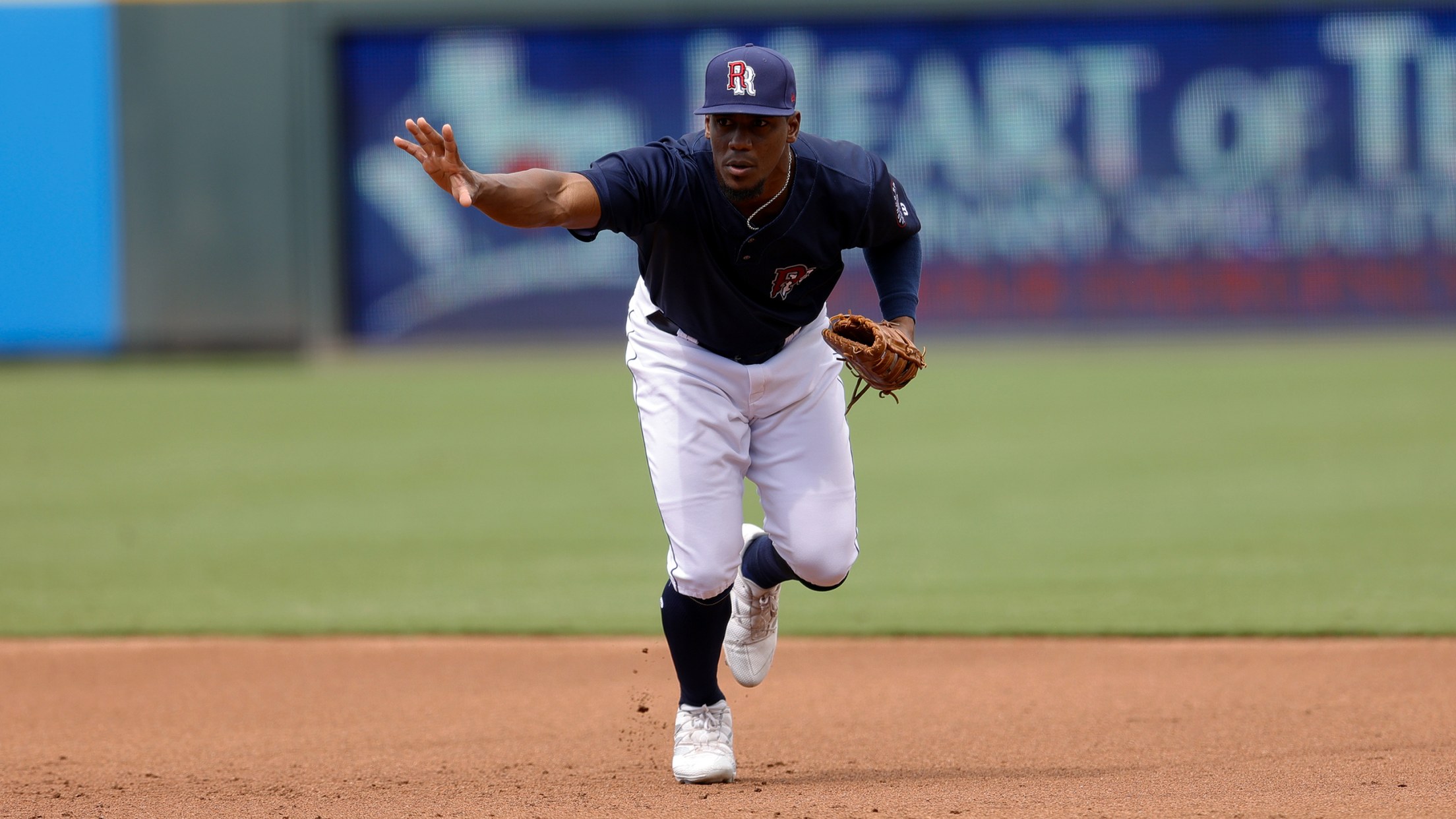 (Eddie Kelly/ProLook)
RENO, Nevada – The Round Rock Express (34-34) dropped game two to the Reno Aces (42-26) on Friday night at Greater Nevada Field in a 5-3 final. RHP Joe Gatto and RHP Jharel Cotton held Reno off the board for the final 5.2 innings, but the E-Train offense couldn't close
RENO, Nevada – The Round Rock Express (34-34) dropped game two to the Reno Aces (42-26) on Friday night at Greater Nevada Field in a 5-3 final. RHP Joe Gatto and RHP Jharel Cotton held Reno off the board for the final 5.2 innings, but the E-Train offense couldn't close the two-run gap.
Round Rock RHP Collin Wiles (2-1, 5.14) was tagged with his first loss of the season after allowing five runs on five hits and three walks during his 2.1-inning start. Reno RHP Keury Mella (1-0, 4.50) earned the win with one perfect inning of relief that saw one strikeout.
Reno plated the first runners of the contest as three Aces crossed home in the second inning. LF Henry Ramos worked a leadoff walk and, after one out, was joined on base as 2B Christian Lopes drew a walk of his own before a single from SS Juniel Querecuto loaded the bases. DH Jose Herrera sent all three baserunners home with a triple to right-center field, giving Reno a 3-0 lead.
The Aces increased their advantage in the next frame to 5-0. Reno 1B Seth Beer knocked a one-out base hit then advanced to second on a wild pitch before Ramos hit an RBI double to score Beer and take his spot in scoring position. RF Jake McCarthy sent Ramos home on a double of his own, but was stranded at second as Gatto entered the game to record the inning's final two outs.
After four hitless frames for the Express, 2B Delino DeShields earned a base hit in the sixth and moved into scoring position on a passed ball. DH Yohel Pozo sent his second baseman home with a single for the first Round Rock run.
Round Rock plated a second in the seventh inning as CF Leody Taveras and 3B Yonny Hernandez found spots on base with a walk and hit by pitch, respectively. Both stole their next bases before SS Ryan Dorow worked a walk to load the bases. A wild pitch from Reno RHP Ty Tice allowed Taveras to score, trimming the Aces lead to 5-2. With one out, RHP J.B. Bukauskas took the mound for Reno, closing out the inning with a strikeout and fly out.
The Express got within striking distance, scoring a third run in the eighth when 1B Elier Hernandez was driven home thanks to a Taveras triple after recording a base hit. Reno halted Round Rock's rally efforts with a fly out to end the eighth frame while LHP Miguel Aguilar threw for a 1-2-3 ninth inning, earning the save and securing the 5-3 final.
Round Rock looks to regain the series lead over Reno with game three at Greater Nevada Field on Saturday night. Express RHP Drew Anderson (4-5, 3.45) is scheduled for the start against Reno RHP Humberto Castellanos (4-1, 5.10). First pitch is set for 8:35 p.m. CT.
Single game tickets as well as full season and mini season membership plans are on sale now. For more information about the Express, visit RRExpress.com or call (512) 255-2255. Subscribe to the E-Train email newsletter and keep up with the Express on Facebook, Instagram and Twitter!