Round Rock Surges Ahead in Late Innings for Win Over Sugar Land
Five-Run Sixth Frame Helps Push Express Over Space Cowboys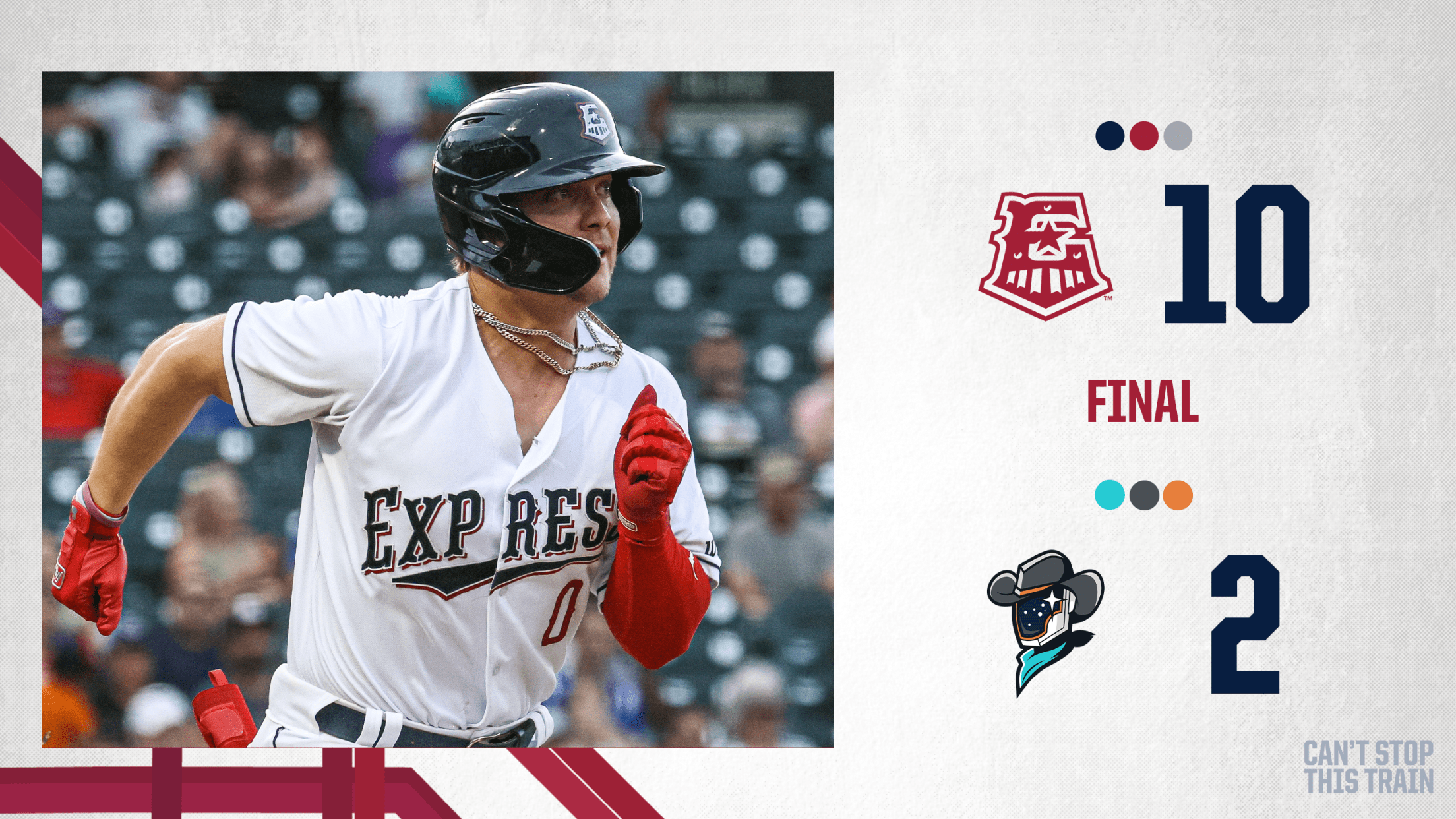 (Andy Nietupski / TTL Sports Media)
SUGAR LAND, Texas – The Round Rock Express (55-46) rolled over the Sugar Land Space Cowboys (43-58) with a 10-2 victory at Constellation Field on Wednesday night. The Express scored at least one run during each of the final four innings to clinch the win in game two. Round Rock
SUGAR LAND, Texas – The Round Rock Express (55-46) rolled over the Sugar Land Space Cowboys (43-58) with a 10-2 victory at Constellation Field on Wednesday night. The Express scored at least one run during each of the final four innings to clinch the win in game two.
Round Rock RHP Spencer Patton (4-2, 3.42) earned the night's win after allowing just one hit and striking out three batters during a 2.0-inning relief outing. Sugar Land RHP Jimmy Endersby (0-2, 10.29) took the loss after tossing 0.2 innings out of the bullpen that saw five earned runs on three hits and three walks.
Along the Train Tracks:
Round Rock jumped on the board early as CF Bubba Thompson led the game off with a triple. After the first out of the inning, 1B Andy Ibáñez sent his teammate home with a double for a 1-0 lead in the first.
The second inning saw Sugar Land take over for a 2-1 lead. CF Lewis Brinson knocked a leadoff double before advancing to third when C Yainer Diaz grounded out. After LF Taylor Jones worked a walk, Brinson crossed home on a Korey Lee groundout. Jones then scored thanks to a single from 2B Pedro Leon.
After three scoreless frames, the Express dropped a five-spot in the sixth to re-gain the game's lead. With one out, Ibáñez and C Sam Huff worked back-to-back walks before LF Steele Walker singled to score Ibáñez and tie the game at 2-2. A walk from 2B Diosbel Arias loaded the bases.
Scoring continued as a two-RBI single from 3B Nick Tanielu sent Huff and Walk across home plate. After the inning's second out was recorded on a pop out, SS Ryan Dorow scored Arias and Tanielu with a double to right field and increased Round Rock's advantage to 6-2.
The E-Train added to their lead with one run in both the seventh and eighth innings. RF Steven Duggar scored in the seventh on a single from Walker while Dorow made it an 8-2 game after scoring on a Space Cowboys error in the eighth.
Round Rock tacked on two additional insurance runs in the ninth for a 10-2 lead. Huff and Walker drew consecutive walks to start the inning before the two moved into scoring position on a wild pitch. Both runners went on to score via groundouts from Arias and Tanielu, respectively.
E-Train Excerpts:
Three Express batters recorded multiple hits as CF Bubba Thompson, 1B Andy Ibáñez and LF Steele Walker each tallied two apiece. 3B Nick Tanielu led the team with three RBI while both Walker and SS Ryan Dorow totaled two.
Round Rock's bullpen combined to throw 6.0 shutout innings that only saw three total hits while the four pitchers struck out eight Sugar Land batters. Along with Patton's winning performance, RHP Demarcus Evans threw two strikeouts during 1.0 frame, LHP John King punched out two over 2.0 innings and RHP Jesus Tinoco recorded two Ks during the ninth inning.
E-Train starter RHP Tyson Miller tossed 3.0 frames and allowed two earned runs on three hits and four walks with two strikeouts.
After allowing the Space Cowboys 12 free passes on Tuesday night, the Express earned eight and allowed four on Wednesday. C Sam Huff drew two walks while all other Round Rock batters, except for Thompson and DH Josh Sale, earned one of their own.
Next up: Round Rock and Sugar Land face off in game three on Thursday night at Constellation Field. Express LHP Cole Ragans (3-2, 3.32) is currently scheduled to make the start on the bump against Space Cowboys RHP Forrest Whitley (0-1, 12.46). First pitch is set for 7:05 p.m.
Single game tickets as well as full season and mini season membership plans are on sale now. For more information about the Express, visit RRExpress.com or call (512) 255-2255. Subscribe to the E-Train email newsletter and keep up with the Express on Facebook, Instagram and Twitter!