Thompson, Martinez Fuel Express to Saturday Night Victory 
The Two Outfielders Combine for Two Homers, Four RBI and Six Runs Scored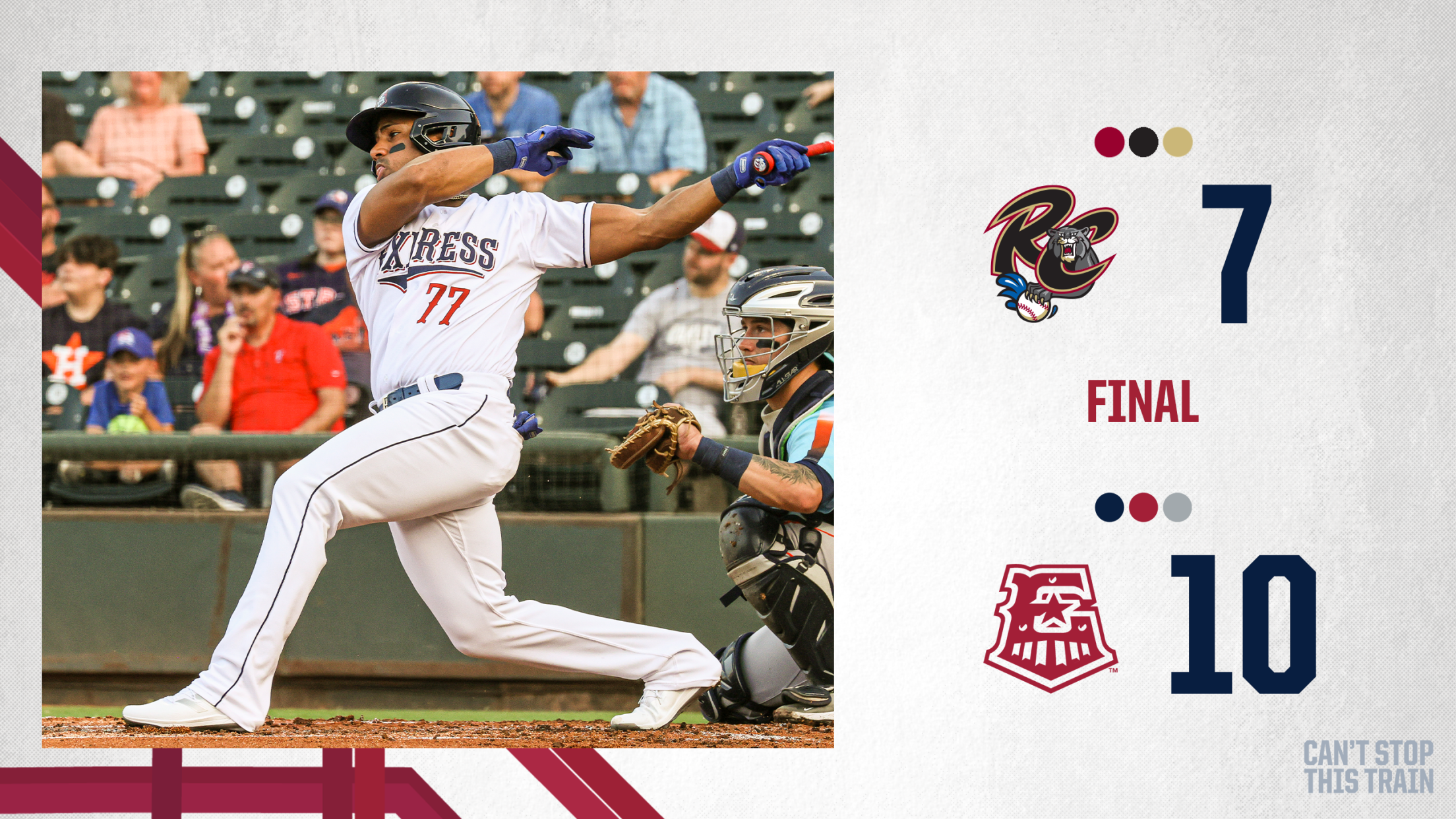 (Andy Nietupski / TTL Sports Media)
ROUND ROCK, Texas – Saturday night saw the Round Rock Express (53-45) collect a 10-7 win for their third consecutive victory over the Sacramento River Cats (42-56) at Dell Diamond. The E-Train look for the series win in tomorrow night's contest. Round Rock reliever RHP Spencer Patton (3-2, 3.70) took
ROUND ROCK, Texas – Saturday night saw the Round Rock Express (53-45) collect a 10-7 win for their third consecutive victory over the Sacramento River Cats (42-56) at Dell Diamond. The E-Train look for the series win in tomorrow night's contest.
Round Rock reliever RHP Spencer Patton (3-2, 3.70) took home the win after a 1.1-inning performance that saw one earned run, one hit, one walk and three strikeouts. Sacramento starter RHP Norwith Gudino (2-4, 9.33) went home with the loss after 3.0 innings while allowing three earned runs on four hits, zero walks and six strikeouts.
Along the Train Tracks:
Sacramento took a 2-0 lead in the first inning. CF Bryce Johnson walked to start the game. With two outs, 1B Andrew Knapp came up and drilled a two-run home run to left field.
Round Rock had the answer with their own two-run bomb in the bottom of the frame. After a leadoff single for CF Bubba Thompson, LF J.P. Martinez lifted his second home run in as many days. The 425-foot blast tied the game at two.
C Matt Whatley put the Express in front in the third inning. His solo home run cleared the fence in left field and the E-Train rumbled to a 3-2 advantage.
Round Rock extended the lead in the fifth inning thanks to two hits, three Sacramento errors and a passed ball. 3B Andy Ibáñez collected two RBI when he scored Thompson and Martinez on a single. Ibáñez later scored on a passed ball and the Express held a 6-2 lead.
River Cats 2B Isan Díaz led the sixth inning off with his 20th home run of the season. His fly ball to left field snuck over the fence and traveled just 345 feet to cut the E-Train lead at 6-3.
Sacramento added another run in the seventh inning. 1B Austin Dean singled and Knapp doubled to put men on second and third base. Díaz grounded out to score Dean and the River Cats trailed 6-4.
With one out in the bottom of the seventh inning, Martinez walked before Ibáñez rolled a double down the left field line to score his teammate and Round Rock pushed the lead to 7-4.
Whatley drove in his second run of the night on an RBI single in the eighth inning. A leadoff double for 1B Josh Sale, followed by a sacrifice bunt for SS Ryan Dorow advanced Sale to third base. Whatley singled to score Sale and the Express led 8-4.
Thompson put the cherry on top with a two-run shot to left field. His 13th home run of the year extended the lead to 10-4. Despite a late three-run home run from Sacramento LF Ka'ai Tom in the ninth inning, the River Cats couldn't complete the comeback and the E-Train rolled to a 10-7 win.
E-Train Excerpts:
LF J.P. Martinez has hit three home runs in his first seven games as a member of the Express. He homered for the second consecutive night and finished Saturday 1-for-2 with a home run, two RBI, three runs scored and two walks.
The E-Train committed five errors for the first time this season. The previous high was four errors back on April 29 at Salt Lake.
Express RF Bubba Thompson and 3B Andy Ibáñez each had three hits while C Matt Whatley earned his first multi-hit game of the season with two. Whatley's home run was the first of his Triple-A career.
Next up: Round Rock and Sacramento get ready for the series finale on Saturday night at Dell Diamond. Express RHP Cole Winn (6-1, 5.93) is slated for the start in the series finale against River Cats RHP Tristan Beck (3-6, 6.85). Tomorrow's first pitch is scheduled for 6:05 p.m.
Single game tickets as well as full season and mini season membership plans are on sale now. For more information about the Express, visit RRExpress.com or call (512) 255-2255. Subscribe to the E-Train email newsletter and keep up with the Express on Facebook, Instagram and Twitter!