Back-to-Back Pitcher of the Week Award for Andrew Hoffmann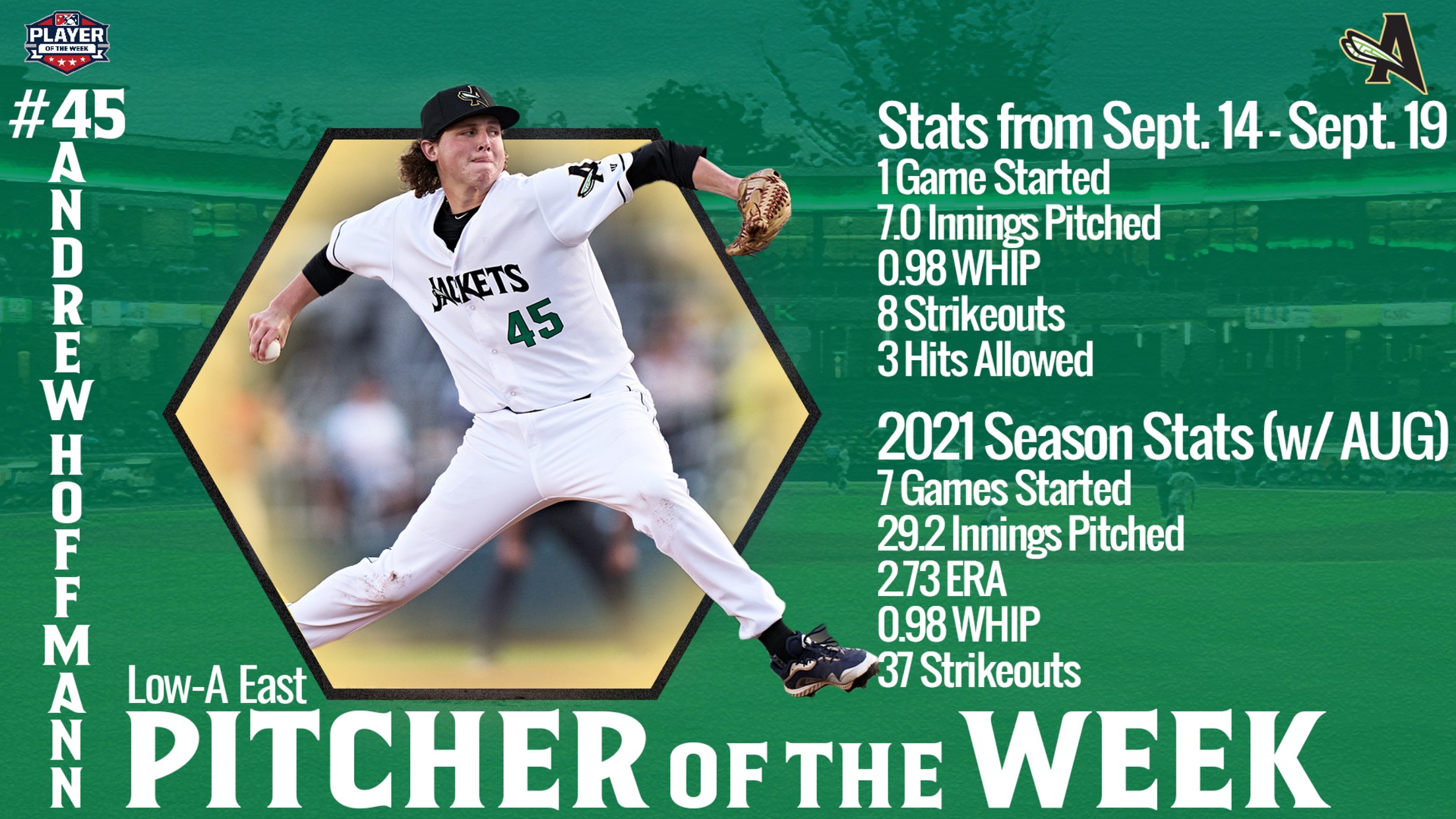 North Augusta, SC – Right-hander, Andrew Hoffmann, earns his second Low-A East Pitcher of the Week award for his outing on September 15th against the Myrtle Beach Pelicans (Chicago Cubs). Hoffman pitched seven innings with only three hits against him, striking out eight in the 4-0 win. Hoffmann joined the
North Augusta, SC – Right-hander, Andrew Hoffmann, earns his second Low-A East Pitcher of the Week award for his outing on September 15th against the Myrtle Beach Pelicans (Chicago Cubs). Hoffman pitched seven innings with only three hits against him, striking out eight in the 4-0 win.
Hoffmann joined the GreenJackets on August 3rd, rounding out the 2021 season with an ERA of 2.73 in seven games, going 2-2. Since his last Pitcher of the Week award, he's raised his strikeouts to 37 in a total of 29.2 innings.
In 2021 Your GreenJackets won the following Low-A East Pitcher of the Week awards:
September 14th-19th – Andrew Hoffmann
September 6th – 12th – Andrew Hoffmann
August 9th – 15th – Joey Estes
July 5th – 11th – Tanner Gordon
June 28th – July 4th – Joey Estes
May 31st – June 6th – Darius Vines
Join us for these other offseason events at SRP Park, to learn more visit: www.thesrppark.com:
· CSRA Walk for Water at SRP Park – Saturday, October 2nd
o Learn more or register: https://csrawalk4water.com
· Indigo Road Presents – Shinedown with special guests Candlebox and Zero 9:36 – Thursday, October 7th
o Learn more or to purchase tickets visit: bit.ly/ShinedownSRPPark
· Complete Game Fall Classic Baseball Tournament – October 16th & 17th
o More information visit: www.playpscg.com
· Dugout Movie Theater presents Hocus Pocus – Friday, October 29th
o More information or tickets visit: https://www.milb.com/augusta/community/gj-dugout-theater
· Palmetto Peach Half Marathon, 10k, 5k – Saturday, November 27th
o Learn more or to register visit: https://runsignup.com/Race/SC/NorthAugusta/PalmettoPeachHalfMarathon
· 8th Annual Auggie's Holiday BUZZar & Toys for Tots Drive – Saturday, December 11th
o Learn more or register to be a vendor: https://www.milb.com/augusta/community/auggies-fall-market
The MLB Mandated clear bag policy is in effect for the 2021 season. Click **here **for a complete rundown of SRP Park Event Rules.
To stay up to date on all things GreenJackets and Events at SRP Park by following us on Facebook, Instagram and Twitter and sign up for the 'Jackets Buzz e-newsletter today by visiting https://bit.ly/AGJBuzz.
* * *
About SRP Park/Augusta GreenJackets
2022 Augusta GreenJackets season seat memberships are on sale now. To learn more about the benefits and to get in on the action, visit www.gjmembers.com or call (803) 349-WINS (9467).
SRP Park is the anchor piece of Riverside Village, a live, work, "playball" development which includes apartment living, retail, restaurants, class "A" office space, and a Crowne Plaza Hotel and Conference Center. To learn more about SRP Park and hosting events and availability, visit www.thesrppark.com.
- GreenJackets -