World Baseball Classic rosters filled with current and former Bisons
A total of 33 current and former Bisons are taking part in WBC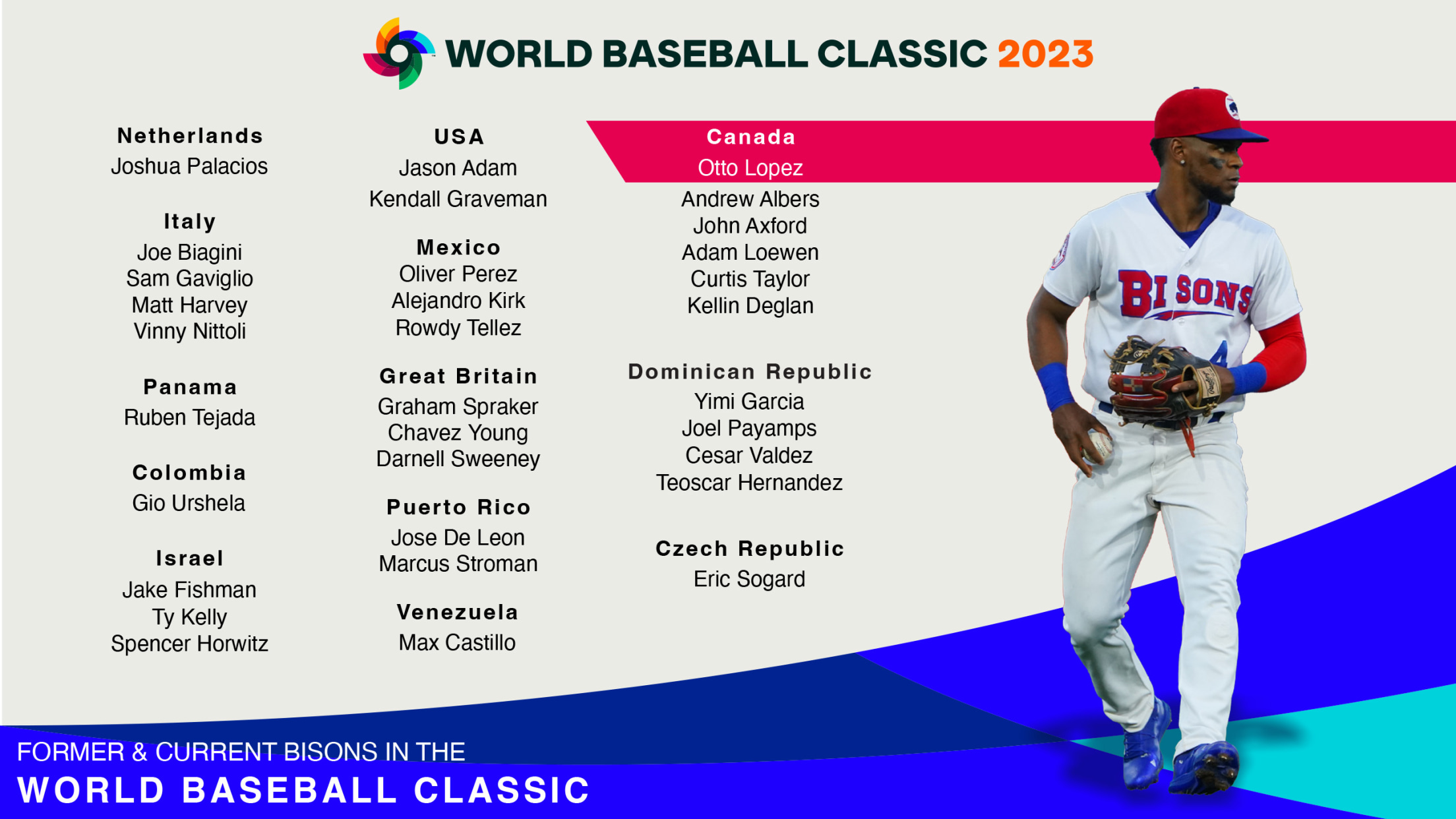 BUFFALO, NY - The Buffalo Bisons are well represented at the 2023 World Baseball Classic, boasting 33 current or former players that have accepted invitations to play in the tournament. There is at least one former member of the Herd on 13 teams out of 20 in the field. The
BUFFALO, NY - The Buffalo Bisons are well represented at the 2023 World Baseball Classic, boasting 33 current or former players that have accepted invitations to play in the tournament. There is at least one former member of the Herd on 13 teams out of 20 in the field.
The most recognizable name to represent his country is 1B Vladimir Guerrero Jr., who is one of five players selected to represent the Dominican Republic. However, a knee injury suffered during a Spring Training game last week will keep the slugger out of the WBC in preparations for the Toronto Blue Jays regular season. Guerrero Jr. was scheduled to join OF Teoscar Hernandez, in addition to RHPs Yimi Garcia, Joel Payamps, and Cesar Valdez.
Six players total, including four from the 2021 Bisons roster, will represent Team Canada, the most of any nation in the tournament. Former Bison backstop Kellin Deglan and RHP Curtis Taylor join former Canisius College stand-out and 11-year Major League veteran John Axford, along with the 2022 Jimmy Griffin Hometown Hero award winner UTL Otto Lopez.
Left handers Andrew Albers and Adam Loewen round out the group representing Canada. Loewen appeared in 60 games for the Herd between 2012 and 2013 and primarily served as a first baseman. He also made 19 starts in right field for the team.
A pair of ex-Bisons will wear the stars and stripes for Team USA to try and defend the 2017 championship. Righties Jason Adam and Kendall Graveman are part of the American's pitching staff that is part of the five-team Pool C.
Starter Marcus Stroman helped lead the US to the championship six years ago and was named to the All-World Baseball Classic Team. This time around Stroman is representing Puerto Rico, along with 2022 Bisons reliever Jose De Leon.
Former Bison teammates Joe Biagini and Sam Gaviglio are reuniting to pitch for Italy this year. They are two of the four ex-Bison pitchers on the roster. Reliever Vinny Nittoli and starter Matt Harvey are also pitching for manager Mike Piazza and the Italians.
First baseman Rowdy Tellez is one of three former Bisons that will represent Mexico in this year's WBC. Tellez's former teammate Alejandro Kirk and ex-Bison lefty Oliver Perez will also appear for the team.
A pair of 2022 members of the Herd will suit up for Great Britain. Righty Graham Spraker made 29 appearances for Buffalo last season, including his first career Triple-A victory. He will be joined by the 2022 Fremo Vallone Community Service Award winner, OF Chavez Young. For Bison utilityman Darnell Sweeney is on the team as well.
Team Israel has a trio of Bisons on their roster for the tournament. Infielder Spencer Horwitz was a mainstay for the team in the second half of the 2022 season, appearing in 44 games with the team. Horwitz is accompanied by INF Ty Kelly, as well as LHP Jake Fishman.
Outfielder Joshua Palacios will be representing the Netherlands, while Ruben Tejada is playing for his native Panama, Gio Urshela accepted an invitation to play for Colombia, and Max Castillo is part of the pitching staff for Venezuela. Also, Czech Republic is getting a dose of 'Nerd Power' with the addition of Eric Sogard to their roster.