Bisons win big on Opening Day, 8-3
Waguespack deals, Biggio homers as Herd opens with win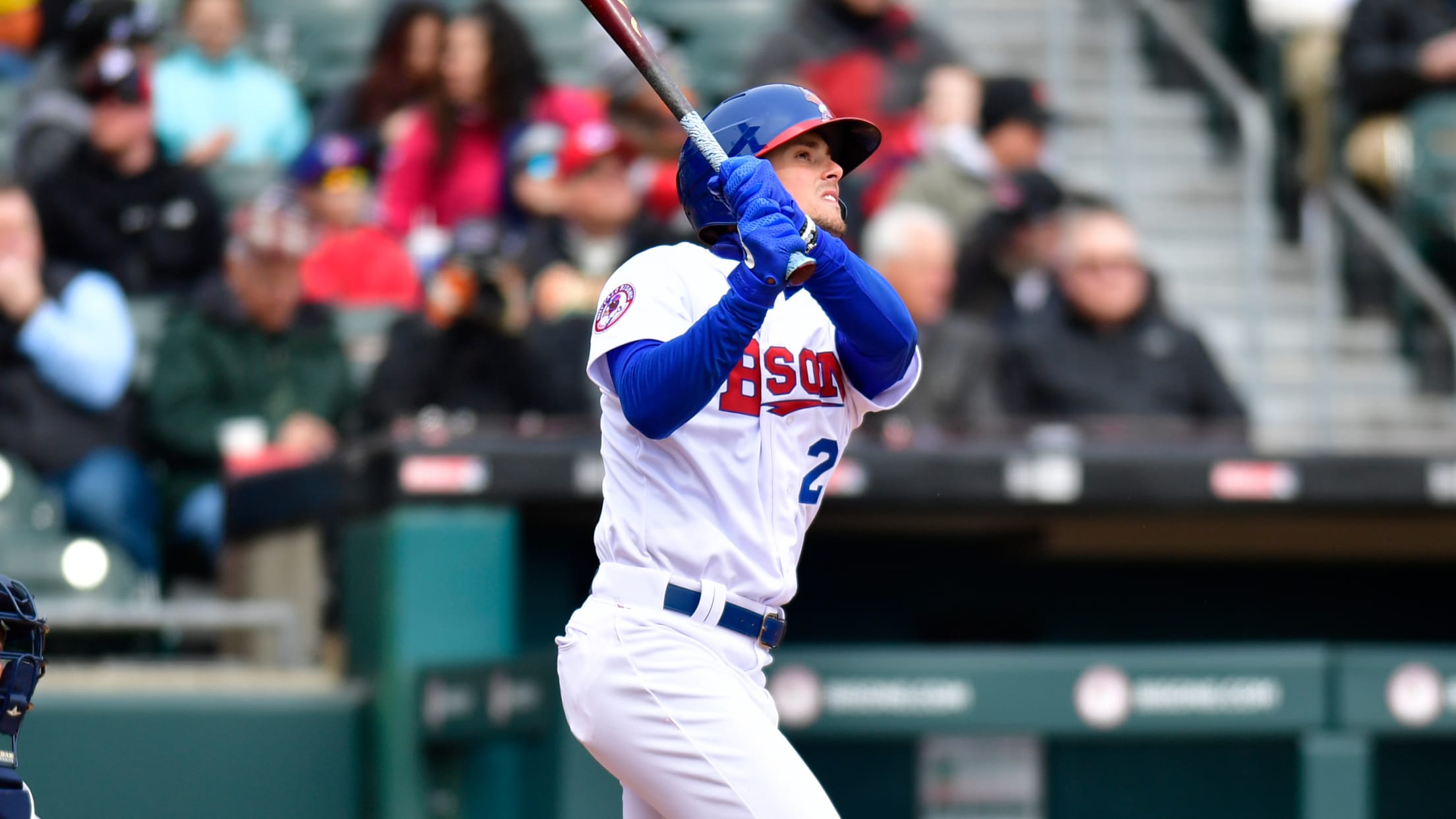 Cavan Biggio launches his first career Triple-A home run in an 8-3 Bisons win (Michael Majewski)
The start of a new season can sometimes be nerve-wrecking. That wasn't the case for Bisons starter, Jacob Waguespack. Acquired from the Phillies at last season's trade deadline, Waguespack allowed just one run on six hits in six innings of work and struck out eight batters in the team's 8-3 victory
The start of a new season can sometimes be nerve-wrecking. That wasn't the case for Bisons starter, Jacob Waguespack.
Acquired from the Phillies at last season's trade deadline, Waguespack allowed just one run on six hits in six innings of work and struck out eight batters in the team's 8-3 victory over the Scranton/Wilkes-Barre RailRiders in front of a crowd of 12,898 on Thursday afternoon at Sahlen Field. Cavan Biggio added a three-hit game in his Triple-A debut as the Herd never trailed in its 2019 season opener.
Waguespack was dialed in early, striking out a pair of batters in each of the first two innings and seven over his first four frames of work. The righty didn't allow more than one base runner until the fifth, when the RailRiders plated their only run of the game against him.
"I was just trying to be aggressive," Waguespack said. "Just trying to come out and set the tempo and I think I only shook twice with Reese (McGuire) behind the plate. He knows me and he was giving me some good locations and we were pounding the ball inside and going back outside as well. I was just pitching through Reese."
"He was really good, right away," said manager Bobby Meacham. "He stayed away from the middle of the plate and he threw a really good changeup. The ball's really diving on them, they couldn't catch up to that. It felt really good to see him in the zone but away from the middle of the zone. He threw a lot of strikes and you saw the result."
Another big result that Meacham was pleased about was the production of the Herd's at-bats, especially their hot start on what was a crisp afternoon. Buffalo attacked out of the gate with a three-run, three-hit outburst in the bottom of the first inning. The brigade began with an RBI double from Eric Sogard followed by an RBI single from Anthony Alford, and later, a groundout from Andy Burns.
But it was Biggio's two-run home run to right field off former major league starter Gio Gonzalez in the third inning that was the stand-out moment of the game. Biggio, the son of MLB Hall of Famer Craig, said the hit was just an example of staying in the zone and everything else will pay off.
"My first at-bat, I swung first-pitch fastball pretty hard," he said. "Second at-bat, still looking for the fast-ball. Starting it off with two breaking balls… Then he tried to sneak a fastball inside and I just stuck to my approach and put a good swing on it."
Meacham was also impressed with his second baseman's three-hit performance.
"I saw this all spring," he said. "It looks like lefty, righty, it doesn't matter…. This looks like he has no problems. If they make a good pitch, they'll get him. But if they don't, he can make them pay."
After Biggio's two-run shot to right field in the third inning to make it a 5-0 lead, the Herd dominated again in the following frame with three more runs on four hits. The rally started with back-to-back hits from Reese McGuire and Andrew Guillotte. Roemon Fields brought McGuire home on an RBI single followed by an RBI for Bo Bichette after reaching on an error from RailRiders shortstop Gosuke Katoh for a 7-0 lead. Sogard then recorded the final Bisons' run of the night with a sacrifice hit.
As they prepare for the second game of the four-game series against the RailRiders Friday evening, Meacham hopes the players can stay dialed in like they did in Game One.
"What you saw today (from the offense) was a lot of focus," the third-year manager said. "I saw guys lay off pitches that were close, to make it tough on the pitcher…. Those guys aren't going up there to take, they're going up there for good pitches and lay off the tough pitches. I think that's what we looked at today and I hope that's what we continue to do."