Bisons release 2024 playing schedule
Opening Day at Sahlen Field set for Friday, March 29, 2024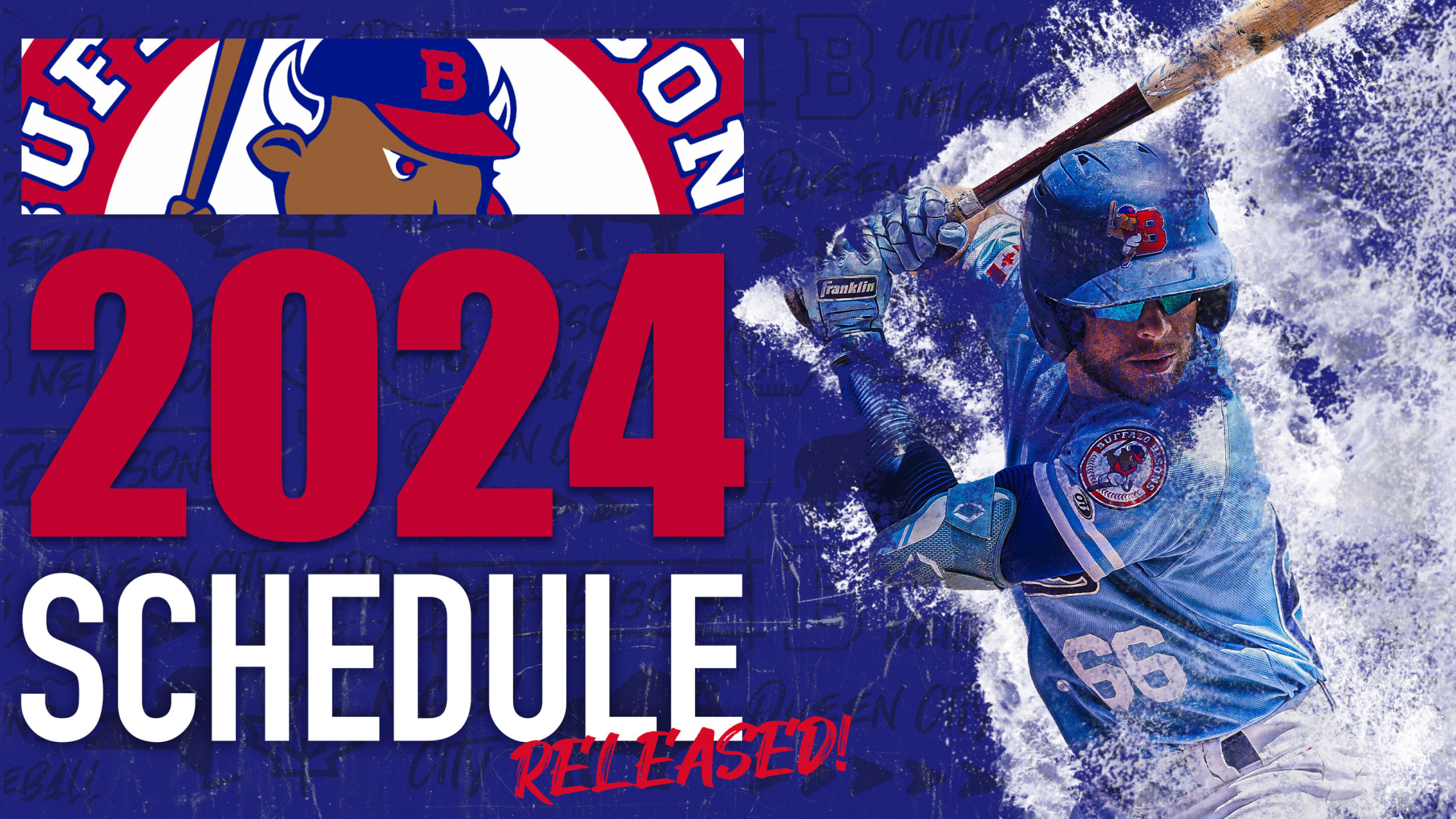 DOWNLOAD: 2024 Buffalo Bisons Schedule The Buffalo Bisons today released their 2024 Game Schedule for the 139th season of professional baseball in Buffalo with Opening Day set for Friday, March 29, 2024 as the Herd hosts the Scranton/Wilkes-Barre RailRiders at Sahlen Field. The 150-game schedule will feature 13 home weekends
DOWNLOAD: 2024 Buffalo Bisons Schedule
The Buffalo Bisons today released their 2024 Game Schedule for the 139th season of professional baseball in Buffalo with Opening Day set for Friday, March 29, 2024 as the Herd hosts the Scranton/Wilkes-Barre RailRiders at Sahlen Field.
The 150-game schedule will feature 13 home weekends in downtown Buffalo and 36 home games in either June, July or August (an increase of two from the 2023 season). In 2024, the Bisons will also be home for Mother's Day (May 12), Father's Day (June 16), Memorial Day Weekend (May 24-26) and on July 3rd for the 28th Annual KeyBank Independence Eve with the Buffalo Philharmonic Orchestra.
Game times and a full promotional schedule for the 2024 season will be announced at a later date.
Highlights of the Bisons 2024 Game Schedule include:
13 Weekends at Sahlen Field with 39 of 75 home games (52%) to be played on either a Friday, a Saturday or a Sunday.
A nine-game homestand, June 25-July 3, just as area schools end to welcome kids to summer and lead into the 28th Annual KeyBank Independence Eve celebration.
Home games on both Mother's Day (May 12) and Father's Day (June 16).
The Bisons season-opening homestand of March 29-31 represents the first time the Herd will play home games in March in franchise history.
Three home series each against the team's closest rival, the Rochester Red Wings (April 9-14, July 1-3 & August 6-11) and two series against the Syracuse Mets (June 25-30 & July 23-18).
The Bisons will welcome the Omaha Storm Chasers to Sahlen Field for the teams' first meeting since the 1997 season when the Triple-A affiliate of the Royals were called the Omaha Royals.
There will be three weekends the Bisons fans can see the Herd battle the Triple-A affiliate of the New York Yankees (March 29-31, July 19-21 & September 17-22) with two more home series against the Triple-A affiliate of the Boston Red Sox (May 7-12, June 11-16).
The vast majority of series will once again be six games in length. The Bisons will face 12 of the other 19 teams in the International League. Schedule is subject to change. Ticket availability for the 2024 season is to be announced..