Herd Chronicles: Andy Burns' road back to the Herd
Fan-favorite is back with Bisons after 2-year stint in KBO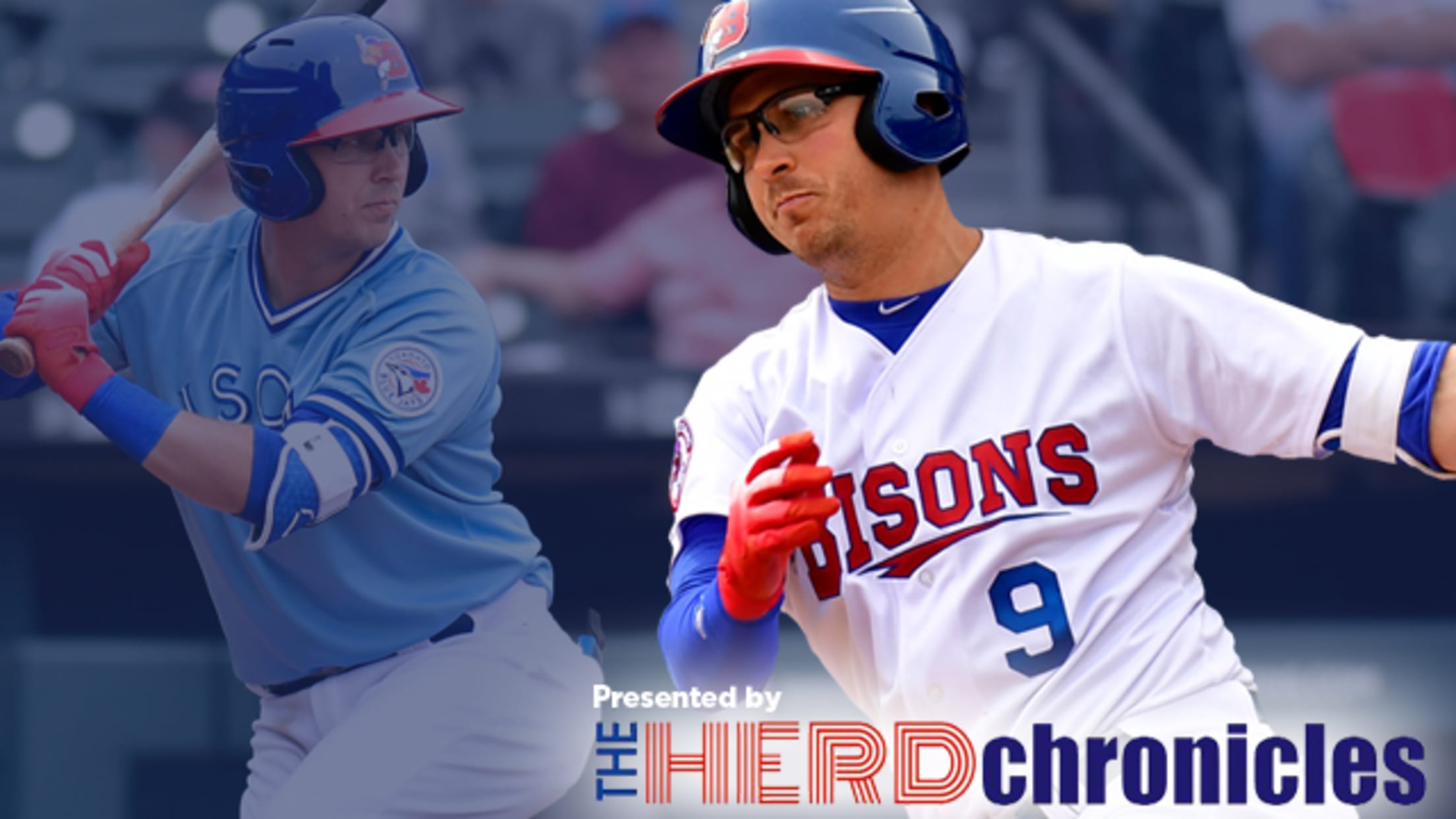 This article is written by Brian Frank of HerdChronicles.com, a website dedicated to some of the many great stories from the storied history of the Buffalo Bisons. Frank has done extensive research on the early days of the Bisons and shares tremendous stories about the team and baseball in the
This article is written by Brian Frank of HerdChronicles.com, a website dedicated to some of the many great stories from the storied history of the Buffalo Bisons. Frank has done extensive research on the early days of the Bisons and shares tremendous stories about the team and baseball in the Queen City that are must reads for Buffalo sports fans. Follow them on twitter as well, @HerdChronicles
Andy Burns' baseball journey has taken him halfway around the world and, fortunately for Buffalo baseball fans, back to the Queen City. The Bisons couldn't be happier to have their versatile team leader back in the fold. Mike Buczkowski, President Rich Baseball Operations/General Manager of the Bisons, expressed the organization's delight in having Burns return to the Herd: "It's great to have him back. When he was here the first time, even as a younger player, you could see that Burnsie was a leader type. A guy that, to be honest, you don't see as many as you used to see. Very unselfish player. It's about 'we' for him and not 'me'. It's always team first with him."
Burns starred for the Herd in 2015 and 2016, playing numerous positions around the infield and outfield, and established himself as a fan favorite. The Bisons Booster Club voted him the team's "unsung hero" in 2015 and as their "favorite player" in 2016. After getting a taste of the major leagues in 2016, playing 10 games with the Blue Jays, he decided to take his talents overseas to play with the Lotte Giants of the KBO League in South Korea. "It was a tough decision," Burns recalled. "I mean, you work your whole life to play in the major leagues, not to play overseas, but at the same time, there's a responsibility to take care of your family and with some of the contracts that you can get over there. It's hard to pass that up and pass up the opportunity to set up your family moving forward." Burns added that he wasn't giving up on his major-league dreams during his sojourn in Asia: "I looked at it as a different route to get to the big leagues, as opposed to giving up my opportunity to play in the big leagues. I think all in all, it was a great decision."
Burns quickly settled in as Lotte's second baseman, and put up solid numbers in his two seasons with the Giants. In his rookie season he hit .303, 15 HR, 57 RBI, and followed that up by hitting .268, 23 HR, 64 RBI, in his sophomore campaign. Besides playing for a new team in a new league, living in a foreign country offered up its own set of challenges, such as learning the nuances of a different culture and communicating in a different language. Asked if he picked up the Korean language while playing with Lotte, Burns replied: "Enough to get by day to day. There's certain phrases that you needed to know how to say. When you walk onto the field you had to say hello to everyone. And I learned food. I learned how to go into a restaurant and order what I wanted." He continued: "I think I grew a lot not only as a player, but as a person too. I always said that the common language was baseball. I have a lot of guys that I still keep in contact with over there. I really enjoyed my time there, but it definitely had its challenges as well."
Watch: Youtube Video
The atmosphere at games in Korea is quite different than in the U.S. or Canada. The cheering, chanting, and singing, creates a festive atmosphere. Burns noted that "They can have 25,000 people there and it's as loud as you can ever imagine. It's a fun place to play. It feels like it's the ninth inning every out." The Lotte fans made a cheer song to serenade Burns whenever he stepped to the plate, sang to the tune of the Hawaii Five-0 theme song. "It was cool, and it caught on and I think that's one thing that helped my popularity over there is that I had a good cheer song."
During his time playing in Korea, Burns had many memorable moments, but two that stood out for him were a stretch of games he considered the best week of his career, and a dramatic home run in front of a boisterous full house. He recalled: "I had probably the best week I've ever had in my career there. I had a six game homer streak with nine homers." He also hit a home run on a day to honor the Giants' home city of Busan, the second largest city in South Korea. A full house was on hand for Busan Day, a sea of fans cheering, chanting, and wearing special Busan jerseys, when Burns went deep. He remembered: "There were 25,000 people there and it was an electric crowd, and so hitting a home run in that game was pretty cool as well."
Burns' time with Lotte came to an end following the 2018 season. Each team in the KBO league is only allowed to carry three foreign players. Teams in the 10 team league almost always carry two pitchers and one position player. So, there are only 10 foreign position players in the entire league. "It's really competitive, and if the team doesn't win, there's not much they can do other than change out the foreigners. So you know, it was one of those deals where they decided to go in a different direction… Luckily the Blue Jays wanted me back, and I was happy to come back to the Blue Jays."
Returning to the Blue Jays, Burns came back to an organization where he'd played since being drafted in 2011 up to the time he left for Korea in 2017. But there were no guarantees he was going to wind up in Buffalo. When he signed back with the Blue Jays, Burns said "I didn't know if I was going to go to Double-A, or wherever." But he's happy he wound up in Buffalo, a city that he's familiar with and loves playing in. "Buffalo is a great city. Great fan bases throughout the whole city for all the sports teams… I'm definitely comfortable here."
Burns brings value to any team he's on, not only because of the type of player he is, but also because of the type of person he is. Buczkowski noted: "On the field, he's just incredibly valuable, because he can play a lot of positions. He's a line-drive hitter. But I think the intangibles that he brings with his leadership and his hard-nosed style of play, combined with his talent. When you combine all those things together, those are the kinds of guys who can go a long way as a player, and I think eventually, for me, he's going to make a pretty good coach or a manager.
Asked what his best memories of his first stint with the Herd were, Burns replied "I think more than anything it was the older guys and the relationships that I had with them, and I think remembering back what they were saying then, and how much more I understand now what they were saying." In his first season in Buffalo, Burns played alongside Matt Hague, during Hague's incredible MVP season in 2015, when he led the International League in numerous batting categories. "We had some older veteran guys. Obviously Matt Hague that first year and what he was doing. We still talk quite a bit. We had Randy Wolf who had 14 years of major-league experience. The next year… it was a lot of older guys. After coming back and now being the older guy, I understand more what they were trying to say and do than I did at the time. So I think for me knowing that, I'm coming back trying to help the younger guys any way I can."
Buczkowski remarked that Burns now has the leadership qualities that players like Hague and Wolf once brought to the team: "I saw leadership qualities in him when he was here as a younger player, but naturally, you're just not as a younger player. There's other players in that role that have more experience. I think from the minute that he came back in our club house and was around our team, you could see that this is a more polished leader than he was… I think it's pretty easy to see now. Where you could detect leadership when he was here as a younger player, now it's pretty obvious. He's a leader on this team." Buczkowski also sees how the experience in Korea benefited Burns on the field: "He's a more polished player… I still think there's an opportunity for Burnsie to make it to the big leagues… And defensively, he was a good defender when he was here last time, but now he's a way above average defender at a couple of positions. So I think he's benefited from that experience."
His time in overseas taught Burns a lot about the game and himself. Talking about what he learned on the field while he was in Korea, Burns said, "There's a lot of talented hitters over in Korea, and I feel like I learned a lot just by watching. They control their body and space really well and I feel like they're always early. They're early and they move freely in space. That's the biggest thing that I brought back with me was to get started early and hold my positions." His time playing in the KBO League helped him believe in himself more as a player, and become a more consistent hitter: "I had always been a really streaky player and I think going over to Korea I really laid some foundations as to what I wanted to do, and so being able to show up every day and have the best version of myself going into the game and not really second guessing myself is the biggest thing that I'm really trying to do this year."
Bisons fans undoubtedly noticed that Burns had a slightly different look earlier in the season than he did during his first go-around with the Herd. He's always worn contacts while playing, but was struggling with having dry eyes when it was windy or cold. "It just got to a point where there were a couple of times last season when it was so bad that I just played without a prescription. And I need a prescription to play, but that's how bad my vision was when it was cold or windy." During Spring Training this year, team doctors suggested he try glasses, which helped him immensely, especially during the chilly early-season games at Sahlen Field. "Now that it's warmer I can go back to the contacts, which I prefer, but just knowing that you're going to be able to see the ball well on any given day is definitely a comfortable feeling."
The Bisons got off to a rocky start to begin the 2019 season, stumbling out of the gate to a 7-14 start and falling into the International League North cellar. But the team has rebounded, most recently winning 15 out of 18 games, including seven in a row, to climb into second place. Burns is confident that the team can challenge for a playoff spot in the coming months. "I think we're really meshing, and we've got a lot of time left in the season, and I think we have the talent to make a run."
The Bisons have turned their season around from their earlier struggles, thanks in large part to the consistent play and veteran leadership of Burns. He's helped anchor the Bisons defense, playing all over the field, but primarily third, second and first base, all while providing a steadying presence in the Bisons lineup. But as happy as Bisons fans and players are to have him back, Burns notes that "In a lot of ways, it's like I never left."